When it comes to the Christmas decoration, creativity is the key to making your home shine with lights and décor on a budget.
There are so many things around you that you can use.
Ideas include jars, paper, and things you can find in the park, such as twigs or pine cones. To help you decorate your home on a budget, simple and effective, I gathered up 15 best Christmas decorating ideas you can try for this year's Holiday season.
Before I move on to the Christmas ideas, here are simple tips to get you in the mood for a delightful holiday decoration.
Holiday Decoration – Short Guide for Every Budget
Holidays may cost you a lot of money for gifts, family trips, feast, and you might decide to cut on the budget for the decoration. But, it doesn't have to be like that.
Pick a Theme
Choosing and sticking to one theme can make your decoration look harmonic, rather than looking all-over-the place. For example, rustic Christmas will give a cozy effect, while white Christmas may overcompensate for the lack of snowflakes.
You can leave everything natural and use twigs and branches to create a beautiful decoration.
Ribbon – Simple and Easy
The ribbon is inexpensive and you can get it in a textile shop, but the chances are that you probably have it around the house.
Decorate dining chairs or doors and windows with ribbon to create a harmonic effect.
Red ribbon will work perfectly, as well as the red checkered tartan.
Handcraft Your Ornaments
Buying Christmas decorations might be an easy way to decorate your home, but handcrafting it will make it unique. Organize a DIY project with your family, include kids, and spend an afternoon cutting and gluing things together to make everything you need.
You will end up with unique ornaments and create some beautiful memories with your family.
Use Paper
There are so many things you can make only with paper and scissors. Search online for some Youtube videos on how to make paper snowflakes, 3D stars, angels, bells, and indoor wreaths.
Decorate Everything
Don't just focus on the living room and Christmas tree. With cheap and creative ideas you can make table centerpiece, decorate your nightstands, every shelf and add interesting details to every corner in your home.
Little details around the house will wrap the entire Christmas story together and contribute to the Christmas atmosphere.
Use air fresheners in some winter scents such as cinnamon to keep the atmosphere.
Use Last Year's Decoration
Buying a completely new decoration is expensive. However, if you don't like what you have from last year, there is a way to use it and create a whole new decoration.
If you use white paint spray on last year's items, you can make them look weathered or to mimic the snow effect in your house.
Top 15 Christmas DIY Decorating Ideas
From paper ornaments to handcrafted Christmas wreath and candle decor, here are the top 15 Christmas decorating ideas.
Motivational/Inspirational Tree
A Christmas tree is a must-have item for many people. Why not make your tree and personalize it with some notes?
You can make it out of the wood, metal, but for an indoor Christmas, tree cardboard will work just fine.
Make at least seven green branches, each smaller than the previous one for five centimeters.
Then, write some festive notes on it such as Merry Christmas, or personalize it even more. Each branch can hold a personalized note for your family members.
Decorate it with colored ornaments such as stars, and hang it on the wall. If you are skilled and you have necessary material such as wooden planks and nails, you can use this decoration outside.
Make a wooden tree quickly and easily with the help of the video:
Foam Paper
Foam paper is an inexpensive material that you can use for a variety of ornaments. You can get it in a glittery, shiny, or matte finish. I recommend getting a gold or silver foam paper to decorate walls.
This is the easiest way to make your room instantly brighter and create a décor in just a few minutes.
Cut the starts out of the glittery foam paper and use double-sided adhesive tape to attach the stars on the wall. Play with sizes and make several larger pieces with smaller ones, to make your wall more structured.
It works best on white, plain walls, but if your walls are in different colors, you can always pick white stars and flakes to decorate it.
Make Your Table Decor
Next time you go into the park for jogging or a walk, get a few pinecones. What is great about pinecones is that you can use them on so many ways to make great Christmas décor.
For example, you can paint them, spray them, or use them to create a beautiful tabletop centerpiece.
Find a vintage dish and put a few pinecones in it, as well as several thin pine branches. Add one or more tea light candles around it. You can add ribbon or glitter, or leave it just like that.
Lit the candles and enjoy a rustic decor on your table!
Put the Tree on Your Door
If you want something different from a classy wreath, you can make your piece to hang it on the door. This project might seem as complicated, but it isn't actually.
All you need is a rope, a few pine branches, a large piece of cardboard, pinecones, felt-tip pens, and a silicone gun.
First of all, draw the tree shape on the cardboard and draw the sections for the branches, which will look like a pyramid.
Then, use a silicone gun to attach branches to the cardboard. Wrap up your tree with the rope, and fill in the gaps with ornaments.
Add a few pinecones and make other ornaments, such as stars from the cardboard. Use felt-tip pens to play with colors. The richer your tree looks with the ornaments and branches, the better.
If you are skilled, you can make skip the cardboard base and make a frame out of thicker branches. Attach everything to it and decorate with stars and ribbons.
Make 3D Stars From Paper
Even though making a 3D star from the paper might seem like a complex task if you follow the instructions you can quickly become a pro.
All you need is thicker paper, scissors, ruler, and glue.
Expect much of folding and cutting, but for better step by step visual guide, watch the video:
You can find simple instructions in this one, too:
Simple Wreath
Many people love to hang a wreath on their door to officially start a holiday season. Wreaths can be expensive, but you can make it yourself with just a few things.
You will need a piece of easily foldable copper wire and green branches. If you have issues making the circle out of the wire, help yourself with a pot. Wrap the wire around the pot to make a perfect circle and hide the connection place with branches.
You can use pine branches or anything you find in your yard.
Hang it on the door, or make décor from the red tartan ribbon and cardboard ornaments for an even prettier effect.
Vintage Ornaments
For the next project, you will need a thicker thread and a starch.
Make a shape such as a snowflake, star, or even an angel, if you are skilled with needle and thread.
Then, soak it into the starch and leave if for a couple of hours. If the shape is complex, secure the item with pins on board. Go over it with a brush to add the starch. You can leave it through the night light that. After you take it out, let it completely dry until it is ready for your tree. You can also blow-dry it to finish the process sooner.
Learn more about how to starch your crocheted ornaments:
Decorate Pots and Candles
Make each corner stand out with a simple pot and a white candle. Use old plant pots or even plastic glasses for this trick.
Fill the pot with rice to make it stable and add pine branches with pinecones. Then, print some Christmas patterns and glue the pattern around the pot. Use the ribbon in the same pattern to decorate a candleholder. Even the simplest candleholders will look pretty with colorful ribbons.
Here are more tips on how to wonderfully decorate your candles:
Make Your Candleholders
Candles are an excellent way to spice up your decoration and create a romantic atmosphere.
You can use simple, white candles or cinnamon-scented candles to make a unique candelabrum.
You will need several cinnamon sticks and glue. Wrap the cinnamon sticks around the candle and secure it with a piece of white lace or glue them to the candle if it seems flimsy. You can add more details such as small pinecones.
If you don't have that many sticks, there is another way that requires only ten sticks. Make a square shape, by adding one stick to another and gluing them on the edges.
Again, add branches or simple details as decoration.
Don't Throw the Vine Corks
Another way to make a unique Christmas tree on a budget is to use wine corks.
Paint them in colors you want, or stick to the green, if you want a traditional tree. However, if you choose to paint them green, you will have to decorate a tree. Use foam paper or glittery spray to finish it.
Make a stand out of the box which you can fill with rice to add stability.
Glue the corks together and you've got yourself a colorful Christmas tree for a true wine lover!
Rustic Star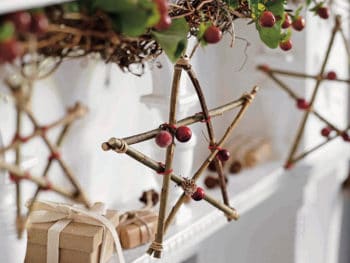 To make a rustic star, you will need five branches of the same size. You can glue them together or use the rope to secure it. Instead of making just one large star, you can make several different-sized stars and hang them around the house.
Adding candles and green branches, you can make an even prettier decoration for a console table or any shelf in your home.
Simple Details
Using a tree bark and ice-cream stick is an excellent and inexpensive way to make simple trees you can put around the house.
Cut the tree bark into the pieces of appropriate sizes. Glue the tree bark pieces to the ice-cream stick and decorate it with glitters or small gold balls. You can use cinnamon sticks instead of tree bark.
Put your small, rustic trees in the plant pots, around the window, or hang it on the curtains.
Hang the Festive Messages
Write letters from festive messages on a piece of cardboard and use a rope to connect them. Then, hang the rope on your doors or above Christmas three.
This is a simple, yet effective way to decorate your home.
Also, you can make larger letters from cardboard, paint them white, and put them above the fireplace.
Make a Holiday Shelf
If you have a free space on your cabinet or console table, make a simple shelf from wooden planks in a Christmas tree shape. You will need nine thin planks that you can secure together with a silicone gun.
You can paint the planks if you want. Decorate it with pine branches and small ornaments.
Orange Decor
Make a scented decoration with the orange, tea candle, and cloves. You will need a larger orange and a few cloves. Make a hollow inside the orange and put the candle inside it.
Decorate the orange with cloves. First, pierce the small holes for cloves and make the heart shape or star shape.
A Few More Tips on Christmas Decoration on a Budget
There are endless possibilities as far as handcrafted décor goes for a holiday season. Let's wrap things up with some frequently asked questions on a holiday decoration on a budget.
Conclusion
There is so much you can accomplish with the help of imagination and things you have around.
You can make a unique Christmas tree, holiday candelabrums, and lovely ornaments.
Small budget or no-budget at all isn't an obstacle to have a delightful home for Christmas, you just have to be creative.
Have you ever handcrafted your Christmas decoration? What is your favorite piece of holiday decor? Share your thoughts and Christmas spirit in the comments!