Bath Fitter prices play an important role when you're deciding how to remodel your bathroom. The brand offers some excellent services–from bathtub replacement to tub-shower conversion, with all related work. But, at what cost? Let's find out together!
A great thing about Bath Fitter products is that they can be installed in one day, so you don't have to take a shower in your neighbor's bathroom!
Also, Bath Fitter products are custom-made to match your bathroom, which affects the pricing. I am all about custom-made items and installation, because they fit the space better and in most cases, last longer than pre-manufactured items.
If you aren't familiar with Bath Fitter tubs, and other products, keep reading to get a complete overview of the brand and an estimate of the costs.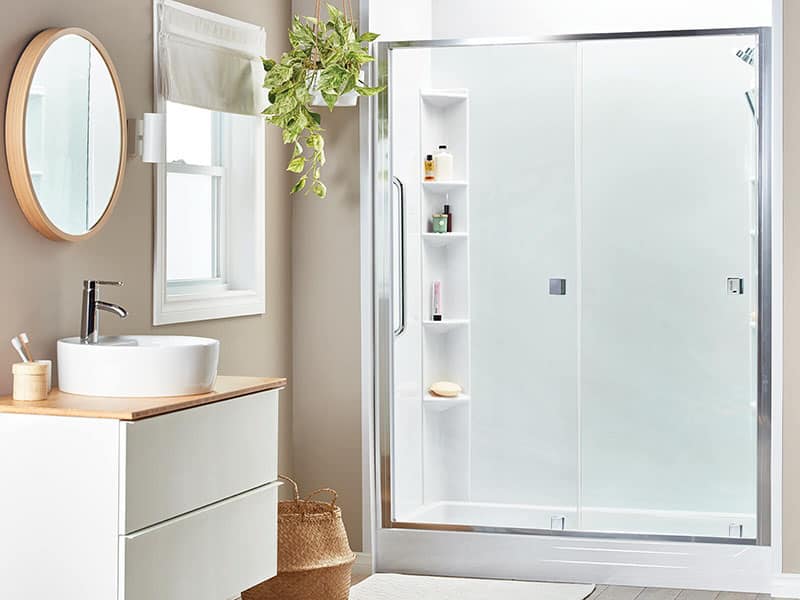 How Much Does Bath Fitter Products Cost to Install?
The Bath Fitter is a simple and long-lasting solution to renovate your bathroom in one day. The brand takes care of all the work, makes customized tubs, showers, and wall moldings, and repairs the necessary things before they completely change the look of your bathroom.
Material, labor costs, and liners, tubs, and accessories are included in the price.
Check the table for average costs of Bath Fitters:
| | |
| --- | --- |
| Products | An Average Price Range |
| Tubs | $700-$1.400 |
| Showers | $2.600-$3.000 |
| Wall panels | $600 – $1.400 |
| Total | $3.900-$5.800 |
Bath Fitter Offer – Comprehensive Products Overview with Pricing
The Bath Fitter praises itself for making long-lasting, unique solutions for bathrooms that include bathtubs, showers, doors, walls, and liners. The brand is in charge of a complete renovation project – from cleaning and sanitizing through custom made-bathtubs and wall liners to installation.
It is up to you to choose the style and look of your new bathroom, and experts at Bath Fitter will design, and custom make the products to ensure they fit your preferences and bathroom.
Here is a quick overview of products at Bath Fitter.
Bathtubs
Currently, there are eight bathtub styles with various design variations. All bathtubs have similar shapes and sizes, but it is the ornaments that differ. The brand is known for its installation over existing tubs.
But, they can also replace your tub with a new, freestanding tub and change the look of your bathroom completely.
The prices depend on whether you choose tub liners, which install over the existing tub, or a new tub.
On average, you can expect to pay between $700 and $1400 for a tub replacement. The labor costs depend on the current condition, size and chosen materials, which can raise the costs to $2.000 and $3.000 for a tub replacement.
Bath Fitter tubs are made from solid pieces of acrylic. You can also choose PVC liner, which will cost you less than acrylic but won't be as durable as acrylic.
If you opt for liners, the process goes something like this. The contractor measures your existing tub, cuts, and molds acrylic to create a seamless liner that goes on top of your current tub.
If you choose a new tub, the contractor disposes of your old tub and installs a new one.
Watch this video to know more:
Walls
Bath Fitter came up with unique seamless wall moldings that have several functions. The brand makes them fit the chosen bathtub and create a cozy environment. Additionally, because they are seamless and watertight, the Bath Fitter wall moldings decrease the mold and mildew development.
The wall moldings are also custom made. Contractors visit your bathroom, take the necessary measurements and create seamless walls off-site. Then, when the products are ready, they come back and install everything with no demolition at all.
If you have windows in the shower area, it doesn't make a problem. Because all moldings are custom made, you don't have to worry about irregular wall shapes or windows, Bath Fitter designers will make it fit.
When it comes to pricing, things get somewhat complex. Bath Fitter wall moldings are installed with the bathtubs, so the total pricing cannot be precisely stated. The cost depends on different factors and falls into the category of complete bathroom renovation.
But, wall moldings at Bath Fitter might cost you somewhere between $600 and $1.000. On the other hand, total costs depend on the size of the wall and chosen styles.
Currently, at Bath Fitter you can choose four colors:
White
White marble
Ivory marble
Pearl
Additionally, there are ten styles to choose from, classic and modern looks with various tile-like patterns.
Another thing to keep in mind is the current condition of your wall. If there are some repairs to be done, the costs can be higher. Bath Fitter contractors always recommend wall repairs if necessary, to ensure a solid and flat base for their moldings.
But, if you like your current tiles, you can skip all moldings and get only a Bath Fitter tub.
Accessories
Bath Fitter can be an exceptional solution to completely redesigning your bathroom. The brand offers a unique set of accessories to make your renovation project complete.
You can choose between 33 faucets and shower head sets, to match your preferences. There are fixed and adjustable handheld showerheads and faucets designed and produced by large brand names such as Moen and Delta.
The prices depend on the set itself and labor costs, but you should know that Moen faucets, for example, are pricier. But, they do last for long and fit Bath Fitter bathroom solutions perfectly.
Bath Fitter Showers
Lastly, Bath Fitter offers excellent shower solutions that can fit even the smallest space. The acrylic shower liners are high-gloss and can be cleaned easily.
But, what makes Bath Fitter stand out from all other shower products is the ability to transform your old bathtub into a walk-in shower in only one day.
If you choose conventional remodeling projects, it will take much longer and leave you with a lot of mess from demolition and labor work. On the other hand, the Bath Fitter plans and installs your new shower, does all the cleaning so you won't have to skip a shower the day when the work starts!
The exact cost of Bath Fitter showers can be challenging to predict because the price depends on multiple factors, including the condition of your bathroom, size, chosen model, and liner style. Roughly, you can expect to pay from $2.600 to $3.000 for a Bath Fitter shower.
However, the accessories you choose faucets showerheads, safety accessories, and holding rods, might significantly increase the price.
How is Bath Fitter Different from Other Brands?
Bath Fitter isn't the only brand that offers customized liners and bathroom solutions for simple and quick removal of the old tubs and showers. But, Bath Fitter is certainly the most popular option if you are looking for this type of bathroom renovation.
The brand is quite popular in the US and Canada, and the company exists since 1984. But, several brands offer similar services – tub and wall liners and similar installation projects.
Let's quickly compare Bath Fitter with their major competitors.
Watch this video to know more:
Bath Fitter VS Re-bath
Re-bath was first founded in 1978, as a student company. Since then, the company grew into a large brand. The primary difference between Bath Fitter and Re-bath is in the services. In simple words, Bath Fitter offers truly customized products that fit your bathroom, while Re-bath offers a range of products for you to choose from.
But, Re-bath offer is comprehensive and includes varieties of different styles, materials and prices.
The prices are really similar, and depend on the size of your bathroom, chosen materials, etc. If you want a full bathtub renovation with tub and liners, cabinets and accessories, you can expect to pay around $5.000 for both Re-bath and Bath Fitter solutions.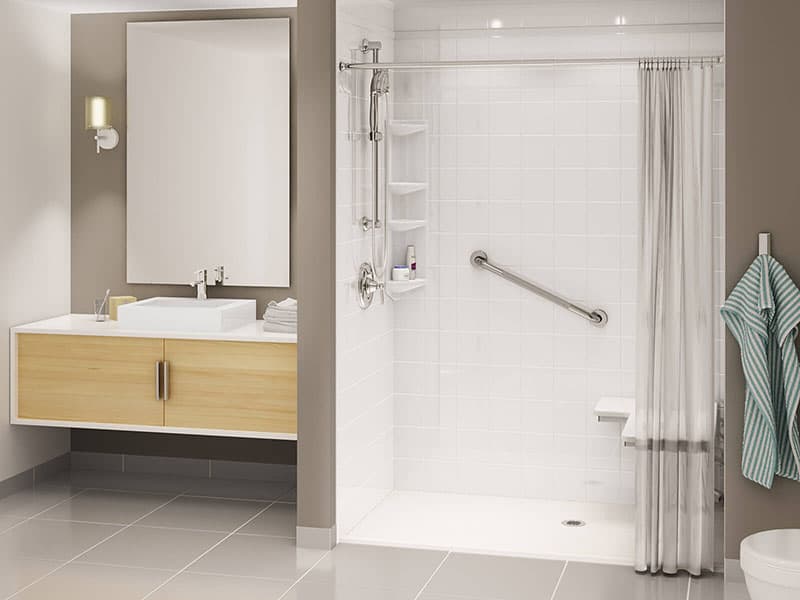 Bath Fitter VS Bath Planet
Bath Planet is a young company, on the market since 1999. Bath Fitter's offer is broader, while Bath Planet is known for its bathtub to shower conversions and vice versa. Still, Bath Planet offers more services, but conversions are what they do the best.
They also have exceptional customer service and ensure that every customer gets the bathroom he wants. Bath Planet has some beautiful granite natural stone, marble, and granite liners, which can truly elevate the look of your bathroom.
Bath Planet might offer more affordable options, starting from $850 to $3.000. But, depending on your chosen style, size of the bathroom, and current condition, you might get a solution from Bath Fitter within that price range.
Bath Fitter VS Luxury Bath Technologies
If you like the idea of a quick and functional bathroom renovation and you want to spend more money, you might want to check Luxury Bath Technologies.
The brand is similar to Bath Fitter in terms of the customized offer and one-day complete installation. It does have the word Luxury in the name, but you might score some mid-price products as well.
But, what is admirable about Luxury Bath Technologies, among other products and services, is the roll-in shower options. They are suitable for people with disabilities, the elderly, and everyone who wants to ensure comfortable bathing for longer.
The average costs for hiring experts from Luxury Bath Technologies to install new liners, tubs, or wall moldings go from $6.000 to $9.000. For precise cost information, you'll have to check their offer and consult with them to see suitable options for your bathroom.
Total Costs of Bath Fitters – Estimates
As you can see, it is troublesome to calculate the exact costs of Bath Fitter liners and tubs. The price range is between $1.000 and $10.000, but most people pay for their Bath Fitter renovation between $3.000 and $5.000.
These prices include the total costs of material, labor work, and products. Compared to conventional bathroom renovation projects, which last longer and cost more, Bath Fitter might be a more affordable solution for bathroom renovation.
Also, Bath Fitter trusts in their product, so the brand offers a limited lifetime warranty for their products, which is pretty impressive. Some other similar brands offer a 5-year warranty for parts and labor.
Can You Install Bath Fitters by Yourself?
If the above mentioned costs are a bit outside your budget, you might start thinking about DIY Bath Fitter installation.
Here is the thing. You can find similar, cheaper liners on the market that might be eligible for DIY installation. But, if you opt for high-quality Bath Fitter liners and tubs, you'll have to invest in professional installation. The brand doesn't sell its products for DIY installation.
Instead, Bath Fitter takes care of the complete renovation process and all additional costs are included in the price.
Moreover, one of the perks of Bath Fitter products is that they are custom-made to match the size and shape of your tub and walls. Therefore, professional installation is required to minimize the cracks and the gaps which may cause water issues, growth of mold and mildew, and sooner deterioration of the products.
Additionally, if your bathroom requires some wall repairing, it is better to leave it to the professionals, than to do them yourself. That way, they will have a solid base to install the products, which will improve the durability of liners and tubs.
FAQs
If you have never installed any type of liners in your bathroom, and you are considering Bath Fitters as a solution, check the next section.
I answered the most common questions people usually have about these types of liners and renovation. Moreover, don't shy away and ask more questions in the comments if there is anything left unanswered.
Beautiful One-Day Bathroom Transformation with Bath Fitter
Bath Fitter is a simple, cost-effective and long-lasting solution that can transform your bathroom in only one day!
The prices depend on multiple factors, but they are still lower than if you have done the complete renovation with new tile walls, demolition, new standard tubs or showers. On average, you'll pay between $3.000 and $5.000 for Bath Fitter services.
Would you consider Bath Fitter products for your bathroom? Why?
Please consider sharing the article with your friends and family who plan to dive into home renovation projects!