Don't miss this post if you want to discover some dazzling bathroom wainscoting ideas. Wainscoting covers your bathroom wall with an elegant look and prevents it from scratches. So, why not protect your lovely wall with this alluring shield?
There are different types of material to make wainscoting. You can choose your favorite shapes or colors to match your house's mood and tone. From sparkling tiles to classic beadboard, they all evoke an aesthetic aura to the space.
Get To Know Different Types Of Wainscotting
Before hopping on this beautiful road of discovering wainscotting, you should know some popular types of this interior item.
Wainscotting: Interior wood panels usually cover ½ or ⅓ of the wall's bottom.
Tile: This one is simple! Just wainscotting but use tiles as the materials.
Board And Battens: Usually appears as wide boards with a narrow strip between each board called 'battens'.
Beadboard: This is a style of wainscotting that uses vertical grooved boards to protect the wall.
Discover These Flawless Tiles For Your Bathroom
Applying tiles to make your bathroom look more dazzling and sparkling now! With various shapes and colors, tiles can provide any style that you want.
1. Subway Tile Wainscoting And White Toilet
The room uses white fixtures with a simple white ceiling; however, you can check out these glamorous ceiling designs for your bathing area to add some character to it. Add a standing sink without vanity to save space in this small bathroom.
2. Green Tiles Bathroom Wall
Bring greenery accents to the room for a refreshing feeling with these impressive green tiles. The wainscotting complements the mirror and the white sink in the space. You can finish the entire design with black fixtures and light green paint.
3. Small Bathroom Luxury Blue Tiles
If your guest bathroom needs some luxury look, this small bathroom decor will help you. With a swan-like faucet with golden color, the space gains the elegant vibe that you are searching for.
4. Bathroom Remodel With Gray Stone Tiles
Add stunning decorative elements to the bathroom countertop with this mesmerizing decoration. The stone tiles are applied all over the entire area, which will add a moody feeling when stepping into the bathroom.
OMG! These classic ceramic tiles are just perfect for the wall's wainscoting.
5. Contemporary Bathroom With Wainscoting Tile
Emphasize the bathtub area with these green wainscoting tiles. Choose a soft green color to make the area look gentle and friendly to your eyes. Place a wooden chair in the space for a splendid rustic appearance.
6. Bathroom With White Wainscoting Tile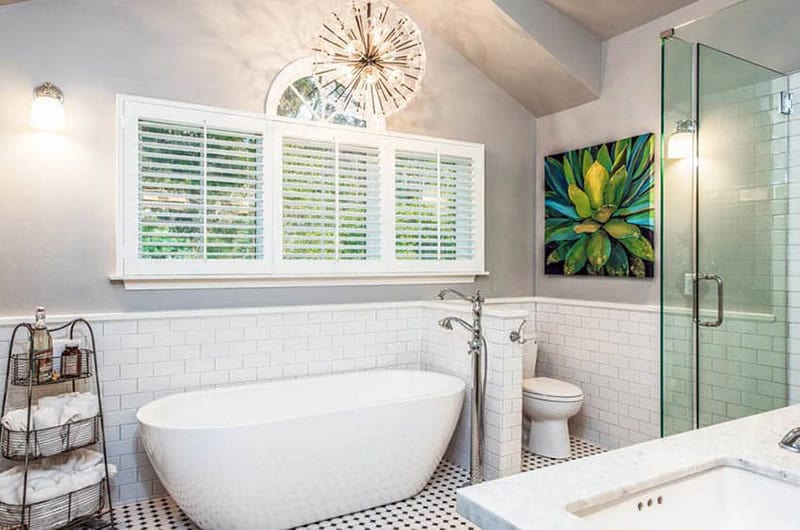 The white wainscot can match a gray wall to evoke a gentle look to your bathroom. Highlight the bathing area with a fancy-looking chandelier on top of the bathtub. Use a glass door to separate the shower area and avoid splashing water.
7. Hand-Painted Tile
This design has a harmonious space by pairing dynamic wood planks and aesthetic hand-painted tiles. Place a large white bathtub on a beige floor to create a striking contrast to the room.
Check Out 7 Splendid Bathroom Board And Battens Ideas Now!
Board and battens will add a simple yet effective visual effect to your bathing area. Be careful, or you will be enchanted by the beautiful display.
8. Pink And Dark Board And Battens
Color your bathroom with a contemporary pink color to wow any visitor. Pair the light pink bathtub with charcoal-like boards on the wall. Don't forget to apply ceramic tiles with classic patterns to add an antique vibe to your bathroom.
9. Mint With White Bathtub
Mint color will blow a cool and refreshing breath to your bathroom. This design uses a pastel color tone to create a welcoming area for the room. Install a light gray tile floor to fit the mood and tone of the space.
10. Dark Burgundy Board And Battens
Add this burgundy color to add a dark accent to your bathroom and make it look more enigmatic. Place an open window on the top to allow gentle and natural light to the area.
11. Tall And Green With Vatiny
When applying tall wainscoting to the bathroom wall, you make the room look more impressive with its luxury vibe. You can use an old and rustic vanity with two square mirrors to create a splendid ambiance for the space.
12. All-White
White beadboard wainscoting is a classic but dazzling choice. Make your bathroom white with other white fixtures like sinks or a bathtub. Install stone-like tiles to harmonize the whole space color tone.
Just a simple way to apply white wainscoting boards in the bathroom.
13. White Sink With Wallpaper
If you love flowers, pair a Bouquet wallpaper with large boards. The idea has a vintage vanity that adds time value to the design. The entrance space is like a flower farm with colorful blooms and enchanting scents.
14. Elegant Grey
Don't you feel the elegant vibe right now with these gorgeous bathroom ideas? Pair the gray wainscoting with white wallpaper with impressive patterns. Two hanging lights will boost the delicate look of the space.
Don't miss this additional way to apply your board and batten wainscoting.
Go Classic With These Beadboard Bathroom Inspirations!
Want a touch of classic vibe? Beadboard wainscoting is the perfect answer for you. I bet you will love the appearance that these designs have.
15. Grayish-Green Beadboard Wall
A unique industrial vibe mirror is the focal point of this design. Match the mirror with wooden furniture to make the space look warmer. Apply grayish-green beadboard at the back to accentuate other colors.
16. Soft Gray Beadboard
Hey, if you want a country vibe bathroom, this gray and white design is all you need. The beadboard has a gentle gray color that compliments the space's white essentials. You can also apply the wainscoting to the bathtub for more character.
17. Luxury White Beadboard Panels
Gain your bathroom that luxury looks with these white beadboard panels. Match the wainscoting with white vanity and a large mirror to broaden the space. Apply a stone floor to bring more character to the space.
18. Double White Sinks With High Beadboard
Red wall paint works great with white beadboard. You can make the wall become an ambiance by making it higher than the double sinks. Use some woven baskets to bring more warm colors to the room.
19. Remodel Your Bathroom With Rustic White Beadboard
Brighten your room with this bathroom beadboard applied on the wall. The floor has a black and white tile that creates a harmonization to the area. You can make the space more colorful with a fruity graphic curtain and blue vanity, mesmerizing, right?
20. Small Farmhouse Bathroom With A Touch Of Wood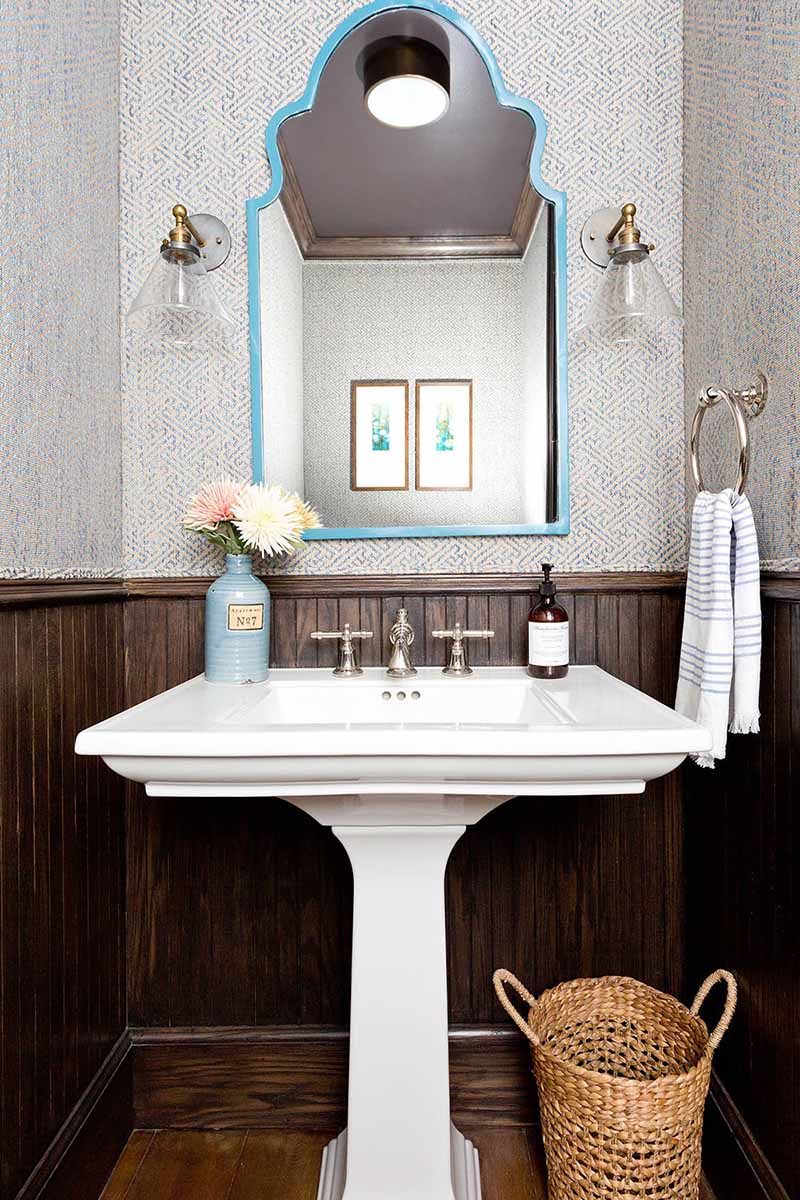 You don't want to take so much space by using large boards covering the wall in a small area. Just apply tiny wood planks to form farmhouse-like beadboard wainscoting on the wall's bottom. Place a white standing sink and a blue mirror frame for an elegant look.
21. Pair With Contemporary Art
Add a little elegance to this farmhouse bathroom by placing a contemporary painting on the wall. The bottom part is gently highlighted by the gray beadboard with a white chair rail on its edge. What a simple and sophisticated place!
Don't Forget To Explore These Other Bathroom Wainscoting Designs
Add a bit of modernity with these ideas with clever layouts to your room. With sophisticated color choices, you will create your dream bathroom.
22. Half Bath Wainscoting
This half bath is covered with white wainscoting and a blue wall painting on the top that connects all the colors. Put a white vanity and a frameless rectangle mirror to make the room look more modern.
23. White Chair Rail
Chair rail and wainscoting will prevent the wall from minor damage like scratches. This bathroom design is so peaceful with beige and gray colors. You can choose a picture according to your preference to make the space have artistic accents.
How to apply the chair rail on the wainscot flawlessly.
24. All Blue Wainscoting
Perhaps this room is quite small, but it sure has an exquisite appearance from the light blue color from the wainscoting. Highlight the room with a wooden floor and a sophisticated chandelier.
25. Half Bath Minimal White
People always thirst for simple but sophisticated design, and this half bath can meet that requirement. The whole area is filled with delicate white with a cottage feel from a wooden ladder and floors.
26. Modern and High Wainscoting
Modern and luxurious are all I could say about this design. The room is bathed with soft gray wainscoting and white stone floors. You can also emphasize the room with a beautiful bathtub and a fancy chandelier.
27. Full Wall Wainscoting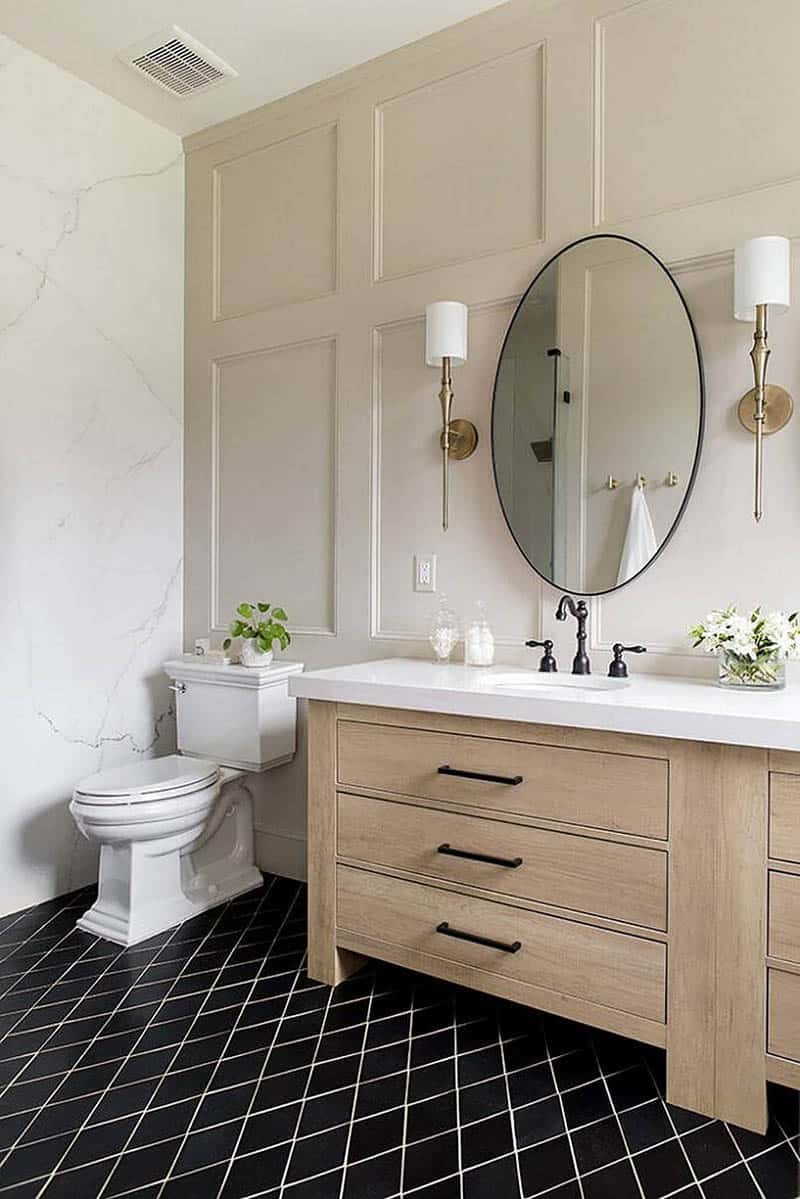 Why cover a part of your wall while applying the entire wall? The wainscoting wall spreads an elegant appearance that makes any visitor wow. With light wood vanity and a black wall, you will add an attractive contrast to the area.
28. Black Wainscoting
This design is a great harmonization from black wainscoting and modern hex floor. The top of the wall is applied with white wallpaper for a remarkable contrast. Use a rectangular frameless mirror to bring a different modern vibe to the room.
Such a modern, tall, and mesmerizing bathroom with black wainscoting.
29. Wood Panels Wainscoting
Bring a rustic touch to your bathroom with these whitewash wood panels. Cover the wall with a gray color and place a white bathtub in the middle to finish the design. You can also apply a wood floor to match the wood panels.
30. Dark Green Wainscoting
The green wainscoting panels match with the black hex floor in this design. The top wall uses wallpaper with green patterns that harmonize with the wainscoting color. Place a wooden vanity in the corner to complete this impressive design.
31. Light Blue Shiplap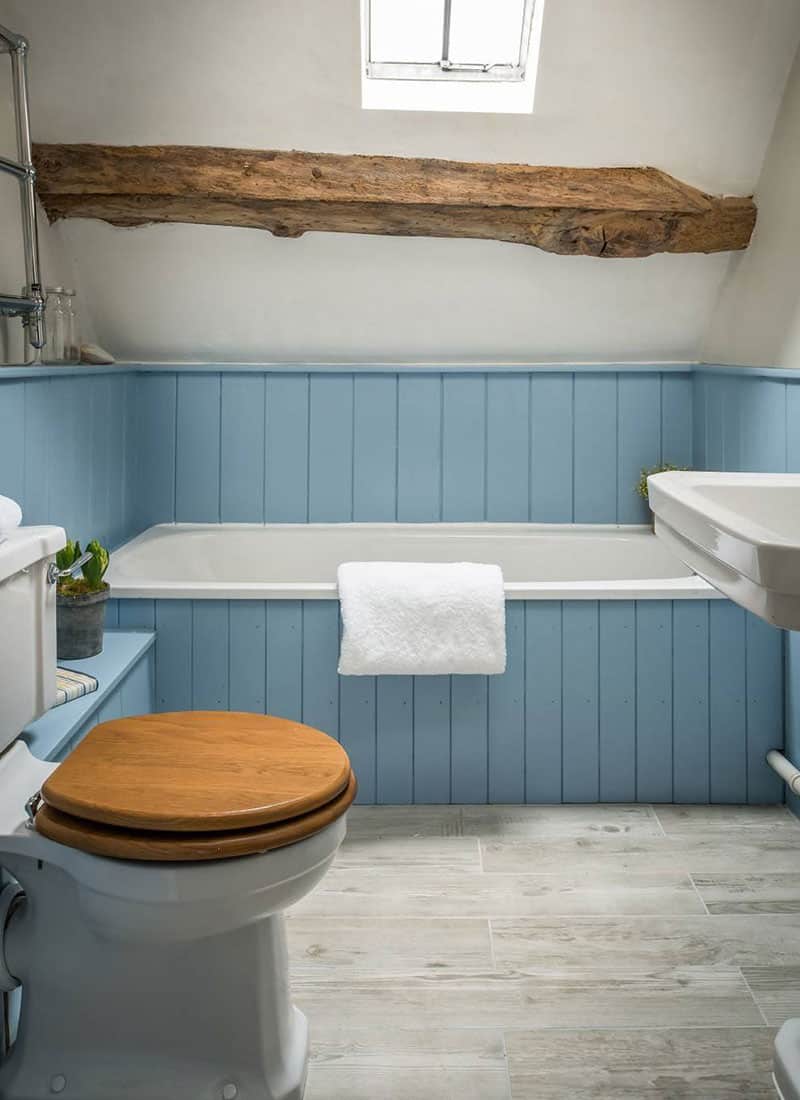 This simple idea is emphasized with a massive wood plank with an open window on the ceiling. Mix the room with light blue wainscoting panels for an attractive bathtub area. The white toilet has a wooden side that makes it look unique and impressive.
Don't Forget To Protect Your Bathroom Wall
Wainscotting is like a shield but with an exquisite appearance that makes your bathroom look more elegant. You can choose tiles, beadboard, or shiplap wainscotting to add character to your room.
So, what is your favorite wainscoting design? Don't forget to comment your idea and subscribe to our site for more beautiful inspirations.