Are you considering bathtub liners as a way to improve the look of your bathroom? You came into the right place, as I will analyze bathtub liners to help you decide whether it is a good choice for your needs, preferences, and budget.
Bathtub liners are a quick way to upgrade your old tub and instantly make the bathroom pleasant. If your tub is damaged and old, you have a couple of options. You can purchase and install a new tub, use bathtub liners or refinish it.
Some people choose bathtub liners as their way to go because of the variety of products, a considerable drop in the price tag compared to new tub installation, and simple maintenance.
But, what exactly are bathtub liners? Keep reading to find out.
Bathtub Liners At a Glance
In short, bathtub liners are an affordable way to improve the look and performance of your old tub. Liners are custom-made molds that professionals install on top of your tub and ensure a waterproof seal to prevent mold and mildew development.
Bathtub liners may be good for several years and may cost you from $800 to $2.000. They are installed in a day without demolition or construction work.
What Are Bathtub Liners?
Bathtub liners are specially molded covers made from different materials that go on top of your existing tub. These liners are molded to fit the shape and size of your bathtub perfectly.
The idea behind them is to provide a budget-friendly way to improve the look of old and damaged bathtubs.
The secret behind the bathtub liners is in the creation. The mold is heated to match the exact size and shape of your tub. That way, the liner lies on top of your old bathtub and looks seamless.
The installation is an important step as well. In most cases, bathtub liners require professional installation with glue or specialized tapes.
Also, most companies that install bathtub liners advertise them as a simple way to remodel a bathroom in a day! The truth behind it is that the workers come one day to take the measurements, and when the mold is ready, they come back to install it.
Three Bathtub Liners Types To Learn About
Most bathtub liners are made from three types of material: PVC, acrylic, and solid surface polymer.
Let's briefly go through each type of bathtub liner.
PVC Liners
If you are looking for the cheapest way to remodel your bathtub, consider liners made from polyvinyl chloride – PVC. These liners are flexible plastic, and they are easy to install.
PVC liners will improve the look of your tub in an instant, but might not work as great as some other types. Your tub can crack behind the liner, or it can suffer other damage.
PVC liners are available in various covers, and they don't need refinishing or repainting. However, some people dislike their looks because of the characteristic plastic appearance.
Acrylic Liners
Instead of flexible thin plastic as used in PVC liners, these liners feature firm plastic, 1/4 inch thick. However, acrylic liners are more expensive than PVC liners.
But, you'll get more durable and damage-resistant products.
Additionally, I appreciate the look of them, as they provide an authentic bathtub look.
Some best bathtub manufacturers treat acrylic to make it easier to clean and resistant to mold and mildew. Acrylic bathtub liners offer great value for the money.
Solid Surface Polymer Liners
Solid surface polymer liners are less common than acrylic and PVC products. These bathtub remodeling products feature complex construction made from polymer resin, alumina trihydrate (ATH), and a unique blend of different materials. They are durable and resistant to cracks and chips.
How To Install Bathtub Liners?
In most cases, I recommend the professional installation of bathtub liners. It is because poorly installed liners increase the risk of mold and mildew developing underneath the liners.
However, DIY installation of bathtub liners isn't impossible. If you have the right tools, skills, and proper, detailed instructions, you can install a bathtub liner by yourself.
Here is a quick overview of the steps you'll have to take to install bathtub liners in your bathtub, so you can determine whether you are up for the task.
Prepare:
Custom made bathtub liner
Limescale remover
Butyl tape sealant
Silicone adhesive
Caulk
Caulk gun
Detailed instructions
Step 1: Clean your tub thoroughly using a powerful limescale remover. Vigorously scrub all parts of the tub including the ones where you notice rotting and mold.
Step 2: Follow the instructions on where to use tape sealant and adhesive.
Step 3: Put the liner on top of the tub, ensuring maximum precision.
Step 4: Fill the caulk gun with the caulk and seal around the liner to prevent the moisture from penetrating between your tub and liner.
Step 5: Place the drain and the rest of the fixtures that came with your liner.
Step 6: Let the liner stay dry for at least 24 hours, so the glue and sealant can cure.
Top 6 Benefits Of Bathtub Liners
Having an old, damaged tub also makes it more difficult to clean and sell. You would think twice before indulging in a warm and bubbly bath in an old tub. But, if your budget is limited, bathtub liners can be an easy fix.
Let me walk you through the most important benefits of bathtub liners.
How does the bathtub liner hold up after one year of use?
The Job Takes Place Outside Your Bathroom – No Demolition
If you decide to install bathtub liners, there wouldn't be any demolition or construction work on site. No one has to break the walls, tiles and remove the existing tub.
The whole process is simple: a technician comes to your home, measures your tub, and talks with you about prices and your preferences. Then, the majority of the work happens outside your bathroom – the construction of the mold, refinishing, painting, and all necessary adjustments.
Once the mold is ready, a technician comes and installs it. That is all – you'll get a new tub in an hour. You won't have to clean any mess, or serve construction workers in your home for days!
You Can Leave Everything Else Intact
Because a bathtub liner only changes the look of your tub, you don't need to invest money into remodeling other elements, such as walls or floor.
If your tub works great, but you don't like the look, you don't have to change fixtures or adjust plumbing. The possibilities are endless. Also, if you have money to take one remodeling project at a time, that's fine.
Remodel the tub this year, change the sink next year, do the flooring the year after, and so on.
Budget-Friendly
Bathtub liners are a budget-friendly way to improve the look of your tub. In general, liners are about or less than half the price of the new bathtub. When you are replacing the whole tub, you have to pay for a new tub, old tub removal, construction workers, etc.
With liners, you don't have all those expenses. In most cases, companies offer a price that covers everything – from measurements, through liners, warranty, and installation.
Simple Maintenance
Bathtub liners are easy to clean. You can use whatever soap you have in your hand and a sponge. These liners don't require any special measurements or considerations, they are easy to use and maintain.
Safety
Bathtub liners aren't slippery. After years of use, tubs can show signs of wear and tear and the surface can become slippery and unsafe. Instead of removing the whole tub, you can install liners.
That way, you'll improve the safety, appearance, and performance of your tub for a fraction of a cost.
Customization
Bathtub liners are custom-made products designed to match your existing tub and your style preferences. There are liners available in different colors and finishes.
If you have always wanted a black tub with a glossy, luxurious finish, you can have it now! The same applies to granite tubs or tubs with a classy finish and neutral colors.
Two Reasons To Skip Bathtub Liners
Bathtub liners come with a set of specific drawbacks you need to be aware of to make an informed decision. Even though I believe the advantages outweigh the drawbacks, it is on you to decide.
Here are the most important bathtub liner disadvantages.
Mold Development
When your liners are professionally installed, the risk of water penetrating between the liner and a tub is minimal. However, the risk exists and the water can get between the tub and the liner over time.
Additionally, cracks and sealant loosening increase the risk. If the water comes between the liner and a tub, the liner becomes squishy and the mold develops. In that cases, there isn't a way to fix and clean the liner.
You'll have to remove it to thoroughly clean the mold and replace the liner. In some cases, it won't happen in ten years or more, but sometimes, people may experience it after only one year.
Discover an easy fix for the most common problem with bathtub liners!
Bathtub Liners Aren't Suitable For All Tubs
Bathtub liners don't work for all tubs. Acrylic and fiberglass tubs aren't suitable for bathtub liners. Additionally, if you have a freestanding tub, you won't be able to use liners either. In that case, all you can do is install a new tub.
Therefore, even though most brands advertise their liners as a universal solution for old tubs, the truth is different.
Bathtub Liners VS Refinishing
Refinishing the bathtub is an alternative way to remodel your bathroom that doesn't include buying a new tub. But, how does it compare to bathtub liners? Let's Find Out!
Find out why DIY bathtub refinishing is easier than bathtub liner DIY installation.
What Is the Bathtub Refinishing Process?
The bathtub refinishing process includes tub fixing, sanding, cleaning, installing patches, and application of new layers of paint and protective coats. The process is somewhat complex because the refinishing formula is custom-made to match the needs of your tub.
You can find DIY kits on the market that work with most of the tubs. But for best results, I always recommend hiring a professional to refinish the tub for you.
Some of the bathtub refinishing is similar to the bathtub liners' benefits. Those include no demolition and budget-friendly remodeling.
Bathtub Liners VS Refinishing: Appearance
When it comes to appearance, it is a matter of personal preferences. Bathtub liners provide a whole new look to your tub, refinishing improves the existing one.
But, if your tub is too damaged or old, refinishing might not work as well as covering the tub with liners.
Bathtub Liners VS Refinishing: Cost
Bathtub refinishing cost slightly less than bathtub liner installation. The starting price for refinishing is around $600, and for bathtub liners, the starting price is $800. However, the exact price depends on your tub, the condition, your preferences, brand, labor work, etc.
Bathtub Liners VS Refinishing: Maintenance
Bathtub liners are easier to maintain than a freshly refinished tub. If you choose to refinish the tub, you'll have to use specialized cleaners to avoid damaging protective coats on the tub. Liners are easy to clean with every soap and water.
Bathtub Liners VS Refinishing: Durability
Bathtub liners are a more durable solution than bathtub refinishing, especially if you have your liners professionally installed. Refinishing adds a much thinner protective coat to your tub. Liners are made from firm or flexible plastic, and they can last several years, even a decade.
Bathtub Liners Price Guide
How much do bathtub liners cost? The price of a bathtub liner depends on the material used and the shape and condition of your existing tub.
For example, PVC liners are more affordable than acrylic liners, but they are less durable and may turn yellow over time.
The average price to install bathtub liners in your home costs between $800 and $2.000. If you need additional services and products, wall liners and accessories, the price will be higher.
What is left once you remove the bathtub liner?
Best Bathtub Liners Brands
Bathtub liners are consistently popular because of their simplicity and good value for the users. There are several excellent brands on the market with proven quality products and great customer service.
Bath Fitter
Bath Fitter is the most famous and trustworthy brand of bathroom liners. The offer includes custom-made molds for tubs and liners for walls, floors, and accessories. Their products are backed up with a lifetime warranty.
But, the warranty stops if you sell your home, which is a downside.
Bath Planet
Bath Planet has a similar range of products like Bath Fitter. The two brands are the strongest competitors in the bathtub liners market.
Next, you can choose between different materials, colors, and finishes for bathtub liners. The warranty on bathtub liners is lifetime and is eligible as long as you own your home. So the warranty isn't transferable to new owners unless you sell your home within two years of bathtub liners installation.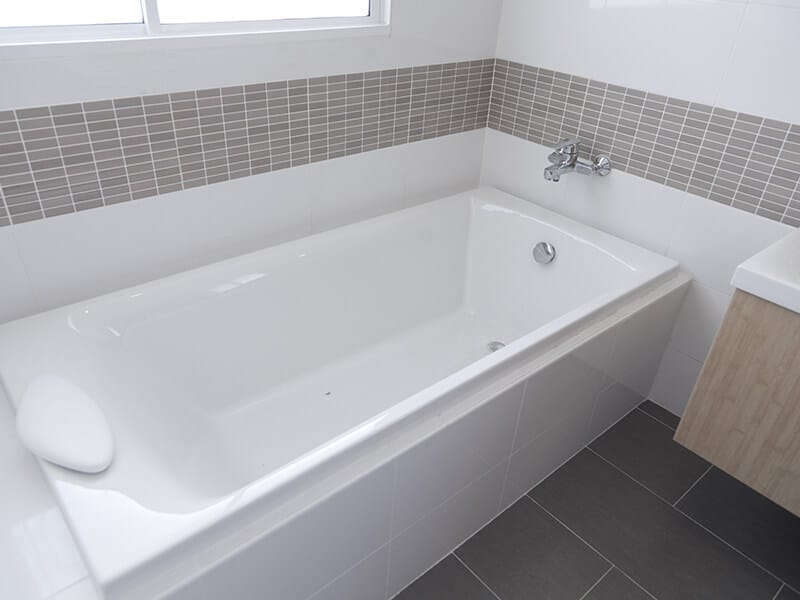 Re-Bath
Re-Bath also offers a huge range of bathroom remodeling products, including shower base and bathtub liners, wall liners, accessories, soap dispensers, etc. Their bathtub liners are backed up with a lifetime warranty.
Are Bathtub Liners Any Good?
Ultimately, bathtub liners are a good, if not a great solution for old tubs. If you have a limited budget, the installation of a bathtub liner can pay off in the long run. Not only will a bathtub liner improve the look of the old tub, but it will also make it safer, and easier to clean.
How do you feel about bathtub liner? Would you consider it for your bathroom remodeling project?
If you enjoyed the article, please share it with your friends and family who struggle to find a solution for the bathroom remodeling.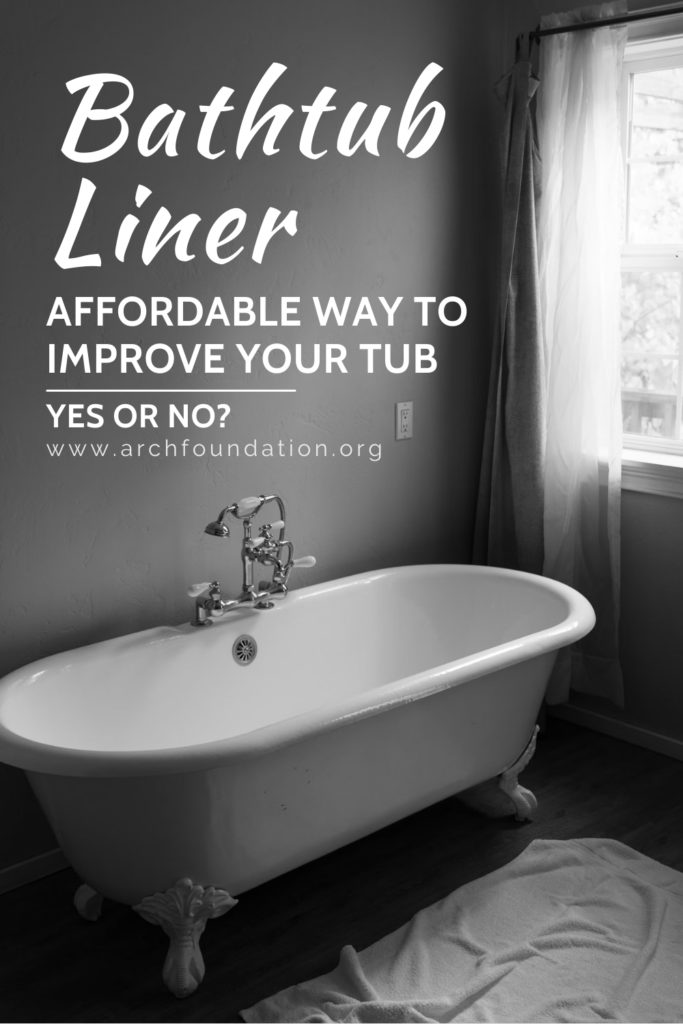 References:
Learn how much it costs to Remodel a Bathroom. Homeadvisor.com. https://www.homeadvisor.com/cost/bathrooms/remodel-a-bathroom/.
Types Of Bathtubs – INTRODUCTION TO BATHTUBS. Canaroma Bath & Tile. https://www.canaroma.ca/pages/types-of-bathtubs-introduction-to-bathtubs.
Black stuff growing on the walls? What to do about mold in your bathroom. TODAY.com. https://www.today.com/health/bathroom-mold-thrives-dark-damp-areas-how-stop-it-t167240.