Before jumping into the dark brown couch living room ideas, let's get to know why you should incorporate this color into your living space.
Due to its unparalleled versatility, brown is one of the most popular hues for living room furniture. Even if it isn't as trendy as navy blue, gray, or white, this earthy color brings a sense of comfort and coziness to any room.
So if you're ready to add a gorgeous brown sofa in your living room, get inspired by these ideas and suggestions below!
The Ideal Wall Color Schemes For Your New Brown Couch
Brown furniture has a bad rap for being boring, but it can become the most appealing piece of furniture in your house with the right setting. Check out these suggestions below and learn how to bring warmth and comfort to any living room setting.
1. Can't Go Wrong With White
You can pair white with any color of the color wheel, and the final result will turn out great. The bright white walls, shelves, armchairs, and carpet contrast the brown sofa in the most elegant way. Thanks to the wooden accents from other furniture, the room also looks extra cohesive.
2. Beige Will Complement Brown Nicely
Brown furniture such as the sofa set, the leather ottoman pillows, and the drapes contrast beautifully with this room's beige and white theme.
This Victorian living room design looks super luxurious and expensive. However, the brown and beige palette also adds a sense of warmth and coziness to the room.
3. Go All-In With Brown
Express your love for this rich, chocolatey shade by incorporating it in every item in your room. Remember to make the living room's ceiling more attractive to emphasize the contrast between light and dark.
Adding a few gold details here or there, similar to the ones in this photo, will also add an elegant touch to this dark and cozy room.
4. Be Mysterious With Black
Black and brown, who can say no to that? By using black walls, black carpet, and black tables with gold accents, your brown leather couch will look 10 times more luxurious. Remember to illuminate the area with lots of light since black decor tends to disappear in the dark.
5. Blue Is The Warmest Color
A navy blue wall provides a calming and peaceful atmosphere that goes well with your caramel brown couch. Be sure to include a few navy blue decorations here or there to tie the look together, like the pillows, blanket, and houseplant pots in this picture.
6. Pair It With Gray
For a more formal and chic appearance, combine it with grey. This tone of brown works well for the business-like vibe of this room. Adding some navy blue armchairs to the mix is also a great option.
7. Brighten The Room With Yellow Walls
While the brown color from the sofa set is warm and welcoming, the yellow walls can balance it out and add a sense of optimism to the room. Just look at how lovely this two-tone living room looks when it gets bathed in natural sunlight.
8. Lime Green Is Another Great Option
Your brown sofa will look exquisite when paired with this lime green color. Remember to add a few green throw pillows to make the room look more well put together. Using green curtains similar to the ones in the photo is also recommended.
9. Opt For Dark Green Accent Walls
I've never thought a dark green wall could make a room look so sophisticated. Can you see how well this charming shade of green complements the brown leather sofa and wooden decor? Who wouldn't fall in love with this design?
12 Foolproof Ways To Style Your Leather Brown Couch
Leather is not only a long-lasting material, but it also works hand in hand with the growing trend for bolder color choices for walls, furniture, and decoration. So if you're ready for the leather revolution, take note of these suggestions below!
10. Warm-Up Your Traditional Living Room
Doesn't this room make you feel nostalgic? Just imagine sitting on the cozy leather couch, enjoying the warmth from the fireplace, talking about your day with your loved ones; this room can truly make you feel like a kid again.
11. Style It In An Open Space Living Room
The wide space allows the sofa's color and texture to stand out, while the stairs, carpets, and cushions all have subtle brown accents that tie the couch into the overall decor.
12. Add A Pop Of Orange
Did this photo remind you of sunset when you first looked at it? The leather sofa and armchair look good in a living room bathed in orange. The combination of orange and brown is genuinely breathtaking.
13. All About Settings
Let's take a moment to admire the double-height glass door, beautiful marble coffee table, and giant art work. All of them look so chic next to the brown sofa.
The gray theme of this room will also look great with a grey couch living room design. However, this caramel brown color is a better match due to the wooden flooring.
14. Stick With Darker Tones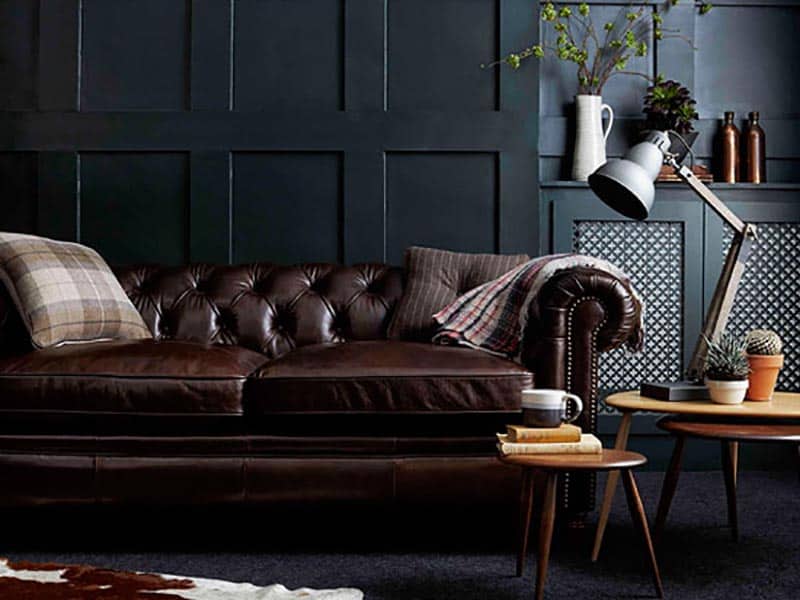 This room gives off the vibe of a gentleman's club. The polished leather sofa in dark chocolate looks much more alluring next to the beautiful black walls and brown fur carpet. Without a doubt, this room is the definition of class.
15. Use Stripes
A brown sofa is a safe choice that allows you to play around with different patterns. Mix a plain leather sofa with striking stripe patterns, eclectic picture frames, and statement decor for a chic and relaxed look.
16. Opt For Wooden Flooring
I have said this once, and I shall say it again, a leather brown couch is a perfect option for a wooden floor. Not just because they're both brown, the contrast between wood and leather creates a timeless look that works for any decoration.
17. Put It Next To A Brick Wall
I've been staring at this design all day, yet I'm still mesmerized! By placing the couch next to this magnificent brick wall and pairing it with some wooden items, you will leave your guests in awe.
Besides, you can elevate this design by adding rustic decorations on your living room wall. Using a neutral-colored rug and a few house plants is also highly recommended.
18. Turn Your Living Room Into A Mini Oasis
The grounding colors of this room will add a touch of nature to your living space. The earth-tone leather couch represents the soil, while the grey walls and accent pillows represent the river rocks. Both of them match amazingly well with the luscious houseplants around the house.
19. Get Inspired By This Mid-Century Style
Mid-century designs will never go out of style! The simplicity of this design and the overall brown tone of the room is super appealing. This room shall be the ideal hang-out spot for your friends and loved ones.
20. Go For A Symmetrical Design
This symmetrical and simple living room design is brought to life by the elegant dark brown couch. The white pillows match the wall and background decor perfectly, making everything look more cohesive and appealing.
21. Brighten The Room With Some Colors
Use a mix of bright colors and eye-catching patterns to soften the harsh tone of a brown sofa. This room design is perfect for those who love to express their energy and personality through the living space.
22. Consider Going For A Bohemian Design
The bohemian style is well-known among those who consider themselves free spirits because of its vibrant colors, natural materials, and unique charms. This brown sofa looks incredible next to these captivating boho trinkets.
Flex Your Creative Muscles With These Dark Brown Couch Living Room Decor
Let's move on to furnishings now! There are many items you can consider adding to your living room, not only because of their practicality but also their aesthetic.
23. A Mirror Can Completely Transform Your Room
Don't leave the space above the sofa empty; try accessorizing it with some lovely metallic mirrors. Mirrors can completely transform your living room if you know how to style them well.
Take inspiration from this picture, the light brown frame goes along with the dark brown sofa and the rustic vibe of this room.
24. Place Some Photos Above The Sofa
Mirrors aren't the only things that can be used to decorate the space above the sofa. This area can be ideal for displaying the most treasured photos of you and your family. This will add a sense of individuality to the room to make it truly your own.
There are many other ways to decorate above your sofa; take a look!
25. Add Some Patterned Pillows
It's all about the pattern! This design has used some patterned neutral-colored throw pillows to make the dark leather couch look cozier and more inviting. You may also add a decorative blanket next to them to further improve the room's vibe.
26. Wow Your Guests With A Giant Bookshelf
Nothing suits a leather brown couch more than a wooden bookshelf. Having a big bookshelf such as this one not only adds to the room's aesthetic, but it's also a sneaky way to show your visitors how intellectual you are.
27. A Boho Rug Will Pair Well With Your Brown
As crazy as it may sound, you can effortlessly elevate your living room using a carpet!
Just look at this design, the minimalist look is lifted thanks to the fun bohemian carpet in the center of your room. Besides, by adding a large rug, this small room looks significantly more spacious than it actually is.
Ready to learn more about choosing suitable rugs for your living room? Check this out!
28. Use A Statement Painting
Since the living room is the first thing your guests will notice when they enter your home, this is the perfect place to show off your new expensive piece of artwork.
You can also DIY your own painting using the same art style as you can see here. It will add characteristics to your living room and make your couch stand out.
Grab your canvas and make your own painting using these tips here!
29. Go For Contrast-Colored Decor
If you love a contrasting look but hate painting walls, invest in contrast decor instead.
Take some inspiration from this photo. The room might look odd if only 1 blue item is added to the mix. However, the same shade of blue is frequently used throughout the room, creating a highly contrasting yet cohesive look.
30. An Ottoman Might Be A Better Choice
Some sofas will come with an ottoman that can be used to replace the regular coffee table. If that's the case, you won't have to worry about mixing and matching the coffee table with the sofa. Just use the whole set, and you're good to go.
31. Choose The Best Coffee Table Design
Although every decor in your living deserves attention, your priority should be the coffee table since it sits right next to the sofa. You don't have to go overboard with the design or shape of the table since it can upstage the couch and make it look out of place.
For example, this coffee table is very simple. However, its curved shape and brown color complement the sofa well.
32. Add Lots And Lots Of Plants
Excellent news for plant lovers: your houseplants will look fantastic in a dark brown couch living room. The earthy tone of the couch and the luscious green from the leaves are match-made in heaven. The overall white theme also adds balance to the design.
Having trouble styling houseplants? These essential tips can help you out!
33. Try Hanging Driftwood On Your Wall
If you somehow can get your hands on a piece of driftwood, just hang it on the wall and wrap the plants around it. Then you shall have your very own Pinterest-worthy living room.
I know driftwood is not a very accessible item. However, if you're looking for a unique focal point for your room, this is it!
34. Add A Touch Of Metallic Gold
With the brown leather sofa set and the matching gold frame coffee table and end table, this design just screams elegance. The black walls and carpets of this room also help the couch stand out, which is the goal when designing a living room.
35. Don't Ignore Metallic Silver Items
The stylish silver furniture might be exactly what you need to elevate your living room. Silver items might make the room feel cold and uninviting. However, when paired with this cozy leather couch, everything will look super sophisticated and well put together.
DIY your own metallic silver furniture using these helpful tips and tricks!
Sharing Is Caring!
And there you have it, the best dark brown couch living room ideas! Based on these photos and helpful insights, you will now know exactly how to incorporate your newly-bought sofa in the living room.
Do any of these designs match your preference? Let me know in the comment section down below. And don't forget, sharing is caring! So go ahead and give this article a like and send it to your friends. I wish you all the best and goodbye!