If you work remotely, your home office should boost your productivity and make you comfortable while working long hours.
Even if you only need a desk for occasional email-checking, you can make it special and unique.
Why stick with the standard, dull desk when you can have a desk that is both functional and decorative?
However, before I move on to the desk design ideas, here are a few things you should have in mind before you start your DIY project or hire a professional to build it for you.
More About Shapes and Desk Materials
Let's go briefly through the most common materials and shapes for regular desks. The choice of the material depends on your preferences and budget. The available space you have determines the shape.
Material
Wood, plastic, metal, and laminate are the most common materials for desks. While metal is the most durable, laminate is cheapest, wood has a timeless elegance, and plastic features the highest color versatility.
Metal
In the past, manufacturers used metal only for legs or frames. However, metal is getting more popular as a material for entire furniture.
A metal desk is highly durable and looks contemporary.
Usually, for desks, manufacturers use sheet steel. If you want a metal desk, pay attention to the sheet thickness. The thickness should be moderate, and the desk will withstand load and years of use. If you choose steel or aluminum, pay attention to the coating. Both are prone to rust, so the ending coating should provide rust protection.
Even though the majority of the metal desks come into standard shapes, they can still bend to the shape you want. You will just have to explore more options and manufacturers.
However, metal is a challenging material to pick for the DIY desk project.
Wood
Wood is the most common material for the desk. Desks are usually made of solid wood or plywood. Solid wood and plywood differ in look and longevity.
Solid wood is more durable, buy plywood is more attractive. Also, it is easier to work with plywood, as you can shape it faster.
If you prefer a classy finish and look, you can go with solid wood. Maple, mahogany, cherry, walnut, and oak are well-known in furniture products, because of their features.
The color can vary from reddish to ash, so pick the one that will fit into your room style.
If you have only one sheet of plywood, learn how to make the best out of it:
Plastic
Plastic furniture is cheaper, attractive, and versatile. Compared to metal and wood, plastic desks are less durable and cheaper. Also, there are endless possibilities in shapes and designs.
Plastic furniture often has a lifespan of several years, significantly shorter than metal and wood.
On the other hand, a plastic desk can be excellent if you want to change the aesthetic of your room, quickly and on a budget. It isn't the easiest material for your DIY project, but there are many plastic desks variations in shapes on the market.
Laminate/Composite
Laminate and composite materials are great for desks because it resembles wood, it is cheaper and there are many design options on the market.
If you have a limited budget, then laminate could be a great solution. Laminate is easy to work with, it is comfortable and has a nice touch to it. In general, laminate has a wood core and plastic finish, which makes it versatile and highly used material in the furniture industry.
Shape
If you lean towards classier desks shapes then use an L-shape, a U-shape, and corner desk shape as a starting point. Each shape uses space wisely and offers possibilities for creative upgrades.
U-Shape
A U-shape desk is great for people who need plenty of storage space. You can add shelves, drawers, and organizers without having to sacrifice the working surface. Because they surround your chair, your working space won't take much of the room.
L-Shape
An L-shape table features one extended side, which you can use for screens or paperwork.
It takes less space than a U-shape, but also offers fewer storage options.
Corner Desk
A corner desk is great for home offices because it uses space efficiently. You can experiment with storage, working surface, and other elements, and still have modern and functional corner desks.
The drawback is that you will have to face a wall while working. However, you can always use some posters or inspirational quotes on the wall to make work more comfortable.
Discover how structural pine and a pre-made laminated countertop can make a beautiful and cheap corner desk:
Top 10 Desk Design Ideas
From minimalistic, to modern and vintage, here are some of the best and practical desk design ideas.
Go Minimalistic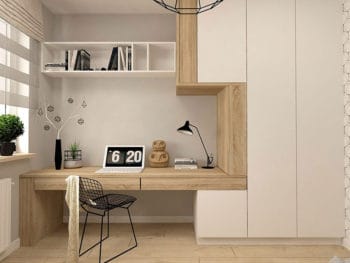 Sometimes simple designs are the best designs. If you have suddenly switched to remote work, and you need a home workspace that is functional and won't disturb the current interior style, here is a simple solution.
All you need is a large panel. It can be wood or plastic and something to attach it to, to create an office space. If you choose to go with this style, make sure the material and color match the style of the rest of the room.
Also, combining current shelves with a freshly-made desk can be a nice way to extend the space and make it more usable.
Rustic and Unique
If you need an office place inside your home, and you lean towards rustic style, you can easily build with the help of chains, wood panels, and two rustic shelves. The weathered items will work even better.
Attach one side of the wooden panel to the wall. Then, pierce the two holes on the front corners of the panel and use a chain to attach it to the ceiling. That way, you will improve the stability of your table, even though the primary bearing element is already attached.
The chains are a great touch, to mimic the weightless effect. Find two shelves and place it above the panel, to improve storage space.
Play with the light and space above the desk. You can add colored panels or wall lamps.
Built-In Desk With Cabinets
Custom-made furniture is the best way to ensure that everything will work together in your room. It is especially good for a smaller space.
For example, if you don't need a large table, you can go with the built-in office desk inside the cabinets. The upper cabinets will stay intact and work with the rest of the shelves to create a harmonic design.
It is a common choice for kids' rooms, but you can come up with a solution to use in a master bedroom as well. If you decide to adapt your shelves in the bedroom to make an office desk, make sure to match the height with your chair and to pay attention to the lighting system.
As the table will be built-in, the shelves will block the source of light so you will have to use lamps.
Make a Temporary Office Quickly and Easily
You can use an old piece of furniture to create a temporary office when you need it.
For example, the old sewing machine can easily become an office desk with the help of the panel that you will use it as a working surface. You can use a wooden panel, but also plastic or even marble.
Using old furniture to improve the look and functionality is a budget-friendly way, but also can improve the room aesthetics.
Vintage furniture is decorative, but you have to make sure you feel comfortable working on a desk like this. Find an ergonomic chair, and the height won't be an issue. A kneeling chair is also practical.
Keep the Flow
If your interior design in a house is more rustic and natural, you can find a solid piece of wood, preferably asymmetric, and make an office corner out of it.
It works beautifully in the cabin decorating style.
For this idea, any piece of wood can work, but wood processing will be required for making the surface even. Varnishing is also a nice way to make sure your improvised office desk will stay as you want it.
If you attach it near the window, you will have a beautiful office corner with a view!
Desk With Open Shelves
For keeping everything you need within a hand reach, a simple office desk with open shelves will be a great solution.
White color is a safe choice because you can easily match it with the rest of the room decor.
Open shelves offer plenty of options for decor and enough space for storing your items. Make a drawer for keeping papers and some important things and get a chair in the same style.
Don't Forget Glass
If you need something simple and stylish, pick a simple metal table with a glass surface.
You can use it as an office desk and as a dining table if have you have a smaller family.
It looks elegant and lightweight, but there are not many storage options. You can always compensate for the lack of it with other shelves in the room.
Laminate and White Combo
Subtle contract of white color and laminate looks gorgeous and is often seen in kitchens. However, you can play with the colors and make a desk out of it.
For example, leave a working surface in laminate, and paint the drawer in white to complement the look of your desk.
An opposite combination will work as well.
Legless Desk
People who need a large working surface, for example, architects and artists, could benefit from the legless table. Instead of four legs, the table has a central standing piece and offers plenty of space for moving around.
This type of table is also good if you need to share your table with someone, because you can put the chair wherever you want and there are no legs to block it.
For a home DIY project, this design is the easiest to manage. You will need two panels and hinges or glue to attach panels.
The lower panel must be sturdy and have a wider base to be stable and safe.
Refresh Your Old Desk
If you already have a desk you love, you can still improve it by adding a top shelf for a screen or books. It is a simple add-in that makes your desk more practical and leaves you with more working space.
You can experiment with materials and colors, or stick to the current style. All you need is a piece of narrow board and four legs to hold it.
Another good thing about this tip is that your screen will stay on your eyes level. That way, you can improve posture and relief back pain.
More About Desk Designing
Get inspired with more information about desk design and start improving your home and office space.
Conclusion
Desks are an irreplaceable piece of furniture in every home and office. But, you don't have to be rigid when it comes to the design.
Explore possibilities and materials, and think about your space and what can you do to get the best out of it.
Use old pieces of furniture and different shapes to create a unique, decorative, and functional desk.
Which idea looks easiest to achieve? And, which one is your favorite? Tell us why and share some tips on the home design if you have.