The following DIY bathroom vanity plans will make your bathroom go from blah to tada, and rest assured your morning routine will be more glamorous than ever. And indeed, DIY isn't all about giving your cabinet doors a new layer of paint – that's lazy and boring.
DIY is about putting your heart and soul into it, giving it a fresh start. In this post, various ideas on upgrading the vanity, the bathroom's accent, are in store for you: new color scheme, woodwork, lighting, and so on.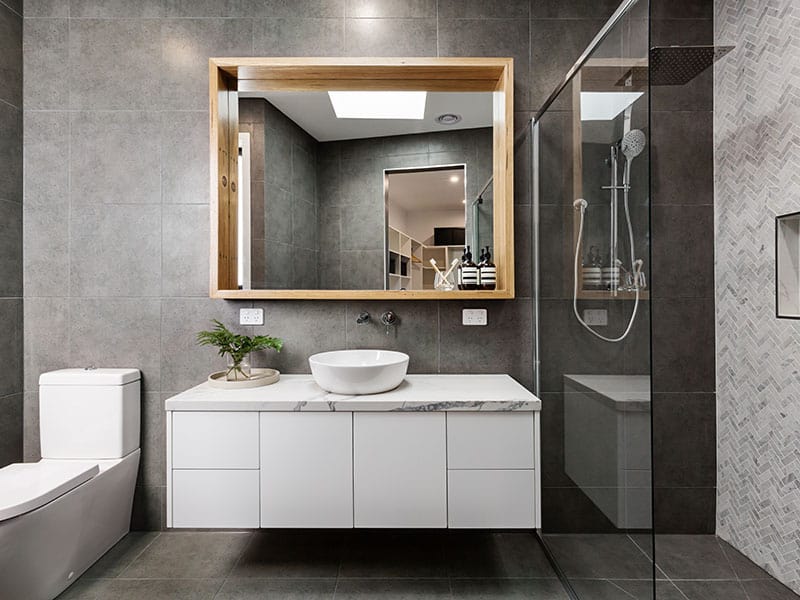 29 DIY Ideas To Make Your Bathroom Vanity Glow With Style
First and foremost, it's essential to visualize the result in your mind first to see whether it will match the backdrop and other fixings in the bathroom. Will the colors clash? Will a wood cabinet seem a bit too random if the walls are made of grey concrete?
With such confusion, I'm here to help. This post provides you with some gorgeous bathroom vanity ideas, taking cues from the rustic countryside, the vintage era, and the urban life. Check out the list below and see what's got your eyes!
DIY Rustic Bathroom Vanity Plans
Pottery Barn Bathroom Vanity
Shaker-style Bathroom Vanity
Mission-style Bathroom Vanity
Farmhouse Bathroom Vanity
Barn Foors Bathroom Vanity
Reclaimed Cabinet Turn Bathroom Vanity
Cherry Bathroom Vanity
Fence Board Bathroom Vanity
Butcher Block Bathroom Vanity
Wooden Pallet Bathroom Vanity
DIY Vintage Bathroom Vanity Plans
Turned Leg Bathroom Vanity
Vintage Dresser Bathroom Vanity
Painted Stencils Bathroom Vanity
Small-space Nightstand Turn Bathroom Vanity
Repurposed Buffet Table Bathroom Vanity
Black and Gold Bathroom Vvanity
Dining Table Turn Bathroom Vanity
Desk Turn Bathroom Vanity
DIY Modern Bathroom Vanity Plans
Simple Gray Bathroom Vanity
Mid-century Modern Bathroom Vanity
Double Bathroom Vanity
Floating Bathroom Vanity
Veneer Floating Bathroom Vanity
Marble Top Bathroom Vanity
Spa Bathroom Vanity
Cane Vanity
Other Bathroom Vanity Plans
Wall Mount Sink Bathroom Vanity
$35 bathroom Vanity
Bicycle Bathroom Vanity
Are you ready for some DIY actions? Let's go!
DIY Rustic Bathroom Vanity Plans To Connect With Nature
The great outdoors is only a few steps away with these amazing DIY rustic bathroom vanities. With earthy, neutral tones and natural elements like stones and hardwood, your bathroom will evoke a sense of tranquility and relaxation to ease your mind.
Incorporating wood into your living space is more than just for the aesthetics. It is said that wood can help reduce blood pressure, stress levels, and improve your cognitive abilities. Plus, it's renewable and recyclable, which means it does no harm to the environment.
Sure, Pottery Barn offers some of the best furniture and decors, yet they are a bit pricey. If you think the same, here's a DIY model to pinch your pennies. Wooden cabinets, a dark ceramic countertop, and white sinks – a classic combination that is never out of fashion.
Watch this video to know more:
Originating in the 18th century, shaker-style furniture is loved by many American households for its simplicity. If intricate details are not your thing, you'll love the plain lines on this maple wood bathroom vanity.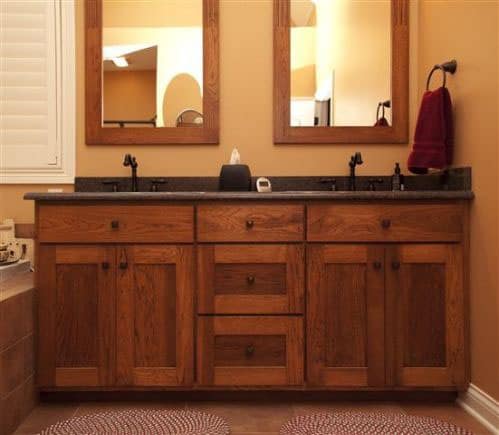 Often confused with shaker style, mission style has its distinct charms. The natural wood grain is the major focus, and metal pulls are used in place of mushroom-shaped knobs. Oakwood is the conventional choice, but you can go with cheaper options in the spirit of DIY.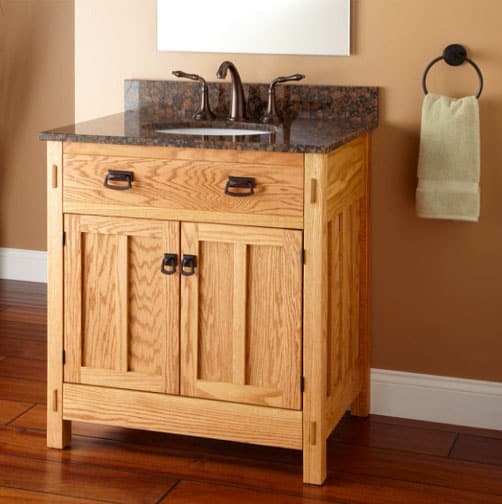 What screams rustic more than this farmhouse-style bathroom sink cabinet? A cross between the calming countryside and the modern city life is always refreshing and welcoming in your house. Finish with bronze detailings.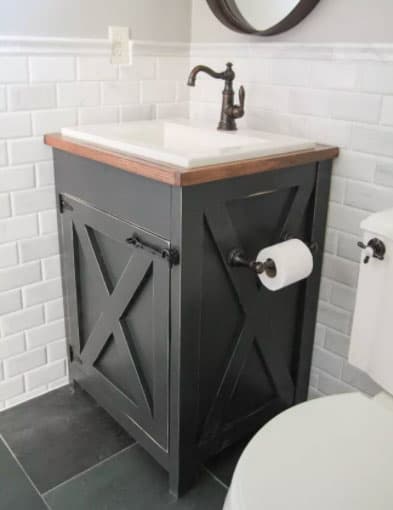 You should see the video below:
Modern meets rustic – what's not to love? The sliding barn door seems out of place at the initial glance, but it goes perfectly well with the color scheme. With a space filled with shades of gray, some green contrast will make everything go easier on the eyes.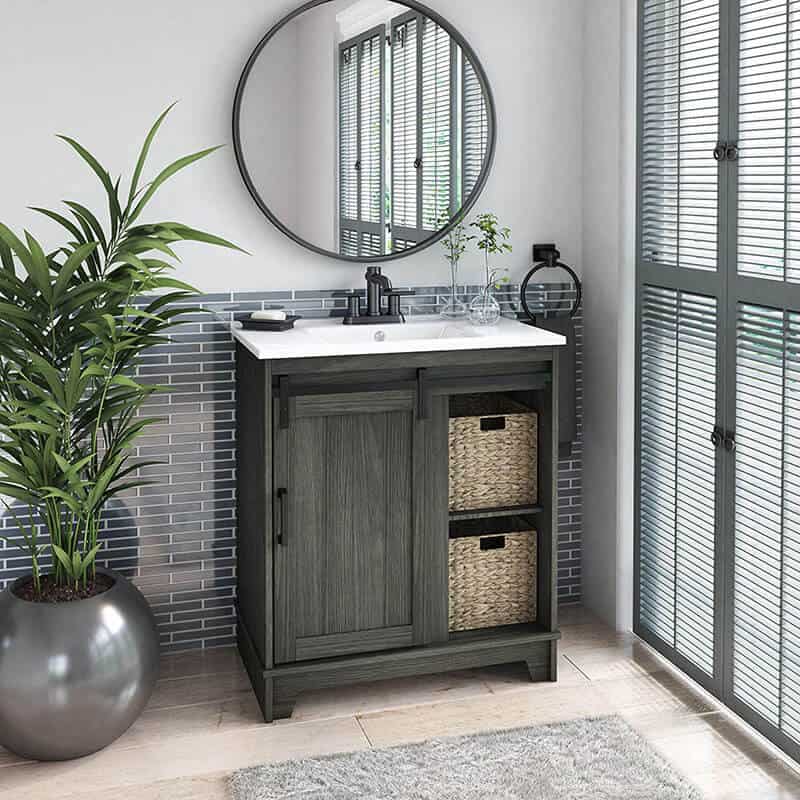 There's no such thing as satisfying as coming across a reclaimed piece of furniture while you are wandering through a flea market. And of course, turning it into a new bathroom vanity makes it even more valuable. Reclaimed wood ages like fine wine.
Cherry wood is a no-brainer when it comes to DIY. It offers an awe-inspiring versatility, and you'll love that it is effortless to cut, carve, and mold. For a subtle touch of pattern, finish the project with a marble countertop – black or white, it's your choice.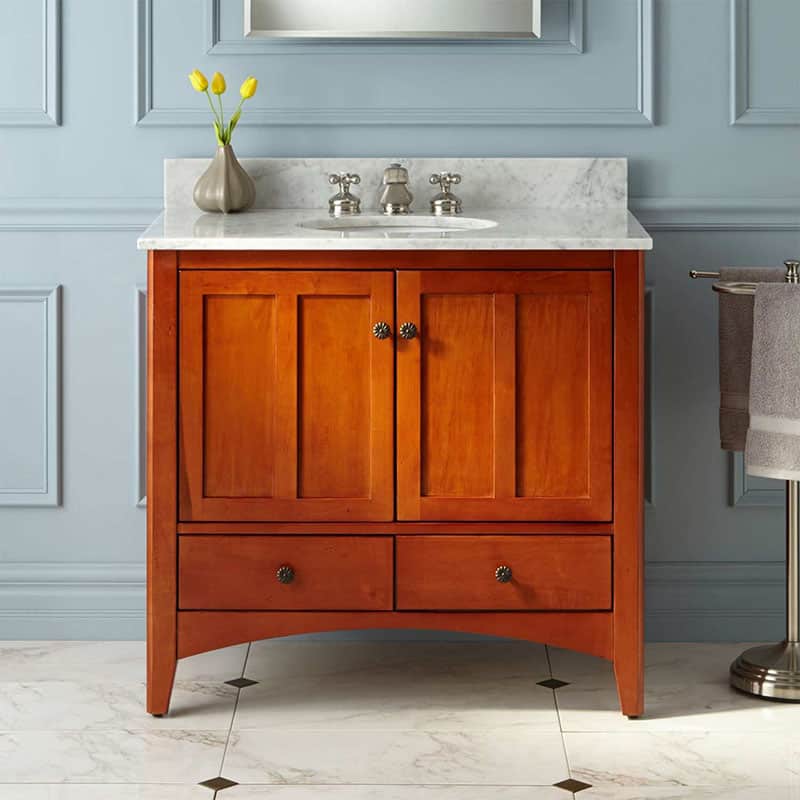 This DIY project knows how to take advantage of the fence board to keep things within reach. Here, the board is connected to the countertop, which comes with a glass sink and a black faucet for a dash of gravitas.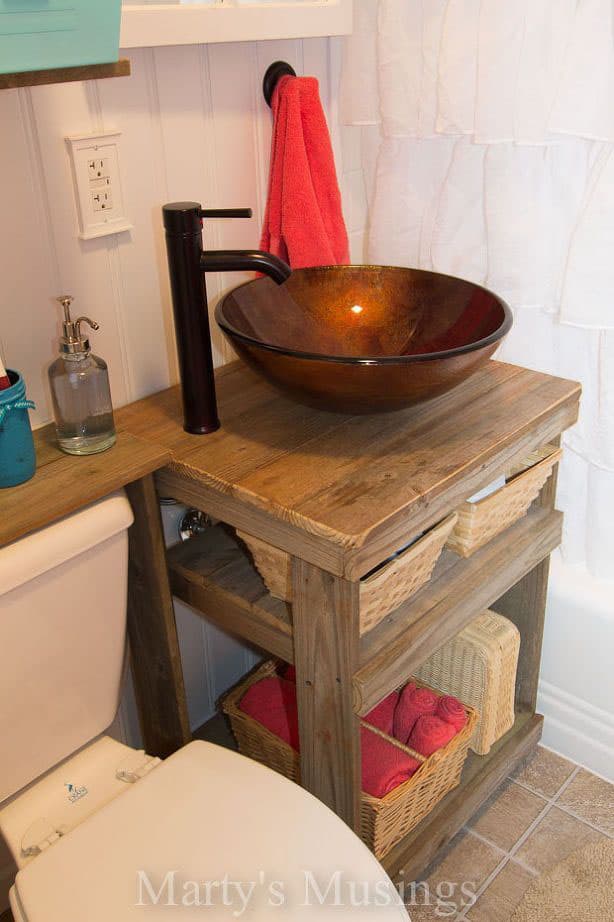 Butcher block delivers charm on the cheap, and it's a nice step-up from the usual marble countertop, which has been done repeatedly. Keep in mind that butcher block can be prone to damage if untreated and it requires regular maintenance, so be ready for that.
Despite their humble look, wooden pallets are packed with great potential. There are countless ideas of what you can do with them, from shelves, bedpost, wall hangers to bathroom vanity, making your living space feel cozy and inviting.
DIY Vintage Bathroom Vanities To Bring Back The Nostalgia
Vintage never dies. When talking about vintage, people hold very different opinions: reclaimed pieces on the flea market, vibrant color palettes, antique baroque patterns, and so on. In short, they all mean one thing: the remnants of the past.
Strictly speaking, vintage style is a broad term, and it is sometimes referred to as a category that includes other styles of the past (antique, retro, etc.) or an individual style. I won't keep you around any longer. Are you prepared to turn the clock back?
Trends come and go, but some manage to survive and remain a timeless classic – turned legs, for example. They are created by rotating a wood dowel on a lathe, which results in aesthetic curves. Set the vintage mood
Transforming your old dresser into a bathroom vanity is within the realms of possibility. Make a statement with pastel hues such as light blue or pink and let the drawers do all the organizing. You can't stop watching it glow when kissed by the rays of morning sunshine.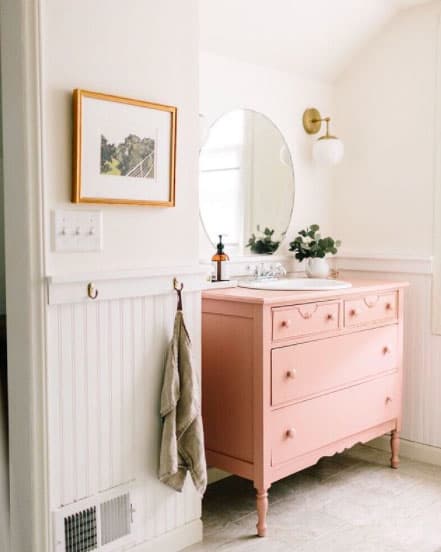 You should see the video below:
A playful pattern on the cabinet doors is certain to breathe new life into your bathroom vanity. Invented by the Chinese, mesmerizing stencils are a top-notch choice. If you don't want to mess with the paint, grab some wallpaper rolls and paste.
Your wooden nightstand is unrecognizable when turned into this bathroom vanity, which is ideal for small-space bathrooms. With three spacious drawers, everything is neat and organized, and you'll love how the ceramic countertop brings a modern touch to the piece.
Your pastel dream is fulfilled with this exquisite bathroom vanity revamped from a buffet table. Other standout features include two glass vessel sinks and mirrors that come with a double duty: displaying small decorations and letting you gaze at yourself in the morning.
Once you go black, you'll never go back. The achromatic color provides a dramatic flair to any boring white wall, and with a right amount of lavish gold, your bathroom vanity is guaranteed to steal your guests' covetous glances.
The furniture-turn-vanity game goes on, this time repurposing an old dining table to save your pennies. If the whole table does not fit your bathroom, do a few measurements and cut it accordingly. Place a basket underneath to store all your towels and personal stuff.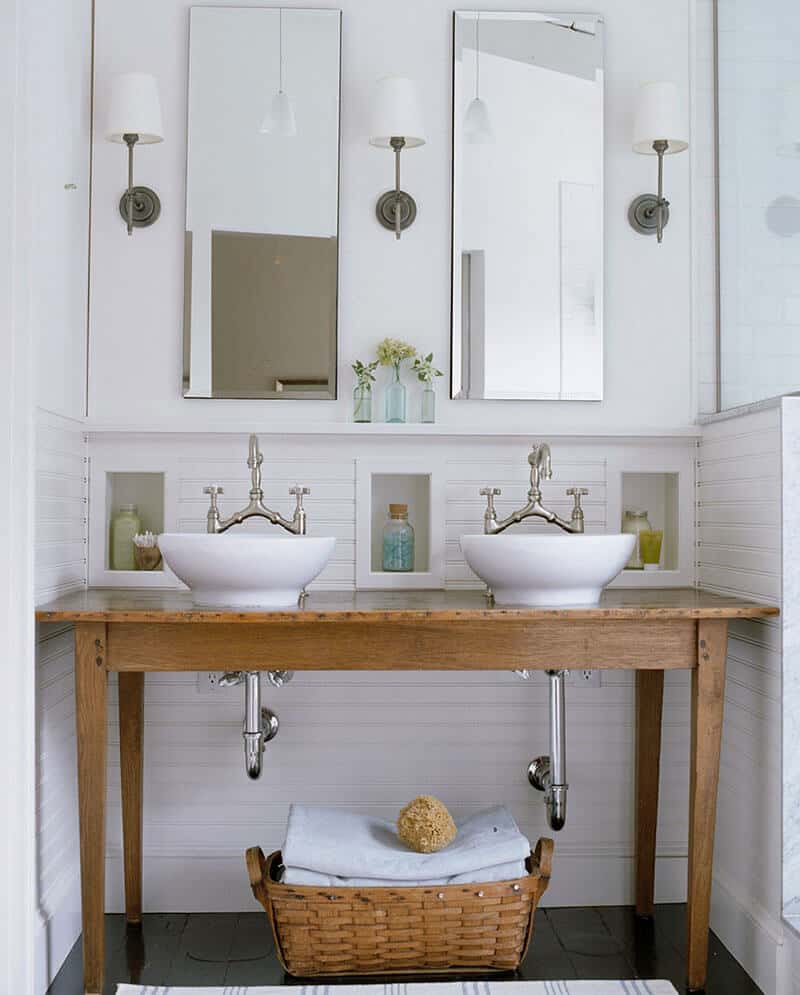 If a dining table is possible, why not the desk? After all, conversing a piece of used furniture into a vanity is not such a strenuous job. Cut a hole for the sink, do some sanding work, and give it a new color – that's it!
Homespun DIY Modern Bathroom Vanities You Will Love
If your life motto is "let bygones be bygones," you will be obsessed with these modern bathroom vanities. The emphasis is put more on the industrial materials and design than ornamental details, with colors like black and white that give way to natural light and openness.
Moreover, practicality and functionality are considered to be of crucial importance in modern interior design. In other words, a piece of furniture should have not only beauty but also serve a particular purpose instead of taking up your space.
It is evident that dark and cool-toned shades are in vogue. Yes, you know I'm talking about gray, the perfect in-between if neither black nor white is your cup of tea. Soften it with metal accents to complete a look that is elegant and stylish without feeling too heavy.
Mid-century style is genuinely unique, blending the best of the past and the future that results in stunning pieces taking function over form, making use of geometric shape, and focusing less on minimal orientation. To illustrate, look at this gorgeous bathroom vanity.
Take things easy with this double-sink bathroom vanity built for couples that fight over who should get ready first. The countertop is always clear thanks to a wooden shelf beneath, providing enough space for his and hers towels and personal care products.
Floating vanities give you more space without making you feel like a complete stranger in your own home. Deceive your eyes with a wide mirror and make use of the drawers for easy storage – there are twelve here, so no complaints. Its elegance is unparalleled.
These wooden boards are decorated with a rumi veneer, which possesses an awe-inspiring wooden grain and fantastic durability. And why go with one when you can go with two? Add some visual interests to make it more lively, such as flowers or candles.
You should see the video below:
Marble countertop is a perennial favorite for many reasons. Its longevity is excellent, and the design goes with almost everything. There's a wide selection of colors, with white remaining the most popular choice. Washing your hands has never been this opulent.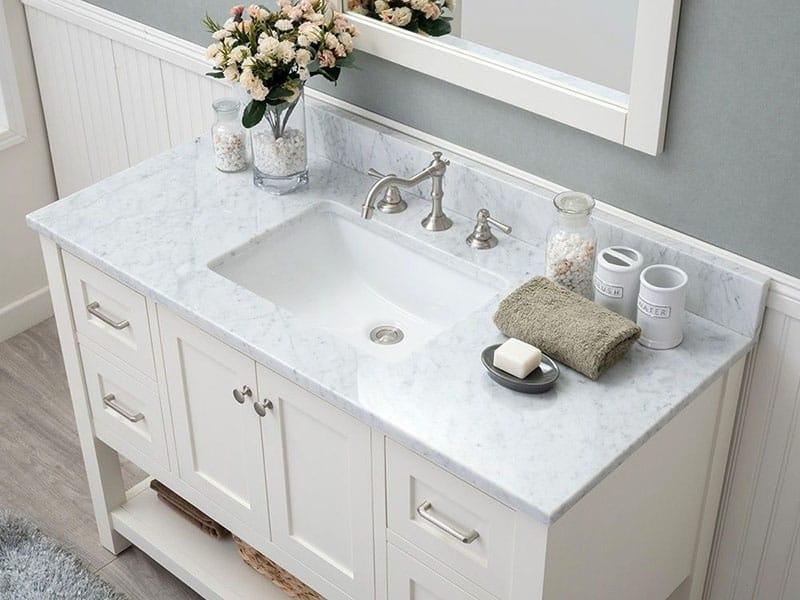 Thank God it's Friday again, which means it's self-care day! With this spa-inspired bathroom vanity, amping up your glam after hours of work feels as if you're walking on cloud nine. There is enough space for your towels, candles, and even champagne!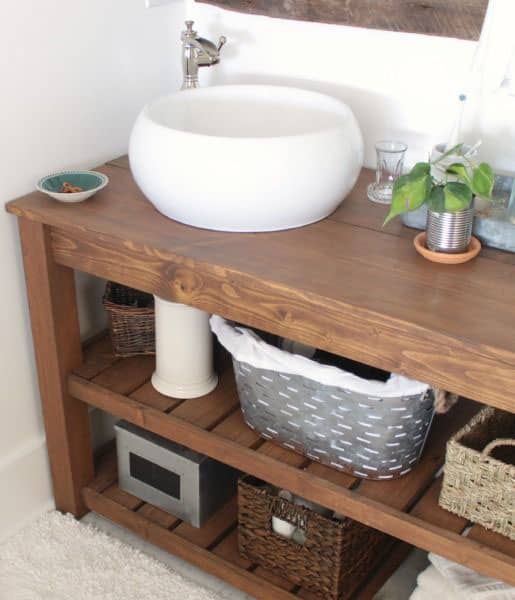 Cane webbing has taken the interior world by storm, gracing every small-scale apartment and big condo with its wonderful elegance. Plus, DIY with this sophisticated material is as easy as a walk in the park, so relax even if you have just stepped into the crafting game.
Watch this video to know more:
Other Bathroom Vanity Plans For Your Consideration
Three more bathroom vanity ideas in case you are not yet satisfied. Check them out!
Tight space and a whole lot of stuff? I got you covered with this brilliant bathroom vanity. The giant pipes are cleverly hidden by a vanity that's built to fit around a wall-mounted sink, and you'll be glad that there's ample storage for your towels and other things.
A bathroom vanity that costs you only $35? No kidding – it's the magic of DIY! This bathroom vanity gets a wooden redo with only cedar fence pickets, cedar board, plywood, golden oak stain, and liquid nails. The result has truly made my jaws drop!
DIY is about thinking outside the box, even to the point of trying something that's considered quirky and outrageous as well. This bicycle bathroom vanity is sure one of those ideas, and the furnishing is sure to spark some fun to your little space.
Your Hard Work Pays Off
The idea of DIY sounds a bit intimidating, especially the aftermath (yes, the cleaning-up), but these DIY bathroom vanity plans are totally worth your shot. It's always a pleasure to give your house a character or texture makeover, even if it's just something tiny.
I hope you already have something in mind by the time you're here. Don't be afraid to share your results or more DIY ideas for the bathroom vanity via the comments below – I'm waiting to read them all. Happy DIY!