These DIY sauna plans are the ultimate shortcut to a restorative paradise. After an exhausting workday or a sweaty workout, a few minutes in a sauna is sure to do wonders for your physical and spiritual health.
Originating in Finland thousands of years ago, sauna started as a health practice, but in modern times, it is the gateway to a relaxing and invigorating experience that leaves all your fatigues behind. Nothing screams "love yourself" more than a sauna session.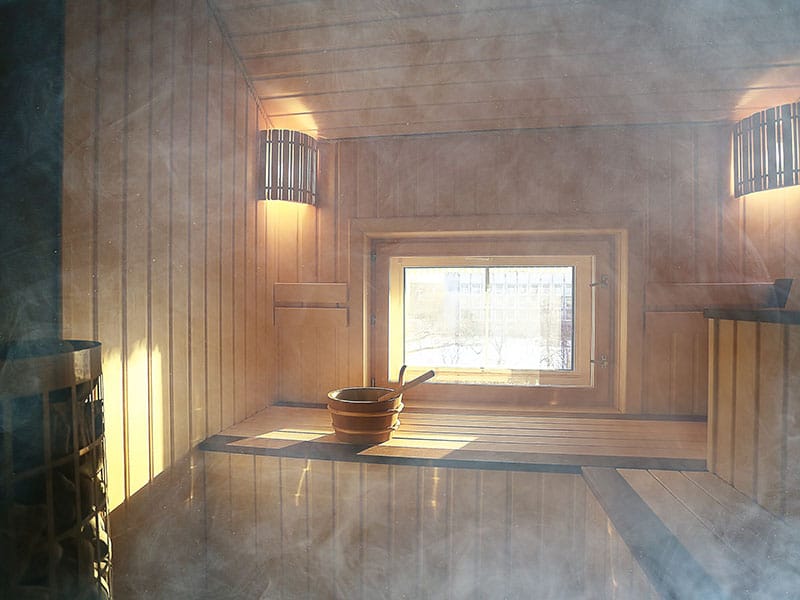 28 DIY Sauna Projects To Escape The Fast-Paced Life
Incorporating a sauna into your living space sounds like something beyond the realms of possibility, but trust me, it's doable, so long as you have the right plan and idea in your head.
And where are they, you ask? There's no need to search for highs and lows. Check out the list I've rounded up for you below. There are many DIY sauna plans that suit your needs, from small-scale projects for beginners to major renovations that won't fail to impress you.
DIY Sauna Plans Made From Scratch
Wood-fired sauna
Cedar barrel sauna
DIY sauna and hot tub
Finnish sauna
DIY near-infrared sauna
DIY near-infrared sauna for less than $100
DIY near-infrared sauna under $150
Cordwood masonry sauna
Wood-burning sauna
Dry sauna
Wood-burning sauna finished in 7 days
Repurposed DIY Sauna Plans
The indoor bathroom sauna
The outhouse sauna
A sauna in the shed
Trash bag sauna
Basement sauna
The closet sauna
DIY room turned sauna
A sauna in the bathtub
Old barn Finnish sauna
Sauna Plans Made With DIY Kits
4×5 outdoor sauna kit
4×6 indoor sauna kit
5×6 outdoor sauna kit
6×8 outdoor sauna kit
Outdoor barrel sauna kit
Other DIY Sauna Plans
Inexpensive DIY sauna
DIY sauna for your guests
Mobile sauna
Are you prepared to break a sweat? Let's go!
DIY Sauna Plans Made From Scratch That Will Wow You
Usually, a sauna project will cost you more than a thousand grand, not to mention the installation and maintenance expenses. But don't let those things extinguish your sauna dream – you will be glad to know that erecting one from the beginning is not pricey at all.
The following sauna plans are concrete proof. There's a lot to be done, and it will require tremendous effort. Nonetheless, once you step into your final result, you will realize how worthy it is. The dripping sweat, the smell of wood, the steaming hot rocks – it's everything!
Winter is a wonderful opportunity to gather around the fireplace with your loved ones. If the fire does not seem to help carry the cold away, this wood-fired sauna will do the job. In just 25 minutes, it heats up to 150F – pretty impressive, right?
If you are looking for a sauna plan that finishes in less than three days, this is it. The sauna requires no special insulation, flooring, or roofing and is made of Western red cedar. Although it looks humble, you will be surprised to know that it welcomes 4-6 people.
This barrel sauna will look good in your backyard
Self-care is more than just having a glass of champagne and lighting up the candles. Take it up a notch with this splendid DIY sauna plan that comes with a hot tub that provides the ultimate comfort. Once you get in, rest easy that you never want to leave.
This Finnish-style sauna is the perfect addition to your backyard, and it looks and feels just like a little heaven. It's congenial, comfortable, and makes use of the cheapest materials, so you can build it even when you are cutting corners.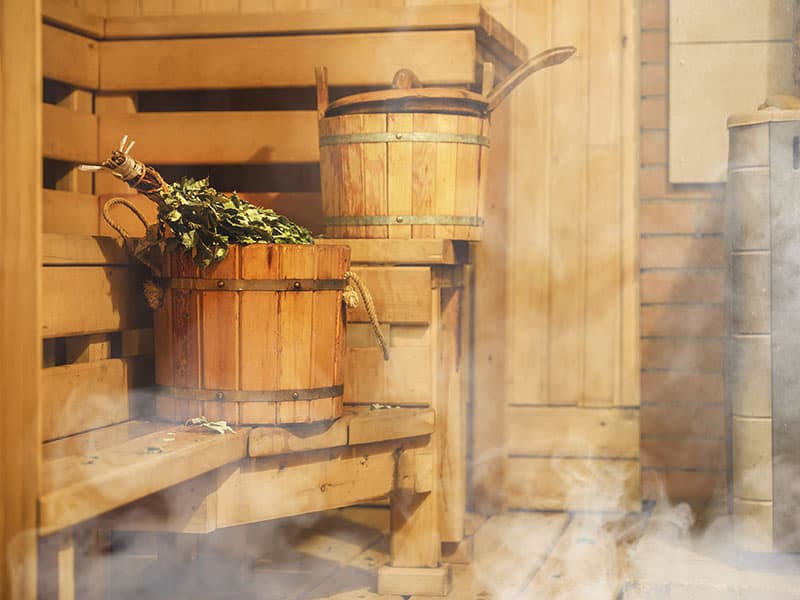 Don't be hesitant – start building this Finnish sauna today!
Recently, I have been obsessed with the idea of building an infrared sauna as soon as I read about their enormous benefits. It helps you lose weight, improves circulation, and regulates your sleep pattern – what's not to love?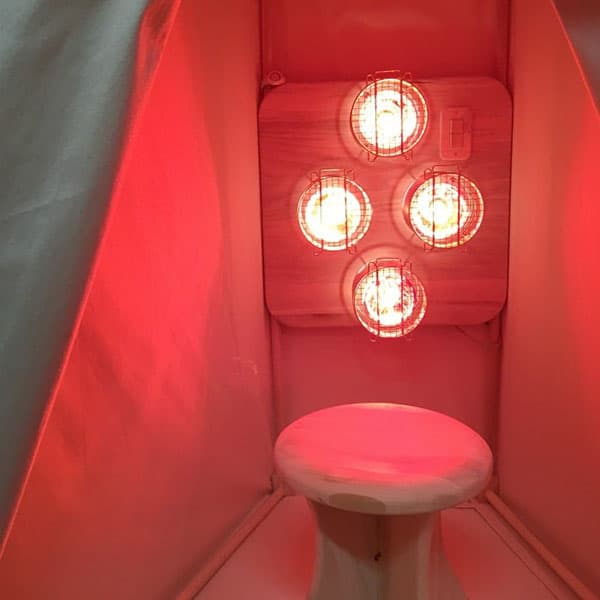 Credit: Deliciously Organic
Contrary to popular opinion, a near-infrared sauna won't cost you a fortune. You will only need about $100 to relax away from all the stress of your busy work week, which is reasonable considering the health benefits you derive.
The near-infrared sauna sensation continues with another budget-friendly idea. However, don't equate low prices with health risks. Models from RubyLux or TheraBulb are not only inexpensive but also protect you from harmful electromagnetic fields.
Credit: Feed A Brain
Cordwood construction gives you the best of both worlds: it's aesthetically pleasing and conserves energy. Cedar is the top-notch choice for cordwood since it provides great insulation and is less likely to rot, but alternatives like oak or pine are also excellent.
It's always a bummer to wake up seeing the heavy snow everywhere. Lucky for you, the wood-burning sauna in the backyard is set to give you some comfort with the great smell of pine wood. All it takes is 20 minutes to fight off the winter blues.
Credit: House Plans
You're missing out if you have never heard of or tried a dry sauna. Once you get out of it, your body is fully recharged and ready to get back on track again. Apart from that, it also makes your skin glow and boosts your mood.
Credit: Healthline
Maximize your weekend getaway with this DIY dry sauna.
It seems unbelievable, but you can build a wood-burning sauna from scratch in just a week. The finished product looks genuinely fantastic, and needless to say, that overhang porch has boosted the fixture's curb appeal.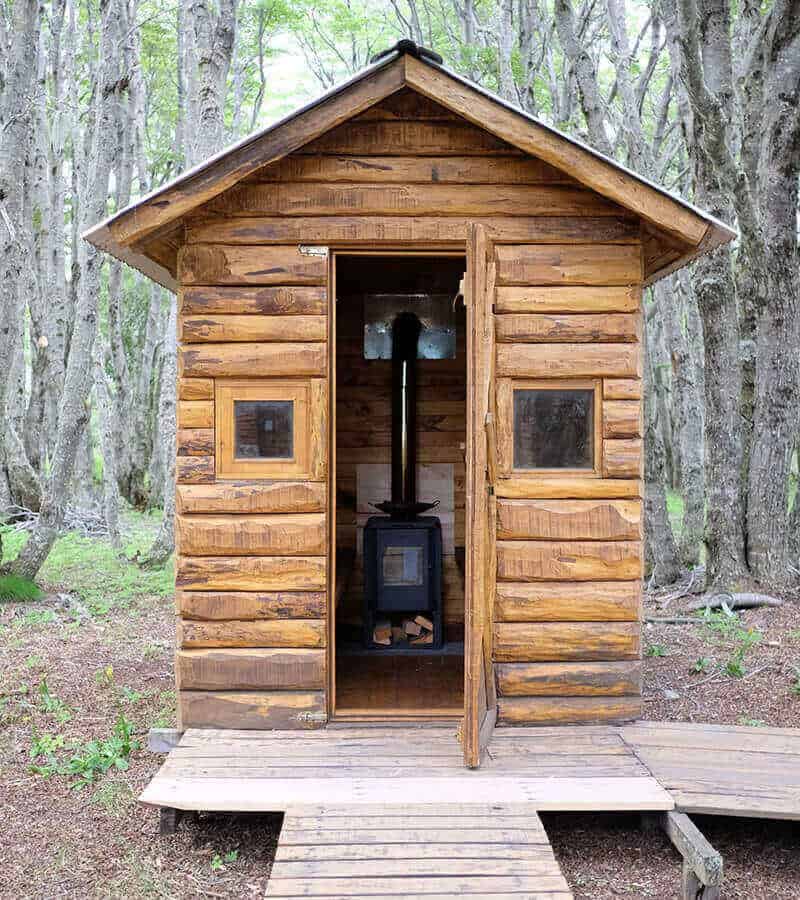 Credit: Katharine Lavenhagen – Coaching
Creative DIY Sauna Plans Repurposed From Old Structures
The frustrating part about DIY is usually the budget limit, and this can't get any truer when you are working on a sauna. Indeed, you don't want to pinch your pennies by reducing the size – it will be a claustrophobic disaster, and cheap materials are a no-no.
Given that, it's your best bet to make use of what you have already had. The choices are enormous, from an empty guest room that has been locked for years, a small shed that stores random stuff, or a closet that's full of dust, waiting for a glamorous makeover.
Transforming your bathroom into a sauna is feasible, and it is easier than you could have imagined. Like other saunas, this plan opts for cedar, the top-notch wood choice, as it does not expand much when hot. Infrared bulbs are installed in place of sauna heaters.
This sauna used to be an outhouse, and it's almost unrecognizable now. The hearth is constructed out of concrete blocks and houses the iron fireplace insert. Instead of running through the sidewall, the chimney in this plan goes straight through the roof.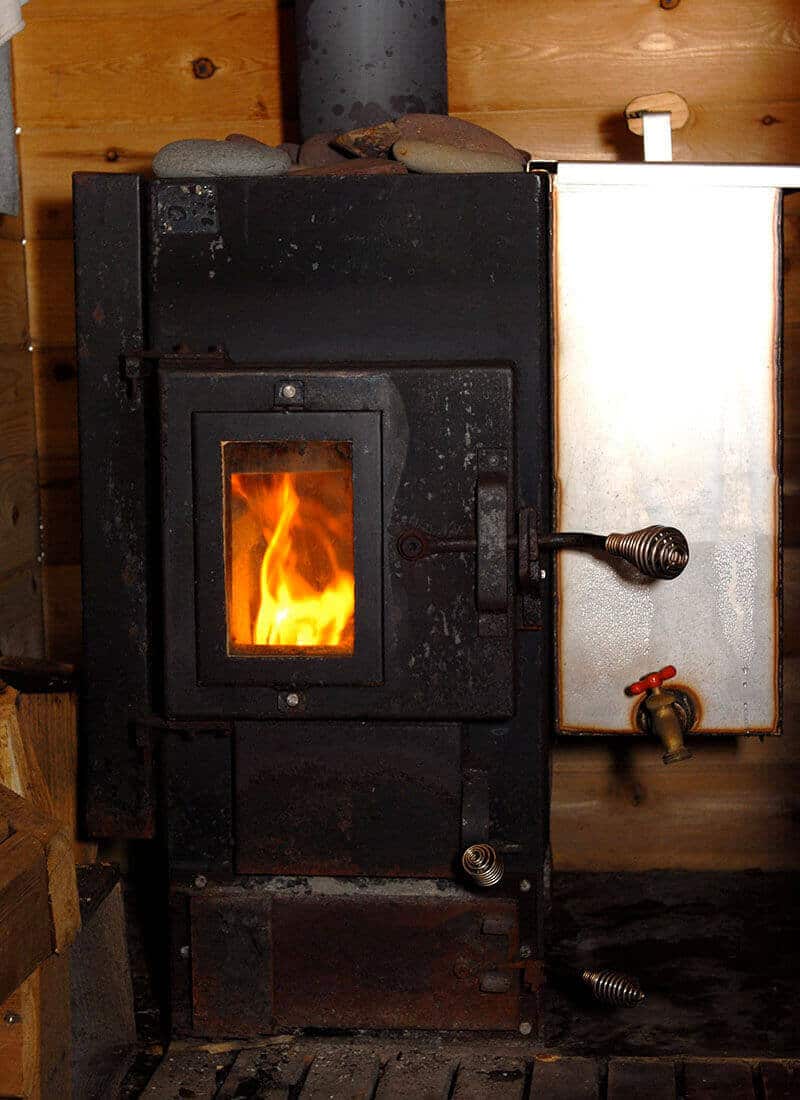 Credit: Saunatimes
If you can transform the outhouse into a relaxing sauna, you can do the same thing with the old shed in your backyard. Declutter all your dusty stuff and turn it into a DIY project that is always occupied whenever the breezy wind arrives. Your guests will be amazed!
You should see the video below:
Don't be intimidated by the idea. This DIY sauna plan is an excellent way to let your kids have fun without costing you an arm and a leg. All you need is a long piece of log, some trash bags, a hot stone from the fire, and some small ones around the "sauna."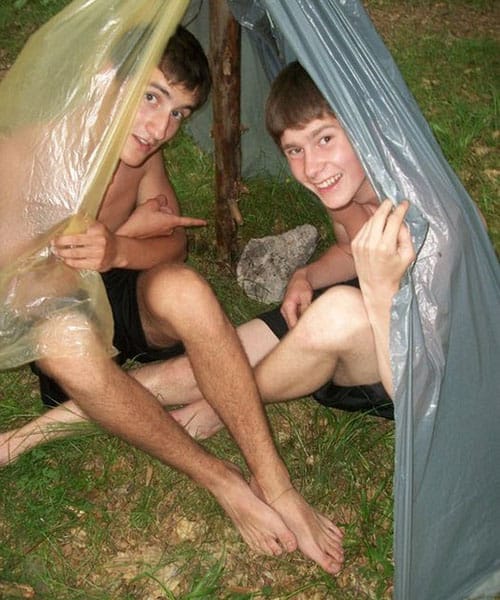 Credit: Instructables
Got a basement that has just been emptied? Why don't you turn it into a sauna since you already have two walls in place? It saves plenty of your time, which means that you only need to install the pipes, the walls, and the heater.
Credit: Moose Basements
Surprisingly, installing a sauna is even more straightforward than a shower (yes, no joke) since no plumbing is involved. Moreover, you'll be glad to know that a sauna does not rely much on space – it can be just as small as a walk-in closet.
It's incredible how the space has changed from dull and uninteresting to a relaxing retreat within just a few days. With the clear instructions provided, you will be able to pull off the project with no problems, I'm optimistic.
Credit: Scandia MFG
This "disposable" sauna idea costs next to nothing, and it's shockingly easy to carry out. All you need to do is take advantage of your bathroom, preferably a small one, to generate more heat and fill the tub with warm water. Step in, relax, and reset!
Credit: Treehugger
With this DIY sauna converted from an old barn, you can kick back and relax like the Finnish do – grab a towel, sit on the bench, and let the steam perform a miracle on your skin. You will walk out feeling more refreshed than ever!
Sauna Kits That Are Quick And Easy To Install
I have to admit, building a sauna from scratch is not an easy task. Various factors need to be considered before you get down to work, such as the material and the safety measures, and the woodwork will be such a torment if you are new to the crafting game.
Lucky for you, there are various DIY sauna kits available on the market nowadays. They are pre-built, come with a multitude of accessories, and offer numerous design and color choices so that you can pick what matches your lovey-dovey home.
Sure, DIY is fun, but sometimes it can be quite challenging and calls for considerable effort. Given that, this sauna kit is perfect for you. Half the job has already been done, so all you have to do is assemble all the parts and customize the roof with your favorite color.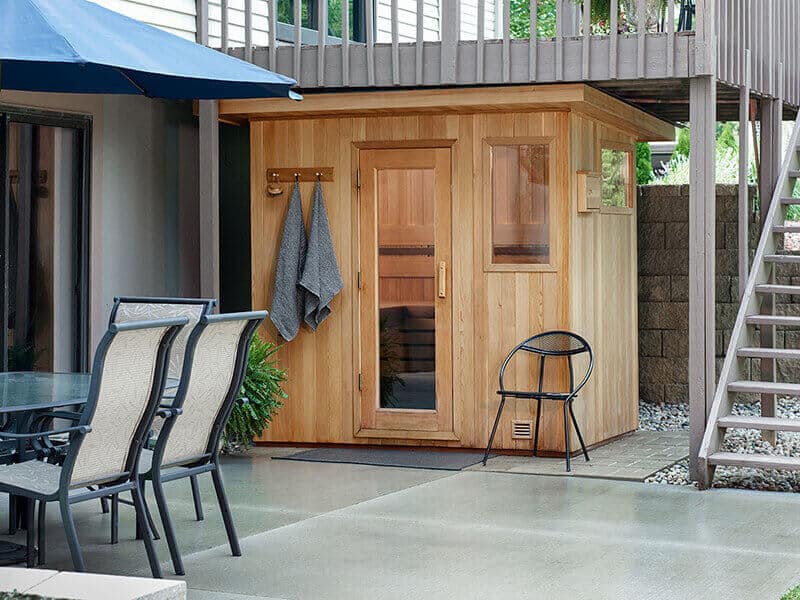 Credit: Diamond Sauna & Steam
This sauna kit is similar to the previous one regarding the dimension, but it's designed for indoor use if you are concerned about your privacy. It can accommodate three people at once and easily fit in any corner of your house.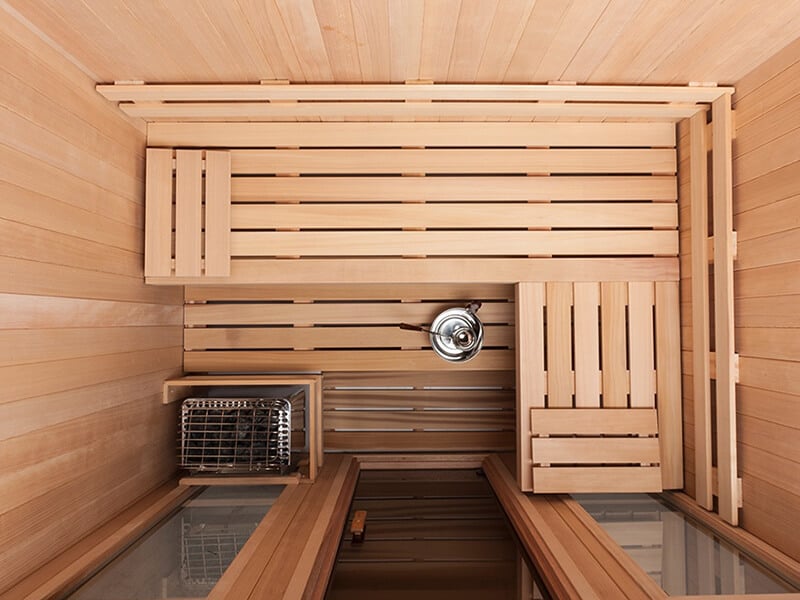 Credit: Finnleo
The 5×6 kit is the better option if you have plenty of space. Similar to the 4×5 one, the assembly is straightforward, and the kit comes with many accessories to elevate your sauna experience: a bucket, a wooden ladle, and a eucalyptus fragrance, to name a few.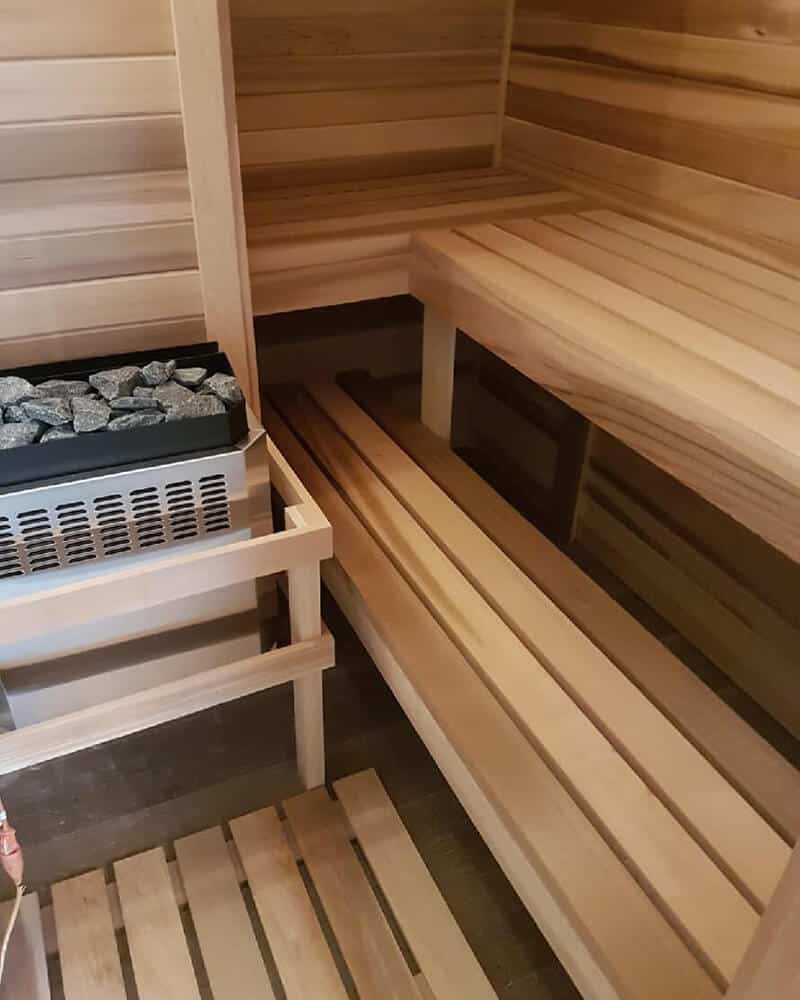 Credit: Bsaunas
If your family or friends are as passionate about saunaing and its advantages as you are, don't hesitate to get this DIY kit, which fits more than four people at a time. It is made of premium Western red cedar, so you know it deserves a spot in your garden.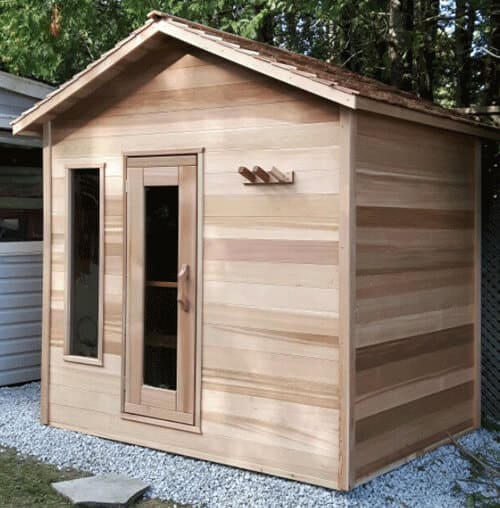 Credit: Superior Saunas
Simple and versatile in design, a barrel sauna is an excellent option that brings a rustic touch to your backyard. The circular structure also provides more steam circulation than its rectangular counterpart, ensuring that your mind and soul are free from stress and worries.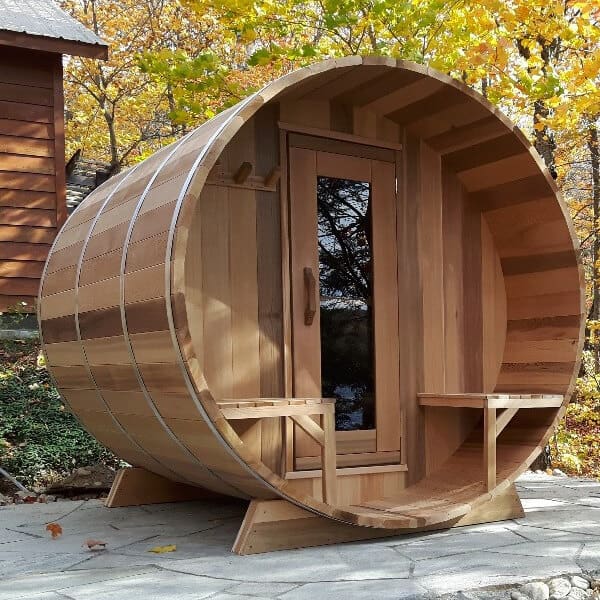 Credit: Wellness And Garden
More DIY Sauna Plans To Help You Wind Down
Below are three more DIY sauna plans you will love to have a look: one for your wallet, one for your guests, and one that can move freely!
Made with recycled materials, this sustainable sauna only needs some extra handy work to finish. Most of the components are cleverly repurposed in the spirit of DIY, but the result is not a letdown. It's an authentic Finnish-style sauna for four that costs less than $50!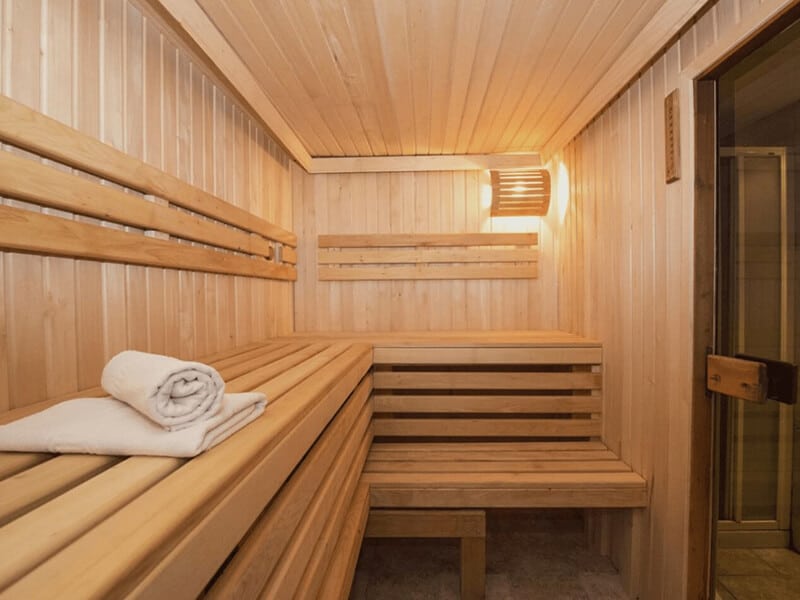 Credits: Infrared Sauna
Your beloved guests are more than welcome to enter this DIY sauna, which is put together without difficulties thanks to clear instruction and a list of materials needed. Of course, DIY doesn't strictly mean that you have to work on your own – enlist some help if you need it!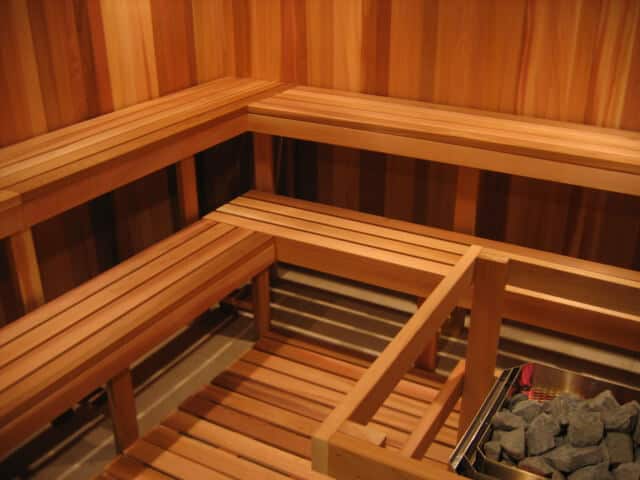 Credit: Saunafin
A sauna on the go? It's hard to swallow, but this DIY plan shows that anything's possible. The compact sauna features a conic roof and is naturally insulated. With many wheels attached to the bottom, this sauna spreads joy everywhere it goes!
Step Up Your Sauna Game With These Helpful Tips
These DIY sauna plans will not only keep you warm during the wintry days but also offer you a multitude of benefits to maintain your wellness. However, don't rush. Before enjoying your sauna time, there are a few things you need to keep in mind:
Avoid eating before going to the sauna
Keep yourself hydrated
Take a break every 20 minutes
And if you want, try to combine the sauna with a cold treatment. I guarantee that you will sleep like a baby afterward.
With this post, I'm confident that you have picked the perfect sauna plan for your home. As usual, I'll wait for your questions as well as any DIY tip you'd like to share in the comment section. Have a nice day!