Fresh paint in the room will make it brighter and fresh, but will it make it feel like home?
I don't think so.
There is nothing like custom wall decoration that can instantly change the whole look of the room, add personality, and improve the style.
You don't have to spend a fortune to decorate your wall. Instead, be creative and find inspiration on my list of top 10 DIY wall décor ideas.
Some are easier to make, some are contemporary, while others fit in the room with boho still.
The first step is to determine the wall color paint. Before I move on to the ideas, let's break down wall color theory, so that you can choose wall décor accordingly.
Color Theories
Colors in the room affect emotions, contribute to the look, and mixing colors can create harmony, and improve aesthetic.
There are several color theories you can use for inspiration if you plan to mix wall paint with colorful details.
Use Color Wheel for Wall Paint and Décor
The color wheel represents all colors together and can consist of an infinite number of shades. If you are a beginner, you can start by mixing three colors in a row, to create harmony.
There are useful tools that you can find online, which will allow you to access the color wheel and create your color palette. For example, Palleton is free and easy to use.
Complimentary Color Theory
If you prefer a bold look in the room, pick one basic color, such as red as the main color, and use the details in green to utilize complementary color theory.
Other color pairs are blue and orange, yellow and purple.
As a third color, you should use some neutral color to calm things down and provide relaxation.
Analogous Color Theory
Next, you can play with the color wheel and use three colors from the wheel. Pick two basic colors, such as red and blue, and for the third, take the color which is a mix of the first two. In this case, it is purple.
Another example is yellow, orange, and red.
However, you want to use them carefully. If your wall color is yellow, use the red details sparsely, making it approximately 10 percent of the décor. You can use orange in larger percent, but not exceeding 30 percent.
Therefore the formula goes something like this: yellow (60) – orange (30) – red (10).
Also, there is a monochromatic theory. It is the same proportion, except you will use neutrals, such as white, grey, and black.
Things You Can Use as Wall Decor
Frames, wooden pieces, jars, cans, crochets, planks, ladders, flowers, and many other items are in the game when it comes to DIY wall décor projects.
Think about functionality as well. You can make a decorative wall shelf that will look attractive and hold your items. On the other hand, the crochet piece on the wall is only for decoration.
Top 10 Wall Decor Ideas
Look at the wall you want to decorate and find a blank place where you will put the décor. Pick something from the list for starters, and don't hesitate to change things to make the custom decoration.
Table Flowers on the Wall
If you want to refresh your room with some flowers, why not put them on the wall? For this project, you will need a wooden table and a few old cans.
Because cans can become somewhat heavy, use a drill and screws to pierce the holes and secure the cans to the wooden table.
You can put flowers in the cans, but spice herbs such as basil and rosemary will also look great and smell nice. If you love tiny plants, you can put them in the cans alongside the pot.
Hang your table flower and the wall and enjoy your rustic decor!
Use Fruits
For the next décor, you will need fruit and a wooden frame. You can use oranges or apples.
To avoid harming the wall, you can put a piece of clear glass behind the frame. Cut the fruit in a shape you want and put it in the frame.
While this isn't permanent decoration, it is a scented one. Because this is so quick to make, you can experiment with fruits and make another decoration every two weeks.
It will look pretty and can work as an air freshener. If you have spice herbs, you can attach them too. For example, secure a few strings of rosemary with a piece of rope and put it in the middle of the frame.
Celebrate Love
If you have old wooden planks, you can use them to create a lovely hanging decor. Draw three hears of the different sizes with a black marker on the planks.
Cut the shape with a razor-sharp hand plane and use the copper strings to hang it on the wall.
Unprocessed wood will look authentic, but you can use any thin plank you have around. If you want to personalize it, you can paint the hearts and then have a colorful love decoration.
Unleash Your Inner Butterflies
The next trick you can use in any room with a large plain wall. You will need a bit of patience to create enough paper butterflies, but you can do it slowly, a few butterflies a day.
Watch the video to learn how to make paper butterflies:
Then, repeat the process until you have enough butterflies for the wall. Glue the butterflies to the wall, starting from one point where you will concentrate the pieces densely, and then, arrange pieces in the same manner, but smaller density.
Use one of the color theories to determine the color of butterflies, according to the wall paint.
Crochet Wall Decoration
Crochet decoration adds the boho effect to the room and matches with white color, weathered furniture, and green plants.
You can create one larger crochet piece on a wooden stick or a few smaller ones.
If you choose to make a large, statement piece with fringes, you can hang in the central place of the wall. Leave the fringes long for even better effect.
People who are not that skilled with crochet still can make a beautiful wall hanging décor. You will need several rope pieces or multiple shoe ties in the same style and a wooden stick.
Watch the video on how you can use simple knots to make macramé decoration piece:
If you learn to make this simple knot, you can experiment with ropes and create a unique decoration.
Hanging Feathers
The next DIY project needs only several feathers and markers or a box of tempera paint.
Go for a walk in the park and collect at least five feathers. Then use paint to make them vivid and a black marker to highlight sections, to make it look like stained glass.
You can attach the feathers to a wooden stick and then, fasten the stick or hang each feather individually.
Brink the Sky In
Another simple way to decorate the wall with paper and glue is to make paper clouds. It will look especially pretty if your wall paint is blue, or in some neutral color.
You can make 3D paper clouds and hang them or glue them to the wall, or just simply cut out clouds from paper.
This decorating method will look especially charming in the nursery. Don't make all clouds the same size. Different sized paper clouds will create texture and look more attractive.
Watch the simple tutorial on how to make 3D paper clouds with paper and strings:
Use Geometry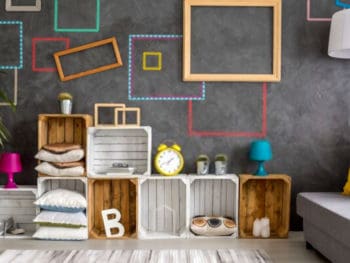 Grey walls, as well as white, need something colorful to cheer them up and bring the energy in the room. However, if you plan to use several colors, you should stick to geometric shapes, to avoid a messy look.
Come up with a pattern of rectangular figures in different colors and different sizes.
You can paint directly on the wall or you can make paper strips and use double-sided adhesive tape to attach them to the wall.
The first thing you have to do is to mark the wall and highlight the places where the rectangular frames will go. That way, you can look at the wall and see what the best combination is.
If you want, you can add two wooden frames, but only if they match the rest of the furniture in the room.
What is nice about this decoration is that it isn't aggressive, but still makes a statement. Choose one wall to decorate it this way, instead of an entire room for a better look.
More Geometry
Plywood boards will work the best for the next project, but you can use any material you want.
Cut several hexagon board tiles and glue them to the wall. Flip the plywood on some tiles to make the decoration three-dimensional.
You can even use tiles to mimic the happiness hormone serotonin shape and boost happiness in your home.
If you decide to use plywood, it will look the best on neutral walls such as white and grey.
Statement Wall
The largest project on my list requires transforming the entire wall.
For this one, you will have to do a lot of measuring and be very precise, because it relies on symmetry.
After you gathered precise wall dimensions, find out how many wooden, square tiles you will need to cover the entire wall. The distance between them should be equal.
It is a nice way to utilize one of the color theories as well, by picking the box color according to wall paint. After you make all wooden squares, you should secure them on the wall.
People who aren't very skilled may accomplish similar effect with white strips, but the effect will be two-dimensional.
If you go with wooden boxes, you will end up with a wall shelf. However, don't put items in each box, to avoid looking all-over the place.
Explore the Wall Decor
You can make wall decorations out of everything. Here are the most common questions and answers about homemade wall decor.
Conclusion
The plain wall can look dull no matter what the paint color is. You can purchase beautiful wall décor in the stores, but making it by yourself, will ensure that you will end up with unique wall décor. It will match your preferences and room style.
There are numerous ways to decorate your wall, but you have to be creative and think out of the box. Frame things that you usually wouldn't, such as fruits, make wooden geometric and use my list for the inspiration.
Tell me which idea works for you, and which one you are scared to try? Share your tips on how to make walls stand out in every room!