If you are redecorating your bedroom, why not start with the charming combination of grey and yellow? Contemporary colors such as black and grey are an excellent choice for bedrooms, but you have to add details.
A grey-yellow combination for the bedroom is great because it is relaxing and elegant at the same time.
To get more grey and yellow bedroom ideas for decorating, keep reading.
How to Decorate Your Bedroom?
A bedroom is your personal space, space for kind moments, and your getaway. That is why you should pay attention to the room decor, colors, and details. It should express your feelings and preferences.
Here are a few tips to have in mind before you start adding details.
Wall Paint
Choosing grey for wall paint is always a nice choice. It is a neutral color and with the natural lighting, grey can make your space look bigger.
If you want to make the room look airier, pick the soft shades or shimmering gray. But, cooler and darker tones of grey will make it more sophisticated.
Ceiling
Don't overlook the ceiling. You will look at it whenever you lay on your bed.
You can paint the ceiling a few shades lighter than walls. That way, a ceiling will look lower and give your room the effect of intimacy and coziness.
Lighting
Like in photography, lighting is highly important. A lighting system should contribute to the look and feel of the entire room.
If the lighting is good, you can use your bedroom to read, relax, or even for work, as long as you have a desk and chair.
To pick the appropriate lighting, you should look at your room in daylight and during the night.
You may have plenty of natural lighting during the day, but you will need lamps for the nights.
A mix of table lamps and wall lamps is an excellent choice for the bedroom, because you can adjust it for your needs. If you have a high ceiling in the room, you can use tall lamps as well.
Yet, if the ceiling isn't very high, avoid them. Tall lamps can make the room look smaller and somewhat crowded.
Curtains
Investing in curtains can be a great way to add life to your grey bedroom.
For example, if everything else in the room is grey, bright, sunshine yellow curtains can break the monotony. It can make the room look chic.
Also, many people avoid patterns in rooms, because they don't know how to match them with other elements in the room. Curtains are a safe way to include patterns in the room.
Why Mix Grey and Yellow?
Despite the style you pick for the room, you can never go wrong with the yellow and grey combination.
Grey is neutral and the yellow is bright. Together, they provide a harmonic effect, and there are few other color combinations that work together like that.
Grey looks calming and yellow ads strength and personality.
You can also work with different shades of grey and combine them with bright yellow.
Mustard yellow or pale yellow are also great for mixing with other elements. They can look sophisticated, while bright yellow is uplifting.
Check the beautiful and inspiring compilation of grey and yellow bedroom and living room ideas. Take screenshots on the best parts!
Don't Forget the Beddings
Soft and comfortable linens are the best way to add comfort to your room. Invest in high-quality linens, but pay attention to the pattern and design.
You can find beautiful beddings in all shades and patterns of yellow.
Plush, mustardy blankets add coziness, whether you use them as a throw-on blanket or standard blanket.
Grey and Yellow Bedroom Ideas
Here are some ideas on how you can use details to make your bedroom stylish and comfortable.
Mediterranean Style With Smart Details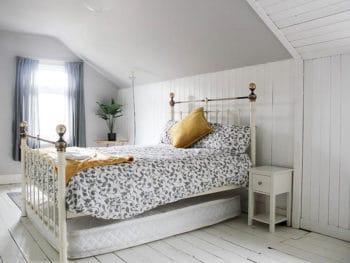 If you don't want to go all grey for your room, a grey-white design with simple yellow details is a great choice.
Use details to compliment the entire room in Mediterranean style. Of-white floor with multiple-grey shades rug can look dull without bright details.
Subtle details such as a mustardy-yellow throw-on blanket and decorative yellow pillow can be fine touch even with plain beddings. If you are not afraid to experiment with patterns, you can pick the bedding with grey ornaments.
Again, the choice of ceiling color is significant for completing the entire look. A nice, neutral grey shade for the ceiling will be a perfect match with a grey rug.
Make the Wall Stand Out
If you prefer a contemporary style with clean lines and geometry, a wall behind the bed can be a great place to start with for your master bedroom.
Smart use of light and minimalist details, as well as color-blocking trend, look modern and clean. To achieve this, you will have to make changes in the wall. If you want to avoid damaging it for good, you can make a panel on the entire wall, and then cut the shelves for lamps.
Paint the panel in dark grey as well as the floor, and make the shelves in bright yellow. That way, you will keep the harmony in the room. You can add yellow linens for a more modern look.
If you decide to make the wall behind the bed stand out, use the light smartly and add a few details on the shelves. You can keep them plain as well if you prefer minimalism.
For more ideas on how to make the wall a part of room décor, check the video. My favorite is on 1.47, what is yours?
Light Grey and Bright Chair
If you are worried that dark grey tones will make your room look darker, pick lighter shades.
You can mix and match a few shades of light grey for the two largest elements in the room, such as bed and wall.
Keep the rest of the room in lighter shades. You can even use white shelves or a brick wall to add a bit of structure in the room.
Light, bright chair in yellow looks chic, but isn't be a central piece in the room. Experiment with puffs and pillows if you want more details.
Pro tip: if the room is full of natural light, it can bounce of bright yellow details, such as pillows, and illuminate the room even more.
The Classy Grey-Yellow Combination on a Budget
For those who want to keep a classy look to the room, mixing grey shades is a solution. For example, paint the wall with a lighter shade of grey, pick the dark grey bed as well as rug and pillows.
Then, create your beautiful personal reading or relaxing corner.
Find the comfortable chair and small, yellow table to make your corner stand out. If you want you can get the yellow ombre curtains, which will work perfectly with the natural light in your bedroom.
The possibilities are endless, but if you choose this way of decorating your room, there are few things to have in mind.
When you mix different shades of gray with yellow, try to concentrate yellow details in one place. Otherwise, you can make your room look messy.
You can paint the table, for a little DIY project. The same applies to the bench, but only if the bench is near to your corner.
Don't Be Afraid to Be Bold
How many times have you seen a bedroom door painted in a color other than black, brown, and white?
If you are looking for something completely different than what you are used to, paint the door yellow. It will be a bold detail in the room, and that is why you should keep other decor light.
Add a bright pillow, maybe even a picture, but avoid patterns.
Patterns can add heaviness to the entire look of the room, and make it look all-over-the-place.
If you are not afraid to experiment and have a lot of light in the room, darker grey tones are perfect for this bedroom.
Metal constructions are better than wood for the bedside tables, bed, and any other element.
Experiment With Textures
Grey concrete wall and bulkier wooden pieces in your bedroom is a perfect match because they are so different. The bulky, wooden mirror catches the eye from the moment you step into the room, while concrete wall and grey shades of floor and bed, tone things down.
Add one small detail in yellow such as pillow or photo frame to add contemporary effect.
If you plan to mix wooden pieces with grey, avoid too many details.
Mirrors are an excellent way to make a small room look more spacious.
If you put a mirror just across the largest window in the room, you will create a lighter atmosphere in the room which looks airier.
One Detail for the Room
Lastly, if you are looking for a simple, yet effective way to freshen up your grey bedroom, one detail can be enough. It could be a new vase in bright color with fresh flowers, or new yellow curtains.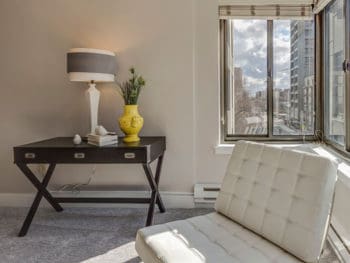 It is also, a nice way to see how you feel about yellow details and to get used to it until you are ready for bigger changes.
However, if you pick one detail make it a statement detail.
If you plan to go with curtains, make them high-quality and easy to maintain.
Get inspired to freshen up your grey bedroom with some new beddings and curtains, watch this video:
More Tips on How to Make Your Bedroom Beautiful
If you are getting into interior style, you might wonder how things and colors go together. Let's go briefly through a few common issues.
Does Yellow and Grey Go Together?
Yes, they do. While grey is colder tone color with neutral undertone, yellow is bright and warm. These two colors make a perfect balance and that is why they are ideal for interior design.
What Color Goes With Grey Bedroom Furniture?
Grey is an excellent choice for bedroom furniture because it is so versatile and easy to match with other colored pieces. You can pick yellow, turquoise, hot pink and orange color details to improve the look.
Lighter tones of grey are easier to match with, but darker make a bolder look. Darker shades are better to combine with brighter shades of any color.
Is Yellow a Good Bedroom Color?
Yellow is a bright color that evokes stronger emotions. It can be a perfect choice for the kitchen because people associate yellow with food.
However, for bedroom, it is better to keep yellow in details, instead of making it the primary color.
What Color Does Gray and Yellow Make?
There is a science behind mixing colors. For example, if you mix grey and yellow with no clear instructions, you can end up with warmer grey, muddy yellow, or even a bit of greenish color.
Adding white will tone the color down, and adding more yellow will make the color a warmer tone.
If you want to make unique wall paint, follow the manufacturer's instructions and always test the smaller amounts of color.
Conclusion
Grey is an easy color to use in interior style. It goes beautifully with all shades of yellow – citrus yellow, mustardy yellow, pastel yellow, etc.
To make the best out of the grey-yellow combination for the bedroom, pay attention to the details.
However, don't forget the ceiling and the large pieces in the room. Keeping the large pieces in neutral colors, allows you to experiment with patterns and bright details.
Smart use of sunshine details in the grey bedroom can make your space larger and stylish.
Which idea speaks the most to you, and which one would you avoid? Do you have more ideas? Share thoughts and inspiration in the comments below.