Do you want to learn how to clean glass shower doors and make your bathroom sparkle? Keep reading for the best tips, which don't include endless scrubbing and professional cleaning services!
Even if everything else in your bathroom is clean, dirty shower doors with water stains can ruin the appearance of your bathroom completely. Standard cleaning methods won't work, especially if the stains on water doors are there for some time. But, with a few brilliant tricks, you can successfully get rid of them!
Water and soap leftovers adhere to the glass surfaces, and you can use expensive commercial products to clean them. But, if you want to reduce the use of chemicals, there are a couple of things to try!
How To Clean A Glass Shower Door?
There are a couple of things you can use to clean glass shower doors.
Those are:
A mixture of white vinegar and baking soda
Dish soap
Lemon and salt
Ammonia
Vodka and essential oil
Hydrogen peroxide and rubbing alcohol
Commercial glass or all-surface cleaners
White vinegar works like a charm, but you can achieve similar results with other DIY home remedies from the list or certain commercial products.
Why Are My Glass Shower Doors Stained?
Even if you have just installed a new shower in your bathroom, it won't be a long time until you notice stains and a cloudy appearance on your shower doors.
The reasons behind it can be only hard water, water with a high percentage of mineral content. But, the mixture of soap scum and residue from shampoos and body oils hardens on the glass surface when it gets in contact with minerals from water. The science behind it is that fatty acids in soaps react with calcium and magnesium, which results in dried white stains on your shower doors.
If the water in your household has high mineral content, you will notice water stains much sooner. Luckily, these stains don't do permanent damage to your glass shower doors.
Try the next method carefully: Stunning results with a utility blade!
DIY Home Remedies To Clean Glass Shower Doors
The following section focuses on simple, yet effective things you can use to wipe away the stains from your glass door. Once you clean your shower doors using the following techniques, all that is left is routine maintenance! Keep reading to find out how to clean your doors and keep them clean!
White Vinegar And Baking Soda
Using white vinegar and baking soda is a trick people swear by when cleaning their homes. When it comes to removing water stains, nothing beats this mixture.
The method with white vinegar is also an eco-friendly and inexpensive solution that will leave the doors as clean and stain-free as they were when you first installed them.
You'll need:
1 cup white vinegar
2 cups water
Spray bottle
Cloth
Sponge
1 cup baking soda
Step 1:
Mix white vinegar and water in a spray bottle and spray it on the doors. Make sure the doors are evenly saturated with the solution.
Step 2:
Let the water and vinegar mixture sit for half an hour.
Step 3:
Dip a sponge in the baking soda and gently wipe the doors with it. Keep the spray bottle near you to spritz on stubborn stains.
Step 4:
Repeat the process until you clean the entire door.
Step 5:
Rinse with clean water and dry doors with a soft cloth.
Dish Soap
Dish soap is an effective way to remove fresh stains from your glass doors. It requires thorough rinsing, but it will remove all piled up dirt from your shower.
You'll need:
3 Teaspoons dish soap
1 cup water
Sponge
Cloth
Step 1:
Mix dish soap with water and make a rich foam. Dip a sponge and thoroughly clean the doors.
Step 2: Rinse the door and dry with a soft cloth.
Salt And Lemon
The next combo isn't only good for tequila shots! It is also one of the easiest ways to scrub the glass shower doors. The acidity from the lemon will break the hardened water stains, and salt with work as a gentle abrasive.
Also, you don't have to use sponges! Half a lemon will work just fine!
Things to prepare:
Two lemons
1 cup salt
Soft cloth
Step 1:
Cut lemons in half. Dip each half in the cup with salt and scrub the door with it.
Step 2:
Keep dipping lemon in salt as you scrub, and let the salt and lemon mixture sit on the doors for 10 minutes.
Step 3:
Rinse thoroughly with clean water and dry with a soft cloth.
Ammonia
Ammonia is a powerful cleaning agent and you should be careful while working with it. But, it is also one of the most effective formulas against water streaks and soap scum. Cleaning the shower door with ammonia is also effortless because you don't have to scrub at all.
You'll need:
2 tablespoons ammonia
2 cups warm distilled water
Microfiber cloth
Step 1:
Mix ammonia with water in a spray bottle.
Step 2:
Spray the solution on the door and let it sit for several minutes, but no longer than 5.
Step 3:
Rinse the door with clean water and use a microfiber cloth to dry the glass, and prevent new water streaks from appearing.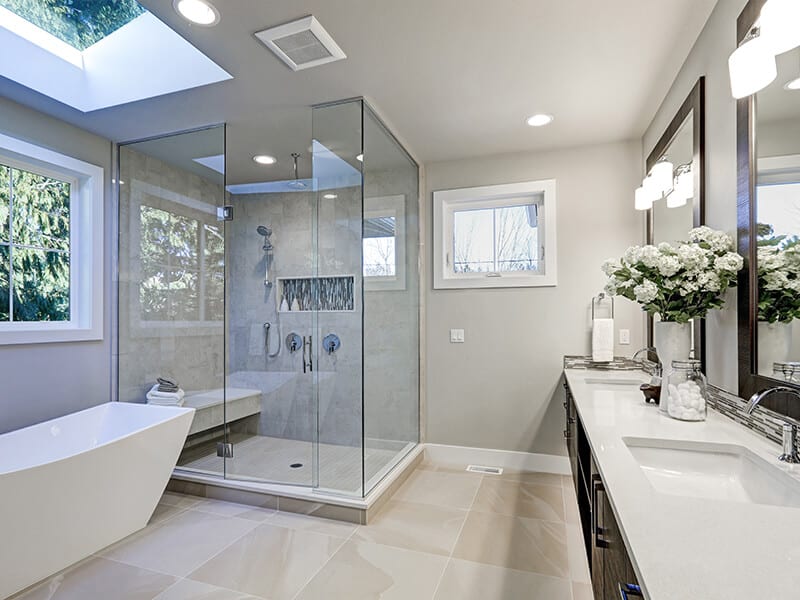 Vodka And Peppermint Oil
Vodka effectively breaks the reaction between soap residue and minerals from water. Therefore, it helps remove old water stains, and with essential oil, such as peppermint, it can prevent new stains.
For the next tip, you can use cheap vodka you can find at any liquor store. You'll need:
Half a cup of vodka
1 cup water
10 drops essential oil
Spray bottle
Step 1:
Mix all ingredients in the spray bottle. Spray the mixture on the glass door and let it sit for 15 minutes.
Step 2:
Rinse the door with clean water.
Step 3:
Repeat the process weekly and spray the doors with the mixture after every shower to prevent the new stains from developing.
Hydrogen Peroxide And Rubbing Alcohol
If nothing else works, you can try mixing hydrogen peroxide with rubbing alcohol. The mixture will leave your glass door sparkly and bright clean!
Prepare:
1 cup hydrogen peroxide
1 cup rubbing alcohol
Dish soap (optional)
Spray bottle
Soft cloth
Step 1:
Mix hydrogen peroxide with rubbing alcohol. You can add a few drops of dish soap to help you clean dirt easier.
Step 2:
Saturate your dirty glass doors with the formula, let the cleaner sit for several minutes, and wipe it with a cloth.
Step 3:
Rinse with clean water and dry with a cloth.
Best Commercial Cleaners For Glass Shower Doors
If you don't mind spending money on specialized cleaners, you can use commercial products to maintain your glass shower doors.
Here is a quick selection of the best commercial cleaners for glass doors.
The Rejuvenate cleaner for glass doors is affordable, comes in a spray bottle, and is versatile. You can use it on various surfaces in your bathroom, and it will be equally effective!
To clean your glass door, all you have to do is spray the formula on the dirty areas and let it do its magic for three minutes. After that, rinse and dry the doors to prevent new water stains.
Rejuvenate cleaner doesn't include harsh chemicals, such as bleach, but it has a somewhat strong smell. Also, it doesn't leave streaks and requires no scrubbing!
I also like the design of the spritzer, because it allows you to reach all tight spots and thoroughly clean shower doors.
The A-Maz cleaner is biodegradable and has a gentle, natural, and effective formula against water stains. It doesn't come in a spray, which will be more convenient. A-Maz is also septic tank safe, and it easily cleans and restores the previous shine of various surfaces in your bathroom. Those include glass, tile, ceramic, porcelain, etc.
With A-Maz cleaner, you don't have to worry about strong fumes or weak protective equipment. It doesn't contain chlorides or acids and harsh chemicals, so it is safe to use in bathrooms with poor ventilation.
Lastly, let's briefly discuss the innovative cleaner by Clean-X. Not only does this product effectively clean water and soap scum stains, but it is also a great product to prevent future stains and keep the bathroom sparkly clean.
The product comes in a spray bottle and is safe for all surfaces in your bathroom, including ceramic, sink, counters, window, glass doors, etc. The formula repeals grime, fingerprints, and water. You can spray it once a week and keep your shower clean with less scrubbing needed!
The formula doesn't leave a streaky finish and is safe for chrome-plated surfaces, too.
How To Keep Your Shower Doors Clean?
You've managed to remove all water stains from your bathroom? Congratulations! Now it is time to learn how to keep the glass shower doors clean and stain-free. That way, you won't have to repeat the above mentioned steps in a couple of months.
Most importantly, you won't have to scrub at all!
Here are a few tips to try!
Use A Squeegee
Using squeegee every time you shower to collect the excess water is the easiest way to prevent water stains. You won't have to spend hours drying the shower, you can do several wipes with a squeegee, and it will be enough.
I recommend checking into the squeegee designed for showers, such as the Richmirth squeegee. It is compact, easy to use, and durable. The squeegee comes with a silicon hook for simpler storage.
Learn how to use a squeegee and all-natural products to clean the shower doors.
Use A Protective Spray
Using a product with hydrophobic properties will help repeal the water, and you can expect fewer stains.
For example, you can use vodka and peppermint oil solutions. Or, you can buy commercial protective and water-repellent sprays. Spray it every time you shower if your water is very hard.
Use A Water Softener
If you decide to install a water softener, you'll experience benefits on your skin, hair and you'll save time for cleaning.
Water softeners are pricey, but they will also prolong the life of your faucets, pipes, drains, glass shower doors and solve potential irritations on your skin caused by mineral content in water.
Frequently Asked Questions
Focus on the next section to find out more information about cleaning the glass shower doors. If you have more questions, please ask them in the comment section!
Discover stunning results after cleaning the shower doors with things you have at home!
Don't Clean Hard, Clean Smart
Keeping your bathroom clean doesn't have to include a lot of scrubbing and effort. If you use the right type of cleaners and clean the bathroom regularly, you'll spend less time cleaning, but you'll achieve the best results.
My favorite trick for cleaning glass doors is using vinegar. It breaks the water stains quickly and allows me to clean my shower in minutes!
Have you tried using vinegar to clean your bathroom? Were you happy with the results?
If you found this article useful, please consider hitting the thumbs up button and sharing the article with your friends and family.
References:
Hardness of Water. Usgs.gov. https://www.usgs.gov/special-topic/water-science-school/science/hardness-water?qt-science_center_objects=0#qt-science_center_objects.
Carefoot H. Hard water isn't a danger to your health, but it can be a nuisance for your home. The Washington Post. https://www.washingtonpost.com/lifestyle/home/hard-water-what-to-do/2021/06/08/ae952b34-b81b-11eb-96b9-e949d5397de9_story.html.
What is A Water Softener?. Culligan Water. https://www.culligan.com/support/product-information/what-is-a-water-softener.