There is nothing worse than discovering there is no hot water! You might have to shower with cold water, your dishes might be left greasy, and you might not be able to clean around the home as effectively as if you used hot or warm water.
The reason you have issues with hot water might be benign, like the busted thermostat or tripped limit switch. Additionally, the weather might have affected the performance of your water heater, the dishwasher might have a broken heating element, etc.
Instead of coming up with all the worst-case scenarios, do the troubleshooting to find out if you can deal with the issue or it is time to call professionals.
Let's discuss every potential reason that might have caused no hot water situation!
What Causes No Hot Water?
Issues with hot water can be caused by problems with your water heating system or external factors, such as weather.
Here are the things to check if you don't have hot water in your home:
Water heater capacity
Thermostat setting
Weather – frozen pipes, exposed water heater to extreme temperatures
Gas water heater – gas supply, pilot light, burners, and gas leakage
Electric water heater – switches, tanks structure, heating elements and breaker issue
What Is The Source Of Hot Water in Households?
Before I walk you through various issues that reduce the hot water supply in households, let's briefly talk about hot water sources in the home.
Water Heaters
Using a water heater is by far the most common way to ensure a consistent hot water supply. These devices work using gas or electric current to warm the cold water. There are various models on the market with storage tanks or tankless devices.
Their average lifespan is 15 years, and they can have different issues which will lead to no hot water situations.
Electric Shower Heads
Electric shower heads are less reliable ways to ensure hot water. These devices mount on the faucet and they heat water as it goes through the device.
Some households install similar devices on the sink to ensure hot water for dishes and hand washing. In some countries, showerheads are used because of gas scarcity, and issues with water heaters' installation.
They use electric current to heat the water instantly, and electric shower heads are less efficient than water heaters.
Solar Water Heating
Solar water heating is eco-friendly
Solar water heaters rely on solar collectors and water tanks. There are different engineering systems applied, but they all rely on solar power to heat the water.
Luckily, there are upgraded solar collectors that do work in severe climates. These models don't experience a significant heat loss like some other types.
Geothermal Water Heating
Some countries, such as New Zealand and Iceland, use natural springs of hot water in their households. But, geothermal water heating is only applicable in volcanic regions.
No Hot Water – Here Is What To Do
There could be various reasons why the faucets in your home are cold.
Here are potential reasons why there is no hot water and things you can do to solve the issue.
Insufficient Heater Capacity
Does your water heating system support the needs of your family? In large families with small-capacity heaters, someone may use hot water, so you need to wait until the heater recovers and warm enough water for your needs.
A simple rule of thumb to follow when determining the water heating capacity is the following:
A single person or two-person – 30 to 50 gallons of hot water
Larger families – 50 – 80 gallons
The more family members, the higher the capacity of a water heater you need.
If you believe your water heater isn't enough for your family's needs for hot water, consider replacing it.
If the capacity isn't the issue, keep reading to discover more reasons for cold faucets.
Thermostat Setting
Has someone messed around the thermostat? Your thermostat needs to be set between 122 and 140 degrees to ensure a consistent hot water supply. If the thermostat is on a lower setting, you risk hot water deficiency.
Adjust the thermostat and wait for an hour to check if you've got hot water again.
Weather
How's the weather lately? I am not asking to keep the conversation ongoing, I am asking because the weather can be a significant factor that affects your household water heating system.
If you have a basic solar heating system without a backup unit, and the water has been cold lately, the sun collectors might not have enough power to heat the water. Consider installing a more advanced system that prevents heat loss and a backup unit to ensure sufficient power and a consistent hot water supply.
Next, cold water may affect the hot water supply for more than one reason. First of all, if your water heating device is in the basement or garage, the cold weather may affect the water heating process.
During extreme temperatures, devices placed in the basement may need more time and energy to recover and warm up the water. You can cover the heater with a blanket to improve the insulation of the device and prevent issues. Additionally, keeping the portable heater around and preventing the temperature from dropping below 55 degrees is useful.
The next thing to do if the weather is cold is to check the pipes. If the pipes are overly exposed and not insulated properly, the water may freeze. You can cover the exposed pipes with tape, cloth or buy insulation sleeves to prevent the water from freezing in the pipes.
Ultimately, letting the hot water drip on during the coldest days prevents the pipes from freezing and bursting. That way, the water won't settle in the pipes.
Step-By-Step Guide For Solving No Hot Water Issues Caused By Water Heaters
If nothing of the above is causing your faucets to remain cold, it is time to check your water heater. First, determine whether you have a gas-powered or electric water heater to be able to troubleshoot the appliance.
Discover the troubleshooting steps that apply to most water heaters.
Gas-Powered Water Heater Issues and Fixes
#1. Gas Supply
For some reason, the most common issue behind no hot water issue is when your gas supply is turned off. Someone might have unintentionally turned it off. Luckily, it is the easiest problem to fix.
Follow the next steps to fix it.
Step 1: Find the water heater manual and find out where the gas control knob is located.
Step 2: Turn the knob to say Pilot.
Step 3: Inspect if there is a pilot light – blue flame at the water heater bottom.
Step 4: If there is a flame, let the water heater do its job for several hours and enjoy your hot shower.
#2. Pilot Light Won't Stay On
If the pilot light is on, it may go out within seconds. Therefore, you'll have to turn on the pilot light. Once again, analyze your water heater manual so you are familiar with the basic structure of your pilot light and parts.
Here is how to fix the problem with the pilot light.
Step 1: Turn the gas supply off and wait for ten minutes before you switch the knob to Pilot mode.
Step 2: Determine whether your water heater has flame or self-ignite features.
Step 3: For water heaters with self-ignite, press the ignition button and hold it for a minute. Once you switch the gas control knob to On, it should restart the pilot lighting process. If you own an older model, you'll need a lighter or a match. Put the flame in the gas supply tube while holding the pressing the gas supply knob.
Step 4: If the light cannot stay on, check the inlet valve. The gas valve should be fully open to provide a consistent gas supply.
Step 5: Then, check the thermocouple. If it is broken, replace it with a new one and repeat the process from the first step to restart the pilot light ignition process.
Watch this video to know more:
#3. Burner Issue
Problems with burners can occur after a few years of using the gas water heater. Here is how to determine whether your burner is broken and what you can do.
Step 1: Let the burner go in the Off mode and increase the thermostat..
Step 2: Turn the hot water on and observe the burner if it ignites. If it does, you have to keep troubleshooting your water heater. Don't forget to put the thermostat to standard-setting once you're done checking.
Step 3: If the burner doesn't ignite, let the hot water run while you increase the thermostat setting. If the burner still won't ignite, it is time to call professionals because the water heater thermostat might not be working or the burner is broken. These repairs are suited only for professionals.
#4. Gas Leaking
Natural gas is odorless and colorless. Therefore, a special substance is added to it to help people detect gas leaks sooner and react promptly. The substance mercaptan has a sharp, distinct sulfur smell that resembles the smell of rotten eggs.
Here is how to check if you have a gas leakage issue and what to do if you suspect gas leakage.
Step 1: If you don't have a gas leaking product, you can mix soap and water in a spray bottle. Spray the mixture on gas lines. Bubbles will indicate there is a leakage.
Step 2: Next, close the gas supply line valve and turn off the gas control valve.
Step 3: If the gas smell is strong, and you notice too many bubbles, contact the gas utility company. They will advise you either to relit the water heater or to keep it turned off until they arrive.
Electric Water Heater Problems
Electric water heaters have a completely different set of potential issues that can cause no hot water. Go through the following issues if you own an electric water heater.
#1. Breaker Issue
The first thing to do is to check if all water heater switches are turned off correctly.
Step 1: Inspect the circuit breaker panel. If the breaker isn't aligned with other breakers, flip it off and on one more time to restart it.
Step 2: If you don't have a dedicated circuit for an electric water heater, tripping will repeat. Contact the electrician to fix the problem as soon as possible.
#2. Cutoff High-Temperature Switch Malfunction
If the breaker isn't tripped, check the high-temperature cutoff switch. A defective cutoff switch is easy to reset, and you'll have hot water in no time.
Step 1: Check the water heater manual to be familiar with the parts of your water heater.
Step 2: Turn off the electricity supply to your water heater. You should find the button in the front panel.
Step 3: Turn the circuit breaker on, and see if the water heater receives power. Wait an hour to check if the water warmed. If not, you'll have to replace the high-temperature cutoff switch or the thermostat. Unfortunately, only professionals can determine which of the two malfunctions and what are your next steps.
#3. Water Leaking In The Control Panel
Water and electricity shouldn't come in contact. But, after some time, the tank may start leaking, and the water can penetrate the control panel of your water heater.
Unfortunately, there aren't steps for you to do and fix these issues. You cannot repair the leaking water tank. You'll have to replace your water heater.
If water is coming out from other sources outside the tank, you might fix it. But, you have to replace the thermostat if it has been in contact with water.
#4. Issues With Heating Elements
Heating elements are essential parts of your electric water heater. They can break, burn out, dry-fire, or can malfunction because of the limescale.
However, I recommend hiring professionals to replace a heating element in your water heater. That is the only way you ensure correct installation.
But, if your water heater is older than ten years, it means that the device is reaching its lifespan. Soon, other parts may malfunction, so you might want to consider replacing the entire unit instead of the heating element. If your water heater is relatively new, replace the part and keep using it for several more years.
Watch this video to know more:
No Hot Water in Household Appliances
As some household appliances require hot water to ensure proper performance, lack of it may cause them to malfunction. Here is what to check if your dishwasher and washing machine don't have hot water.
When a dishwasher or washing machine is connected to a cold water supply, it has heating elements that are used to heat the water in certain washing cycles. These cycles are useful for greasy dishes, extremely dirty laundry and pathogens elimination.
If you notice greasy dishes, check the heating element in your appliance. Always consult the instruction manual to find out the exact location of the element.
If it has corrosion marks or visible damage, cracks, and blisters, it is time to replace it. Find out which heating elements are compatible with your device and call professionals for trouble-free installation.
People whose appliances are connected to hot water sources, need to check the reasons described above if their dishwasher or washing machine isn't receiving hot water. An issue with the water heating system in your home is the primary issue in that case.
Additionally, find out if the hot water hose is kinked, clogged, or the inlet valve is blocked. Turn off the hot water faucet to check the condition of the hose and replace it if you notice any damage.
Find out how to tell if the water heating element is bad.
Frequently Asked Questions
Having a hot water problem is such an annoying issue. But, here is a section to help you get the answers to issues with hot water and related stuff.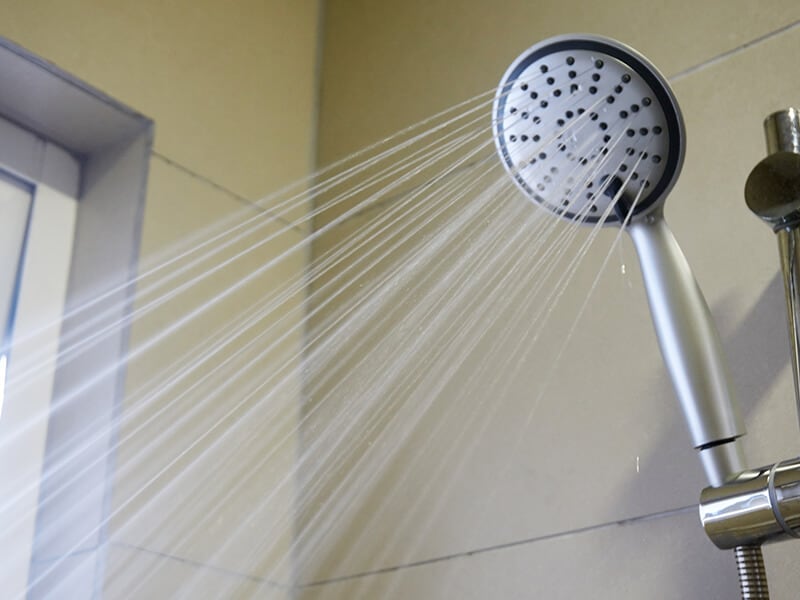 No More Cold Faucets
I hope the above tips and solutions are useful to you, and you'll soon have enough hot water you need! But, if you cannot fix the problem yourself, call professionals. You might have to replace the water heater, fix the pipes or change some parts in the appliances. Those things are better left to professionals.
When was the last time you didn't have hot water? What was the issue? Did you have to call for pros, or were you able to deal with it? Please share the article with your friends and family to help them troubleshoot their water heaters!
References:
The 5 Main Types of Water Heaters Explained in Detail. Home Stratosphere. https://www.homestratosphere.com/types-water-heaters/.
How to Check if There's a Gas Leak from the Water Heater? | Smile HVAC. Smile HVAC Service and Installation. https://smilehvac.ca/blog/water-heater-gas-leak/.
Thermal Cutoff switch. CPI | Control Products, Inc. https://www.cpi-nj.com/thermal-cutoff-switches/.