The following outdoor bathroom ideas vary from the simple shower to the sophisticated and chilling bathroom in the middle of natural space. Wood, glass, or stone materials allow you to rest and relax in a peaceful area fully.
A qualified outdoor bathroom combines the privacy and the fondness of the natural environment flawlessly. So, let's stop the delay and start discovering these charming outdoor bathroom designs.
Here Are Some Simple Outdoor Bathroom Designs That Will Enchant You
Let's start with these simple yet sophisticated designs! I believe that you will fall in love with them at first sight.
1. Contemporary Concrete Bathtub
This simple idea brings gray and white to the splendid outdoor site perfectly. The white brick wall forms a dazzling background that complements the dark gray concrete bathtub. Use a wooden ladder as the storage for some bathroom essentials.
2. Tropical Accents
Fill your bathroom with a zen feeling in this tropical area. The wall is made from Chinese sandstones that bring a sense of stability. The stone bathtub with interesting textures will give the bathroom a bit of antique essence.
3. Bamboo Toilet
You don't have to use fancy materials for your outdoor bathroom. This design uses simple materials like bamboo for the wall and white stone at the bottom. Use a woven basket as a trash bin for a rustic feeling.
4. Bali Outdoor Shower
Bali, the tropical paradise for traveling in Asia, has a lovely outdoor shower design that will enchant you. The large stone wall covering the shower area and the tropical plants resemble the jungle vibe you are looking for.
5. Luxury And Simple
Embrace your bathroom with glamorous decorations through this lovely design. The rooftop window brings that gentle sunlight to illuminate every corner in the room. The bronze bathtub and the pendant light give the space a luxurious vibe.
6. Simple Glass Door
Open this lovely glass door with a black frame; you will enter the charming outdoor shower with a warming light. The chevron tiles on the floor add an exciting visual impact for your guest. Put some plants in the area to bring a refreshing feeling to the room.
7. Skylight With Natural Sunlight
Want some lovely ceiling design for your bathroom? This skylight right on top of the showerhead is the best choice for you. The shower brings an actual waterfall into your house, amazing, right?
8. Bring Some Plants
The green square tiles create a beautiful backdrop that makes the pink bathtub prominent in the peaceful area. This outdoor bathroom is covered with many trees that provide fresh air and a relaxed feeling.
9. Backyard Shower
This bathroom design allows you to enjoy the Swedish summer in an alluring natural atmosphere. The dark and old wood walls form a great contrast to the light-colored wood planks on the floor. I bet you have fallen in love with this place already.
10. Contemporary Shower
Such a simple way to create exciting contrast in the bathroom! The white wall on the right is smooth and delicate, while the brick wall on the opposite side is rich in textures. Finish this splendid room with the chevron tile floor.
11. Romantic Twin Hot Tubs
Bring a romantic touch to your bathroom with these beautiful twin hot tubs. Light on some candles and place fresh flowers in the space to make it look even more enchanting. Let's enjoy this mesmerizing view with your loved one.
A hot tub right in your backyard, why not?
12. Gorgeous Pink Tiles
Pink and white is a simple combination yet brings back so much glorious feeling. The pink tiles are applied vertically on a curved surface evokes a striking visual impact on the guest. Use a pink faucet to tie with the area's color.
Why Not Bring A Modern Touch To Your Outdoor Bathroom?
Combine modern vibe and natural view for your bathroom; why not? With clever use of some present-day furniture in the lovely nature's space, your bathroom is irresistible.
13. Ocean View
The bathroom opens right into the stunning ocean view with tropical trees and warming light. You can place a bathtub next to the pool installed toward the ocean, so while soaking in the tub, you will feel like floating in the middle of the sea.
14. Touch Of Gold
Emphasize the pure white wall with a golden shower and hanger. In the middle of the green grass floor, place a tile floor with exciting patterns that add characters to this place. What a luxurious experience!
15. Double Bathtubs
Imagine soaking in a hot tub in the middle of a rainforest; isn't it wonderful? This double bathtub allows you to enjoy this space with your loved one. The surrounding area is covered with large stones for a sense of permanence.
16. Vintage Clawfoot Tub
It's time to match the modern features with a vintage element. The vintage white clawfoot tub blends perfectly with the colorful balls and toys in the area. Flowers and bamboo walls will make you fall in love with this outdoor bathroom.
17. Stunning View
The best part of having an outdoor tub is the striking view in that space. A fancy white bathtub stands out in the middle of the wood floor and ceiling. The shower from the head pours water like a small rain in tropical regions.
18. Copper Tub
This bathroom has a striking tray design that might amaze you. The tray is made from stone that matches the floor color. The large bathtub highlights the space with its cool-looking bronze color.
19. Zen Garden
Brown color coats the room with a soft, moody vibe. The entrance leads to an open space with trees and sunlight. You can use a yellow sink to pair with a frameless mirror to make the room look more modern.
20. Splendid White
If you are a fan of white color, don't miss this bathroom idea. The space is full of white elements that will satisfy your desire. Feel free to place some plants in the area to bring a tropical vibe to the space.
21. Peaceful Garden
Step into this peaceful space with wood walls and gravel floors. Place a large square bathtub with a dark color to tie with the space's mood. You can hang beautiful flowers on the wall to make a garden full of colors.
22. Farmhouse Vibe
You can add some industrial inspiration to your bathroom through this design. Just use some metal elements like faucets, showers, and the bathtub's legs; you can bring that dynamic industrial essence to the space.
23. Island Life
After an exciting swim on the beach, all you need is a fresh wash under an outdoor shower. Trees are placed at two sides of the entrance to this bathroom. Plus, the floor is covered with gravels that give a relaxed underfoot feeling.
Discover 11 Wonderful Ideas For Small Outdoor Bathrooms Now
When you don't have much space outside, these ideas will be handy. Even though the area is small, you can bring out the splendid aura for it.
24. Outdoor Shower For A Swimming Pool
When you have a large and nice swimming pool in your backyard, installing a shower along with it is a must. This shower helps remove dirt on your body before you enjoy the pool. It is easy to assemble and move to other areas if needed.
Here is an additional option to build a shower for your swimming pool.
25. Backyard Bathroom
The bathtub and washbasin in this design have a stainless steel finish that is really suitable for the outdoor environment. You should use a transparent ceiling to enjoy the sun or the night sky.
26. Mediterranean Outdoor Shower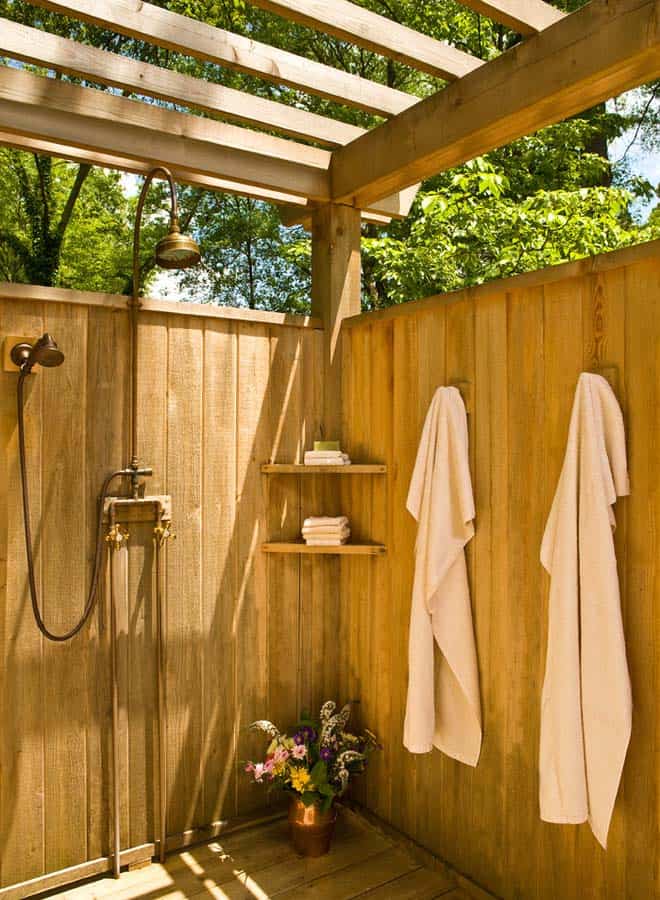 Don't you feel the serene aura spreading from this sweet bathroom design? The space is full of warm colors from wood planks applied all over the area. You can use copper pipes and a shower to harmonize the room color.
27. Semi Outdoor With A Small Bathtub
The style and color of this bathroom represent the modern design. The glass door with a black frame separates the bathtub area from the shower room. Use black shower fixtures to pair with the gray wall.
28. Outhouse Bathroom With A Nice Backdrop
Use corrugated metal panels to form the wall of this bathroom. This material is affordable and durable for the outdoor environment. Decorate the room with a set of three glass bottles and some green soaps on the shelf.
29. Curved Swimming Pool Shower
Another idea for installing a small shower near the swimming pool is to use wood planks to create a nice curved wall covering the shower area. The floor is installed with stone tiles with a drain system allowing water to flow away.
30. Outside Shower
This bathroom is installed in the middle of massive trees that create the feeling of washing in the middle of the jungle. Without any ceiling or top covering, you are allowed to immerse yourself in the natural atmosphere.
Let's learn how to build an outside shower without any effort.
31. Peaceful Garden
Feel free to fill your outdoor bathroom space with lots of plants. They will provide fresh air and various colors for your bathroom. The bathtub will be the focal point of this space as it is the only object with a white hue.
32. Small Outdoor Bathroom For Pool
You can make yourself an entire bathroom next to the pool if you have extra space. This lovely idea has two sections; one is a powder room, and the other is the shower. You can hang some light bulbs to make the area look splendid at night.
33. Wood Shower Enclosure
Why not build a whole oasis in your bathroom? Install wood panels to embrace the space with warm color. You can decorate the room with a wooden chair, a white rug, and some plants.
OMG! This shower with a wood enclosure is so lovely.
34. Hot Small Bathtub In The Winter
Let's soak in this hot bathroom to blow away the freezing feeling in the winter. The snow makes other surfaces coated in a beautiful white color. Bring a bottle of wine to drink while submerging your body in the hot bath.
Check Out These Creative Outdoor Bathroom Shed Designs
A bathroom shed is an excellent idea to broaden the storage space for your house. You can store extra objects in the room and take a shower when the indoor bathroom is busy.
35. Enchanting Outhouse Bath
This bathroom looks like a tiny house with a charming slanted roof and vent. Apply a wooden bathtub and some baskets of flowers to make this area look even more charming. You should use wood materials that are rich in patterns to add more characters to the house.
36. Outdoor Shower
How about building a small shower next to your house? This bathroom is perfect for rinsing off your body after swimming in the pool. The room doesn't require the ceiling on top, so installing this bathroom is a budget-saving option.
37. Amazing Cabin
Hey navy blue fan, I have a beautiful bathroom design for you. The bathroom is paired with an outdoor cabin using dark blue-colored wood. Place a bucket-like sink outside of the cabin to generate a striking visual impact.
38. Backyard Shed
This small outdoor bathroom shed has an all-white appearance. From the roof to the shed wall, white color creates so much attraction. Use a white sink and a tiny mirror to add function to this area.
39. Storage Shed
Aren't you amazed by this beautiful storage shed with a bathroom? The bathroom uses wood as the main material that evokes the cozy color of the room. Place a large and white bathtub outside to allow you to come closer to nature.
40. Lovely Bathroom Shed
The gate-style door makes this bathroom different from the others. The gravel floor gives interesting textures while walking on it. You can bring a little rustic vibe to the space by using a woven basket.
41. Red Composting Toilet
Red paint will blow a dynamic breath to your bathroom. Match this color with white to generate beautiful contrast in your bathroom. The ceiling is applied with corrugated metal panels to prevent rain or snow.
42. Outdoor Garden Storage
What a heartwarming garden storage design! Bright wood panels rich in knots and grains add lots of character to the room. Place some paintings with pine forest artwork to match the triangle shelves on the wall.
43. Pure White Outdoor Shower
This bathroom idea has a stunning appearance with white and brown colors. A white pendant light on top of the ceiling gives this space a charming vintage look. You can use a rectangle mirror to finish this bathroom.
44. The Tree Blog
Here is another bathroom with a warm wood color. The bathroom is built on a giant tree stump that resembles a feeling of permanence. If you want to enjoy the splendid night sky or bath in beautiful sun kisses, use a transparent ceiling.
Don't Forget To Look At Some Outdoor Bathroom With Toilet
Most people forget that they can install a toilet in the outdoor bathroom. This way, you can utilize the outdoor space and add more functions to it.
45. Amazing Tree House
Well, this is a beautiful bathroom that provides everything you need in a small room. The treehouse bathroom is designed with wood material to create a cozy vibe. While standing in the bathroom, you can enjoy bathing time with a fantastic view through the window.
46. Rural Composting Toilet
This toilet is a beautiful feature for you to highlight the bathroom and makes it unique from the ordinary ones. A wooden toilet spot with some little green plants will provide a lovely bathroom corner for you to relax.
47. Bamboo Walls
Bamboo is a wonderful material that can be a delightful feature for your lovely bathroom. By lining the bamboo together to create a nice bamboo wall, you have successfully transformed your bathroom up to a new level.
48. Concrete Sink
The concrete sink with gray color is the unique furniture in this design. The concrete material brings a little rustic and industrial essence to the natural space. You should use a white toilet to unify with the color of the wall.
49. Cute And Alluring Outhouse Bathroom
If you love some vintage feelings, I believe that this lovely bathroom can remind you of your good old days. You may love the classic toilet with a wooden cover or small details like the radio and the poster to gently fill up the wooden wall.
50. Dark Red Outdoor Showers
Giving your old bathroom a new color of red can totally change the vibe for the people who are using it. In addition, these wooden plank walls match perfectly with the green bushes for a natural look.
51. Sunlight Embrace
This beautiful old-fashioned design is very suitable with a limited budget and can create an adorable model. You can feel how cozy and luminous the bathroom is in daylight, with beautiful sun peaks throughout the wooden plank spots.
52. Lovely Ceramic Tiles
The entire interior design of the bathroom is based on cozy vibes with wood sections and especially a beautiful ceramic tile floor. It seems to be a classic highlight for the bathroom to gently spot on the furniture like a bathtub, a sink, and a toilet.
53. Delicate White Toilet
This one may come in handy when you need some inspiration. The bathroom has a gray concrete wall that highlights the beautiful toilet. Install the shower area under the open ceiling to gain natural lights while taking a shower.
54. Semi Outdoor With Concrete Wall
I promise that you would love to have an open section in your bathroom to let the natural light shine through. Plus, the plank space can be a great natural ventilation machine for the toilet as well.
Evoke The Rustic Essence To Your Outdoor Bathroom Now!
If you want to immerse yourself in the relaxing and chilling feeling of the outdoor bathroom, these rustic designs are the best options for you. Don't hesitate to give them a try.
55. Unique Bathtub
Let's create your own bathing corner with a wood floor, symmetric sculptured columns, and pendant lights. Then these are surrounded by plenty of plants and bushes to create a rustic sanctuary for a relaxing bathing time.
56. Wooden Floor
This little detail will highlight your bathing corner gently with other wood materials such as wooden plank floor and walls. Then you can also place some hanging plants to create something fresh and natural.
57. Most Beautiful Bathroom In The Garden
This place has a beautiful deep red terracotta floor, a big banana tree, a wooden flank wall, and furniture. This gorgeous bathing corner will remind you of a tropical summer vibe that you may fall in love with.
58. Perfect View For Camping
A fantastic idea for a camping shower is on the way. You can attach the shower and the pipe inside a wood log, layering some rocks and green bushes around. I believe that this unique outdoor bathroom will give you a great bathing experience.
59. Romantic Garden
This fantastic outdoor bathroom is a super romantic idea for couples to enjoy a fantastic night together. Light is essential in this layout; it boosts the charming feelings for the bubbled bathtub that you can not resist.
60. In The Middle Of The Forest
The idea of this outdoor bathroom is straightforward. You can use some wooden planks to make a wood fence to give yourself privacy and create a beautiful highlight for the bathroom. Metal pipes and wood furniture are essential for this rustic vibe corner.
61. Under The Tree
The tub is about to give you a unique experience that you will never forget. An outdoor bathroom is placed next to a tree so that the umbrage can cover up the harsh sunlight and give you a romantic bathing time.
62. Old And Peaceful
Well, this outdoor warming bathroom is an amazing idea for nostalgic people. A super rustic wood decoration and the stainless steel bathtub remind you of the peaceful countryside life.
63. Curved Wall
Another recommendation is to use curve walls to create an exquisite focus. Using metal pipes, wood floors, and green bushes with a basic white wall gives this little bathing corner a wonderful look.
64. Pebble Tile
In case you are concerned about the slipping floor or your bathroom is very plain. Pebble tiles will create a unique highlight for the bathroom. You can use it for an outdoor bath or even the indoor one; pebble tiles can perfectly match the bathroom interior.
65. All Wood Soaking Tub
This all-wood soaking tub is a fantastic suggestion for you to create your own spa at home. By using wood as the base of the design, the soaking tub looks so fabulous and classy. Plus, decorating some extra plants to give the tub more natural vibes.
66. Corrugated Metal Wall
A bit of rustic feeling meets the industrial essence of the corrugated metal wall. This bathroom is an excellent choice for those who love the design from the countryside. You can use a rug that is rich in patterns to complete this mesmerizing room.
Such an easy approach to have a corrugated metal outdoor shower.
67. Vintage Essence
Such a simple idea for you to enjoy a relaxing bathtub and bring yourself closer to nature! The cozy tone of wood materials will give you a great experience of bathing to release all the stress behind.
Let's Enjoy The Charming Scenery!
What else could be more relaxing than enjoying the enchanting nature's view while immersing in a hot tub? I guarantee that this experience will be unforgettable. So, what are you waiting for? It's time to treat yourself to an outdoor bathroom.
I hope that you find your favorite ideas in this list. Don't forget to hit the subscribe button for more exciting home ideas. I will see you in the following posts.