The demand for tile floor ideas for living room is currently witnessing a boom in interior design. The reason for this dramatic rise in popularity might be because this is the most "lived-in" room in the whole house.
There are various alternatives when it comes to flooring designs. These could range from durability to style or preference to aesthetic. Here are some of the best ideas for your living room flooring before splurging a massive sum of money on your investment!
Which Material Should You Choose For Your Living Room's Tile Floor?
The first impression when someone enters your house might be the floor of your living room. And there is an array of tile materials that can affect the heart of your home. So here are some ideas that you can pick up to upgrade your reference.
1. Ceramic Tiles
Ceramic is, without a doubt, one of the most well-loved types of tile due to its versatility and accessibility. Besides, ceramic is durable, affordable, easy to clean and set up. What more can you ask for?
Let's learn how to make your ceramic tile floor shiny again; it's super easy!
2. Vitrified Tiles
If you like shiny things, vitrified is for you! The glassy appearance of vitrified tiles can instantly glam up your living room. Vitrified tiles are also more stain/water resistant than ceramic. But remember, all these benefits come with a cost.
3. Porcelain Tiles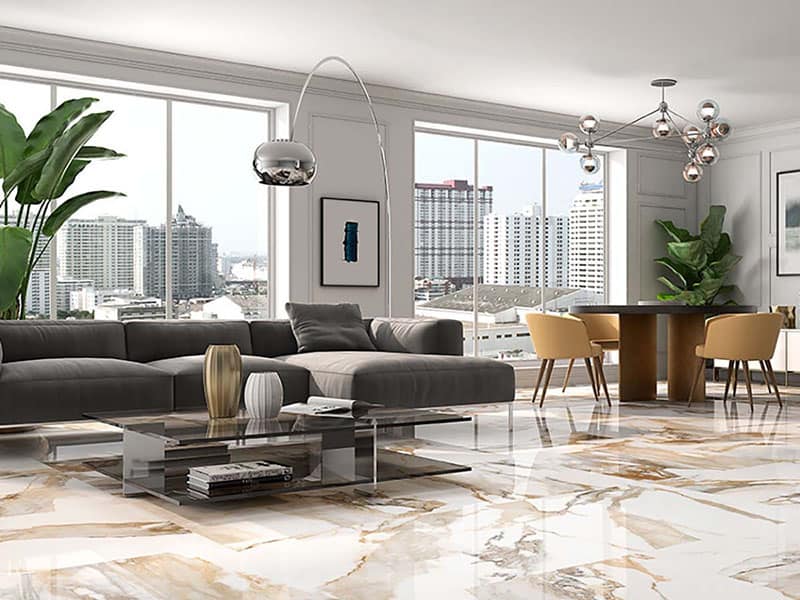 Porcelain's appeal stems from its ability to imitate brick, stone, or wood. You get the same exquisite look without having to worry about maintenance or deterioration. Furthermore, it is available in many designs, styles, and colors, allowing creative flexibility.
Ceramic and porcelain; which is the better choice for your home?
4. Laminate Tiles
To be honest, laminate tiles are not actual tiles; they can only resemble tiles. Despite that, this stunning type of flooring still makes its appearance in many households.
Laminate tiles are versatile, durable, and super stylish. They are also suitable for any interior design style. Plus, laminate tiles have improved their look and texture. Now, they have a softer surface and are available in square "tile-sized" pieces.
5. Cement Tiles
Cement is known for its high adaptability and variety. Although cement tiles are a bit difficult to install compared to other types, you can't deny how perfect they look in a modern or industrial living room setting.
6. Marble Tiles
Luxurious and timeless, that's the value that marble brings to your home. It's an investment, but once it's implemented, it's here to stay. Choosing big title slaps will even open up your room, creating an airy space with great flow.
Need some instructions on installing a marble tile floor? Take a look at this video!
7. Granite Tiles
Want that fancy marble look but can't afford that fancy marble price? Granite is here to save the day! Granite tiles have a similar feel and appearance to marble, but to be honest, they won't look as good as the real deal. Still, this is a fantastic option for those who are on a budget.
8. Terrazzo Tiles
Terrazzo tiles are made of various materials, including granite, marble, or quartz. Terrazzo is a smooth, long-lasting, appealing material, perfect for an artistic living room design. Remember to use non-slip additives to balance out its slick nature.
9. Slate Tiles
Slate is one of the most popular flooring materials out there. The material can keep a space warm while ensuring safety due to its excellent slip resistance.
Even though slate tiles are less expensive than marble and granite tiles, they are still more high-end than regular ceramic tiles, hence the higher price range.
10. Wood Look Tile
Wood look tiles are known for their ability to increase the value of your home. Plus, wood look tiles are not prone to stains or grime. They are built to endure a lifetime, and that is exactly what they're going to do!
If you're planning on installing wood look tiles, here are some tips you should know first!
11. Limestone Tiles
If rustic is the style you're after, limestone is the perfect option! Limestone tiles have a natural look that reminds people of antique design and furniture. The look and diversity in sizes and colors of limestone tiles make it an excellent choice for any location, including your living room.
12. Travertine Tiles
Similar to limestone, travertine has a unique appearance that can make a statement in your living room. Because it is susceptible to water, traction, and stains, travertine floors need to be resealed every ten years or more.
13. Quarry Tiles
Quarry tiles are inherently thick, nonporous, and water-resistant with a very low water absorption rate. And unlike travertine tiles, or almost any other tiles, they do not require sealing.
The unique aesthetic of quarry tile flooring will work great in a Mediterranean-style or Spanish-style living room.
14. Mosaic Tiles
Have you ever seen those mesmerizing and colorful mosaic walls in big cities? What if you can recreate those artworks on your living room floor?
Mosaic tiles are available in every size, shape, design, material, and color, perfect for anyone who wants to add a creative and artistic touch to their lovely living room.
The Best Wall Color Schemes That Match Your Tile Floor
Are you feeling overwhelmed by the excessive amount of wall colors? This section will help you make up your mind! So don't waste another second; find the most suitable color scheme for your tile floor with the ideas below!
15. Alluring And Trendy Cream
The continuation of tiles from the floor to the stairs creates a great outdoor feel for an indoor space. The brown leather couch is a nice touch as it goes nicely with the floor's texture.
16. Lavish And Welcoming Gray
What an exciting contrast between the glossy marble flooring with the muted gray walls! Together, they've created such a good canvas for the furniture to shine. This space overall feels open, airy, and very welcoming.
17. Charming And Sophisticated White
White-on-white is a common choice for many as they're the best combo to open up the space. With this as a base, you can place pretty much anything on and still have it look great. Here, a combination of a black couch and a black rug really pops into the room.
18. Elegant And Modern Yellow
Yellow was considered the color of royalty back in the day. So it can certainly bring out a luxurious and classy feel to the space.
It's understandable that many still draw inspiration from the past. But, if you're planning on recreating this in your space, be very mindful not to go overboard with the yellow accent and decorative elements. That will eventually turn your room into a stale birthday cake.
19. Inspiring Muted Pink
Shiny marble and pastel colors are not a common combination, but in this case, the muted pink walls go surprisingly well with the marble tile flooring. Overall, if you want to spice up your lovely pink living room design, install some marble tiles!
With the geometric furniture contrasting the traditional molding above the doorway, this room has successfully achieved a neoclassical aesthetic that's not easy to acquire.
20. Unique And Vibrant Green
Such a fresh take on the Scandinavian style! The bright green feature wall accentuates the scenery outdoors so nicely. It's a great way to flaunt the great view you have. The yellow armchair and other decors also add a beautiful touch to the feel of the whole space.
21. Positive And Airy Turquoise
Turquoise walls and flooring aren't something you see every day. The color is a breath of fresh air, creating an exotic atmosphere. With the addition of unique furniture pieces, the room is an oasis in itself.
Overall, this is an excellent inspiration for those who like to create a getaway from city life.
22. Magical And Passionate Purple
This is such an exciting space to live in with an A-line ceiling and huge floor-length windows. The sparkling tile flooring reflects the light coming from the window, opening up the space even more.
A living room bathed in purple might not suit this modern setting. However, the purple from the accent wall does make the room look more exciting and attractive.
23. Stunning And Dreamy Green
The stylish tile flooring in this design goes really well with this living room's overall soft green theme. When you walk into this room, you can't help but feel relaxed, especially with the pool view from the big windows.
24. Warm Bold Orange
Now, this is impressive! Filling the living room with orange is a pretty risky choice. However, if you want to leave a lasting impression on your guests, going for bold, uncommon colors is the way to go!
Bring The Living Space To Life With Several Breathtaking Styles
Now that I've reached this section, I bet tile materials and wall colors are no longer your concern. However, there are still endless interior design styles to choose from, which can be pretty confusing. So allow me to guide you through some inspiring designs below.
25. Spice Up A Modern Look
The combination of a white couch and dark wood decors is familiar in many households. Everything looks quite dull, but the fun couch swing attached to the ceiling and the polished granite flooring add an exciting touch to the room.
26. Be Minimal
The way these porcelain tiles mimic wood flooring adds so much warmth and coziness to this living space. In a spacious room with a minimal design like this one, a touch of comfort will make it much more desirable.
27. Go For A Moroccan Style Room
I love how this beautiful clay feature wall accentuates the intricate tile floor below! Almost everything in the room is brown and orange, yet the room doesn't feel heavy thanks to the clear chandelier and huge glass door and window.
Overall, it's a great example of the Moroccan style and how you should apply it to your house.
28. Make It Rustic
This space is open, rustic, and very inviting. The tile floor looks quite simple to avoid competing with the unique wooden beam situation on the ceiling. The living room also looks cozier and more welcoming with that huge sofa and the stone fireplace.
29. Modern Meets Rustic
This room is bright, open, and inviting. The designer did such an excellent job with the tiles, making them feel soft and cozy in a space like this.
The continuation of white from the walls to the ceiling helps the place feel a lot bigger, perfect for those big armchairs and rustic decors to be scattered around.
30. Mid-Century Charm
This is such a beautiful mid-century modern space with exciting terracotta tile flooring. The fur carpet and unique cactus pot also add extra visual depth to the overall ambiance.
31. Opt For A Contemporary Look
The view from this living room is genuinely envy-worthy. I also love how this terrazzo tile flooring has a stippled stone effect that pleases the eye and complements the leather furniture.
32. New Traditional Is The Next Big Thing
Now this is a beautiful black-on-black setting. The black matte flooring goes perfectly with the fascinating black couch and tile wall. The dark and glossy lamp also adds a contemporary touch to this new traditional setting.
33. Get Inspired By This Scandinavian Look
If neutral and modern furnishings are what you fancy, this Scandinavian design will put a smile on your face. This spacious room with white-on-white decor is subdued by the marble flooring and the huge mirror by the wall. It's so simple, but that's the beauty of this design style.
34. Try This Mediterranean Design
The warm color palette and natural accents of this room make it a picture-perfect Mediterranean living room. These orangy saltillo tiles look like they belong outdoors, but you'll be surprised to learn how many times it has been applied to indoor spaces.
If this orange tone is not your cup of tea, you can easily paint this floor using this tutorial!
Brilliant Design Ideas For Living Rooms With Tile Flooring
Stay right where you are; I have even more incredible ideas to share! In order to design a cohesive and exquisite living room, you have to be mindful of the furniture, decorations as well as their colors, textures, and sizes.
Sound like a lot? Don't worry! After reading this section, you will be able to decorate a living room with a tile floor like a pro!
35. Pay Attention To Size
Once again, a combination of glossy porcelain flooring and big statement pieces is featured. The shiny marble effect of this floor is fancy enough to make your living room look expensive and glamorous, regardless of how simple the furniture can be.
36. Opt For Vita Bella Polished Tile
A fascinating choice indeed! By continuing the tile up the wall, this room has effortlessly drawn your eyes up, making the room feel a lot larger. The couch is also visually pleasing with the muted blue throw pillows matching the floor.
37. All About Color And Texture
This is such a cozy space with a beautiful design, from the dark blue floor and armchair to the lovely sky blue throw pillows and fascinating coffee table. Everything in this room plays off each other in color and texture, creating a cohesive space and a welcoming environment.
38. Keep It Neutral
This is a rather calming space with a combination of white furniture and decors. If this was designed to be a place to unwind, I believe this room has served its purpose.
39. Don't Underestimate The Power Of Art
This interesting choice of tile really makes the floor pop. The floor and wall of this living room might look out of place at first. But by pairing it with two beautiful marble artwork, everything suddenly looks cohesive and well put together.
40. Balance The Colors
The sectional tri-color couch steals the show in this room, and the porcelain floor tiles create such an excellent backdrop for it to shine. With a good choice of color, minimal shapes, exciting artworks, this interior design style is one of my favorites on this list.
41. Add A Pop Of Green
This room uses porcelain floor tiles with wood designs to create an illusion of hardwood flooring without investing in caring for an actual one.
Other than that, this green sofa living room design feels pretty standard yet alluring. The pop of color from the velvet green couch set adds something fun into the neutral atmosphere.
42. Embrace The Versatility Of Porcelain Tiles
Porcelain tiles are incredibly versatile as they can help create any effect you want in a space, sometimes posing as another type of material entirely.
In this case, stoneware effects are applied, creating a smooth backdrop for the striking brown leather couch and the wood paneling above.
43. Use Big Tiles For Small Rooms
This small lounging area looks more spacious, delicate, and elegant, thanks to the oversized marble tile flooring. The play on blue and pink is cheeky but doesn't take away from the feel of the space.
44. Make Use Of Your View
What a killer view! With a view like that, it's best to keep your decoration to a minimum. The owner here did just that and even more. They chose a porcelain floor with a wood effect, drawing your eye straight to the window the moment you walked in.
45. Don't Overthink It
Although it seems like this room doesn't have any design direction behind it, the matching decorations and the warm tile flooring still manage to create a cozy and cohesive living space for you and your loved ones.
46. Try Cement Tile Flooring
The matte cement porcelain tile flooring is the focal point of the whole room. The other furniture includes a sectional sofa with a defined shape, a metal coffee table on wheels, a geometric chandelier that all looks very industrial, and a few plants to break up the toughness of the room.
47. Design A Home Bar In Your Living Room
Do you know what can make a living room look 10 times more expensive and luxurious? A beautiful home bar!
This living room's home bar design looks incredibly chic with intricate black marble flooring and gold accents. The furniture has exciting shapes and soft edges that match the color of the flooring, making the area more modern and well put together.
48. Checkered Floor Tiles Can Elevate Your Home
This is the wild card I was waiting for! This room is so fun to look at, yet it's still very mature and elegant. The checkered floor tile brings everything to life, while the exposed brick feature wall and matching armchairs steal the show.
49. Don't Overwhelm The Room
Without trying too hard, the room feels gentle, magical, and so inviting. Everything is placed slightly off-grid compared to the tile, which adds a relaxing feel to the room's overall atmosphere.
50. Make It Spacious
This spacious room is cleverly made a lot bigger thanks to the power of interior design. The ivory porcelain flooring opens up the space, and the black fireplace acts as a focal point to bring your eyes up.
Black accents are scattered around the room, creating an exciting experience throughout.
There You Have It!
And that concludes my informative list for you. Finding a suitable tile floor for your living room is not rocket science, so don't be afraid to unleash your personality and creativity to come up with vibrant and eye-catching designs through this article.
Which of these ideas caught your attention? I couldn't wait to know that in the comment section below. Plus, don't forget to share this post with your family and friends. Take care and see you next time!