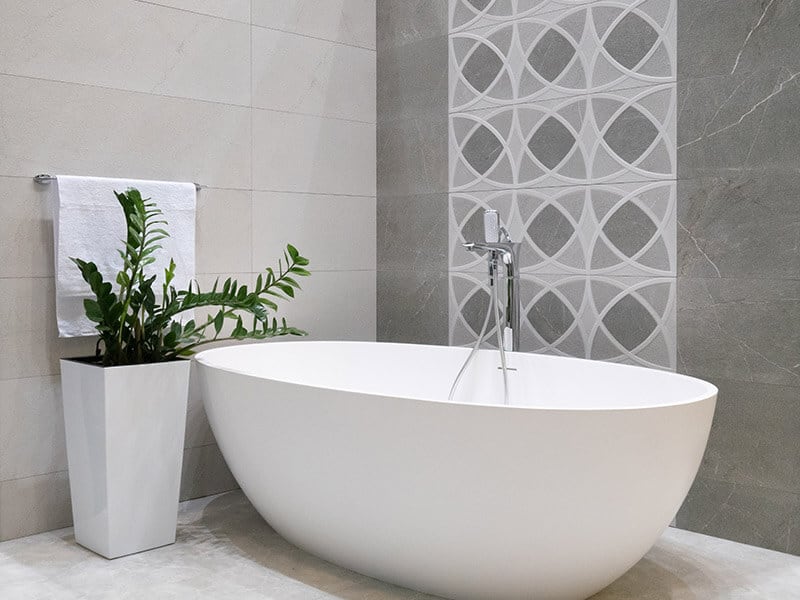 Do you want to create a luxurious bathroom? Do you want to know the ideal bathtub dimensions for your bathroom?
Undoubtedly, a stylish and aesthetically designed bathroom makes a whole difference to your home interior. And a bathtub is a staple to any luxury bathroom. However, many people are reluctant about getting a bathtub as it consumes a lot of space.
While I understand that a bathtub requires more space than anything else in your bathroom, you do not need a large bathroom to accommodate a bathtub. All you need to do is choose the right bathtub size.
So, how to choose the right bathtub for your bathroom? What are the different types of bathtubs available in the market? In this guide, we are going to share the same. So, without ado, let's get started.
What Are The Standard Bathtub Dimensions?
The standard size of a bathtub gives you an idea of the space it requires in a bathroom. However, it varies depending upon the shape and type of bathtub.
A standard alcove bathtub works in most bathrooms and usually measures around 60-inches long, 30-inches wide, and 14-18 inches deep. Since the bathtub size is closely related to the size of your bathroom, it should not be too small to accommodate your needs or too large to obstruct movement.
With that in mind, let us check out the standard bathtub dimensions that are right for your space and the type of bathtub you can invest in to create a unique-looking bathroom to make your cleanup experience wholesome and relaxing.
Freestanding Tubs
Freestanding tubs are among the common bathtub variants available in the market. Simply put, these tubs are finished from all sides with the ability to stand on their own. In most cases, these bathtubs are similar to furniture as opposed to a real bathroom fixture. However, in terms of functionality, it is exactly like a standard bathtub.
Although freestanding tubs have been formerly costly, they have recently seen a drop in pricing, with more manufacturers jumping into the bandwagon. In addition, the material used for tub manufacturing can also spike or drop the pricing along with the faucet materials used.
Moreover, the plumbing necessities can be a bit expensive for the freestanding tubs. This is because the plumbing needs to be portable and is difficult to hide.
Common dimensions for a freestanding bathtub
Standard: 60 Inches (L) x 30 Inches (W) x 19 Inches (H)
Small: 55 Inches (L) x 27 Inches (W) x 15 Inches (H)
Large: 72 Inches (L) x 32 Inches (W) x 20 Inches (H)
Alcove Bathtubs
Truth be told, alcove bathtubs aren't necessarily bathtub variants but more of an installation method for your standard tub. This term defines a tub being installed in the recess of a bathroom. This means they are quite commonly installed with three joining walls/pocket alcove present in the bathroom.
However, some modern designs might just have 2-walls or one large window to tackle the installation method's confined nature. This installation process has a sliding door or shower curtain being added as a typical feature. However, since it might leave a bit of open space, it doesn't count a lot in terms of privacy.
Alcove bathtubs are ideal when it comes to saving space in your bathroom. So, this design might be best if you have a small bathroom. You need to keep in mind that alcove bathtubs tend to be fairly limited in designs and sizes. This happens due to its manufacturing design that can fit in any bathroom profile. So, if you have a bigger space in your bathroom, an alcove fit might be a tad smaller for you.
Dimensions for a freestanding bathtub:
Standard: 60 Inches (L) x 30 Inches (W) x 16 Inches (H)
Small: 45 Inches (L) x 30 Inches (W) x 14 Inches (H)
Large: 72 Inches (L) x 42 Inches (W) x 20 Inches (H)
Drop-in Bathtubs
Drop-in bathtubs are finished from all sides that feature a rim or lip, allowing the scope to be secured or fastened to an alcove/surround. This particular design ensures that you can drop in the bathtub while obscuring the bathtub's outsides completely. This takes into account that only the bathtub's interior is visible.
The surround of your drop-in bathtub can be made from anything that starts from wood to natural stone. It can be set at a raised level or even constructed at the feet level. Its installation method separates it from the freestanding bathtub design, ensuring that it can be installed and placed anywhere, depending on the space available in the bathroom.
Dimensions for a Drop-In Bathtub:
Standard: 60 Inches (L) x 30 Inches (W) x 16 Inches (H)
Small: 45 Inches (L) x 30 Inches (W) x 14 Inches (H)
Large: 72 Inches (L) x 32 Inches (W) x 20 Inches (H)
Undermount bathtubs
Undermount bathtubs are installed underneath the rim. In simple words, its surrounding area or deck is covered, and the tub is supported by a floor structure below. The design and make of this tub are similar to that of a drop-in design. The only difference between the two is the fact that the drop-in design is placed above its rim while the under mount is placed underneath it.
The weight of the under-mount bathtub is distributed amid the rim and your bathroom's floor structure. On the other hand, drop-ins are installed to distribute the weight mostly on its rim. With an undermount design, the installation is such that the edges are concealed from view.
Dimensions for a Under-Mount Bathtub:
Standard: 60 Inches (L) x 30 Inches (W) x 16 Inches (H)
Small: 45 Inches (L) x 30 Inches (W) x 14 Inches (H)
Large: 72 Inches (L) x 32 Inches (W) x 20 Inches (H)
Corner bathtubs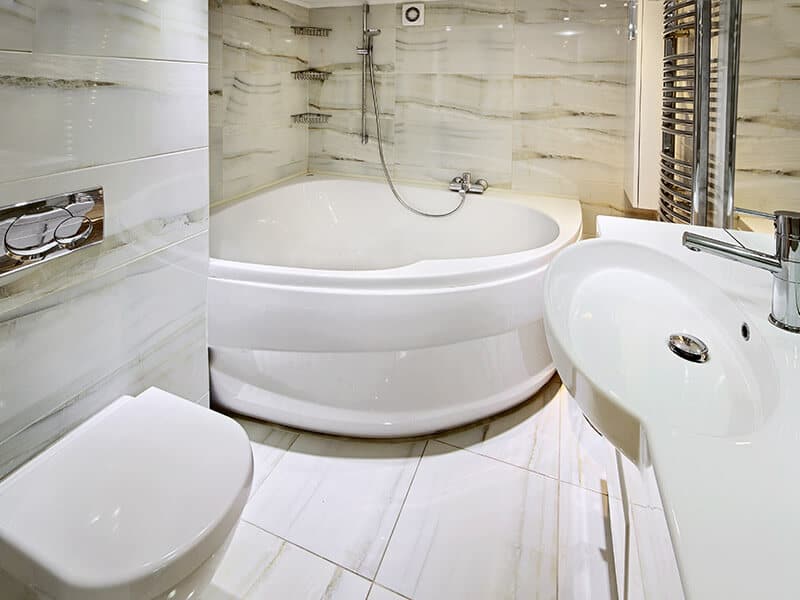 Corner bathtubs are anchored on two sides with the wall. They are mostly triangular-shaped. However, it can vary depending on the space available in your bathroom and your personal size requirements. They are space-saving in nature and fit in easily in the corner. The tub is big enough to allow one or two users.
One advantage of using a corner bathtub is that it can easily fit into a small space where rectangular variants might not fit. In addition, most hot tubs and Jacuzzis are termed corner bathtubs. So, with some minor adjustments, one can easily transform a corner bathtub into a hot tub/Jacuzzi.
Dimensions for a Corner Bathtub:
Standard: 60 Inches (L) x 60 Inches (W) x 20 Inches (H)
Small: 48 Inches (L) x 48 Inches (W) x 18 Inches (H)
Large: 72 Inches (L) x 72 Inches (W) x 20 Inches (H)
Walk-in Bathtubs
If you're searching for a safe, comfortable, & therapeutic cleanup experience in the bathroom, walk-in bathtubs are the best bet. This bathtub variant has a watertight door and a seat that lets the user step inside the bathtub in an easy & secure way.
It is perfect for individuals of different ages & mobility levels while letting them enjoy a comfortable and safe bathing experience. Most walk-in bathtubs offer multiple features like handrails, whirlpool jets, hand showers, along with a wider and comfortable seating design than a traditional bathtub.
It is ideal for users that seek hydrotherapy for health and wellness, a heated backrest to keep you warm as you soak in the water, & whirlpool jets to help massage the spine, feet, and calves for pain relief. In addition, a walk-in bathtub is perfect for use after a long day to leave you feeling invigorated and refreshed.
Dimensions for a Walk-in Bathtub:
Standard: 60 Inches (L) x 30 Inches (W) x 30 Inches (H)
Small: 48 Inches (L) x 28 Inches (W) x 30 Inches (H)
Large: 60 Inches (L) x 36 Inches (W) x 30 Inches (H)
Oval Bathtubs
For someone seeking a modern design in their bathroom, the oval bathtubs are a perfect style choice. Oval-shaped bathtubs come in a range of choices which becomes a focal point in your bathroom given its popularity and design.
It isn't necessary to install the same in a confined or narrow space. Rather, the choice for installation is endless. It doesn't have to be added to a traditionally designed wall with tiles.
Oval-shaped bathtubs are of the free-standing variant that ensures you can relax while taking a long bath. As suggested by the name, these tubs are oval in shape. However, they can be modified a bit to look more like an ellipse depending on your styling requirements.
Common Dimensions for an Oval Bathtub:
Standard: 60 Inches (L) x 41 Inches (W) x 24 Inches (H)
Whirlpool Bathtubs
Whirlpool bathtubs are among the luxurious variants of the bathtubs available in the market. They are self-contained in the fact that they feature water jets to help you relax & massage the muscles. These jets are powered either by air or water to give you access to a therapeutic soak while emphasizing comfort.
Given that whirlpool bathtubs have a large storage capacity for water, it would require you to have a decently sized bathroom. The prime feature of any whirlpool bathtub is its jet. They usually come decked with a minimum of 6-8 jets positioned at properly spaced locations within the bathtub.
They are available in a range of sizes and styles. These tubs need to be spacious and large to ensure that the user can sit upright as they take a bath. A necessary requirement for such bathtubs is the presence of a water pump to push through the water into the tub.
Common Dimensions for a Whirlpool Bathtub:
Standard: 60 Inches (L) x 32-36 Inches (W) x 18-23.25 Inches (H)
Inset Bathtubs
Inset bathtubs are similar to standard baths in look, feel, and functionality. However, instead of having the legs concealed/standing alone, they are actually built right into the surface. It can be a projecting surface like low walls or with a built surface/surround.
Some homeowners might also plan the installation so as to insert the tub into the floor. These bathtubs are a practical and perfect choice for spaces demanding a quick renovation and too small bathrooms.
They can fit easily in any type of bathroom, with a range of shower screen designs available to add to the privacy factor. Inset bathtubs are perfect for homes with children or older adults as it is easier to get into than the freestanding bathtubs.
It becomes safer if you get a handrail installed right next to your bathtub. You can use the extra edges surrounding the bathtub to place the bath products while being easier to reach when needed.
Common Dimensions for an Inset Bathtub
Standard: 68 Inches (L) x 31 Inches (W) x 21 Inches (H)
Skirted Bathtubs
If you are someone who loves everything royal and stylish in their bathroom, the skirted bathtubs are an ideal choice. These tubs have an apron or skirt-like finishing on one axis, which is either bowed or flat depending on what fits your bathroom decor the best way.
This skirt design covers the entirety of the tub itself while ensuring that it is easy to install. It also has proper space for the users to rest in. The drop-in skirted bathtubs are protected from any type of abrasion from outside debris.
This ensures a glitch-free transition between your bathtub & the bathroom's foundation. These tubs are best for two users, but you can get them customized depending on your usage pattern and the number of members in your family.
Common Dimensions for Skirted Bathtub:
Standard: 60 Inches (L) x 30 Inches (W) x 32 Inches (H)
How To Install A Bathtub?
Installing a tub in your bathroom can be a complex process. This means you shouldn't attempt to get it done by yourself as a DIY enthusiast. However, if one does have construction and plumbing experience, you can get it done with a bit of guidance. Regardless, the key is to hire professionals to get the job done in the right way.
Measure the Tub and Space
When installing a bathtub, one of the most crucial things to remember is the type of bathtub you choose that will fit in the area. The first step is measuring the space and the bathtub to make sure the bathtub and space align. Also, ensure that your measuring tape attains the external edges of your bathtub and not only the inner angle of the bathtub. If you only concentrate on the measurements of the inside parts, your tub won't fit in the space.
Explains best practices for measuring a bathtub
Fix The Bathtub Into Place
Whether your bathtub is fiberglass or porcelain, it can get destroyed, so conserve it safely packaged until you install it. Remove a portion of the cardboard to settle inside your bathtub to maintain the surface while you operate. Utilize another part of cardboard to safeguard the exposed porcelain side.
Several new bathtubs have a leveling pad and sound-deadening pad on the underpart. This pad requires to place entirely on the subfloor. Ensure that the subfloor is straight and that your bathtub will be placed safely on it.
Utilize your assistant to carefully fix the bathtub onto the skids and glide it into position in the alcove. Once it is settled, check to observe if the bathtub is level. Take a marker and draw a line on the shafts on all three sides. After committing this, remove the tub and place it aside.
Explains how to install a standard acrylic bathtub.
Install the Stringer
If you attach a 2 x 4 stringer promptly to the studs, it will enable the bathtub along with its size. Since you have already drawn a line on the top end of the flange on the shafts, you'll have to allow for the length of the flange to fix the stringer.
Measure the height and see the same extent below the line on every stud. This fresh line will fulfill as the top end of the stringer you'll fix. Cut 2 x 4 the size of your bathtub. Utilize deck screws to connect it with the studs on the fresh lines.
Connect the Overflow Pit Assembly
To settle in the pit, turn the bathtub on its side and set it according to the company's instructions. Roll putty in your hands and position it on the underpart of the pit flange. Place the pit shoe on the underpart of the bathtub and tighten the drain flange into the lines.
Screw it totally with the pit wrench equipment and take out any extra putty. To attach the overflow valve, position the rubber gasket in the overflow corner and place it behind your bathtub.
Connect the cover plate inside your bathtub to the overflow corner and seal behind the bathtub utilizing the bolts given in the overflow pit assembly tool. Attach the overflow tube and drain tube with a tee where they join. Set the pit strainer onto the flange.
Explains how to install an overflow.
Connect the Drain
Carefully shift the bathtub back into position. As you commit, ensure that you do not disrupt the pit assembly you just connected. When it is in place, the flange must settle on the stringer that was just set along the backside.
Ensure that the overflow plumbing and the drain coming out of the bathtub is aligned with the drain portal in your toilet. Utilize putty around the underpart of the pit basket, and tighten the pit into position.
To attach the overflow valve, set the rubber gasket onto the elbow, and place it behind the tub. Then connect the cover plate to the elbow and attach the overflow to the pit tubes.
Explains how to install bathtub and connect the drain.
Ensure Tub to Studs and Finish
Press the bathtub down into the cement and position a level on it to make sure it's level. Make sure you pre-drill gaps in the bathtub edge. The gaps should fit with the stud areas. After leveling the bathtub, you can connect it with the studs utilizing 2 inches galvanized bolts.
Position your foot on the inner edge of the bathtub to grip it steady while ensuring one bolt in the middle of the bathtub on the main side. Inspect the bathtub is level again, then shift your level to the cover of the bathtub.
Push your bathtub down into the cement to receive a level position and fix one bolt through the bathtub lip and into the stud. Also, if there is a hole between the stud and tub flange, utilize a shim. Or else, you could end up breaking the bathtub lip when you secure it to the stud.
FAQs
Now that you have enough idea about the bathtub styles, dimensions, and how to install it, you might have some questions in mind. So, here are a few FAQs to solve all your queries.
The Bottom Line
Whether you have a large master or a small toilet, a bathtub is a crucial convenience. It feels incredible to sit in that moistening tub at the end of a tough day. If you have a tiny toilet, you can select from the various styles of inset and skirted bathtubs.
You can also set a shower combination to use the tiny space. The finest way to perform this is an overhead shower wall panel or shower. You can also get fiberglass on the faucet side and shower variety to keep the water from falling out.
If you have a big toilet, you can set a freestanding or under-mounted bathtub with a beautiful style. The Bateau and slipper tub are outstanding additions to a large master bathroom. An under-mounted bathtub, on the contrary, could cause a feeling of peace. You can also amplify a whirlpool trait to an under-mounted bathtub with a shower for the absolute bath experience.
Hopefully, this guide can help you choose a suitable bathtub and enjoy the relaxing. If you enjoyed the article, drop a comment below and share it with your friends and family!