If you are a fan of unicorns, here are the best unicorn bedroom ideas that you should never miss! Let me take you to the magical land where unicorns inhabit through these fantastic designs!
I'm sure that your little daughter will absolutely love this theme! Most girls like diving into the bedchamber designs that make them feel like a princess! And the unicorn concept is undoubtedly one of them. Let's come and see the most gorgeous ideas ever!
8 Most Adorable Unicorn Concepts For Toddlers' Bedrooms Or Nursery
Bedrooms with a unicorn theme usually bathe in pink. For a more enchanting and luxurious look, you may want to use a rose gold shade for the sleeping zone. However, the most important thing is to include a unicorn image or something that makes you think it belongs to a unicorn!
1. Unicorn Cute Wallpaper
The quickest way to have a unicorn-themed room is to apply a designated wallpaper with a unicorn pattern on it. The orange shade in this bedroom blends pretty well with the orange unicorn and moon wallpaper! A great option for a quick makeover!
2. Rainbow Theme
This bedroom has the most glamorous design ever with rainbow wallpaper and unicorn-printed bedsheets! Add some lights with LED and string lights to glow up the room. Voila! A colorful and mystical room design has shown up!
3. Pastel Shared Room
I really like the pastel palette of this bedroom! The pastel pink, mint, and gray work really well with each other and create an eye-catching unicorn theme with some stuffed unicorn toys!
4. Vibrant Wall Painting With Bunk Bed
Not all unicorn-inspired rooms are sunk in pink! A bedroom with a vibrant shade like orange can also remind you of unicorns, but in a special way! Here, the lovely white bunk bed is utilized to maximize the small space. You can see some unicorn decorative accents that match the bright palette of the bedroom.
5. Light Purple Bed Sheets
Sometimes, a lovely bed sheet set is enough to dip the bedchamber into a magical unicorn theme. It doesn't have to be in too many colors like the previous rainbow theme. White and lilac purple is a gorgeous palette for your little girl's bedroom.
6. Teal Color Scheme
If you want a more neutral paint color besides the vibrant orange and pink, a sleeping space bathed in teal can work really well! You should also supplement some unicorn ornaments to the room to describe the "unicorn" part.
7. Unique Decorative Items
You can add some unicorn-related and pink items to bring the unicorn vibe to the whole bedroom! Choose some attractive unicorn items like a sparkling pink cushion and attractive toy unicorns stuffed with cotton.
See how this girl ran a unicorn makeover for her bedroom!
8. Kawaii Bedroom Decoration
If your kids love Japanese anime and want their bedroom to have some anime-inspired theme, how about making their wishes come true? For a "kawaii" unicorn-themed look, thousands of gorgeous decorative elements in pink and purple shades are added to the bedroom.
7 Enchanted Unicorn Bedroom Ideas For Primary Age
If you think the above ideas are a bit too childish and cannot apply to older girls' and the adults' bedrooms, here are some more grown-up versions for you! Let's take a look!
9. Mounted Unicorn Head And Boho Style
This shared room is gorgeous with two wall-mounted cotton unicorn heads. The overall view looks pretty simple with white wall painting, an elegant Boho-themed rug, and some pink and brown items.
10. Princess Canopy
A lovely pink canopy is the best idea to decorate a mature bedroom! You can set this idea up and create the most feminine sleeping space ever for your teenage daughter! Make her feel like a princess!
Here is the best idea to decorate your unicorn room with a princess-like canopy!
11. Unicorn Artsy Painting
A unicorn artwork and blue-pink gradient bedsheet can also call in the mystical unicorn concept for your little girl's bedroom! They are the highlights of the room since the walls are covered in plain white. Looks gorgeous and modern, huh?
12. DIY Neon Name Sign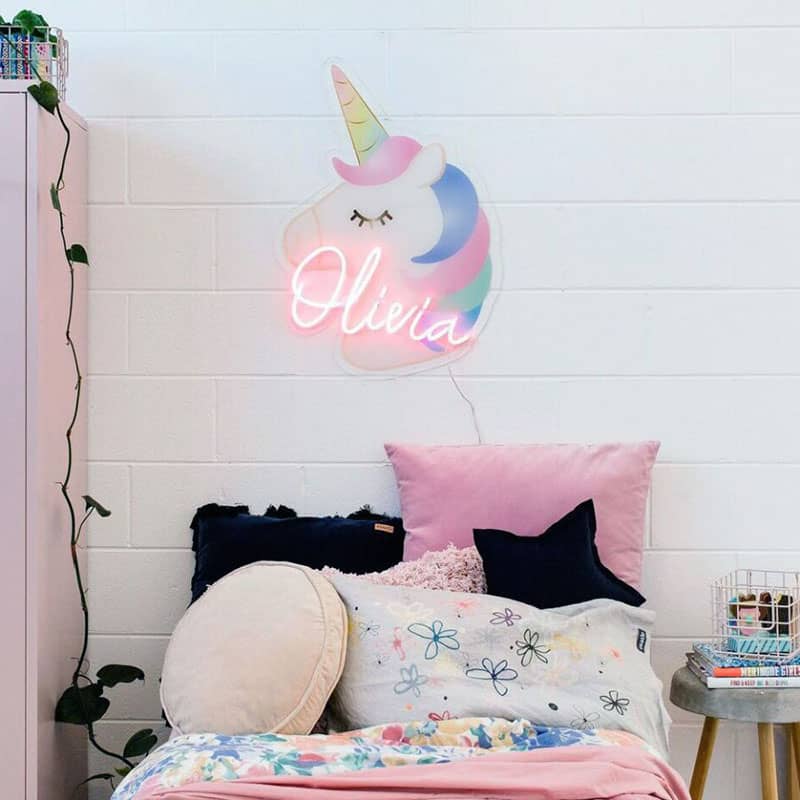 Want to include some LED lighting in your bedroom? It's a great idea to have yourself a cute name sign in LED neon light with a unicorn background for the wall decoration! You can either do it yourself or order it from a custom neon store.
Learn to make a simple neon sign in whatever text you like with easy steps!
13. Ombre Wall Painting
This beautiful ombre wall with three different shades of pink is super easy to paint by yourself. For a unicorn-inspired bedroom look, you just need to add some more related ornaments like this cute unicorn head on the wall. Be creative and make your own room unique!
14. Unicorn Wall Stickers
If you want to make it quick, you can purchase some wall stickers, or decals, and simply stick them on the bedroom wall. They are very easy to find at furniture stores; you can also buy them from e-commerce platforms. The stickers are various in sizes and shapes, so you'll have a wide range of choices on this.
15. DIY Floral Unicorn
A huge crafting unicorn artwork is included in this simple but adorable bedroom! Three DIY paper flowers are well-arranged and create a fascinating unicorn-reminded shape on the wall. Because the artwork takes all the spotlight, everything else in the bedroom should be kept as simple as they can!
Learn how to make gorgeous paper flowers for this amazing floral unicorn idea!
3 More Mature Unicorn Bedroom Options For Adults
Want a more grown-up look for your own room? Here are some fantastic suggestions! They consist of neutral elements that can be applied for an adult's bedroom. So let's see which one you can pick out for yourself!
16. Unicorn Poster
Sometimes, just an unicorn-related artwork on the wall is enough to bring the vibe to the room. This B&W picture of the unicorn looks really amazing and matchy with the room palette. It's a great option for those who love simplicity.
17. Dark Unicorn Vibe
The unicorn theme does not only end up with bright colors! It can get along really well with the dark shades, too. Here, the dark gray bed sheets, patterned rugs, and pictures on the wall look great together! But the spotlight actually goes to two hologram cushions!
18. Unicorn Style For A Chic Bedroom
If you have already had a contemporary urban bedroom, do a makeover with a huge wall-mounted unicorn head. Here, the realistic decorative item suits really well with this cool chic sleeping space.
Now, It's Time To Settle In A Magical Unicorn Land!
How do you feel? Are those unicorn ideas mystical enough for your bedroom's decoration? If you are going to apply one of them in real life, let me know by commenting below this post! I hope that you feel happy and satisfied with this home ideas article!
Based on my suggestions, you can always design a unique unicorn concept for your room! The more creative you are, the more mysterious and gorgeous the bedroom becomes. And don't forget to like, share this post if it has somehow inspired you! See you later, pal!