Barndominium is a combination of two words – condominium and barn, where the condominium is referred to as building or complex, and barn has varied meanings. For a more easy description of what is a barndominium, it refers to a non-traditional structure with sheet metal siding and steel frame. It could be defined as a type of steel building.
These types of buildings are typically built on a multi-acre homesite or any existing property, and the structure is usually used for both residential as well as commercial uses. The storage area of these infrastructures is large enough that you can easily place your boats and RVs.
In today's time, these buildings have become a renowned option for homebuyers searching for an alternative to old traditional stick-built homes. So, if you are looking for a barndominium, then this guide will provide you with detailed information about the same and make your purchase decision easier.
Here is a quick video tour of a beautiful barndominium in Texas. Have a look:
Advantages of a Barndominium Home
In recent times, the barndo houses have gained immense popularity, and there is a long list of logic that supports this choice. So, the following are some of the reasons why people prefer this type of home for settling:
Simplicity and Elegant Appearance:
One of the significant factors of opting for a barndominium is its simplicity. People nowadays prefer a simple yet sober-looking house. Barndos are often built like a shell combined with interior framing. It gives your home a simple but attractive and classy look.
Since the metal sheets are easy to mold into a structure, that too, without much hassle, unlike other construction projects, barndominium projects can be constructed within a short time span. So for those who are in a hurry to get a new place to live or begin their startup business, they can purely opt for homes, made up of metal sheets and steel frames.
It is a common fact that everybody wants a residence where they can stay settled for a long time. Nobody likes to leap from place to place or reconstruct their houses frequently. With the barndominium homes, you don't have to worry about this issue anymore.
Unlike many standard home-building materials, these metal barndos can withstand every element that gives it a longer life; thereby, increasing the entire durability of the house.
Again one of the most crucial factors for which people, especially businessmen, search for barndominium homes is its flexibility. In these types of houses, you can not only build your workplace but also use it to live with your family. And who doesn't like to focus on their work in their comfort zone and equally spend some quality time with their family whenever they want!
Outdoor/ Indoor Lifestyle:
For adventure freaks, who miss going out on ventures but can't head for tours because of their work, barndos are perfect for them. Such people can enjoy both outdoor and indoor lifestyle while staying in a barndominium home.
With large windows and roll-up doors, one is bound to get the outdoor living vibe. And as you are already at your home, there are no chances of homesickness. So, you can enjoy the outdoor living experience as much as you want and come back to your home in a fraction of seconds.
How to Decorate the Interior of Your Dream Barndominium?
With the flexibility of choosing the interior layout of your barndo, you can plan all the essentials as per the square footage of your room to get a breathable interior. Following are a few tips to give the interior of your barndo an aesthetic look:
Color Pattern:
One thing that can help you to decorate your interior and define your space is the choice of color of your home. A stripe of colorful paints that run along the perimeter of the house could be a great trick to unify a large and open space. The accent walls are also in trend nowadays that can create a focal point in any large open space. Again, if you want, you can opt for the accent ceilings as well.
Check this video to know what colors would look best with your barndominium:
Color Combination:
Another thing that you can do with the color of your room is unifying it with your furniture set. When you are grouping your furniture within a large room, you can stick a single color palette throughout the entire area that you are going to furnish. It will provide a classy look to your room. Also, in this way, the colors used in the interior will tie everything together present inside the room.
Furniture Furnishing:
You can also furnish the main areas of your barndominium by choosing the right furniture. If you are furnishing an open and big space, make use of large-sized furniture. Pieces of stuff like oversized chairs and sectionals can fill the interior space without making it too crowded.
Mix-In Two or More Areas to Create a Varied-Purpose Space:
Another thing that you should take care of is creating areas within the vast space of your barndominium. Just because you have an enormous space, it doesn't mean that you can put anything anywhere. You have to group your furniture for purposes like eating or conversation. Grouping furniture together by merging two or three different areas will prevent your room from looking similar to furniture stores, stocked up with furnishings.
Thus, these are some tricks and tips that will help any new barndominium buyer in designing their interior. However, if you are still perplexed, you can opt for the home decor companies that will help you with different ideas suitable for your interior.
Flooring Ideas for Your Dream Barndominium
While choosing the perfect flooring for your barndo home, you need to focus on the heat management mechanism of your floor. Below I have provided some of the preferable flooring options that you can apply in your house.
Also, take a quick look at this video to know more about the flooring ideas and processes:
Nice Looking Tiles:
For your barndo homes, you need to be a bit extra careful about the heat management of your flooring; for instance, tiles made of porcelain and ceramic work great in managing heat. Also, there are several other benefits of tile floorings. It doesn't allow the tiles to expand when it comes in contact with warmth, and thus prevents cracking or breaking of the tiles.
Also, tile floorings nowadays come in different colors and designs along with the options of glossy and matte, semi-gloss, and semi-matte. Choosing the right tile as per the interior of your barndo will give it an excellent finish. Such tiles are not slippery and damp-resistant if appropriately maintained. Regular mopping with a mop cleaner is enough to take care of the tile flooring for your barndominium house.
Stone Flooring:
Natural stones are going to create a super inspiring interior for your barndo home. Natural stones like granite, sandstone, and marble are much efficient in handling heat conduction. The heat radiant stone flooring is also good for controlling heat with the seasonal transition. They are super easy to maintain and won't require you to spend a lot of bucks for getting a decent looking impressive flooring.
Engineered Wood for Flooring:
Engineered wood flooring is also a good option for floor decoration. Engineered woods usually have a sturdy build and hardwood construction that last for a long time and don't react much to changing temperature. Since this solidly built flooring option is cost-effective and easy to take care of, it helps you to get your dream barndo home done at a limited amount of budget yet with an impressive finish.
Laminate Flooring: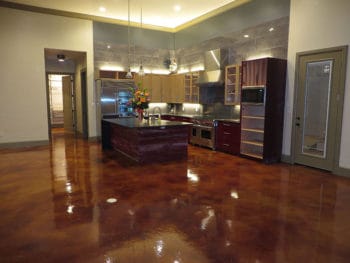 Laminate flooring seems like tiles or wooden flooring, and it comes at very cost-effective pricing. Laminate floorings are made up of layered woods that are much more robust and durable than the engineered wood floorings.
Also, laminated floors are pretty good at effectively managing heat and don't get tampered with the weather. They are water-resistant to a certain extent, so there is no worry about the dampening of the floor.
What Is the Average Cost of a Barndominium?
Barndominiums are comparatively less expensive than a regular traditional home. As the barndos are easy to create and take less time to get ready for living, it also reduces the labor cost and material charges. Below enlisted details will help you to get a better idea about its costing scheme.
Average Cost Varies With Square Footage and Interior Decoration:
A regular barndominium may cost you around $90-$160 per square feet, which is quite cost-effective. Depending on what kind of amenities and interior you want to include in your barndo, you can set the amount of expense.
A basic shell for barndo homes is super affordable, as it can come at only $26 per square feet. A basic shell incorporates all the essentials needed for regular comfortable living. A primary shell comprises the building, slab, sanitary facilities, washroom, sinks, electricity, etc. However, if you want to give your barndo home a beautiful finish, then you will have to spend a bit more.
Different Plans and Designs Offered by Various Construction Experts:
To make a barndominium appropriate for your comfy living, you will have to chalk out various ideas and decorative designs. And then consult with a handful of construction experts to get an approximate estimation of the budget.
Various construction designers have different rates for building and designing a barndominium. So, opt for the one whose scheme fits your requirements at your estimated budget. Fix the deal and get your dream barndo ready.
The Right Choice of Utilities Can Cut Down the Cost:
A smart choice of flooring, furnishing, wiring, and plumbing can make you save more money for your comfortable living at a beautiful and well-furnished barndo home.
Disadvantages of Planning a Living at a Barndominium
Though a barndominium comes with several advantages and facilities, there are certain disadvantages of residing in a barndo. Following are some of the cons of a barndo home:
Fabrication Error May Occur:
Fabrication fault may occur anytime with any home, made of a specific material. But when a fabrication error happens with a regular stone and brick house, it may be corrected anytime. But, in the case of barndo homes, you will have to wait for the manufacturer to replace it because you can't fix any fabrication issue that happens to a metal.
Doesn't Allow You to Have a Multi-Storied Home:
The metal structures used to construct a barndominium are not that good for making a multi-storied home. The extended lofts of some barndo may allow you to have an open second storey as a part of your first floor's interior design layout.
Not Much Sound-Resistant:
Barndominium homes made of steel tend to allow entering of more sounds from the outside. It will thus make a louder noise when it rains or snows outside.
Frequently Asked Questions (FAQs)
Are you still not sure about the idea of living at a barndominium? Here are the answers to some frequently asked questions that can guide you for considering a barndo home for your living.
Conclusion
So, here is the complete guide for a barndominium that you can opt for a comfortable and easy living. It is not only cost-effective but also one of the best options to get a long-lasting living place within a short time. There is no doubt about the fact that a barndo home is going to be the future of modern living with the fast-changing lifestyle options of humans.