Today, there are many anime bedroom ideas. They are fantastic ways for those who love the cuteness and vibrancy of anime-style movies. You can use anime style as a colorful idea when you are no longer interested in bedrooms with dark blue, black, white, and other neutral colors.
I do not know why you are here, but if you want to satisfy your cravings by creating an anime-style bedroom, this list of ideal options will fulfill your needs. Let's explore and pick an idea to beautify your room.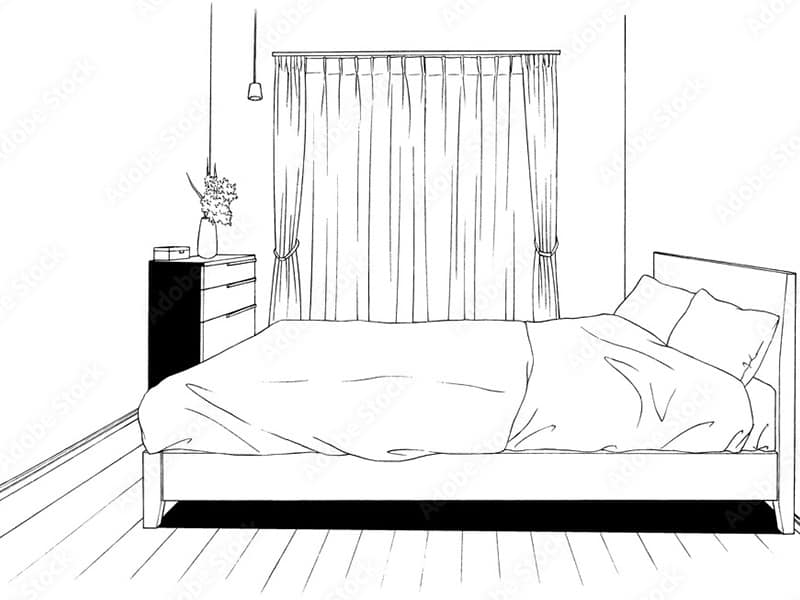 Bedroom Designs Inspired By Your Favorite Animes
Anime is a popular and widely known trend. Anime movies leave a deep impression after enjoying. Therefore, die-hard fans of anime series want to turn their bedroom into a world of their favorite anime series. If you want that too, check out the ideas below.
1. Dragon Ball Z Theme
If you want to immerse yourself in the world of Dragon Ball Z, you can design a bedroom inspired by this popular anime series. You will feel like meeting the characters in this anime every day with a big drawing and wall scroll. This design will give an energetic vibe to the kids.
2. One Piece Theme
Manga One Piece is the memory of many children. The bedroom with a bed designed in the model of a pirate ship is a particular highlight for the room. The room's blue tone evokes the feeling that you are conquering the ocean on your boat.
3. Pink Anime Bedroom With Hello Kitty Theme
Nothing is more suitable than designing a sleeping zone for little girls in cute and feminine Hello Kitty style. A space filled with pink color is drawn in front of your baby girls' eyes. The room is highlighted with the image of a lovely hello kitty cat.
4. Anime Bedroom With Inuyasha Theme
It is comfortable and pleasant to lie on a bed inspired by the anime Inuyasha theme. Everything on this bed is upholstered with Inuyasha's signature motifs. Colors like red, black, and white create a balanced whole.
5. Cute Anime Bedroom With Pokemon Theme
Pokemon is a concept that your kids will absolutely love. The image of the cute yellow Pikachu and other animals on the blankets, bedsheets, and pillows will bring positive and fresh energy to the boys' bedroom.
6. Japanese Anime Bedroom With Naruto Theme
If you need a minimalist design for your anime bedroom, you can create a Naruto-style sleeping zone by drawing a half-face of a Naruto character, Japanese text, and some lines. Small details like showpieces on each side of the bed make the room stand out more.
7. Cute Vibe With Doraemon Theme
If you fan the robot cat Doraemon, you should design a Doraemon-themed bedroom. Cover your whole room with blue colors and characters from this anime series. The image of cute Doraemon characters flying on the wall creates an attractive and cheerful whole.
8. Detective Conan Themed Bedroom
Do you like the intelligence of the famous detective Conan's cases? If yes, please create a room where you can meet and see Conan daily. The pictures of the famous young detective on the wall are cute and mysterious.
9. Sailor Moon Themed Bedroom For Little Princesses
Sailor moon is a popular anime with pretty and cute girls, so this theme will be suitable for a bedroom of little princess. Soft pink tones and neatly arranged characters create a dreamy and beautiful space.
Learn how to decorate a Sailor Moon-themed dresser in your bedroom.
10. Anime-Inspired Bedroom With Digimon Style
Fill the room with pictures and wall scrolls of characters in the Digimon anime. The cute looks of the characters will make the bedroom look lively. You can display your diverse and wonderful collection of monsters in the room.
11. Kawaii Anime Bedroom Idea
Let's try giving it a shot at decorating your anime bedroom in the Kawaii inspiration. The cute and soft colors, along with the two single beds, deserve an ideal place for your little girls to grow up.
12. Boku No Hero Academia
This bedroom will show off your passion for Boku No Hero Academia. A collection of characters from this anime is displayed in the room. Alternatively, enhance the aesthetic by adding posters and drawings on the gray wall.
13. Sonic Theme
If you love the super-speed hedgehog, Sonic, do not hesitate to create a bedroom inspired by this amazing anime character. Focus on decorating the bed with a Sonic print blanket, bedsheet, and pillows. This is a design for mischievous boys.
14. Design Bedroom In Otaku Theme
Are you a fan of Otaku? If yes, this bedroom design will be a great choice for you. Pictures and posters of the characters are placed on the walls and ceiling of the room. It is perfect to incorporate a TV into the bedroom, so you can immerse yourself in Otaku episodes.
Let's take a look at the anime bedroom designed in Otaku style.
15. Manga Themed Bedroom
Turn your small room into a cozy manga-themed space. The room was decorated with various anime images on the wall. Furthermore, you will always see Manga characters on the ceiling every time you lie on your bed.
16. Bedroom Inspired By Haikyuu Volleyball Series
Referring to anime, you cannot ignore the Haikyuu Volleyball series. The bedroom inspired by it is a style that you should consider. To accentuate this style, you will need posters with all the characters from this anime series.
17. Jujutsu Kaisen Themed Sleeping Zone
Why don't you try making a Jujutsu Kaisen themed bedroom? The large picture full of anime characters will highlight the entire bedroom. It is great to live with passion for Jujutsu Kaisen anime every day.
Easy Decoration Ideas To Get An Anime Bedroom
Decorating the bedroom in an anime style is pretty simple but creates outstanding effects. If you are looking for ideas to beautify the anime bedroom, you should not miss the ways below.
18. Hanging Your Favorite Anime Scrolls
A straightforward and convenient decoration idea that you can apply is to use wall scrolls. You can use Arknights wall scroll or related to any anime you desire. It is best to hang them above the bed or around the wall.
19. Book Shelf To Display Anime Comics
Anime series not only exist as movies but are also published as books and stories. The best way is to put a shelf in the bedroom and display these attractive and colorful storybooks. This way brings neatness and aesthetics to the room.
20. Install Open Shelves
Most fans like to collect anime-related models that they like. You know that displaying character models is the perfect way to decorate an anime bedroom. Therefore, let's install an open shelf with lighting to create an anime gallery in your room.
21. Use Pillows With Anime Images
Another simple way to beautify the anime bedroom is to place pillows printed with anime characters. It is great to rest your head on soft pillows that have your favorite anime characters. Moreover, they make your private space more lively and attractive.
22. Apply Anime Bed Cover
There are many methods to bring an anime atmosphere and accent to the bedroom, but a bed cover with anime images will be a fantastic suggestion to decorate the sleeping zone in anime style.
23. Using Anime Banners Is Another Option
Besides using posters, you can hang a large anime banner in the room. They will bring a focal point to your bedroom. It is better to choose banners related to the anime that you are a big fan of so that you can look at it daily.
24. Exhibit Your Anime Collections
Make use of your anime figure collections to enhance the beauty of your bedroom. Place collections in a glass cabinet or shelf with built-in lighting so you can look at them every day. Do not forget to arrange them by size and anime series to create a unified layout.
Learn how to make your display custom case to put your anime collections.
25. Decorate With Anime Posters
Posters are something you always notice in anime bedrooms. This is a simple and easy way to decorate when you just need to hang posters of your desired anime characters on the wall. Posters all over the room make it feel like you live with anime characters.
26. Hang Anime Frame
Satisfy your passion for art and anime by hanging eye-catching anime paintings on the wall. A well-arranged symmetrical anime frame with 5 pictures of My Hero Academia characters creates a great view of the room.
27. Lay Anime Rugs On The Floor
To give the space a splash of color, you can place a rug with anime images on the floor. The rug is both decorative and brings warmth to your bedroom. You can lie on the carpet to relax and read your favorite anime series.
28. Large Anime Wallpaper Murals
Creating a great anime mural masterpiece from 3D wallpaper is an excellent beautifying idea for a room. With 3D murals, anime characters are depicted realistically and beautifully. In addition, they give the feeling of anime characters coming to life.
Follow the ways to decorate an anime bedroom with anime wallpaper.
What Is Your Favorite Idea?
These anime bedroom ideas not only satisfy your passion but also bring a high aesthetic element to the room. Share these amazing bedroom designs with people who have the same anime taste as you to help them get the best private space.
Do you have any difficulties in the process of decorating and designing anime bedrooms? What other ideas would you like to add? Please do not keep them to yourself, share them in the comments. I will respond to all of your questions. Thanks a lot!