In need of some great princess bedroom ideas? Don't bother! My 29 favorite designs will fuel your head with plenty of ideas and inspiration. Get your mind ready and read through each idea with great attention.
After you have checked out these ideas, you can choose one and jump into the project immediately. Or, you can spend some time thinking about how to mix and match different ideas together to create more visual interest and make it unique.
12 Gorgeous Elements Of A Princess's Land
The color is not everything. You should also include the furniture and accessories that are typical of a princess's bedroom.
1. Beautiful Swing Chair
Have you got any idea to design the sitting space for the bedroom? If you haven't, then this beautiful chair swing will be a great choice. Your daughter probably sees it in princess cartoons and also wishes to have one, I bet.
2. Elegant Loft Bed
A loft bed is often used in small bedrooms to maximize space. However, in a princess's bedroom, it serves the role of making the room more charming and fulfilling. Your little princess will always feel safe and warm while sleeping on it.
Don't miss this excellent instruction on making a loft bed.
3. Bunk Bed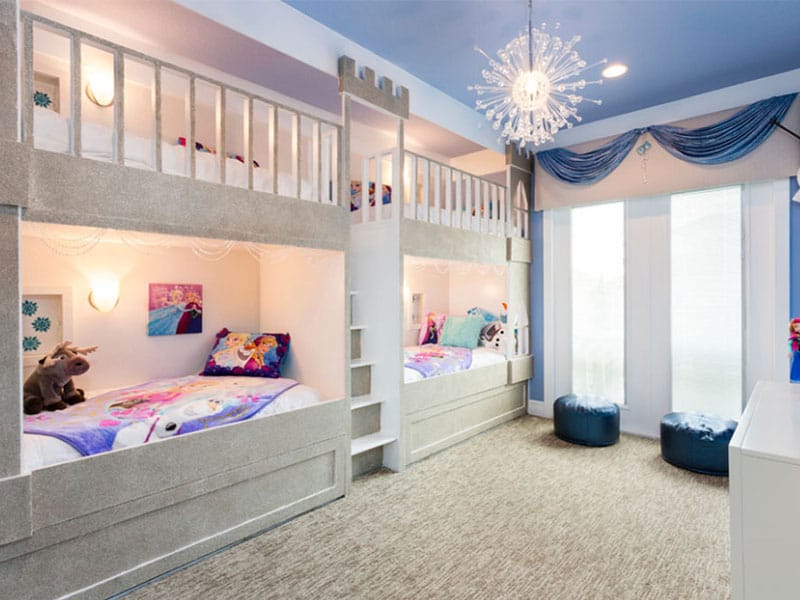 If you have more than 1 daughter, they would probably like to stay near each other so that they can play all day. So why not turn them all into princesses and let them sleep together? A bunk bed can help you do that.
4. Cute Toddler Bed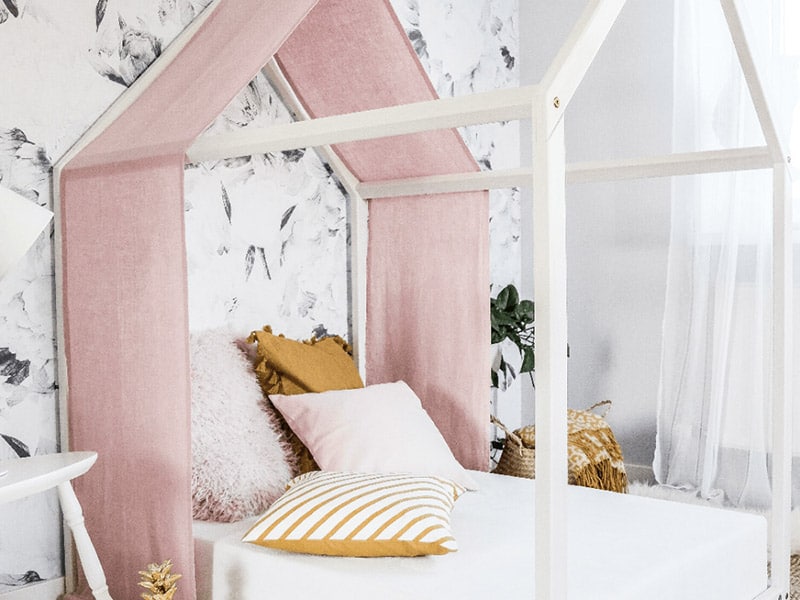 A toddler bed is most suitable for little girls between 2-5 years old. It will keep her safe better than other types of beds. If you choose it, decorate it following this design so that it turns into a princess's bed as well!
5. Gorgeous Canopy Bed
As you may have seen in your favorite childhood's cartoon, every princess's bedroom has a canopy, so your daughter should have one, too. Not only does it make the room more royal and luxurious, but it can also keep her warm and protect her eyes from the vivid light.
If you want to give your daughter a unique and impressive canopy, create it.
6. Royal Crown
It is a good idea to place a royal decorative crown on top of the canopy. Its gold shade and luxurious design will greatly contribute to the aesthetics of the bedroom. I am sure that your daughter will look at it all day.
7. Cinderella Carriage Bed
If your daughter is obsessed with Cinderella, this gorgeous carriage bed will be the greatest prevent for her – don't you think so? Its round shape and adorable design makes the room more elegant and feminine.
8. Magnificent Castle
For a little girl, there is nothing more amazing than living in a castle. She will feel like living in her dream. Such a castle may take a lot of space in the bedroom, but you can be creative by creating built-in shelves in the column for extra storage, like in this design.
Why not let your daughter build her own princess castle?
9. Amazing Castle Wall
If a castle takes too much space in the bedroom, you can build a castle wall instead. It looks equally beautiful and royal but more creative and artistic. Your daughter will definitely love it as much as she loves a real castle.
10. Princess Print Duvet Set
Everything that a princess should have is here already. So what is missing? A gorgeous dress, isn't it? Since wearing such a dress is kind of impractical, you can make it up by a princess duvet set. Your daughter will be surprised at how thoughtful you are.
11. Stylish LED Lights
Some LED lights in the bedroom can make it become incredibly dreamy at night. The gentle lighting will help your precious daughter feel relaxed and fall asleep easier.
Your daughter will love you more if you make this beautiful LED light for her.
12. Glamorous Chandelier
Every princess's bedroom needs a chandelier. It provides a royal and luxurious feeling. Also, it adds glam to other elements, making your little girl feel like she is in a wonderland. Don't hesitate to invest in one! You won't regret it.
11 Wall Designs That Will Turns A Bedroom Into A Princess's Palace
Choosing the wall's color and style is the first step towards designing a princess's bedroom. See my top 11 best choices for an adorable and inviting bedroom.
13. Shades Of Pink
Pink is a sweet and adorable color that is most chosen for a princess's bedroom. But decorating the room with only one pink tone is a little boring. You should use different shades of pink, from light to dark, and distribute them evenly and skillfully, like in this gorgeous bedroom.
14. White
Does this beautiful princess's bedroom make you stunned? I bet it does. It is both cute and elegant with a hint of luxury. And it is the plain white tone that creates such a wonderful impact. Every girl will love this design.
15. Pale Gray
Besides white, pale gray is another color that shows elegance. This color is beautiful but is quite difficult to achieve since you have to choose the lightest and most delightful shade of gray. But if you pick correctly, your daughter's princess bedroom will turn into a heaven.
16. Blush Pink
What do you think about this blush pink princess bedroom? It is charming and enchanting, isn't it? Blush pink is neither too neutral nor too strong. It is just enough to make your beloved daughter feel warm and comfortable.
17. White And Mauve
This color scheme is suitable for girls who are quite mature and introverted. White makes the room elegant and peaceful while mauve offers a calming effect. It is a brilliant idea to put some beautiful artwork on it, like in this bedroom, for a more captivating look.
18. Baby Pink And White
Baby pink is one of the most popular choices when it comes to designing a princess's bedroom. It is sweet but not too vivid, making you feel relaxed and serene. You should also add some dashes of white to neutralize it.
19. Navy Blue And White
Although navy blue is a little bit masculine to some, this is not true at all. In fact, it works well in a princess bedroom. The key is to add some white notes to soften it. Look at this gorgeous bedroom! Do you agree that blending navy and white is such a smart choice?
20. A Touch Of Nature
If your daughter loves to watch Sleeping Beauty, I believe that she will be obsessed with this design. Pink and white are mixed brilliantly. A dash of dark green finishes the bedroom in the form of an accent wall, making her feel like in the middle of a dreamy forest.
21. Patterned Wall
No girl is able to resist such a stylish and adorable wall. It would be great if you can match the colors of the wall with other elements of the room, like in this design. That will keep the princess bedroom impressive without being too cramped.
22. Unicorn Wall Art
Unicorns are an iconic symbol in princess cartoons. Why not bring a unicorn to your daughter's bedroom? I am sure that whenever she looks at it, she can imagine herself standing in that place. With just a unicorn wall art, you can turn her bedroom into a wonderland.
23. Bloom With Flowers
This design will turn your daughter's bedroom into a beautiful princess garden. To create such a dreamy sleeping space, simply add some beautiful and realistic wall art. She will definitely love it and want to stay forever.
6 Classy Styles To Decorate A Princess's Bedroom
This is my favorite part. I love to talk about style. It is the soul of a princess bedroom. Let me show you 6 most beautiful styles that your daughter will certainly love.
24. Victorian Style
Why not make the princess bedroom more historical? It will be much more like a fairy land. You can do that by embedding Victorian style in the bedroom. Using patterned fabrics and luxurious furniture is the key.
25. Vintage Style
No girl is able to resist this dream land. They will feel that they are living in a fairy tale. And that's exactly what your daughter wishes. To create such a glamorous bedroom, make it vintage.
26. Disney Style
If your daughter is a fan of Disney cartoons, then this design should be your go-to one. Both the wall and furniture are full of beautiful Disney princesses, making your lovely daughter feel that she is one of them.
27. Princess Bedroom For Young Adult
Little girls would probably prefer a simpler design but still have some hints of sweetness. Consider this design! The white and wood tones aim to create an elegant, warm, and luxurious feel while a flush of pink softens it, making it more adorable.
28. For Two Gorgeous Princesses
This design is very ideal for twins. The room is designed neatly and brilliantly with 2 beautiful beds and a glittering pink accent wall. The aim is to maximize as much space as possible. If you have twin daughters, go for this one!
29. Be Creative With Small Space
A princess's bedroom is often large. But this doesn't mean that you cannot create such a feeling in a small bedroom. Look at this design! The pink color and items are used cleverly. Although there are not many details in the room. It still looks stunning.
Your Beloved Daughter Will Always Smile In Her Dreamland
Have you picked your favorite princess bedroom design? It is best to go step by step. First, choose the paint colors. Then, decide whether to stick to a style or create your own. And finally, choose and arrange the furniture.
When you finish building the bedroom, I hope that you can post a picture of it here so that I know how beautiful it is. And if you find this list helpful, why not share it to other people so that they are inspired, too.