If you are thinking of decorating your bedroom your favorite orange color, I can help you out. Sit down and take a look at my top 40 ways to add orange into your bedroom. I bet that you will find a satisfying design.
Although orange is a hot color, there are many ways to incorporate it in the bedroom, such as adding furniture and decorative items to prevent it from hitting your eyes. You can find many more below. Let's move on!
These 15 Ways To Combine Orange With Other Color Will Inspire You
Besides orange, what else is your favorite color? Is it a dark one or a light one? Whatever it is, you may find that it is well-combined with orange. Check out 15 colors that best pair with orange in your bedroom!
1. Orange, White, And Black
This is a very impressive bedroom design. 3 opposing colors go together, creating a beautiful, balanced, subtle bedroom that people can't take their eyes off after looking at it. The geometric structure upgrades the room even more.
2. Orange And Indigo
It seems that orange pairs very well with dark colors. Besides black and gray, indigo blue is also an excellent option. This color scheme is particularly suitable for your son's bedroom. It has a summer and youthful vibe.
3. Orange And Red
It seems to be a bad idea to mix up 2 hot colors such as orange and red. It is quite tricky to add a red hue to bedrooms, so you should get some ideas on building a romantic red bedroom. They're even the hottest color.
But we're all wrong. Look at this bedroom! It looks super beautiful and balanced. The trick is to add a little bit of red to the room and complement it with black and white items.
4. Orange And White
The combination of orange and white will make an energetic and elegant bedroom. This design makes use of the contrast between orange and white. The white bed and orange mattress are extremely eye-catching.
5. Orange And Gray
Why not go for a vintage style? Orange and gray are 2 colors that are near the end of the hot and cold spectrum. Therefore, their combination adds enough contrast and balanced tones to the room but not too much.
6. Orange And Navy
Orange and navy is one of the best color palettes. The brightness, warmth, and vividity of orange liven up the deep and cool tone of navy.
7. Orange And Olive Green
Both orange and olive green are strong colors. But the combination of them is much better than you often think. The trick here is to neutralize it with some lighter colors, such as gray and white. This color palette is so bright, rich, and youthful.
8. Orange And Brown
Those who want an extra warm bedroom for winter should consider this orange and brown combination. Brown is the best color to add warmth but it is a bit too dark. Orange brightens up the room, making you feel more lively every morning.
9. Orange And Purple
Have you ever thought of combining orange and purple for your bedroom? If yes, you have a great idea. The brightness of orange compensates for the neutral tone of purple. Some white shades can be added to highlight the color. This is the perfect bedroom style for fall.
10. Orange And Pink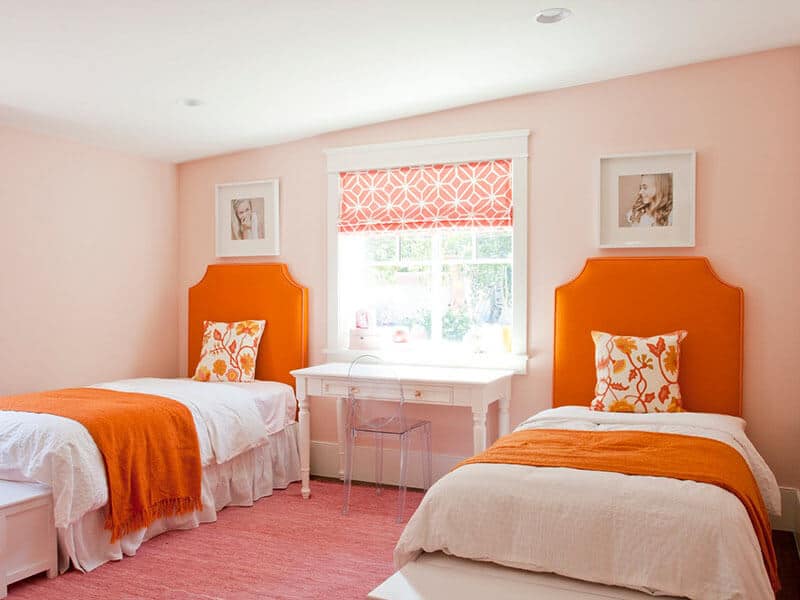 This is another combination of hot colors. As you can see in the design, the brightness of orange bed pairs is highlighted by the sweetness of the pastel pink wall. Adding a little bit of white into the room would be more than perfect.
11. Orange And Yellow
You can absolutely see how adorable and lovely this bedroom is. That beauty is brought by the combination of orange and yellow. It has warmth, brightness, and energy. Whoever lives in such a bedroom is an exceptionally active and artistic person.
12. Orange And Light Blue
Orange can be combined with both dark blue and light blue. Light blue is calming and neutral, while orange is vivid and bright. They complement each other, making the bedroom friendly and well-suited for active and outgoing young adults.
13. Orange And Cream
While mixing orange and white brightens the bedroom, a bedroom with orange and cream as the main tones gives you a different feeling. You should also look for plenty of wonderful ways to decorate a cream bedroom. It is sweet, rich, and trendy. Your young daughter will probably be satisfied with this design.
14. Burnt Orange And Forest Green
If you like the green and orange combination but are afraid that the bedroom is still too bright, I have a better alternative. Let's go for forest green and burnt orange! With this design, your bedroom will be warm and cool.
15. Orange, Black, And Gray
This impressive dark design is another excellent choice for gentlemen. The room is full of dark shades of black. Some evenly distributed dashes of orange brighten it up and some gray tones balance out the 2 strong colors.
Patterned Orange Bedroom Collection: 6 Best Ideas
If you want to add more complexity to your orange bedroom, I got 6 options for you to consider. These patterned designs bring a sense of purpose to your bedroom.
16. Floral Orange Wall
Every time you walk into this bedroom, you will feel like you're a princess. Is there anything better than that? You may want to look at more options to design a princess bedroom.
In this design, the delightful orange wall is also painted with a beautiful flower pattern, giving the bedroom a vintage, elegant, and luxurious vibe.
17. Orange With White and Blue Stripe
Do you see a well-balanced and colorful bedroom? Your kids will fall in love with it right after it comes to their sights. The orange wall combines with white and blue stripes. They intensify the color diversity and neutralize the brightness of orange. Excellent!
18. Orange With Brown And White Stripe
Here is another striped bedroom design. This one suits older people since the brown hue gives an earthy, comforting, and inviting feeling.
The main star of this room is the orange bed. It is emphasized by the striped wall and therefore becomes more gorgeous and impressive than ever.
19. White And Orange Stripe Ceiling
The ceiling is often unnoticeable. But with some white and orange stripes, it will receive more attention. The neutral tone of white and blue pastel wall and furniture further signifies the ceiling's presence.
Why not learn to paint white and orange stripes on your bedroom's ceiling?
20. Geometric Orange
Do you want to have a Halloween vibe? If the answer is yes, then get this orange and black stripe design immediately. The bright green and black bed distinguish itself from other things in the room.
21. Orange And Black Stripe
Do you want to have a Halloween vibe? If the answer is yes, then get this orange and black stripe design immediately. The bright green and black bed distinguish itself from other things in the room.
15 Options To Decorate Bedrooms With A Single Orange Hue
Orange can be the main tone or the complement of another tone of your bedroom. In this section, I will introduce you to some designs that use different shades of orange skillfully to upgrade the bedroom.
22. Orange Wall With Wood Furniture
If you are wondering which color pairs well with wood furniture, then orange will be the most satisfying answer. The 2 warm hues make the room cozy even in the winter months. This room's owner chooses thin furniture that can highlight the main orange shade.
23. Reddish Orange
If the brightness of orange makes your eyes tired, you can neutralize it by combining it with red. This will create a deep orange hue that is neither too hot nor too cold. The use of a white blanket, curtains, and pillow brightens the bedroom.
This romantic design is best for couples. You may need more insights into how to design a couple bedroom. If you are decorating a bedroom for your wedding honeymoon, it's a great idea to give your partner a surprise.
24. Light Orange
Light orange is the perfect choice to add a lot of warmth to the bedroom. This elegant design is also great for those who love simplicity and minimalism. It is always best to keep things simple and clean.
25. Peachy Orange
While the previous design is for boys, this peachy-orange hue is what the girls die for. The feminine, warm, and adorable vibe of this design will be the greatest present for your beloved daughter. Some beautiful bedroom options for baby girls are waiting for you to explore. This is a chance to show your daughter how much you love her.
26. Yellowish Orange
Yellowish orange is also a beautiful bright woody tone that brings you closer to nature. With this design, you can add white and brown furniture to enhance the room with some light and dark shade.
27. Orange Pastel
This orange pastel tone is the teen girls' favorite color. Bringing it to their bedroom is no doubt an amazing idea. This bedroom is warm, sweet, and comforting. I promise that it will make your daughter happy.
28. Burnt Orange
Who says that a bedroom cannot be dark? A burnt orange tone will give you an exceptionally warm, stylish, and inviting bedroom that ensures that you always have a good night's sleep. With this color, you can choose white and brown furniture if you want some additional darkness.
29. Pinkish Orange
Here it is. Another girly orange bedroom design that your little daughter will love. The best color to pair with this lovely pinkish-orange hue is white. Some white furniture such as bed, lamb, and table slightly neutralize and add more brightness to the bedroom.
30. Different Shades Of Orange
Instead of using a single orange tone, you can consider mixing different shades of orange to make the bedroom more stylish and artistic.
31. Electric Orange
This design is particularly ideal for young, active, and energetic people. The bright orange color signifies ambition, success, and health. Of course, some white and black shades should always be present to balance out the brightness of the room.
32. Orange Accent Wall
If you just want to have a highlight the bedroom with a bright orange shade. A small orange accent wall is enough to attract attention. In this bedroom, the owner wants to add something to the boring white color. And orange accent wall is no doubt one of the best choices.
33. Full Orange Wall
Although many people think a full orange wall is too hot to look at, it will upgrade the room if done the right way. A pure orange wall is boring. But it is not if you invest in some decorative items of black and white to reduce the hotness and vividity.
Many people fully painted their walls orange. And you should, too.
34. Classic Orange
Given that you don't like the powerful brightness of orange, classic orange color may be the best option for you. It makes the bedroom cozy and provides both vintage and modern looks. The use of light brown furniture is also perfect. It adds more darkness to the sleeping place.
35. Hints Of Orange
Don't like too much orange? That's fine. Then a little bit of orange, like in this design idea, will make you satisfied. Just fill the whole bedroom with a dark or light color, then add in some orange items, such as pillows. You will be surprised by the magical result.
36. Wallpaper Orange
If you want to be more creative, let's paint your wall in an artistic manner. The owner draws some orange mountains in this design, combining them with a pink sky and white moon. This one is such a unique, warm, and inviting bedroom.
Love this design? Then your next step is to learn to hang wallpaper.
4 Ways To Upgrade Your Bedroom With Orange Decorative Items
You do not always have to paint the wall orange to have a beautiful orange bedroom. By adding some orange items, you have plenty of options to choose from.
37. Orange Carpet
You can place orange furniture in the bedroom, why not carpet? If you paint your bedroom with light colors like in the picture, then an orange carpet further brightens and emphasizes the room. It can also warm your feet.
38. Orange Curtains
Have you added this design to your orange bedroom idea collection? It is an exceptionally wonderful idea for your sleeping space. With just a bright orange curtain, your bedroom will become brighter, warmer, and more energetic.
39. Orange Comforter Set
Do you love a rustic bedroom? If yes, opt for this orange and natural wood design. The wood wall is super luxurious and provides extra warmth to your sleeping space. The patterned orange bed and curtain make it more classic.
40. Orange Furniture
Without painting the wall in orange, you can try other ways to add your favorite color to the bedroom. One of them is to put in orange furniture, like what the owner of this house did for his son.
What is great about this design is that it is flexible, you can change the position of the furniture or the furniture itself according to your son's liking.
Which Design Have You Chosen For Your Next Bedroom Projects?
Finding a suitable interior design is a difficult task, especially in the bedroom which is your personal space. Among other colors, orange is a great option to add warmth and brightness to the room.
With these 40 options, I hope that you can pick the most suitable one for you and your kids' bedrooms. Tell me your favorite design option in the comment box and don't forget to share this article with those who also wish to build an orange bedroom.