Are you searching for some sunflower bedroom ideas to get the inspiration to design your own? You don't have to find them anywhere else because I have gathered the best designs for you in this article.
Decorating a sunflower bedroom is not difficult at all. With these ideas, it even becomes an easy task. Let me show you how simple it is! After going through them, you will be able to create a bright, warm, and stylish sunflower bedroom that will wow everyone.
12 Ways To Incorporate Sunflowers To Your Bedroom
First of all, let's see how you can add some sunflowers to your lovely bedroom. With plenty of ideas below, you can definitely find your favorite one.
1. Neutralize With Gray Shades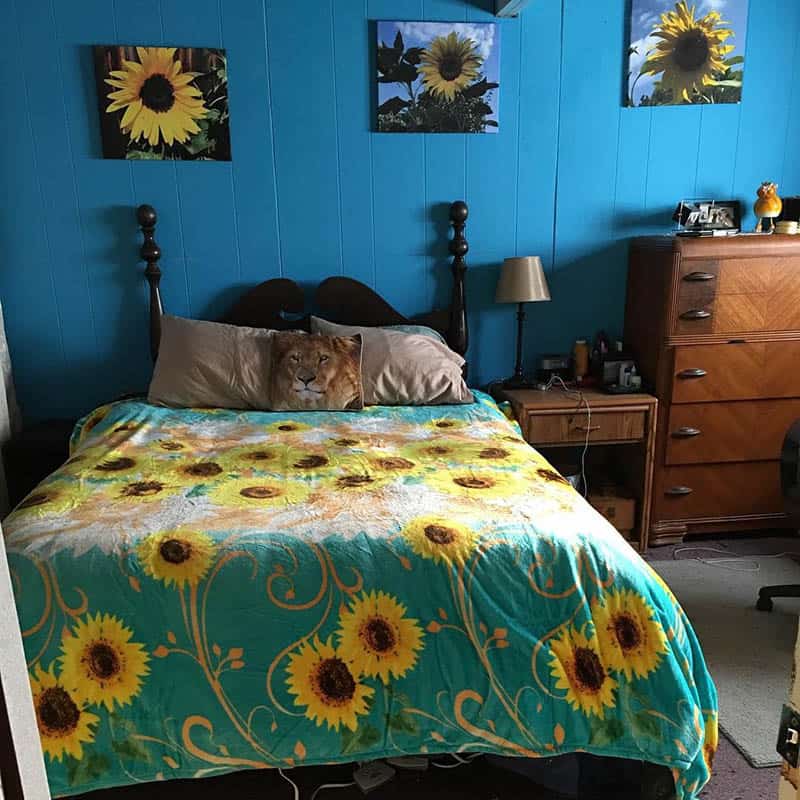 You can just use sunflowers anywhere possible in your bedroom, as long as it is not cramped. The bedding and pictures are great places to show your obsession with sunflowers, as can be seen in this bedroom. But it is best to neutralize the room with some gray shades.
2. Try Farmhouse Interior Design
If you are also a fan of farmhouse-themed bedrooms, this beautiful and refreshing design will make your jaw drop. The sunflowers at the foot of the bed and on the pillows are well arranged. And the ivy on the ceiling adds some touches of nature to the bedroom.
There is another way to decorate your farmhouse bedroom with sunflowers.
3. Use Sunflower And Butterfly Wall Decal
You can turn your bedroom into bright and shiny sunflower heaven by using a wall decal. Look at how it transforms the look of this bedroom! Those sunflowers and butterflies also make the room more aesthetic. No one will refuse to stay in such a lively, inviting, and refreshing sunflower bedroom.
Let's learn how to install a wall decal!
4. Emphasize The Ceiling
Don't forget the ceiling! You can also hang a sunflower tapestry on it to intensify the effect. How wonderful it is to wake up with a lot of sunflowers around! They will give you some motivation to start the day. In addition, the lighting in such a small bedroom does a great job of highlighting the ceiling.
5. Let The Drawer Shine
If you can embed some sunflowers in your bedroom's drawer, that's cool. You will be the only one to have such an alluring and remarkable drawer. People will look at it first when they enter the room.
You can also place a mirror above it in the bedroom and decorate it with some touches of nature to draw more attention.
6. Opt For A Dark Tone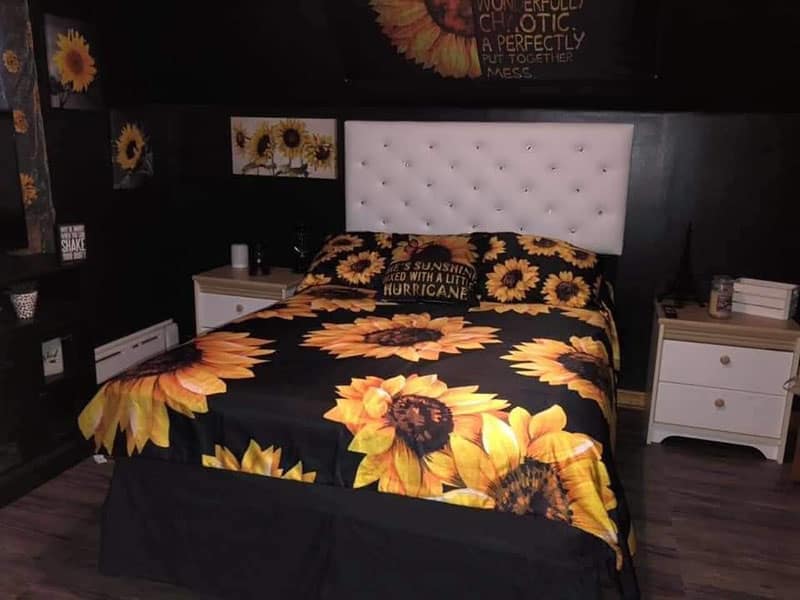 Sunflowers have a bright yellow hue. When it is combined with the black shades in the bedroom, a great contrast is generated, creating a classy backdrop. The sunflower patterns are highlights attracting your guests.
7. Use Wall Art To Make The Room More Aesthetic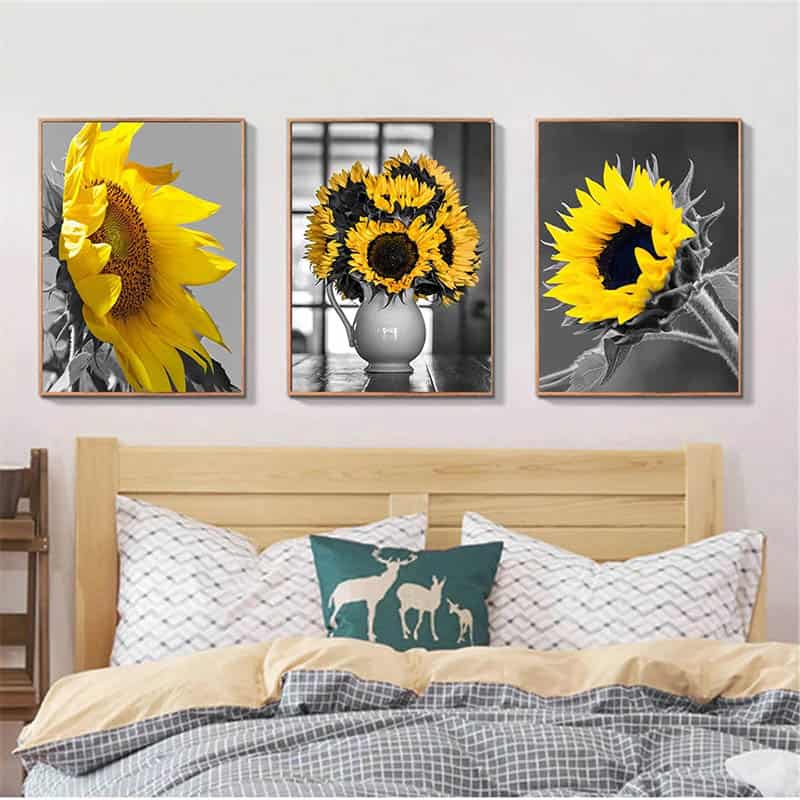 Hanging sunflower wall arts is perhaps the most common way to incorporate your favorite flower in the bedroom. Definitely, it can never go wrong. The best place to hang them is above the bedhead.
Hanging the sunflower wall art properly will make the room neater.
8. Add Lighting
Sunflowers are very bright by themselves. But if you add some wall lighting to the bedroom, such as string lights, you will be surprised about how gorgeous and dreamy it becomes. At night, the glittering sunflowers will make you stunned.
9. Highlight The Bed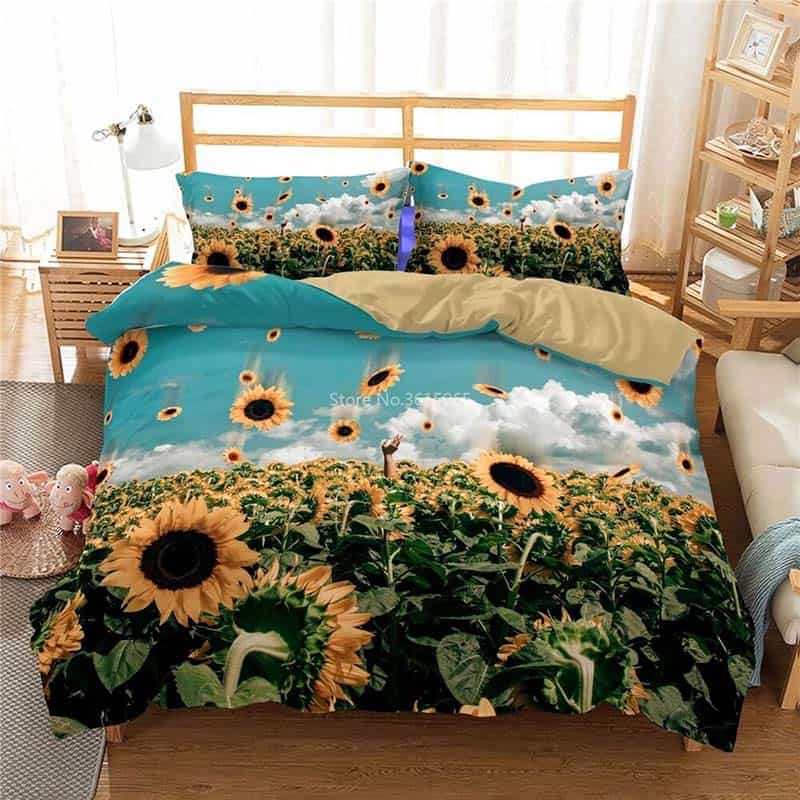 Assuming that you want to draw people's attention to your sleeping space, use beautiful sunflower bedding. Your bed then will be the star of the room. Whenever you lie down on it, you will feel like you are in a sunflower garden due to its amazing 3D effect.
10. Combine With Stripes
The yellow shade of sunflowers pairs very well with black and white. A brilliant way to incorporate them in your bedroom is to combine them with a striped pattern, like in this bedroom. The black and white stripes on the bedding, rug, and vase serve as a backdrop to highlight the sunflowers on top.
11. Make It Large
Having an extremely large sunflower in the bedroom is fantastic. It is impressive, stylish, and unique. You can do it even better by using striking sunflower artwork, like in this picture. Also, add some lighting for a better visual effect.
12. Create A Backdrop
One of the best ways to include sunflowers in the bedroom is to get a sunflower tapestry and hang it on the wall. This type of interior design creates a wonderful effect. Choose any design that you prefer. All of them will certainly brighten up the room and offer a lot of energy.
Why not make a DIY sunflower backdrop to make your bedroom stand out?
5 Ways To Embed Sunflower On Your Decors In The Bedroom
In case you just want to add a touch of brightness to your bedroom, then the best way is to use sunflowers to beautify the decorative items. Here are 5 best ways.
13. Make Strings
This bedroom looks so gorgeous and adorable, thanks to the sunflower strings above the bed. They show great contrast with the white wall and draw attention to the beautiful bed as well. This is a great style to design an eye-catching feminine bedroom. Your lady will be stunned by it.
Your next step is to learn how to make beautiful sunflower strings.
14. Decorate The Cow Skull
A creative way to decorate your bedroom with sunflowers is to put them on decorative items, such as the cow skull in this bedroom. This way, it becomes an accent that softens the cow skull and makes it perfect for a little girl's sleeping space.
15. Toddler's Bedroom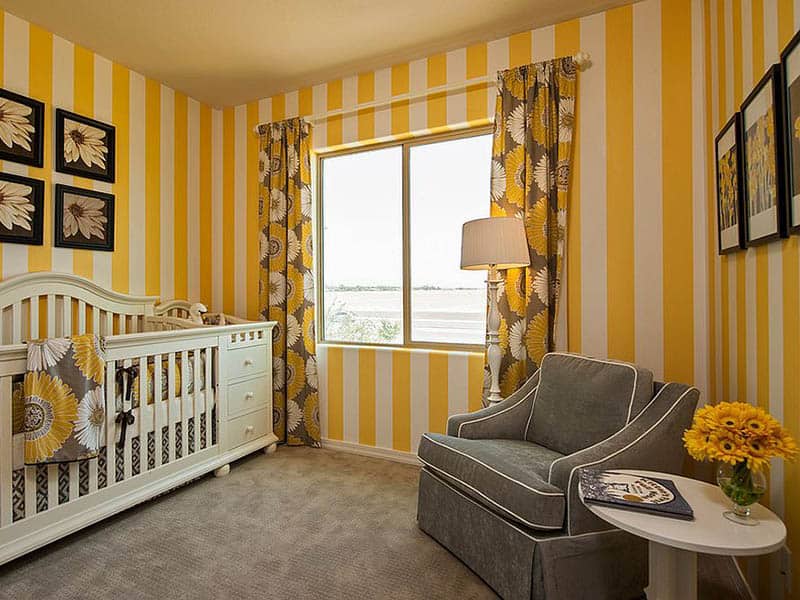 You should decorate your little girl's sleeping space full of sunflowers, and I am sure she will also love it when growing up. To create such a bedroom, use yellow and white stripes on the wall as well as curtains that are embedded with sunflowers. Also, don't forget some beautiful pictures!
16. Adorable Sunflower Balls
These sunflower balls look so stylish and cute, don't they? They look like chandeliers, thanks to the bright yellow shade of sunflowers. I am sure these DIY decors will let your guests know how creative you are.
17. A Vase Of Sunflower Is Enough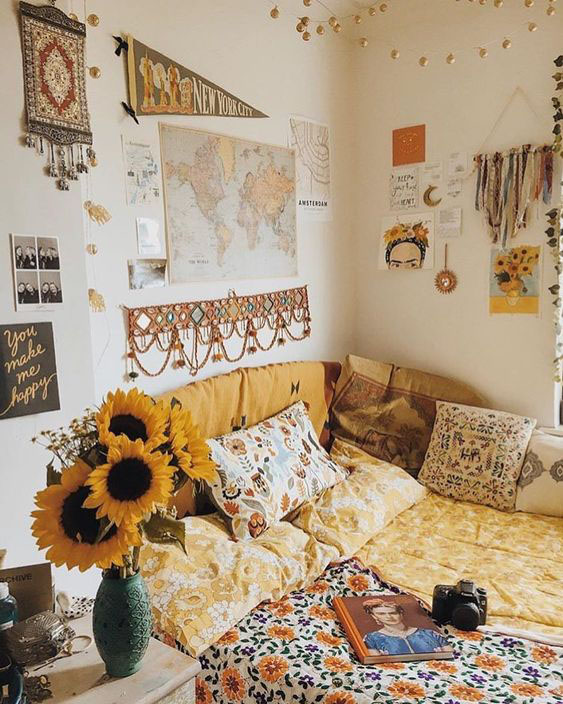 This bedroom is already beautiful with a touch of chic. But when a vase of fresh sunflowers is added, it makes a statement. Not only does it brighten up the room, but it also adds more textures and makes the room more lively.
Which Designs Have You Chosen?
I bet that after looking at the most beautiful sunflower bedroom, you already have some ideas in your mind. That's great! Tell me what you've come up with in the comment section. If you haven't, don't worry. Great ideas take time. I believe that you will find them very soon.
When you finish building your sunflower bedroom, come back and post a picture of it so that other people can have even more ideas to design their own bedroom. That's a great thing, isn't it?