You are about to see the most beautiful Victorian bathroom ideas that you can't get your eyes off them. Victorian style charms viewers with its ornamental and fancy decorations. This style reflects the living standard of the upper class with opulent furnishings.
However, don't overdo it as Victorian design demands sophistication in arranging objects. So, I guess it is time to look at the following inspirational ideas.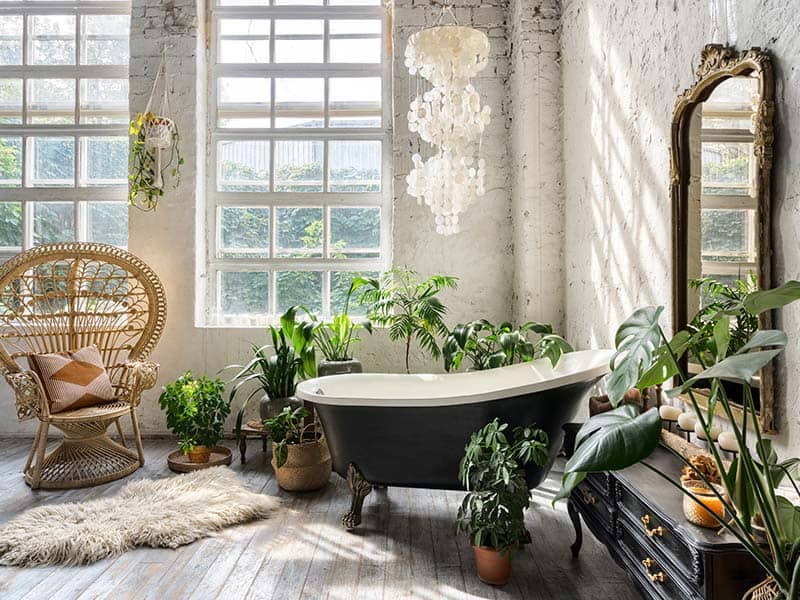 9 Brilliant Victorian Designs For Small Bathrooms
Many people think that the Victorian style is best depicted in the massive space. However, with a dedicated arrangement of details and color in a narrow area, you will have a perfect bathroom.
1. White Subway Tiles
Want to bring a splendid appearance to your guest bathroom? This design will be a great choice for you. White subway tiles covering the wall and a gray hex floor bathe this room in a lovely white color. The Victorian vibe is gently applied through the shower and the clawfoot tub.
2. Black And White Floor
With a small bathroom, you don't need massive furniture to evoke the vibe from the Victorian era. In this design, the crystal chandelier and the bathtub give a fancy feeling. Use a black and white floor to match the room's tone and mood.
3. Cupid Presence
If you are looking for a creative approach for your romantic bathroom, this design with the presence of a cupid is the charming solution. The golden shower, the floor, and the woven basket give a warm color that will heat your love.
4. Mural Paintings
One of the signatures of Victoria's style is the aesthetic paintings. This bathroom model is covered with mesmerizing artwork on the wall. You can complete the bathroom by placing an elegant sofa, a bathtub, and a rich-in-character rug.
5. Dark Vibe
Such a great idea to fill a bathroom with a dark shade! While the wall and the bathtub create a moody feeling for the room, the gold shower and faucet make the room look so splendid with its glorious look.
6. Tiny Wall Sconce
Mirrors and wall sconces are the souls of every bathroom design. The harmonization of these fixtures in this bathroom will bring a little high-class vibe to this space. Don't forget the bathtub with a whole bronze shower set that evokes an elegant appearance.
7. Blue Wainscoting
Give your bathroom this beautiful wainscoting now. The blue color of the wainscoting forms such a nice background that makes the vintage telephone hand shower shine.
Here comes a fantastic instruction walking you through each step on installing wainscoting.
8. 19th Century
You may fall in love with this 19th-century retro bathroom. A beige tone from the wall and the bathtub to the additional items. In general, this theme exposes a super rustic and vintage vibe reminding of the peaceful countryside.
Let's Bring A Touch Of Modernity To Your Victorian Bathroom
The combination of the present accents and the antique feelings from the Victorian era always creates eye-catching effects. Wonder how to do this? Just keep scrolling!
9. Gorgeous Spa-Like Heaven
Hey! Let's enjoy the peaceful vibe of this lovely bathroom with a zen feeling. The room is coated with a dark green color that creates a beautiful forest. A candle and some wine on the tray will capture you in this space forever.
Treat your bathroom with a bewitching scent from these DIY scented candles.
10. Mixing Metals
Look at this unique clawfoot bathtub. The mixed metal hexagon mosaic appearance of the tub makes it stand out in the room. Impress your guests with two pictures on the white wall with charming patterns.
11. Luxury Green
Why not make your bathroom full of dazzling green? The shiny green tiles covering the sink area make an impressive entrance for the white bathroom area behind.
12. Pink Vanity In Powder Room
Among the vintage essence from the pink vanity and the wallpaper, the modern white color of the sink rises and draws all the attention. The golden elements highlight the room with its fanciness.
Hey! Don't miss this detailed instruction on installing wallpaper on your wall.
13. It's Chill Time
Orange is a great color for a retro bathroom. This warm color creates an impressive contrast with the white background. Use a ceramic floor full of black and white patterns to add a touch of modernity for this space gently. It's time to relax in this wonderful bathroom.
14. Black Mermaid-Inspired Tiles
If you want to create a room that is full of exciting visual effects, this design is the best choice for you. The black mermaid-inspired tiles applied on the back of the bathtub create a fancy look. On the flip, the floor is full of chevron tiles that add more exciting effects to the room.
15. Moon Gray
This is another idea that uses the wallpaper so flawlessly. The whole room is bathed in a mesmerizing soft gray color. Highlight that soft gray with some darker gray items to add characters for the area.
16. Green Powder Room
You can pick green as the main tone for the room and then add some extra features to connect the whole room. For example, you can use pink wallpaper with a unique pattern and additional items with a matching tone to fill the theme.
Amazing Ideas Of Using Tiles To Evoke The Victorian Feelings
Wow! The following designs have genius ways of applying tiles to decorate your bathroom. If you are a true fan of Victorian style, don't miss out on this section.
17. Blue Wall And Victorian Mosaic Tiles
You can easily find mosaic tiles in many Victorian buildings. So, when using this kind of tile in your bathroom, the space will have that vintage appearance that you are looking for. Match the mosaic tiles with the blue wall; I'm sure this tile arrangement will charm you.
You can learn how to apply the Victorian-style hallway right here!
18. Beautiful In White
You don't always have to use gold or colorful items to form an elegant vibe for your bathroom. White is a lovely choice to evoke Victorian feelings in the room. The chandelier and the tile wainscoting are vintage and classy enough to regenerate the Victorian era.
19. White Hex Floor And Floral Wall
Don't you feel the fanciness radiating from this special bathroom? The floral wallpaper brings so much impact to this room. The blue wainscoting matches the vanity color, and the white hex tile floor balances the colorful wall.
20. Pink Chevron Tiles
Such a cute way to play with pink! While the top wall is applied with an amazing-patterned wallpaper, the floor is stunning with light pink chevron tiles. Use white sinks and toilets to emphasize the area.
21. Freestanding Tub With Mesmerizing Half Wall
If you have a big space, you can easily combine a shower enclosure and a bathtub. Just apply a half wall with magnificent green and blue tiles to separate the bathtub and the standing shower area.
How to create a half wall easily? Let's find out!
22. Simple Victorian Design
This design will be a scroll stopper with its marvelous appearance. The white metro tile covering the wall and a huge bathtub bring a vintage feel to the space. Complete this design using a black and gray tile floor to highlight all the white fixtures.
23. Bright Elements And Patterns
Fill your bathroom wall with these wonderful ceramic tiles. They make the bathroom look more impressive with gray and white floral patterns. Don't forget to use aesthetic towels and a shower curtain to decorate your bathroom.
24. Victorian Remodel
A unique wallpaper with delightsome patterns will always be a cool focus for this particular concept. An additional tip for you to display your gorgeous accessories or essentials is making simple shelves.
25. Traditional Bathroom
You can utilize the cement tiles for the floor as well as a small wall section to gently highlight the room. In case the pattern is too flattering and colorful, you can tone down the overall look by using white ceramic tiles for the wall.
26. Classic Bathroom Suites
This is an exciting idea to decorate a bathroom with a deep tone and some glorious details as a highlight. The concept is very simple; you can create black wainscoting underneath a colorful wallpaper, then complete the room with a white tile floor.
Don't Miss Out On These Beautiful Victorian Showers!
Let's take a refreshing shower, but this time, you will enter the glorious space of an enchanting castle. So, let's stop all the delays and hop on to the main section.
27. Incredible Golden Shower
Stop right here! This bathroom with unique blue tiles will inspire you to remodel your shower area. This design uses blue tiles with white patterns to create a backdrop for golden elements to stand out in the space, so brilliant!
28. Glass Door Shower
This is an ideal addition to create a super airy feeling for your shower room. The glass shower enclosure evokes a sophisticated elegance to the space. Additionally, some scented candles and plants are very useful to make the room even more relaxing.
29. Clawfoot Tub Combined With Shower
Let's give your fascinating bathroom a lovely look by decorating flowers such as these beautiful lilies or any favorite substitution. Mix the metal shower with white subway tiles and a white bathtub to give this room a modern accent.
30. Enchanting Wall
Want to create a unique focus for your relaxing shower enclosure? You can use mosaic tiles with plenty of colors to give the Victorian bathroom a rustic and vintage vibe. Plus, you can add some metal materials or wood details to make it cozier.
31. Contemporary Minimalist Bathroom
This charming bathroom is inspired by different interior styles. You can tell how minimalist it is by using white materials as a focus, such as those Victorian wall tiles. Moreover, the highlight of golden fixtures in the shower area adds lovely characters to the pure white space.
32. Navy Blue And Gold
I love how stunning these navy ceramic tiles are. You can see how they give the bathroom a very fancy vibe. Besides, those golden details are an excellent feature that enhances the attractive look of the shower enclosure.
33. Victorian Shower For Green Lovers
What do you think of getting your gorgeous bathroom a greater focus than usual ones? Let's use these magnificent green tiles to blow a gentle breeze for your bathroom. The green tiles also connect the shower and the bathtub area for a harmonized space.
34. Shower Room With A Soft Color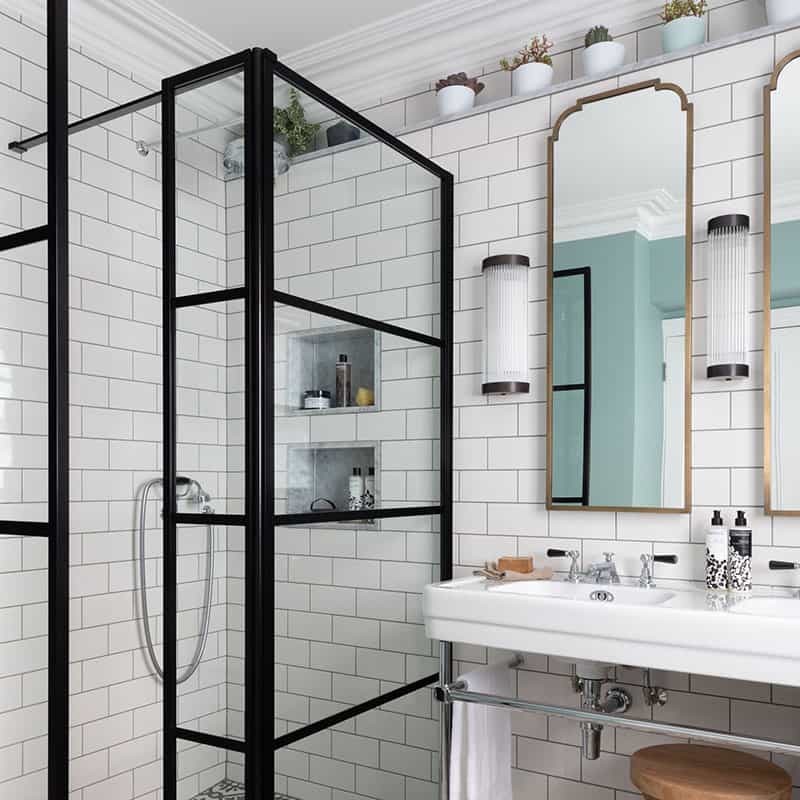 A gentle bathroom tone seems to be more popular as it creates a more comfortable feeling for users. The black glass frame makes the shower stand out in a white area. You can use pattern tiles for the floor to give it a unique highlight as it also matches the blue wall.
You Can Style Your Bathroom With These Lovely Victorian Accessories And Essentials
Accessories and essentials are a really important factor in this style. Sometimes, just by using the correct details, your room will be full of luxurious and deluxe feelings.
35. Gray Wainscoting
A classic Victorian interior design can not be fully successful without wainscoting. These charming wood panels seem to deliver a rustic vibe but are still classy for the owner. Plus, you can clean them easily when any unexpected dirt appears on them.
36. Wood And Green Elements
In case you want to give your bathroom some exciting elements and avoid it becoming too plain, you can use some wood and green features as a rustic affection for the room. The eye-catching black tile wall creates a charming focal point to this white space.
37. Contemporary Bronze Shower
To create a contemporary Victorian theme for your beautiful bathroom, you can consider using some bronze details as a gentle highlight. Besides, some delightsome patterns can also give it a deeper connection.
38. Vintage Wall Sconces From The Victorian Era
In my viewpoint, the first thing you focus on when entering a room is its vintage wall sconces. The charming and enchanted green wallpaper forms a dazzling background that boosts the pretty of the sconces. Plus, I like how the wallpaper and the wainscoting connect.
39. Pink Towels And Traditional Wood Planks
Here are some lovely accessories for your vintage Victorian bathroom. You can get yourself some pink towels or any pastel items to create a delightful look for the room. Plus, a white shiplap background will keep the decoration merged.
40. Golden Bathroom Tray
Besides those mentioned items, I have an additional essential for your fancy bathroom. This golden bathtub tray is something you need to place your conditioner, soaps, or maybe a cellphone while taking a bath.
41. Romantic Bathtub
I believe that a romantic bathroom should provide an appropriate lightning visual. You can use candles for the simmering exposure or maybe some LED string lights as a passionate addition.
42. Woven Baskets
If you're looking for a container for your shampoo bottles or a place to store dirty clothes, get one of those woven baskets. They are environmentally friendly, easy to clean, and especially give your bathroom a very rustic look.
43. Retro Pink With Chandelier
I believe that this retro pink Victorian bathroom is very attractive to ladies. You may fall in love with those light pink walls covered with amazing pictures on them. Besides, if you have a high ceiling, a glamorous chandelier is certainly something you need.
Such an easy way to install a sparkling crystal chandelier!
44. Flowers And Candles
Let's pick up some exciting items like flowers and candles to scent your beautiful Victorian bathroom. Besides, you can also enhance the comfortable smell of the room by using scented candles. Trust me; these essentials will create a super romantic vibe for you.
Immerse In The Majestic Palace
Why not try this glamorous Victorian style in your bathroom? You will soak into the splendid space full of ornate details, fancy furniture, and skilled fakery. Turn yourself into a member of a royal family with this style now!
Hey, don't hesitate to share and like this post if you find the suggested ideas beautiful. I hope you have a great time decorating your bathroom. I'll see you in the next post.