The most impressive bedroom LED lights ideas are all included here! If you are getting a headache and don't know what to do with your room, how about a makeover with LED lighting? I'm sure you will love it after all!
Does your tiny bedroom need a practical lighting system? Don't worry; this post will also provide LED lighting ideas for super small rooms! All you need to do is scroll down and find the most suitable one for your bedroom!
15 Amazing LED Strip Lighting Ideas To Decorate Your Bedroom
LED strip lightings are a super flexible form of lighting. The strips usually appear in a long reel that can be cut or adjusted to get mounted on suitable surfaces. They consist of thousands of individual LED emitters for shining. Let's learn how to apply this type of light!
LED Strip Lights On The Ceiling
The most common position for installing LED strip lights is on the ceiling. If you are going to do a makeover with this type of light, make sure that your ceiling is appropriate for installing more lights! Let's look at these suggestions to visualize the ideas.
1. One-Lined Strip Light
This is the easiest way to adapt LED strip light onto your ceiling. The light line will run around the ceiling in only one line. You can totally purchase the LED strip reel and install it yourself to your room's ceiling!
See how this lighting system works in real life with remote control.
2. Ambient Lights
This hidden wall lighting system for bedroom is becoming more and more trendy. It provides a dim but natural light for the room that won't hurt your eyes. Trust me, this is the best choice for an urban modern bedroom!
3. The Bold Lights For Boy's Bedroom
This design of LED lighting looks super bold and powerful, which can be applied to a gentleman's bedroom diving in black and gold! The room looks like it has two ceilings, thereby can utilize the spreading light, making it seem to be stronger.
4. In Oval Shape
You can adapt the hidden LED lights in oval shapes on the ceiling! It is a wonderful lighting system for a mid-century modern bedroom with minimal but outstanding design. Apply it to your relaxing space now!
5. The Spreading Lighting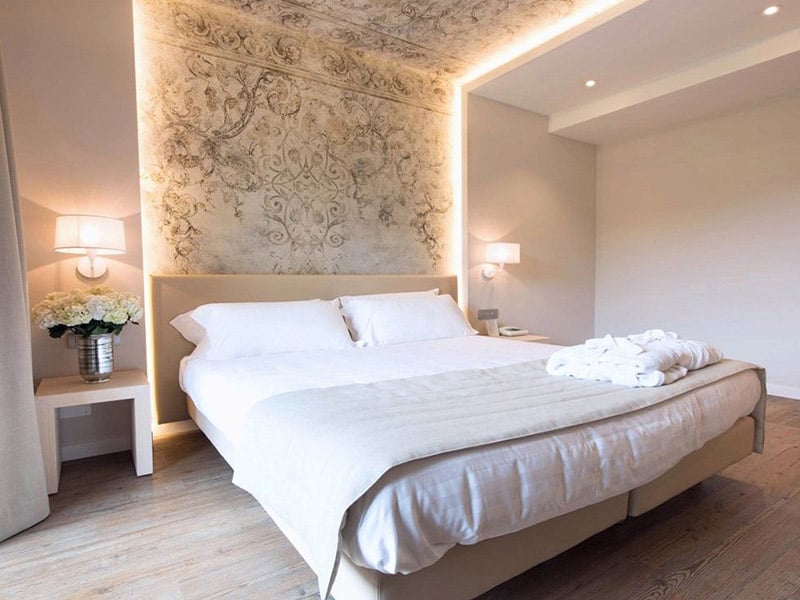 Here, the hidden ambient strip lights run from the ceiling to the wall behind the bed. This system looks so fancy with yellowish light and is really appropriate for a sleeping zone bathed in beige. The patterned wall in between is also really eye-catching!
6. Aesthetic Purple Strip With Mood Lighting
If you want to get an aesthetic look for your bedroom, this LED strip light option is the best bet! The pleasant shade of purple with the shaped neon lights as the wall decoration is a really cool combination for an aesthetic atmosphere!
You may notice the starry night sky on the ceiling area. It is also a type of LED light called mood lighting. Adding this romantic touch to a bedroom for you and your other half is not a bad idea! Get it for your room right away if you're in love with the design.
A gorgeous typography neon sign can also add an artsy touch to your bedroom!
Strip Lights Around The Bed, The Headboard, Or Other Places
Besides the ceiling, there are other places where you can apply LED lighting. It can be under your bed, around the headboard, or on your mirror's frame! Come and see these spectacular lighting ideas!
7. Color-Changing LED lights
This system is also adapted to the headboard, but its color is more special. This LED strip light blends many shades together and can change the colors by your preference with a remote control. The two table lamps with different light colors make it more impressive!
8. Smart Floating Light Strips
If your bedding area is designed somehow like this room, with a platform bed frame, then you can install these clever sensor LED light strips. This can satisfy the ones who are in love with the floating effect that this lighting system provides. Looks magical, right?
9. Around The Mirror
If your bedroom includes a pretty mirror, especially a standing mirror, you can attach a strip of LED lights onto its frame and enjoy the gorgeous look! This idea may make you want to look at the mirror more and more.
It's super easy to make your mirror shine with LED strip lights!
10. Under The Shelves
You can always adapt the strip lights to almost any flat surface in your room, and the shelving unit is not an exception. Here, the floating shelves in this bedroom are decorated with LED lights in parallel straight lines, which looks absolutely simple but extraordinary!
11. Ambient Lights Behind The Bed
This system lighting works pretty like the ambient lighting on the ceiling. It may require a second panel to hide the lights underneath. The soft illumination from this lighting system gives the room a very gentle and elegant vibe.
12. Replacing The Wall Sconces
In this room, the strip lights are attached under the wooden wall-mounted shelf and by the two bedsides, which is in the position of wall sconces and table lamps. This can be a practical lighting idea for a minimal and modern bedroom.
13. Under Your Bed
For a mysterious appearance, you can attach the LED strip lights to the underside of the bed. The luminescence from the lights looks like coming from nowhere! How cool is that?
14. RGB Strip Around The Bed Frame
The strip lighting can run around your bed's headboard like this! It is very simple but stunning! If your budget is low, you can use this idea for your bedroom, since it won't cost you much for a short strip of RGB LED light.
Installing the lights around your bed frame can never be easier!
15. Vertical Light Strip On The Wall
A simple yet effective vertical light strip is another option for substituting those wall sconces with complicated installation. This strip lighting is well-designed, bringing a pleasant illumination to your bedroom.
Top 12 Glamorous String Lighting Ideas For A Sparkling Bedroom Look
To create a princess-like sleeping chamber, you can use the string lights! It brings a "firefly effect" to your room and makes it more beautiful than ever before. This can be a great option for small bedrooms, too.
16. Fairy Lights Wall
A wall filled with fairy lights is super easy to do-it-yourself. The wall will turn into a starry sky when you turn off other lighting sources. Twinkle twinkle little stars are now clinging to your bedroom's wall!
Learn how to make the most gorgeous fairy lights wall for your primary bedroom!
17. A Festive Light String
This colorful light string looks so festive, and it really suits the Christmas spirit. Hang one on top of your window curtains and voilà, a touch of festival and holiday is here! It will surely bring a fun and cozy look to your sleeping space.
18. Curtain Lights
The fairy lights are hung following the curtain in a vertical direction. It looks pretty similar to the lighting wall, but it is even easier to install than the wall system. You just need to tie one spot of the string to the top of the curtain.
19. An Adorable Look
This room seems like a little girl's sleeping area. It is well-decorated with a lot of pretty ornaments, especially the fairy light string hung randomly on the headboard of the bed.
20. Magical Canopy
The ornamental cloth above this bed is beautifully decorated with string lights. The material of the canopy makes the illumination really dim and soft, creating a magical look for the whole bedroom!
It's time for you to make the most magical canopy with fairy lights!
21. A Royal Appearance
This is another type of bedroom's canopy but it is completely more glamorous and gigantic! Have some LED string lights hanging on top and the sides to create a splendid look for your bedroom.
22. Across The Windowless Room
For a windowless bedroom, you can hang many string lights randomly across each other and close to the ceiling. This sleeping zone bathed in dark green shade has become cozier with the lights from the ceiling. Combined with that special rug, this bedroom is such a masterpiece!
23. Teenage Girl's Haven
The purple LED lights always bring an aesthetic and gorgeous vibe that really matches the girls' needs! Apply this decorating option for your daughter's room, and I'm pretty sure that she'll fall in love with it right away!
24. For Slanted Ceiling
If your bedroom is a loft, then the ceiling must be slanted. In that case, you can choose a light string with large bulbs and hang it following the ceiling. It will surely bring the warm lights to that tight area.
25. Vertical String Lights On The Wall
You can just simply hang the light strings in this way, so that it may replace the decorative wall sconce. However, if you prefer some authentic light source for reading books, you may want to look for a functional wall sconce or bedside lamp.
26. Fairy Lights With Photos
Save your best moments by attaching the polaroid photos onto the LED fairy lights! The string with photos is hung in a zig-zag shape that looks super aesthetic! The purple strip lighting system is also installed on the ceiling to spread beautiful lights!
27. Rainbow Strings
How about bringing a sparkling rainbow to your room? Fill the wall with the light strings in 7 different colors or more to create a rainbow-inspired wall decoration. It will be super eye-catching and especially suits a little girl's bedroom.
8 Best LED Neon Signs To Make Your Bedroom So Unique!
Besides the strip lights and string lights, there are some other types of LED lighting that you can add to your room, it's the customizable LED neon signs! Here are some amazing samples that you can easily apply to your bedroom!
28. Cute Simple Shapes
The cloud or the moon are such typical images to all of you, right? Some LED lights are bent into those simple shapes and complemented a kid or a teenager's bedroom for an adorable look! Try this LED neon light option for your children right away!
29. The Name Sign
How about personalizing your sleeping space with a neon light sign with your name on it? It'll be a super cool item as a decorative accent on your wall! Give your beloved ones a big surprise by customizing a name sign for them! They will love it for sure!
Easy steps for beginners to make a custom name sign!
30. Quote Sign With A Background
A quote can be made into a neon sign, too! It'll be very inspirational to read your favorite quote every single day, right? Make it more recognizable by putting it on a background in any texture you like; here they use a manmade-leaf background to make it look like a garden behind the quote.
31. A Light-Colored Neon Sign
The LED neon lights usually appear in vibrant and dark colors, such as hot pink or dark purple. However, for some bedrooms in neutral and bright colors like this one, using a neon sign in light shade is a wise choice! It suits the room and other decorative items really well.
32. On Top Of The Headboard
There are a lot of positions where you can put your neon sign on, and the headboard's top is not an exception. You don't have to install or attach the sign to the wall, just plug it in and place it on top of the headboard or the floating shelf in your bedroom.
33. Combination Of Different Neon Lights
If you are so into this lighting system, why not include many of them in your own room? One in cute popsicle shape, one in text, and one standing next to the bedside light. How lovely is that? How many points out of ten would you give this combination?
34. An Abstract Design
Bring an artsy touch to your private space with a stylish abstract neon light design! It will get along well with an urban modern bedroom for its outstanding shape and color. Purchase this neon light for a quick makeover!
35. Trendy Sign For Teenagers
A bedside lamp can be replaced with a trendy LED neon sign for teens! This V-sign is a popular hand sign in photography that is often used by youngsters; so it'll be creative and aesthetic lighting for your bedroom.
Now It's Your Turn To Bring These Ideas Into Life!
The best LED lighting ideas are the ones that you're about to apply to your bedroom! Don't hesitate to throw in your own design or idea for the lighting system. Do whatever you like and feel satisfied with it since you will be the one to stare at them every single day!
If you find this article helpful and bring brilliant ideas to your sleeping zone, like, share, and subscribe to the newsletter for the latest home ideas article! Spread the words to other people so that they can get great ideas just like you! Hope to see you soon, my friend!