The purple bathroom ideas will release the aura of royalty and luxury. You can choose any shade of purple to have these effects. Besides using only one purple tone, you can combine it with other colors to brighten the whole room and avoid an overwhelming feeling.
You can makeover your bathroom by painting it with lilac violet color or simply place several purple accessories for a bathing space remodel. Check out the inspiration below.
8 Ways To Help You Expand Your Small Purple Bathroom
Managing small spaces seems to be the most challenging task. You should arrange furniture properly to avoid it looking cluttered and cramped. If your bathroom size is limited, you should refer to these suggestions to make it look spacious.
1. Bathroom With A Touch Of Golden
Purple bathrooms always win your heart. However, the plain color is quite monotonous. Why don't you add several touches of golden details to it, including taps, a free-standing sink, or the lid of the toilet?
These furnishings will add glamorous to your bathroom. The rectangle mirror and small window will enlarge and brighten your small bathroom.
2. Modern-Style With Violet Tone
If the space in your bathroom is limited and you cannot place a bathtub into it, you should consider installing a shower cabin with transparent walls. The purple tiles are the soul of this design with the uniform arrangement. The combo of a white toilet, mirror, and cabinet is a highlight that can catch your eye at first sight.
Do you know how to install tile appropriately? This detailed instruction will ease your concerns.
3. Lavender Character
Don't need to place your foot in France to watch the authentic lavender color. You can bring this tone to your bathroom so you can submerge yourself in the poetic scenario every day.
In case you want to build a romantic bathroom for a couple to increase connectedness between you, this design can accomplish the task perfectly. The combination of modern art, brass, marble sink will create a chic feeling for this bathroom.
You can create a lavender color on your own by mixing different shades.
4. Lilac Bathroom
What do you know about lilac? Lilac is the name of a flower with a pale purple color that is a trend in the bathroom. You should use a corner bathtub for space-saving purposes. Don't forget to attach a small window to get natural light and make your room look larger.
5. Tile-Covered Powder Bathroom
Building a bathroom wall with purple titles will bring you a contemporary style and a fantastic feeling. You don't need to worry about the tile-four walls that can make the shower zone look cramped, as the oval mirror will create a depth in your room.
6. Black Furnishing In Mauve
Mauve is one of the impressive purple shades, and painting this color in your bathroom is an excellent idea. The minimalist arrangement makes it more luxurious. The black countertop of the floating vanity brings out other features.
7. A Touch Of Nature With Green
You can place a green plant on the window sill to make use of natural light and adorn your violet bathroom. If you don't want to decorate your bathroom with a real tree, you can apply ornaments with sunflower patterns to your bathroom, and you will have a summer-vibe space.
Besides the modern look that a floating cabinet and bathtub bring to your room, the plant can also add a tropical feel to it.
Not all plants are suitable to place in the bathroom. Let's discover which houseplants were born for your showering space.
8. Silver Furniture
Silver and purple are an old but gold combination. You don't need to use all silver furniture as it is pretty overwhelming. Just small details like taps, bathtub legs are sophisticated enough to capture your heart.
Don't forget to place best-matched rugs in your bathroom to warm up your feet whenever you step out of the bathtub. Organizing factors wisely can expand the space.
Purple And Gray Bathroom-Opposite Yet Attractive
The purple and gray combination is not a classic one like the merger of blue and gray in your bathroom, but the outcome will surprise you. You should use soothing gray instead of dark gray to bring out the opulence of the purple color.
9. Floral Purple Wall
Who thinks purple cannot be combined with gray? This idea will change your mind. Half of the walls are installed with gray tile, while the other is decorated with floral-pattern purple wallpaper to bring a summer feeling to your bathroom.
Watch this video: Renovating your bathroom with wallpaper is not a tricky task anymore after this guide.
10. Use Gray Curtains
If your bathroom has an original light purple shade, you can attach gray curtains to add a modern breeze to it. The wooden-frame small cabinet and vanity with gray tone remind of farmhouse style. Don't forget to place a flower vase with some pictures to highlight the space.
11. Gray Cabinet
This design is simple but can wow anyone. The pale purple paint with beige tile will make you feel relaxed when entering it. The gray cabinet fits the contemporary space perfectly. You should choose an elegant layout to garnish your bathroom countertop to elevate the entire look.
You can equip a shelf in the toilet section to store bathroom sets and a few candles to enhance romance and fill the room with pleasant scents.
12. Durable Gray Tile Floor
Installing gray tiles on the floor will save your time for cleaning as the stains seem to be invisible on this tone. You can make use of the natural light for bathing in the morning.
Instead of using curtains, you should use white roller blinds to enchant modern feelings and protect your privacy. The attractive chandelier on the bathroom ceiling will spread warm light to the whole room.
13. Barrier-Free Shower
Besides the signature purple on one side, you can install a gray backsplash to draw people's attention when looking at it. Don't build a concrete wall, let's assemble a barrier-free shower to enlarge the space.
Choosing a rectangle-shaped light with a bit of bit stylized will illuminate a warm feeling to all the room.
14. Master Bathroom
The master bathroom is always a dream of many people, so if you own a bathroom like that, let's decorate it impressively.
The purple cabinet and frame of 2 mirrors will capture your heart at first sight and make it become a perfect option for a husband-and-wife bathroom. The marble-gray shower space and walls are a gentle contrast to the dreamy color.
Combination Of Purple And White For Muses' Bathroom
Why did I claim white and purple is a perfect blend for muses? These 2 are soothing and bright colors that make you feel peaceful and opulent. Nothing is better than soaking yourself in warm water and viewing these royal tones.
15. Modern Bathroom
Modern-style bathrooms with simplicity yet sophistication are a trend now. You don't need to add more tones but purple shades and white. The white bathtub with smooth curves will leave an intense majesty in your mind. You will feel like you are bathing in a luxury hotel room.
16. Purple Veining On White Tile
For those who are pursuing opulence, this design was born for you. The Breccia Capraia bathtub will blend perfectly with the violet pattern on the white background of the whole room. With dark purple veining and deep blue hues combined with golden faucets, this tub will be a focal point.
17. A Perfect Gift For Teenage Girls
Let's paint purple in a bathroom and give it to your girl. The purple wall with ombre effects will not disappoint her. Keep in mind adorn the space with a long white bathtub, floating toilet, and floating vanity to add modern breath. The unique mirror with LED light is an indispensable fixture in this room.
The LED mirror is not future technology, you can learn how to install it right now.
18. Make Little Girl's Dream Come True
This area is bathed in light violet with various furniture, including walls, a cabinet, and more. The subtle patterns on the backsplash will be an excellent idea for a little girl's bathroom. I highly recommend using a marble countertop to create an accent for the room.
19. Cute Design
This lily bathroom design is one of the cutest bathrooms I have ever seen. Besides a white bathtub, it also leaves its marks with a flower-pattern ceiling light and a couple of ball-shaped wall lights. You don't need to worry about the shortage of natural light as the windows will brighten your room.
20. Neutral Look For Kids
This simple but functional bathroom is a perfect gift for your kids. The walls and topside cover in this room are a matched combination of light violet and elegant white. Moreover, you can equip a low purple ladder in the room to help your kids reach the sink easily.
21. White And Light Purple Attic Bathroom
Decorating an attic bathroom is never easier. You should install a triple window with a white frame to match with white ceiling and bathtub. Don't forget to attach a thin roll blinder to reduce the light when needed. A chandelier with a white and purple tone will be a perfect finish for this space.
22. White Tiles
White tile is one of my favorite materials when I makeover my bathroom. The purple topside cover will add more romance while you are soaking in the white bathtub. You can consider placing a silver cabinet in the space to experience a contemporary feeling.
23. White Cabinet
Separating your bathroom into 2 different shades (purple and white) is an excellent idea so that your room will not be overwhelmed by only one tone. In addition to basic furniture, you should use a white cabinet to accomplish the below space with a graceful look.
24. Victorian Bathroom
Based on classic and timeless factors of Victorian style, this bathroom is worth investing in. The purple countertops with golden accessories are extended up the wall to complement the sophistication of this room. Use a floor-skirt seat to add more Victorian breath to your space.
Add Splash Of Mysterious To Your Bathroom With Dark Purple
Don't underestimate this shade. The dark purple represents power, ambition, and nobility. You can change the gloomy and frustrated feelings with several gleaming furnishings.
25. Dark Purple Paint With Glass Interior
I am sure that you can spend hours in this classic bathroom. The walls are painted with dark purple to bring a mysterious feeling to the site. Installing a complicated chandelier will amplify the magnificent affection.
26. Eggplant Color Bathroom
You will find it strange when painting eggplant color in a no-window bathroom as you are afraid of a cramped impression. However, this decoration will make you regret why you haven't tried it sooner. The sunlight from the landing is enough to irradiate your room, and the white tile can neutralize this shade.
27. Black And Dark Purple Bathroom
Although you use dark shades, the space is not too dark, thanks to light from a large wall light. The dark glossy countertop will draw anyone's attention. You can attach several floral patterns to decorate this room. I suggest a painting of a black and white flower.
28. Dark Bathroom Ceramic
The bold floral ceramic is a highlight in this dark purple bathroom. The pattern is soft yet powerful enough to impress anyone. Remember to combine it with eggplant color and lighter violet wainscoting to accomplish the look.
29. Deep Purple Bathroom Floor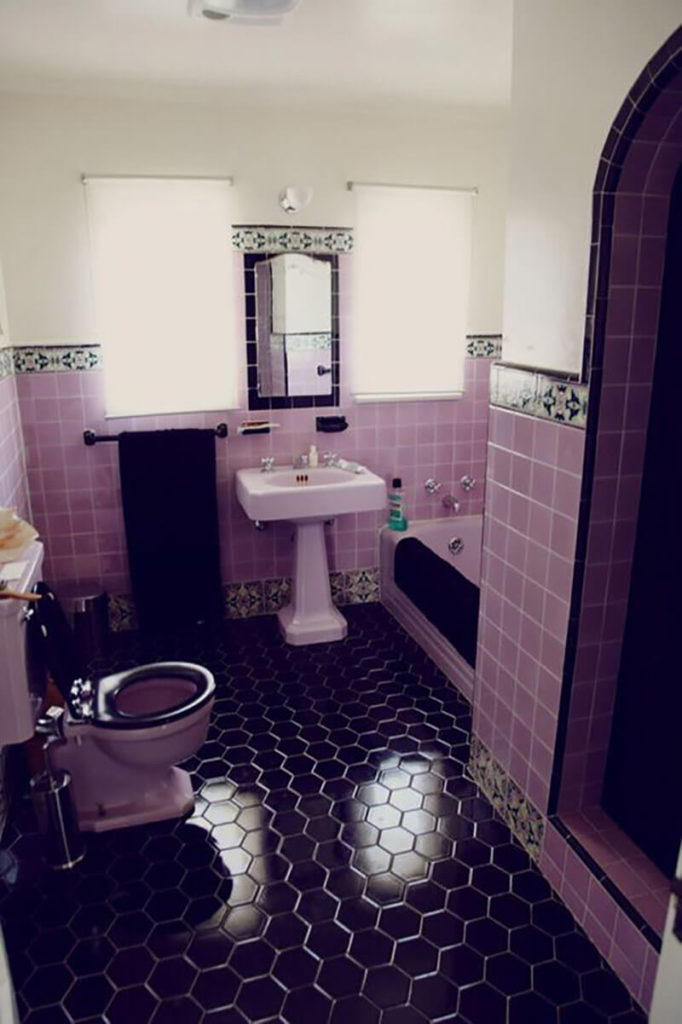 Tiling your bathroom floor with a purple hexagon is an intelligent choice. The color is dark enough to hide the stains in your room if you don't have time to remove them immediately. Moreover, it matches excellently with a soft violet shade on the walls.
30. Outdoor Bathroom
If you are looking for an outdoor bathroom, you surely shouldn't miss this idea. The open ceiling allows the sunlight to illuminate your bathroom, and you can watch the skylight at night. The black tub placed against a backdrop of purple leaves will make up your mind.
Bring Out Showering Space With Purple Bathroom Set And Furniture
In case you are not looking for a full purple bathroom, adding a dash of purple to it is a smart choice. Choosing the accessories carefully to prove you are a delicate person.
31. Accent Purple Walls
Besides painting your walls, you can install farrow and ball lotus wallpaper in your bathroom. The patterns are printed in a purple background to create an accent wall. You should place a marble washstand with a curved backsplash under a golden-frame mirror to have a contemporary design.
32. Purple Wall Art For Artist Souls
If your bathroom is painted with light and elegant color already, you can still make it more attractive with purple marble prints. You will become an artist with sophisticated aesthetics in others' eyes when applying these panels.
33. Violet Toilet
Violet cabinets, walls, or other furniture are familiar but have you ever seen a purple toilet? You can use a toilet that is full of violet tones like this suggestion or the one with a purple lid. It will add a fun look and go well with dark-shade bathrooms.
34. Dreamlike Claw Foot Bathtub
You can complete the nostalgic feeling in your purple bathroom with the same-tone clawfoot bathtub. It is placed opposite with a large window, so you can view the outside and benefit from the natural light simultaneously.
35. Install A Cabinet
It is a pity if your bathroom doesn't have a space for storage, and putting a cabinet is a clever choice. You shouldn't use a standard cabinet, and the lavender one will be a perfect flawless piece to raise your relaxing area.
36. Luxury Purple Bathroom Set
Although bathroom sets are tiny elements, they can prove you are a "descendant of artists". You should use purple bathroom accessories for your same-paint walls to elevate its luxury without overwhelming it.
37. Purple Curtains
If you have a small bathroom and limited budget but still want to have a private soaking space, you can attach a curtain. This one is printed with various purple shades with unique patterns that will fit with your white bathroom.
38. Lavender Sink
It is dispensable if your bathroom lacks a sink and the lavender sink is a perfect puzzle. It is aesthetic and functional enough for decorating your room and keeping your face and hands clean.
Embrace Your Bathroom With Purple Shades Now
No matter which shades of purple you choose for your bathroom, you can turn your bathroom into a vibrant or mellow and soft mood. Don't think that purple is only for the feminine gender, and there are a lot of dark shades that match perfectly with masculine features.
Have you chosen your favorite ideas yet? If you find this post helpful, don't forget to like and share it with other people to give them the inspiration to redecorate their bathroom. See you in the next post!