Some wonderful bedroom wall light ideas will surely lighten up your room! The perfect bedroom design won't be complete if there's no wall lighting. Wall lights bring warmth and brightness to your relaxing zone, so you should always include at least one in the design!
Wall lights are also brilliant decorative accents that complement the whole room concept really well. They come in thousands of different sizes and shapes, making them a wide range of options. If your bedroom is tiny and needs a lighting system, you can also take the ideas from this post!
So, are you ready to observe the gorgeous wall light ideas for any type of bedroom? Scroll down for more!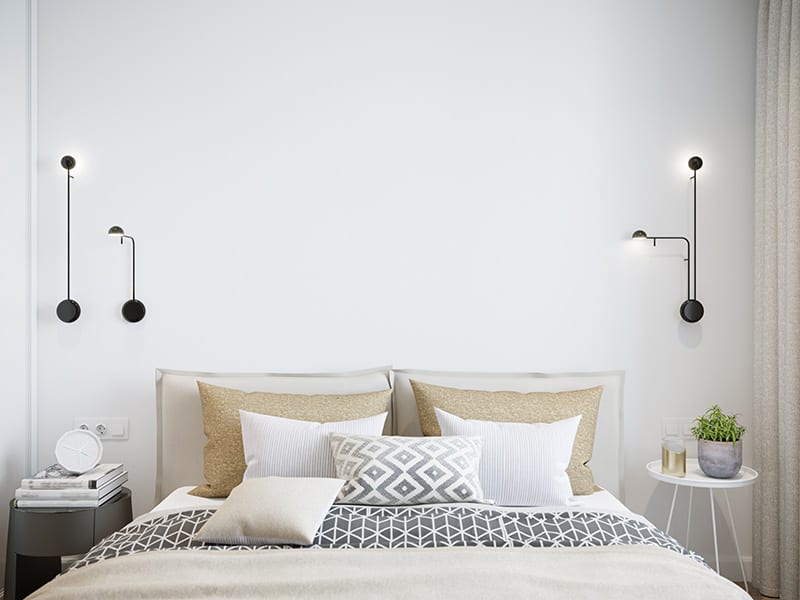 25+ Awesome Bedroom Wall Lighting Ideas That You Cannot Miss!
There are many more wall light ideas for the bedroom than you thought! Whether it is your private bedroom or the bedroom in a shared house with college friends, it is great to have some lights on the wall if possible!
18 Perfect Modern Bedside Wall Sconces Ideas For Your Sleeping Zone
Bedroom sconces are the light fixtures that are attached to the wall and add a touch to your room decoration. They are super helpful when you want to read books before going to bed, and they look wonderful, too.
Choosing the best wall sconce for your bedroom may take time, but it's all worth it! So, let's dive into these fantastic lighting designs!
1. The Simple Black
The classic black design for the wall lights beside the bed is easy to adapt to many concepts of the bedroom, especially for your sleeping area with a splash of black and gold. You can choose this light sconce to fit in a simple bedroom design!
2. The Balls
This lovely spherical lighting design goes really well with the cozy vibe of the whole bedroom. They look like two little glowy round balls with warm yellow light beside your bed. They are installed close to the lying spots, so it'll be super convenient for a reading night!
3. Stick-To-The-Wall Arms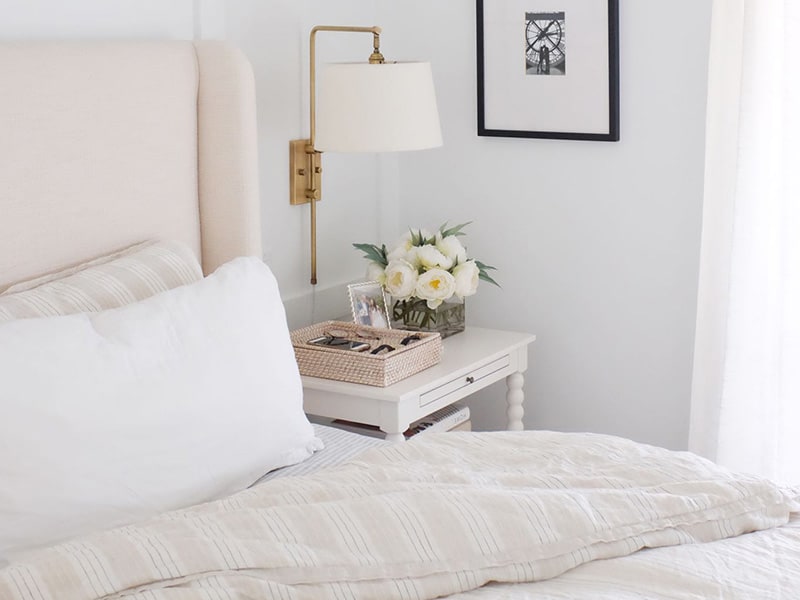 The all-white bedrooms always give me a clean and neat feeling when first looking at them. A gorgeous white room cannot be without a beautiful wall sconce in white! This one has an arm that is fixed to the bedroom wall, which brings a firm appearance.
4. Elegant Sconces
This bedroom design is gorgeous with a royal-looking king-sized bed. Two elegant small wall sconces are added to the room decoration to complement that. They match perfectly the vibe of the bedroom.
This combination is especially magnificent for a lady's bedroom design! You can apply this makeover to surprise your lovely daughter or for your own bedroom if you're into a gentle vibe.
5. Wire To The Wall
Here, the lighting design is inspired by the pulley system, which includes many black lines of wire. It looks like you are standing in a real photographic studio. If you fall in love with this studio light system, don't hesitate to spend your money on this. I'm sure you won't regret it!
6. Metal Shower
If you want to add a nostalgic touch to your bedchamber, try a wall light with metallic finishes! It is always trendy furniture for your bedroom. It gets along well with this room and especially matches with the headboard of the bed since they both include a brass touch.
7. The Bird Cage
You should not miss this wall light design! The birdcage-inspired wall lights look simple but can do their jobs well in providing a warm ambient glow to your bedroom. This wall sconce design is especially excellent for a vintage-looking room with a brick wall.
8. Diagonal Direction LED Lighting
This type of LED lighting for your private sleeping space is special because it provides both uplights and downlights. Its light direction goes diagonally, which brings a wash of light on the wall for the decorative intent while also illuminating downwards for a practical purpose like reading.
9. Rotated LED Wooden Light
This super stunning LED can be rotated in any direction you want! It is an intelligent light design and looks incredible with a wooden touch on the outside, giving your bedroom a contemporary and modern feel.
10. The Tiny Army Helmet
If you don't want something too fancy for the bedroom wall sconces, look for a minimal design. This army-helmet-inspired wall light will stun you at first sight! Finding lights for paint color schemes in a young man's bedroom? Suggest him this brown shade and install this space-saver wall sconce now!
11. The Pipeline Lights
This amazing light system in pipes gives off a high-end feeling with metallic finishes. The lights coming out at the end of the random-lengthed pipelines completely elevates the appearance of this modern yet simple bedroom.
12. The Mischief Monkey
For a more interesting touch to your bedroom, find some outstanding designs for the wall sconces! Here in this room, the monkey-shaped sculptures are holding the light bulbs, and it looks like they are stealing the lights away! What can be more creative than that?
13. The Wrap
This all-wooden bedroom may be a bit lame if the wall sconces are covered in wood, too. Two black metal wall lights are chosen to add a modern touch to this vintage vibe. It has a great contrast with the bedroom color scheme from wood that gives the room bold highlights!
14. Invisible Lights
Here, having a gorgeous mirror in the bedroom makes the room look visually bigger. The reflection of the wall lights in the mirror also complements that effect.
The pair of wall lights look invisible since they shine too brightly. When you purchase this kind of light, make sure that they include a built-in dimmer so that you can easily balance the illumination.
15. The Long-Armed Sconces
This bedside light with a long and thin arm is a useful solution for those who love to read before bed. It is usually used to substitute the bedside lamp. Adding this to your bedroom is like adding a contemporary breath to the whole room.
Here's how to create a long-armed wall sconce by yourself!
16. The Glowy Circle
The specialized circle lighting looks undoubtedly stunning! This feature may be suitable for a minimal bedroom with super simple furniture pieces since the wall sconce itself is too outstanding and can grab anyone's attention when they step into the room.
17. Modern Swing Arm Lights
This swing arm lighting is a very convenient and helpful design for wall light. It does not only decorate the room but also in place of a night lamp since it can easily be adjusted and extended to your preference when you want to read books. How cool is that?
Learn how to install the plug-in swing arm lights through this easy instruction!
18. The White LED
In this bedroom, the white LED bed light is fixed to the wall and provides just a dim light for the room. Its simplicity with white round shape is specifically suitable for an urban style room, so if your primary bedroom sounds like that, hit this wall sconce right away!
6 Stunning Hanging Wall Light Designs For Your Bedchamber
Here are more wall light options for you with hanging style! If you love this trendy style, you may want to apply the following recommendations for your own private room! Let's take a look at them!
19. Traditional Bulb
The bedroom with a classic look can perfectly go with a traditional hanging lightbulb by the bedside. This sleeping zone bathes in dark green, giving off a mature feeling. And the lightbulbs on the wall are super complimenting to that!
You can learn how to make yourself this super easy wall light!
20. The String Lights
The lights in a string are lovely and easy-to-install. You can add it even when the bedroom has been set up completely. But this may not support you with the reading purpose; therefore, you may need a night lamp to bring the lights to your lying spot.
21. Hanging Bulbs Attached To A Shelf
You can always make use of the gorgeous floating shelf in your bedchamber to hang some strings of lightbulbs underneath in different lengths to create a natural look. Here, they use three pairs of bulbs with white wires that really suit the room concept!
22. Pendant Lights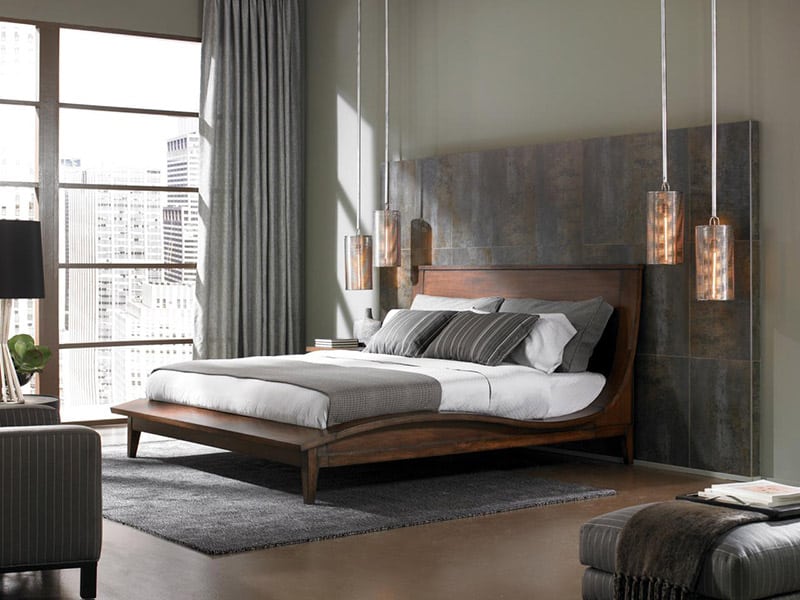 Pendant lights prefer any light that is hung from the ceilings of your bedroom. This type of light provides an elegant look for your private space as well as the sitting area in a corner of the room. Be careful with the ceiling height when it comes to installing pendant lights!
23. Circle Loop
A fancy circle loop with a brass finish and a hanging luxurious bulb will be a perfect combination for your lavish modern bedroom! It looks so simple but also attractive at the same time. And it's super easy to install by yourself, so what are you waiting for?
24. Rope Hanging Lights
For a rustic appearance, using rope hanging lights for your bedroom is a brilliant idea! The natural light yellow-brown color from the rope fits with any sleep space concept having a countryside vibe with cane items or even an urban room with the owner's vintage mind!
Amazing Indirect Lighting System Beneath The Walls For Master Bedrooms
If you don't want to go the traditional way with wall lights by the bedside, then you should try something new! It may cost you a little bit more for installing, but the result will wow you and your family members for sure!
25. Horizontal Hiding Lights
The glowy wall lights will look mysterious and give the bedroom a gallery effect with soft light. You can let the light stay when you are sleeping because it is a dim light that can bring you sweet dreams.
This man is building himself a LED indirect horizontal lighting on plain walls!
26. Vertical Lights
The vertical hiding wall lights may have the same installation as the horizontal version, but it actually adds more depth to the bedroom! A couple of small black sconces are also there on the wall in this room, but the highlight all goes to the lighting system underneath!
Have You Satisfied With All Of These Wall Lights Ideas?
Among all of those wall lighting ideas, have you chosen for yourself the best one? The best wall light is not the most beautiful one, but the most appropriate one according to the bedroom concept and design, too!
Choosing the most effective wall light option can apparently elevate the appearance of your bedroom! So, will you pick one from my suggestions? Like, share this article, and subscribe to the newsletter if you find this one is filled with engaging home ideas and designs!
See you soon in the following posts!