Where can you find the best small bedroom lighting ideas? Look for no further! With this post, you can get the best lighting designs that you have never seen before! Stop by and enjoy the wonderful lighting system, including the wall lighting designed for your own bedroom! Stay tuned for more brilliant ideas!
These lighting ideas are also the most effective decorative accents for your bedroom since you can choose the designs that suit the color schemes and concepts of the whole room! And there are tons of options! So don't hesitate anymore!
15 Impressive Bedside Lamps And Wall Sconces For Small Bedrooms
Sometimes, all the lighting system you need for the small bedrooms is just a table lamp or wall sconce beside the bed. Look at these amazing suggestions and see if you can apply them to your own bedroom!
1. Shiny Wall Sconce
As you can see, just with a touch of the small shiny metal-finished sconce on the wall, this room has become more elegant and modern. The light design is also an interesting option that brightens up this bedchamber in the dark green shade, combining with the classic cane headboard.
2. A Discreet Light
A super simple but high-class touch for your bedroom! This modern design looks attractive right at first sight! Its dim illumination is enough for a reading night that won't hurt your eyes. A floating table underneath matching the wall is also a brilliant idea!
3. Studio-Inspired Lighting
These studio-inspired wall lights may go perfectly with a bedroom bathing in the orange tone, or any vibrant shades to match the studio vibe. They look undoubtedly aesthetic and cool!
4. Hi-hat Cymbals
Here, the plug-in lamp design looks like hi-hat cymbals of a drum set inspire it! So it can be a great decorative accent for a drummer's bedroom. It also has a long arm that can reach your lying spot when you want to read some books.
5. Brass-Finished Bedside Lamp
Brass-finished lights are gaining more and more popularity in contemporary interior design for their luxurious look. This lamp can suit an urban modern sleeping space for the lovers. It will be a great functional and decorative item for the room!
6. Small Hat
Here comes another uncomplicated wall light design for a contemporary white bedroom. The contrast of the small black hat light and white painting will never disappoint you! The color combination among the furniture pieces in the room creates a classic but magnificent look.
Learn how to simply install a small plug-in sconce by yourself!
7. Strong Lights
If the whole room only uses the lights from bedside sconces, then you should choose some lighting designs that consist of strong enough and adjustable illuminations.
The light provided abundantly while reading books or watching your phone is essential. You can install a versatile shelf in your bedroom, and all books are within your reach. You can also display your favorite picture to turn the room into a private exhibition.
8. Double Table Lamps
If you need more lights for the room, just combine different types of them. It is totally fine to have two distinctive styles of lamps beside your bed. Here in this room, many different light sources are used up to create a warm and cozy vibe for this special attic room!
9. Floral-Inspired Sconce
This room's palette may remind you of a bedchamber for a little princess. Pretty cute, right? And this lovely room goes perfectly with the floral wall light made of glass that spreads warm light!
10. Aesthetics Lamp
This super aesthetic bedroom is gorgeous in plain white and wooden shade! The dreamy appearance of the room is decorated with a pleated lampshade. The existence of this lamp is undoubtedly remarkable and can't stop you from staring!
11. Tiny Bulb
Just a tiny lightbulb is enough when you don't want a massive lamp or lighting system. It is as small as a scented candle, but its light is bright enough to grab people's attention. The bulb can also be a cute little decorative accent for your bedroom!
12. Round White Pair Of Sconces
This room with a low ceiling and wooden walls can be considered a well-designed cottage chamber. The two lovely wall sconces made of ceramic get along pretty well with the whole room. The countryside-vibe cowboy hats on the wall are also stunning decorating ideas for a cottage-style bedroom.
13. Basic Light For A Loft Bedroom
This tiny loft bedroom looks so friendly and cozy that it makes everyone want to jump in the bed and sleep all day, especially when it gets raining. The furniture pieces are arranged very neatly and properly, with the spotlight of the basic white lamp, which looks outstanding in this bedroom!
14. Beige Wavy-Headed Lamp
The color and design of this lamp go really well with this sleeping zone bathed in beige. The white nightstand also beautifully complements the bedside lamp. With the calm yellow light, the overall cozy look of this room is really impressive.
15. A Silver Touch
The metal-finished standing lamp in this bedroom blends well with the overall plain white look. It can reflect other items in the room because of the mirror-like characteristic, so it actually joins a hand in making the tiny room look visually larger.
9 Gorgeous Hanging Lights For Your Narrow Bedroom
If you want something more special for your space, you may want to hang some lights around the bed or anywhere you prefer! Take these recommendations into consideration and pick out your favorite!
16. Crystal Balls
The two hanging crystal balls beside the bed really stand out! They are connected with the above wooden shelf, which makes them look firm and reliable. The medium size of the lights fits nicely with the bed size and the wooden theme of the whole room. Grab them now!
17. LED Fairy Lights
A string of LED fairy lights may not bring much light to your bedroom, but it is a gorgeous item for room decoration. Hanging it on the window curtains or around the headboard is enough to add some sparkling "fireflies" to your relaxing zone! It'll be enjoyable to watch the tiny gleam in the dark!
Here is how to create a gorgeous and magical canopy with fairy lights!
18. Single Hanging Bulb
This plug-in light is super easy to install at home. You just need to attach the wooden cylinder piece to the wall and hang the bulb with a jute cable over that piece. Voila! A beautiful bedside light is created, even when the room doesn't have any vacancy for the bedside!
You can totally design and install this hanging light all by yourself!
19. Bright Brass Lighting
Here, the light installation is quite the same as setting up the former crystal balls, but what makes them unique is the brass-finished material. Their illumination is also bright, more-than-enough that the room may not need any more lighting system!
20. Cute Hanging Light Twins
These two tiny little hanging lights bring a soft touch to the classic loft bedroom. The shades of them totally match the palette of the room, with light gray and white shade. The two nightstands also complement the lights pretty well. What a lovely design to try!
21. Twisted Rope Cable
The main spotlight of this bedroom one hundred percent goes to the rope cable of the light! It is elegantly put into the coffee-painted bedroom and works well as both a functional and decorative element.
22. The Lighting Frame
Fairy lights are now attached to a wooden frame decorated with a macrame and a Christmas wreath. The bedroom's cozy atmosphere also comes from the standing lamp in the sitting area. Different lighting systems are used, but they complement each other so well!
23. Distinctive Lighting Sources
As you can see, the illumination of this room comes from various types of lights, such as the LED string lights in different bulb sizes, the candlelights, and the shining ornaments on the tiny spruce tree. They are distributed evenly in the room and create a pleasant overall look.
24. Large Bulb Light String
This light string edition with large bulbs is hung across the room ceiling. Its dim illumination looks awesome and suits the room pretty well. You can try to hang this type of light string around for a gorgeous look!
Make your light string dimmable with some simple steps!
15 Super Attractive Ceiling Light Designs For Tiny Sleep Space
Want to go bold? Having a ceiling light is not a bad idea! Don't worry that your small bedroom has a low ceiling because these lighting ideas can solve the problem right away!
25. Flush Mount LED Ceiling Light
Flush mount is attached directly to the ceiling surface. For a modest bedroom, this may be the most effective ceiling light to use! This round LED light is both simple and stunning at the same time. The black rim also fits so well with the whole room.
26. Semi-Flush-Mount Fixture
The semi-flush-mount is just like the flush mount but it is hung a little bit loosely from the ceiling. The illumination of this lighting is usually too bright for a bedroom, so you should pick a proper fixture, like the one in this room. It provides just enough radiance for the space!
27. LED Recessed Lighting System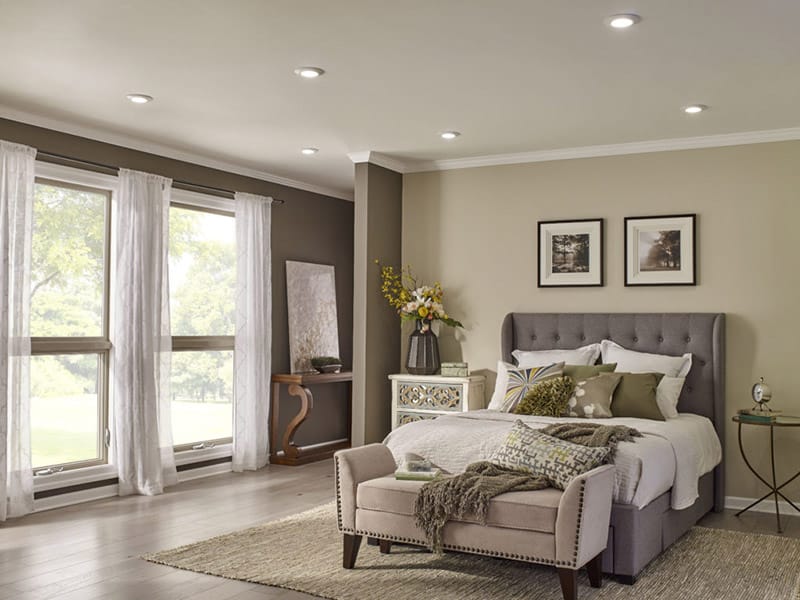 LED recessed lighting is super easy to install. This one-of-a-kind light source includes a concave lens that evenly distributes the light around your space. Choose the modest size of the lights and design a proper space in between them to make sure that they are not shining overwhelmingly.
28. Huge Crystal Chandelier
Don't be surprised when the first suggestion is already that bold and impressive! This can be the most detailed ceiling light you have ever seen. It looks like a massive crystal flower with sharp but elegant petals. And it also goes really well with the white and gray palette.
29. Pendant Cylinder Lights
These pendant lightings in cylinder shape really suit the urban modern style of the room. The metal-coated outside of the light brings an opulent appearance to this luxury room. The best bet is to apply for your bedroom!
30. Plain White Lantern
With this loft bedroom's low ceiling, a white lantern light is attached to the ceiling so that it won't get too close to the bed. Its color blends pretty well with the wall painting, creating a harmonious and serene look for the whole room.
31. Cane-Covered Light
It is a great idea to have a cane-covered light for a crafting-looking bedroom. It complements the concept and the spring palette of the room so beautifully.
32. Tri-Direction Ceiling Light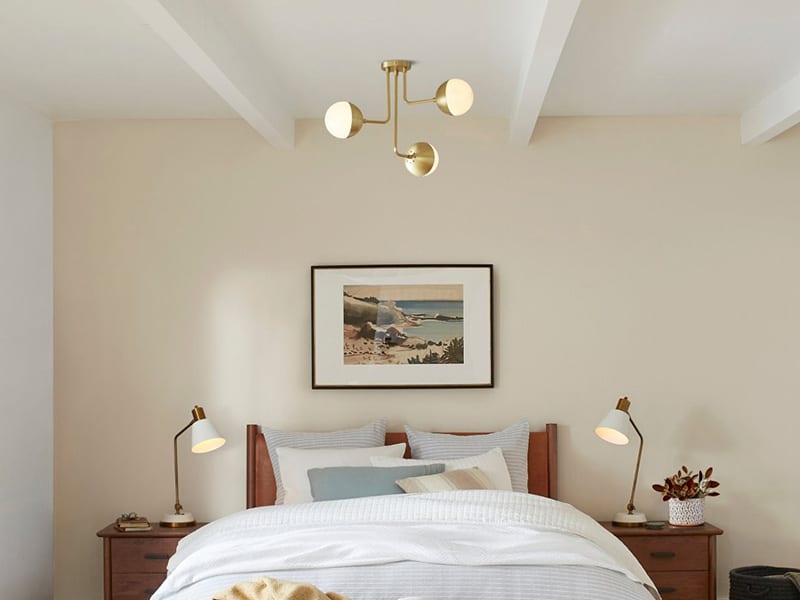 The lightbulbs of this ceiling light go in three different directions that give the bedroom a really balanced look. Its brass-finished arm also brings a luxury feel to this quite ordinary room with dark wooden items.
33. Pendulous Lantern
Here is another gorgeous lantern light option! However, it is hung loosely. Its moderate size doesn't make the bedroom look smaller but super harmonious to the whole room's vibe.
Make yourself a beautiful lantern lighting using super simple materials!
34. The Black Cage
The big black cover outside the lightbulb also builds up a great ceiling light for this calm bedroom in green and turmeric shade. You may notice that the ceiling and the bedside lights are in a set with the same color and bulb design.
35. Cane Lighting Trio
Not one, but three ceiling lights! Sounds amazing, right? The cane lighting suits the room's concept and other decorative accents perfectly.
36. Layered Light
This layered chandelier design brings a really fancy and modern touch to this artsy bedroom. Its color intently matches the room's calm color scheme. A great option for those who love simple but effective fixture design!
37. Boho Theme Light
The Bohemian style sleep zone usually works with crafting ceiling light, but here in this room, a metal-brassed shiny light is used that looks outstanding! With a closer observance, the light is super detailed with a dotted pattern.
38. A Traditional Touch
For some modern bedrooms, a ceiling light with an ordinary pattern is enough. This loft room is tiny, but it is well-organized with some vibrant-colored items. The lighting may not look too bold, but it does its job well in completing the room.
39. Upside-Down Umbrella
An artsy contemporary bedroom cannot be complete without marvelous ceiling light. The umbrella-inspired light may satisfy all of your requirements! It's gorgeous and irreplaceable! Try this fixture design for an outstanding look.
Which Small Bedroom Lighting Ideas Attract You?
The most attractive lighting system design for your narrow bedroom is the one that gets along well with the theme of the whole room. I may suggest many ideas, but only you can decide what would suit your private zone best! So, take a brief look around the room and start to think!
I hope that this article has fulfilled all your needs! If you are so in love with the above ideas, you may want to hit the like and share button! Spread this article to your friends who are also looking for some brilliant lighting ideas for a makeover!
Don't hesitate to subscribe to the newsletter for the most up-to-date information!