Having a headache finding boys bedroom paint ideas? Look for no further, since I will show you all in this post! There are tons of color combinations for the bedroom. If you are craving for a brilliant and stunning paint tone for your kid's bedroom, read this post right away!
Besides the color schemes, I will also provide you with more creative paint ideas than just plain monochrome. There are also a lot of interesting concepts based on your little man's interest. Curious about it yet? Let's get started!
11 Most Versatile Paint Colors For Boys' Bedroom
The bedroom walls with one color are not that boring if you choose an outstanding shade of paint for them. You may want to ask your kids first about their favorite color or self-ask if it is for your own bedroom. Then take a glance at the suggestions below and pick out the best!
The key is to choose the most versatile and neutral paint color possible, which can "grow up" with your little boy since the wall painting is somehow permanent and may take you a lot of time to repaint.
1. Plain White
White may be the easiest and most versatile color to apply to a boy's bedroom. If you want to make the room more lively, consider adding more items and furniture with other colors. Pattern rug is also a great idea!
2. All Black
If your little dude is really into dark colors and themes, all-black wall painting is the best bet! It will turn his room into a cool and somehow "rock-n-roll" one. To handle the darkness from the black paint, try some wall lights options for the sleeping zone. They will bring warm lights to the room.
3. B&W (Black And White)
How about combining the two most basic colors? Black and white are never old-fashioned throughout the years. In this room, each color is used for a different side of the walls, which adds more contrast and depth to the room, making it so unique!
Here is an awesome makeover with black and white wall painting!
4. Orange
The orange shade may be a little bit bright for some of you, but I believe that your dynamic and obstreperous children will surely fall in love with it! Orange also stimulates creativity in youngsters! So, it's marvelous to have orange walls in your little boy's bedroom.
5. Baby Blue And White
Baby blue is a lovely color right at the name! It is one of the lightest shades of blue and can be as versatile as white. Bring it to the bedroom walls and get that bright and refreshing summer vibe!
6. Moss Green
If you are looking for a dark green design for the bedroom, you should definitely try this moss green shade! This is a neutral-gender and super trendy color. It will bring your boy's bedroom a warm and cozy feeling and also a delightful Christmas vibe!
7. Light Gray
Light gray is another shade that will remind you of white. It gives the bedroom a clean and neat impression. It can go well with various concepts, especially the farmhouse bedroom designs in gray. Decorate your room with colorful items if you want to add more shades.
8. Navy Blue
Navy blue is one of the most popular colors when it comes to bedroom paint options for boys. It's not as dark as black, but it's also a super cool and manly shade that never gets old. Navy blue somehow gives off a mature look, so it may get along well with your son's growing-up.
9. Spicy Red
Bright red may not be the safest color for a long-term wall painting, but it's bold and eye-catching! In fact, the bedroom dived in red can bring a powerful feel to your teenage boy's room.
There are so many things you can do with the red color, even when it looks a little bit intense. You may want to mix red with white or cream to ease the vibrance.
10. Turmeric Yellow
If your tiny man loves yellow, don't hesitate to get his bedroom the turmeric shade! The basic lemon yellow may be too bright for wall painting, so the turmeric one is here to the rescue! It is the darker version of the basic yellow, and it's likely to bring warmth to the bedroom.
11. Beige
Like white and other mild colors, beige is considered one of the most common shades to apply to bedroom walls. You can always paint your relaxing zone with beige for a gentle look. And it is also great for a simple boy bedroom, so try!
Top 10 Fantastic Geometric Paint Designs For Your Little Boy's Bedroom
If the plain color doesn't please you and you want something bolder and more eye-catching for the walls, then try these options! They are still the combinations of color but in the geometric shapes that look really awesome and make your child's bedroom so unique!
12. Boho Triangle
Some tiny triangles on the wall complete the cute Boho concept for your little guy's bedroom. It is easy to apply, and you can totally do it yourself. Combine with a small tent as the "camping area", and you will have an adorable Bohemian-inspired bedroom for your kids! I'm sure he'll love it!
13. Half-N-Half
When there is more than one favorite paint color, just split the bedroom wall in half horizontally and use both of the shades. It's like you are painting two huge rectangles across the wall. This design is minimal but always effective.
14. Round And Stripes
The combination of round shapes and stripes is simply gorgeous with a proper arrangement. This depends mostly on the beforehand design, so make sure you choose a nice and rational one before you start, or you may call in a professional wall painting service to help you.
15. Arch And Round
The arch shape has become super trendy these days for its simplicity and signature design. Here, the two arch shapes and a round one overlap each other, creating a beautiful pattern for the wall. The color scheme is also pleasing to the eyes. You can always use your favorite palette for this.
16. Colorblock
Colorblock design combines large squares or rectangles in different shades of color. This only works when you choose a suitable palette that has been calculated considerably. The blocks of color should also be specifically designed for the walls of your boy's bedroom.
17. Rising Sun
A big orange round right at the center of the wall is enough for an outstanding move of wall painting! It can be described as the sunrise if your curious children ask. Add a splash of orange to your bedroom like this design to create something eye-catching!
You may want to pick some ton-sur-ton items to go with the orange sun!
18. Triangle At The Corner
Here, the dark shape is intelligently designed to hide away in a corner of the bedroom. This can become a great visual effect to make the room look bigger just with a huge triangle. It is also really modern and easy to apply!
Learn how to paint perfect geometric shapes on the bedroom wall!
19. Bauhaus-Inspired
The Bauhaus is the name of a geometric and abstract style in general design. It also mixes the basic shapes together to draw a big picture. But the difference is that Bauhaus shapes are usually in three basic colors, making it a one-in-a-million design concept.
Get inspired by this style and paint some Bauhaus shapes on your little boy's bedroom walls to get a modern yet somehow retro feeling.
20. Paintbrush Traces
This is still the combination of geometric shapes, but in a more special way – the first traces when applying the paint with a big brush. These shapes are randomly arranged with a planned design. Try this option if you want to add an artistic touch to your boy's bedroom!
21. Interlaced Rectangles
Another way to combine two colors on a wall. You can make it horizontally or vertically, depending on the bedroom design. Like the half-n-half option, this is also a simple but eye-catching paint idea for boy bedrooms.
12 Spectacular Bedroom Paint Ideas For Boys Based On The Concept
More creative ideas? Paint pictures on the walls! You can buy the paint and draw by yourself or call in a professional. The most exciting concepts for the bedroom paints of your little boy are coming right up! Come through this section and be amazed!
22. Starry Night
How about a starry night right in your baby boy's bedroom? Use white paint to create thousands of "twinkle twinkle little stars" on the blue walls, and you'll have the best night sky full of stars. This design looks super stunning, doesn't it?
23. Retro Space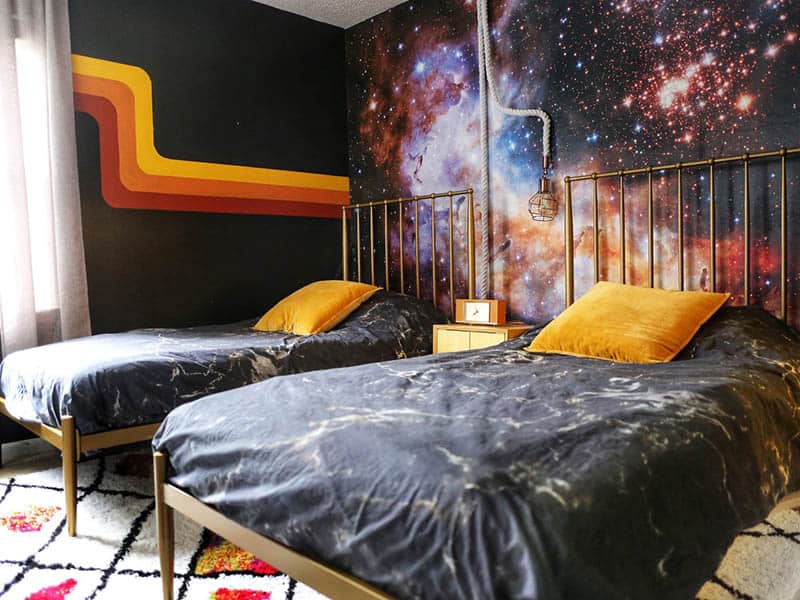 This retro theme for bedchamber is such a marvelous idea for your little boy! With the universe-themed wall, this design looks unique and outstanding at first sight. The three retro shades – yellow, orange, and red – make the room look more defined and stunning.
24. Toy Story Theme
The signature sky background with white clouds in Disney's Toy Story series is really worthy of recreating! You can totally do it yourself with some white and baby blue paint. Throw in some more Toy-Story-inspired elements, and it's good to go!
If your baby boy is so into the concepts relating to cartoons, maybe he also loves some anime patterns in the sleeping zone! Ask for his opinions before you start to ensure that the painting design matches his interest!
25. Football Fan
If your kids love sports, especially football, then surprise him with a football field wall! It is the best bet for a football lover, who always wants to "sleep" on the football field once. Now make a dream come true with this wall painting theme!
26. LEGO Theme
LEGO is the brand name of the super famous plastic building-block toys for little kids. And isn't it great to bring your son's favorite toy into his bedroom? You just need to paint some rectangle blocks in different colors and put some designed plastic pieces on.
27. Mountain View
Hiking is an interesting activity that your little dude may love. If so, having some mountains in monochrome shades on the walls is not a bad idea! It is also easy to paint, even if you are not very handy in drawing. There's no doubt when saying that this is a really elegant design!
28. Treehouse
A treehouse doesn't have to be on a real tree. You can paint a tree on the wall then design a treehouse right in your kid's bedroom. This can be a safer choice for an authentic treehouse to avoid your children falling from a high distance.
29. Rainbow Ceiling
Stripes in seven different colors create a beautiful rainbow on the bedroom ceiling. This is an awesome paint idea for the boys who are into colorful themes. But try to keep the room's furniture simple to not overwhelm the design with too many colors.
Notice these tips before painting the rainbow ceiling for your bedroom!
30. Chalkboard Wall
There is a type of paint that can chalk the wall up to create an abrasive surface for your son to draw whatever he likes on the wall with white or colored chalks. Sounds pretty cool, huh? You can only apply for a side of the bedroom wall to make it a unique spot in the room.
31. Star Wars Theme
Star Wars has never been a boring topic for the boys. They can talk all day long about it. If your little kids are among those boys, try this Star Wars wall painting option. I bet that they'll insanely fall into it!
32. Pop Art Concept
Pop art is also a retro-but-modern concept like the Bauhaus. It may remind you of the DC Comics that are super famous to many boys. This design may be a little bit complicated for an amateur, so you may want to call in a professional in this case.
33. Minecraft-Inspired
The Minecraft theme never gets old! The signature pixel visual is recognized everywhere in the world. The green and brown squares can immediately indicate this visual design, so if you want to apply the Minecraft theme for a boy's bedroom, just paint those squares on the wall!
Now It's Time To Paint Your Boy's Bedroom With The Best Idea!
No matter which color scheme and concept you choose, the most important thing is to know the favorite one of the room's owners because it will accompany him for the long run. So you should always ask for his opinions.
Do you like those paint ideas for boys' bedrooms? I bet that your kids will love them! Don't forget to like and share to spread the ideas for your friends in case they also need them at the moment! Hope you like my recommendations and see you next time!