You will not be disappointed when referring to my suggested brown kitchen ideas in this brief article since I will provide anything you want.
You can receive all the information you need here, from how to pair different color shades to brownish hues to what can go with brown-colored items. There is no time to beat around the bush; let's scroll down for the charming designs you are asking for.
A Quick Discussion On Brown Kitchen
First, let me make it clear. Brown colors have different tones; some are amber, chocolate, walnut, or caramel brown. Those might be the most prevalent shades, and there are still many more.
Although all of them are called "brown", yet they might offer a bit different effect to your living areas. For instance, those warmer brown colors like chocolate and cinnamon can add a sense of coziness while some darker tones carob or dark brown make you feel a bit "colder".
Therefore, you should be more aware when choosing what to pair best with those hues or the items that wear those colors. Just think, with summer concept kitchens, you should obviously not apply cold brown shades to furniture.
On the other hand, a modern-inspired kitchen will pair better with those dark brown tones. Overall, those things might be confusing for a beginner, so I'm here to help you out. Check my suggestions in the upcoming sections!
Classic Pairs-Brown And White Kitchen Looks You Should Refer To
It is impossible to go wrong when mixing white and brown in any area, not just the kitchen, since white is such a fascinating neutralizing hue. The color can be used to mellow any tone and give you an always-look-good impression.
1. White Painted Furniture In An Overall Wooden House
Painting or purchasing white appliances is an attractive choice if you want to make your cabin house's cozy kitchen a focal point. You have effectively introduced a "contemporary breeze" into your kitchen by simply doing as illustrated in the picture.
2. Ceramic White Sink With Marble Stone Countertop
This color arrangement is classic; you can see this combination in almost countryside or old housing. But the gold is never old; even though this look has been used for years, it still offers a balanced feeling to the whole area, and you cannot deny that.
Sneak peek: How to make a look-like-real faux marble countertop.
3. Ivory White Mixed Brown Granite Countertop
Another option to decorate your countertop in a brown kitchen is to apply ivory white with brown vein granite planks. The ivory white color looks creamier than the original white shade, so it offers a delicate warmth that is slightly different from the other.
4. A Touch Of Rustic Vibe With The Distinctive Light Fixture Design
Overall, this modern kitchen with delicate and subtle curves gives it a dreamy atmosphere. The rattan ceiling pendant light design, along with the harmonic combination of brown and white, makes your kitchen area appear more livable and wonderfully inviting.
5. Futuristic Kitchen With Tortilla Brown Shade
This kitchen is definitely a minimalist interior design, and it has indeed succeeded in providing you and me a neat and incredibly luxurious sense. Tortilla hue is one of the lightest/palest brown tones, and of course, it still lends a faint cozy feeling to your kitchen.
6. White Furniture On Dark Brown Hardwood Floor
It will never go wrong when pairing dark brown hardwood floors with white furniture (island, counters, cupboards, and cabinets)! This scheme is perfect for ones who love classic and basic-looking kitchen areas; they only need to choose the old-school designed equipment.
7. Half And Half Arrangement
This organizing style is fascinating since it creates a playful contrast (between dark brown bottom and white, bright top/surfaces) to the whole area. If your kitchen is entirely white and you want to make a twist, just take the paintbrush and make some moves.
One of the most detailed instructions on how to paint your cabinet you might need!
8. Brown Bottom Cabinets With Wooden Floating Shelves
Let's "invade" the white part with some floating shelves! It will offer a balancing effect and help you utilize every inch in your cooking area. Furthermore, if you look for a lovely layout to apply to your farmhouse, this morning vibe look is an excellent option.
9. Artistic Curved Cabinetry-Island
This dark brown island is genuinely a work of art. I have to admit that there is nothing else you should do to elevate this beauty. You just need to keep your kitchen area theme as simple as possible, then leave this artwork doing its magic!
10. Small White Painted Kitchen With Brown Chairs And Flooring
If you have a tiny kitchen, the above setup is appropriate. It doesn't feel too futuristic, but it offers a really close feeling. This image makes me think of a Japanese roadside diner, which you might have seen on TV or in cartoons/anime.
11. White Furnishing On Walnut Brown Flooring
This design works best if you use it as inspiration for the office kitchens. It is because the bright white color and the minimalist furniture design have reminded me of the modern, futuristic workplace's cooking space from first sight.
12. White Drywall Backsplash With Dark Brown Shaker Cabinets/Cupboards
Nothing can go wrong if you try to keep things simple. The contrastive effect of white backsplash and dark brown furniture is delightful and modernistic. One thing you should notice if you want to recreate this kitchen design is to use the inset cupboards/counters instead of overlay.
13. Creamy-Dreamy Tone Kitchen Utensils With Brown Hardwood Flooring
You have just been suggested with white equipment; they look incredibly stunning and will be the same as the cream shade, which looks a bit milkier. And to make the whole design more prominent, brown wood flooring can become a great base.
14. Small Farmhouse Kitchen With White Vintage Design Furniture
This design is also an excellent choice to decorate your tiny kitchen. And to balance between brown and white color, I recommend installing wood flooring and ceiling. A beautiful ceiling for your kitchen can also massively affect the whole area's look.
Some Exquisite Brown And Gray Kitchen Suggestions Are Here!
The mix of brown and gray tones for a cooking place, in my opinion, can bring a modern twist with a bit of classic and cozy (It can still offer a different aspect or feeling). Let's see what cool ideas would represent this combination!
15. Brown Interior Furniture And Metal Gray Kitchen Utensils
Metallic gray appliances provide a touch of glam to this traditional dark brown kitchen. Since this farmhouse kitchen inspiration is quite basic, you can go for this layout at the beginning if you want to make a safe play.
16. Gray Furniture With Light Brown Wood Floor
The vintage, custom-made gray cabinet and island with matched tone light fixtures create a gorgeous connection to your cooking areas. That beauty is further accentuated with the gentle warmth from the traditional polished wooden floor.
17. Concrete Gray Island And Exposed Real Wood Beams
If you want to make a slight change to your full-brown kitchen, now don't use white paint; try this gray shade instead. Each of those hues offers a distinguished vibe to your kitchen, and this gray tone lends a metallic, cooler breeze that is a bit more freshening.
Don't be surprised! This guide can help you to install faux wood beams into your kitchen!
18. Gray Drywall Backsplash With Light Brown Modern Kitchen
Absolutely modern. In this look, the gray drywall backsplash complements fascinatingly well with the light brown equipment. They have supported and elevated the other to create an exquisite futuristic sheen.
19. Grayish Rock/Rock-Like Backsplash
You might identify this stone backsplash design if you like medieval or antique style. It would also look good in a classical home's brown kitchen theme.
Furthermore, to obtain the desired aesthetic impression, you also need to pay attention to the design of other equipment inside your cooking area.
Knowing more about how to maintain your backsplash's pristine condition now!
20. Gray Patterned Backsplash In A Caramel Brown Kitchen
If you want to create this backsplash yourself, it's pretty simple. All you have to do is prepare the materials and adhesive, then follow a few simple steps to install it on your wall. And your backsplash looks fantastic with the white pattern and gray background I recommended.
Stunning Ideas For Beige And Brown Kitchen
Beige is a versatile tone that can be applied in various living areas and places. Thanks to its mildness, Beige can also pair well with many other dark shades. Because of that, today, I will show you how it works with brown tones.
21. Beige Travertine Tiles Backsplash
You might have been familiar with these beige backsplash travertine tiles since they are absolutely versatile that can be installed in any kitchen theme. Therefore, don't hesitate to try applying this backsplash style into your brown kitchen.
22. Drywall Beige Backsplash
This color of drywall backsplash will work better with dark brown furniture. If you are tired of preserving the clean look of the white/cream backsplash, you can opt for this tone. They still offer a light hue, but the mild stains are unnoticeable on them.
23. Gleaming Beige Stone Countertop
This touch of beige stone/color on the countertop is relatively small and somehow hard to notice, yet you cannot deny its contribution to neutralizing all the dark brown shades that exist in this picture.
It is not as light as white or as dark as black/dark gray; this beige stone is simply gorgeous when going with the brown furniture.
24. Beige Stripe Rug In A Pale Gray And Brown Kitchen
To add a touch of elegant simplicity to this kitchen design, I recommend using a beige tone, stripe rug like this one. The lovely neutral beige color anchors a stunning highlight to the whole area.
Can You Bring Black And Brown Into Your Kitchen?
It is time to talk about the black and brown combination. There are many ways to put black items with brown ones in one area, especially in a kitchen, and I will show you how now.
25. Black Countertops
How about making a focal point inside your kitchen with a light touch of black? Sometimes, the attractiveness allures in its simplicity. One example is, this brown kitchen is only applied a bit of black on the countertops, but you might not be able to stop noticing them.
26. Using Rug With Complementing Color
It is time to use a delightful rug to garnish your boring kitchen! There are many ways to do the task; I recommend choosing a rug with a classic texture and matched colors with the dark kitchen's details/appliances.
For example, black pattern rugs can be considered to match with the black cabinets like in the suggested design.
27. Pecan Brown Cupboards, Cream Backsplash With Black Cabinets
The design looks delightfully balanced with the appropriate black, cream, and brown scheme. Thanks to the simplistic and innovative furniture design concept, this kitchen area seems neat, clean, and contemporary.
28. Geometric Black And White Rug
If you are not a fan of the classic textured rugs, go for this simple geometric design. Placing this black and white rug under the furniture does lend an excellent overall-look enhancement to your kitchen.
29. Black Cabinets And Island
Why not? When you have already applied the light brown shade to the overall theme, it is essential to use a darker color for the other equipment to make them accentuate.
The black counters/cabinets and island this recommended design contributes a great modern look to the whole area.
Matching Brown With Yellow Into Your Cooking Areas Never Be This Easy
Brown and yellow are both considered hot/warm color tones, and it might bring adverse effects if you overdo pairing them with the other. If you don't know where to start, my recommendation will help!
30. Yellow Curtain
The kitchen's sink-above window is sometimes ignored, which is absolutely not advisable. This area's decoration will moderately affect the atmosphere in your room.
With the sink and surrounding shelf area made entirely of wood, a yellow, small flower pattern curtain will create a lovely little corner for your kitchen.
31. Parchment Yellow Drywall With Brown Furniture
This look reminds me of vintage Victorian-inspired kitchens that can be found in countryside houses. The light yellow tone does its job well in brightening the whole cooking area (which is full of dark brown kitchen utensils/equipment) and preserving the rustic vibe.
Some basic steps that can help you paint your room yourself.
32. Glossy Ceramic Yellow Wall
Instead of bringing the bucolic vibe, this polished turmeric yellow wall can deliver a lovely "modern breeze" to your kitchen. This kitchen exudes a modish and neat look with minimalist-designed appliances and light brunette tones (striking pecan brown wood grain).
33. Farmhouse Yellow Cabinets And Counter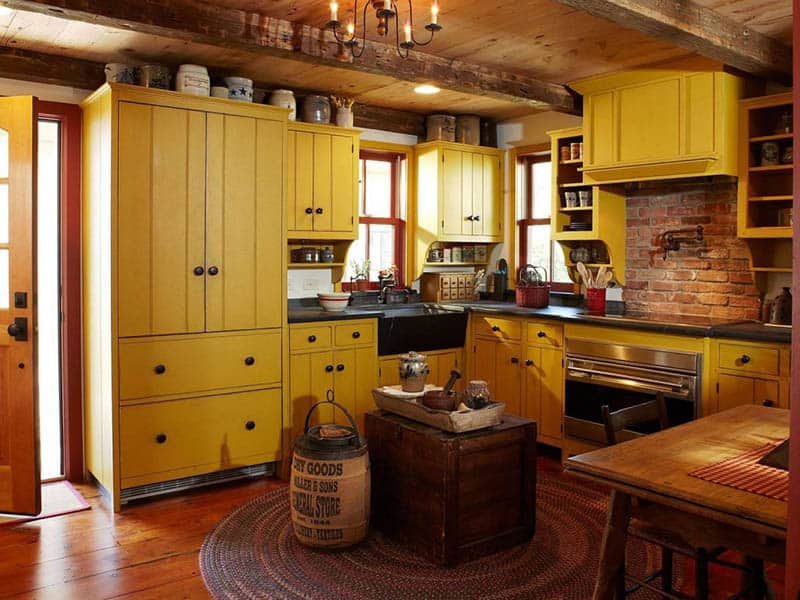 This design is definitely what immediately comes to mind when looking for a brown and yellow kitchen idea. When combining wooden details and objects painted with these shades, you can definitely get a warm effect since both of them are perfectly warm tones.
Brown-Green Mix And Match In Your Kitchen
You can always see these two shades partnering with the other in nature, and it is time to know how to match them in your cooking room.
34. Dark Sage Green Walls With Light Wooden Floating Cabinet And Floor
Beautiful, spotless sage green painted walls combined with light brown patches from the cabinet, floor and chairs create a harmonious whole. If you love a deeper tone like this green hue, I suggest you apply it to a modern kitchen style and balance it with a softer warm tone.
35. Sage Green Cabinets And Cupboards
To score this look from 1 to 10 based on the vintage feature, it will definitely receive a 10 from me. The sage green hue pairs well with the cold hazelwood brown and develops a perfect coloring scheme for a classic kitchen with a hint of modern.
36. Lime Green Cabinets As A Highlight Point
How about a brighter green tone? I will not suggest you apply neon green items to your brown kitchen since they create unpleasant dazzling color contrast. Then if you love light green shade rather than sage, these lime green cupboards or cabinets are great choices.
Fascinating Blue And Brown Combination In A Kitchen
Blue is a fantastic shade color, you can combine it with the other tone when doing house interior designing. Today, I will show you some creative ideas to mix blue with brown in your cooking place.
37. Brown Brick Walls, Wood Flooring With Deep Blue Cabinets/Island
This look is undeniably stunning. Mixed with the brick-brown walls, the deep blue shades, and the mid-century design style of those cabinets/island offers this kitchen a distinctive feeling. Let's start with this layout if you want to remodel your farmhouse, full brown kitchen.
38. Blue Theme Furniture With Wooden Fume Extraction System
Unlike the previous suggestion, this decor style follows a modern eclectic aesthetic. The contrastive effect between deep, cold blue hues with warm wood tones in flooring and fume extraction creates a unique vibe to the whole area.
39. Simple Blue/Pale Blue Kitchen Rug In A Wooden Kitchen
Let's add a subtle blue shade to your hardwood theme area! It is an undeniable refreshing point inside your kitchen that helps to milden the warmth from all the wooden details. You can choose any rug material you like, but I highly suggest the wool-made or fabric rag rug.
Generally, what you need to know about area rugs to make the best choice!
40. Blue Ceramic Mosaic Backsplash
Installing a touch of the cold blue backsplash in your kitchen is also an excellent idea. It will help you enhance the balance in energy/atmosphere in your cooking area and avoid monotony. If you haven't chosen your favorite type of backsplash yet, you should opt for this.
41. Teal/Turquoise Blue Drywall Backsplash And Ceiling
This teal blue shade is one of my favorite tones because it delivers an optimistic hint and feeling to the whole area of the object you apply it on.
In the suggested look, the teal blue drywall background has complemented well with the tawny brown equipment so that your cooking area can exude a refreshing atmosphere.
42. Teal Cabinets With Brown Ceiling And Wooden Wall
The Tiffany-inspired cabinet designs lend a gentle and classic look to the whole area. The mid-century effect is even more accented when applying the wooden walls and ceiling since those details can lend a tremendous homey-warmly impression.
43. Sapphire Blue Granite Island
Matched color and mahogany veining on sapphire blue soapstone counter/desktops and islands form a unique connection and coherence in your cooking area.
Since the other brown equipment has a minimalist design, this kitchen offers a contemporary look with a splash of coziness.
Alluring Kitchen Ideas With Brown And Pink Shades
Why don't you add soft, serene pink/pinkish tones to your brown kitchen? Let's see what I will suggest to you in this category.
44. Pink Counter With Light Brown Flooring
Light brown wood flooring is so versatile; it can pair with almost every furniture tone, and here is proof for that. This baby pink counter still looks lovely when paired with this brown shade, and they even complement the other to offer an exotic, pop look.
45. Pink Granite Countertops
It is a classic idea for a countertop, but you will not use the regular shade like white, ivory, or gray. This time you will install pink granite. The lovely hue makes the other furniture inside your cooking space look even more profound and boosts the overall vibe to another level.
Let's learn more on how to protect and seal your granite countertop!
46. Pink Backsplash
I wasn't expecting pink to pop out as much as it did in that light brown kitchen. Thanks to the intelligent use of pink glazed tiles, you can avoid making the entire cooking area appear messy. Contrastively, it even makes the whole kitchen look unique and lovely.
Go Bold With Red And Brown Cooking Room
Let's end the list with this red and brown mix section! Can you believe the bold color light red can complement well with brown?
47. Red Cabinetry
It's time to do something a little more edgy, like picking up a paintbrush and painting all of your cabinets/counters a crimson red like this one. It looks pretty cool, isn't it? The bright red hue can actually brighten up your old kitchen.
48. Red Island In A Brown Theme Kitchen
You can draw attention to your kitchen island area by installing or creating a crimson accent in the center of the room yourself.
It will be a safer choice than painting the entire furniture with red, and at the same time, it will still lend a hot/charming vibe, which is hard to find in other color schemes.
49. Pop Red Walls
The pop red shade painted wall lends an incredible highlighted effect to the kitchen and a distinguished exotic look. The other equipment and furniture inside your kitchen are not overwhelmed by the red hue; they even benefit from it and become more standout.
50. Red Rug On Chocolate Brown Hue Kitchenwares
Although dark chocolate brown interiors are frequently used in a kitchen, it might be a bit tricky to choose an appropriate partner to pair with them.
Don't worry! Have you ever tried decorating your dark brown parquet flooring with a bold and prominent red carpet? I think you should try it once because it will absolutely make sense.
Let's Bring A Marvelous Brown Cooking Places To Your Sweet Home
It will never be too late to remodel your kitchen. And if you have that idea in mind, I hope that all of my suggestions today will be a great help. Don't worry because I only provide you with the most exquisite designs; all you need to do is choose the one you love the most.
If you find my shared information today helpful and applicable, please leave a comment or share it with your loved ones who need my assistance. Your contributive action will become a massive compliment and motivation for me.