"Cabin kitchen ideas" is now a trendy topic, and if you want to create your own cabin-style cookery, my little article will undoubtedly be of assistance.
When life has progressed, many people seem to have less interest in modern-looking home designs or fashions. They desire to look back in time more, and the artistic tastes of the ages are steadily changing as well.
Since then, classic approaches and architectures have gradually been reintroduced to modern life, and warm wood tones have constantly supplanted the conventional metal hues. Let's learn more about fusion antique cabin kitchen designs right below.
Must-Known Cabin Kitchen Facts
To make it simple, cabin kitchens are the cooking areas in cabin houses, a style of housing filled with a rustic vibe with the massive contribution from wood materials.
There are several variants, such as log cabin (small-sized cabin), cottage (a bit more modern), or off-the-grid (off-grid, rustic, relatively isolated) houses. Due to those differences in sizes and themes required, their kitchen arrangements are also different.
Two common things about cabin kitchens are that they are mainly made of natural wood and smaller than the others. You can consider installing tiny house kitchen decorating inspiration for smart storage solutions.
Not only wood-made, but you can also easily detect items made of other natural materials (stone/block/metal) inside a kitchen like that. The ceilings, frames, and furniture are typically rustic with natural wood beams, cabinets, and flooring.
Those gadgets will often be optimized for performance and used for many different purposes. For example, a kitchen table can be combined with a cupboard and place other necessary machines.
Although cabin kitchens are usually small and compacted, natural light is essential since the idea of this kind of cooking place decoration is to "bring nature into your home". Because of that, you can always see some bay, attic or regular windows.
Don't underestimate when choosing the best bay windows for your cooking places they significantly affect the whole room's atmosphere.
Just imagine, it would be a mess if you applied a large glass window with modern style into a rustic, old-school kitchen.
Pretty Log Cabins' Small Kitchen Recommendations
A log cabin house is usually much smaller than a regular cabin house; therefore, the area that can be used for the kitchen in those houses is quite limited. Because of that, you can refer to some ideas below to decorate and arrange your cooking areas.
1. Large, Outdoor View Windows Beside The Countertop
As I have mentioned, natural light is crucial in a cabin kitchen, so why don't you put a big window right beside the cooking plot like this?
It is also essential to choose the most appropriate kitchen window-over-sink styles. For example, don't choose an unpolished, natural wood frame window to put in a high-tech-style cabin kitchen.
2. Tiny Kitchenette With White Furniture
White furniture with only the basic kitchen equipment can help you save places on the kitchen counter and utilize such a tiny kitchenette. I suggest you add a few hanging planters to this space to add a bit of green.
3. Using Angled Bar Top Or Countertop
Since your cooking area is limited, I suggest placing an angled bar top to separate the cooking place from the other areas in your cabin house. It can also be used as an eating table, another good way to utilize your kitchen gadgets.
4. Smart Cabinets Application
You should use smart gadgets to optimize a small space to extend the usable area. And in a small cabin kitchen or small offices' cooking areas, you should definitely refer to some innovative cabinets/cupboards with concealed compartments.
They also have a lot of beautiful, minimalistic designs, which makes them also compatible with modern-looking environments.
If you need some guides to organize your small cabin kitchen, you can refer to this!
5. Tiny Cabin Kitchen With Two Cabinets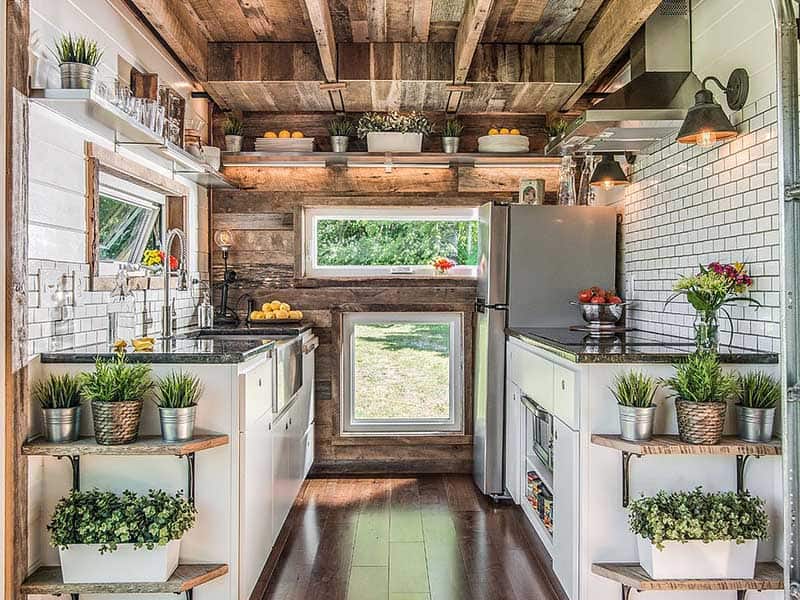 This close-to-the-nature design is stunning and delightful. Although the size is a bit small, the arrangement of objects and the direction of using the furniture inside are optimized and bring a sense of orderliness.
6. Velux Windows On Your Kitchen Ceiling
Since the kitchen is already narrow, you might want to expand the area by all means. Besides using large windows, I highly recommend the glass Velux ceiling because it can provide an extension effect.
One advantage of using that ceiling is seeing the sky outside when preparing meals. How romantic it is!
Have some references on how to redecorate your living area with Velux windows here!
7. Integrated Light Fixtures
A kitchen cannot be completed without an appropriate lighting system, and those integrated small LED light fixtures are perfect appliances for a small log cabin's cooking areas.
Modern-Looking Cabin Kitchen Designs For Cottage Cabin
I love the fusions between various styles of designs or fashions; because of that, what do you think about applying the innovative look to your cabin kitchen while still preserving the vintage feeling? Let's see some of my suggestions below!
8. Concrete Flooring With Rustic Wood Color Furniture
It's quite the polar opposite. Although decorated with rustic furniture, this kitchen, with the concrete flooring, exudes a very distinct modern look. If you want to design yourself a modern kitchen and be entirely environmentally friendly, this is the choice for you.
9. Stone Multi-Purpose Island
There is nothing to complain about that island's look, simple yet elegant. Even the stone arrangement is flawlessly beautiful. There's no reason not to consider including it in your modern kitchen.
10. Wood And Drywall Ceiling
Separating your tiny cooking area from the dining place by applying different ceiling styles is also a smart move. Thanks to that, you can decorate your kitchen in various styles while still preserving the old-school look of cabin housing.
11. White Painted Shed Ceiling
No color can offer the modern feel better than white. No matter what style it is applied, a kitchen with a white theme still delivers a hint of innovation. You can still keep the natural dark wood color of the crossbars and add some minimalistic fixtures for decoration.
12. Cool Kitchen Design With Dark Gray Stone Countertop And Islands
Instead of using polished stone countertops, these emery surfaces give a more aesthetic effect if you are after a modern kitchen style. Simultaneously, the deep and dark tones just now can bring a luxurious and harmonious whole.
13. "Expand" The Area With Big Windows
You should also apply big, square bay windows to a modern-style cabin kitchen. If the areas for making a kitchen are much broader, you can include more glass bay windows to receive as much light and outdoor view as possible.
14. DIY Backsplash With Glazed Subway Tiles
I have to admit that I love this teal shade. Now seeing the backsplash tiles with the color makes me immediately think of how stunning a kitchen with this backsplash will be. You should definitely try it once.
The detailed guidance on how to install subway tiles onto your backsplash.
15. Finished Exposed Beams Ceiling
If you love the exposed beams ceiling style and still want to create an innovative-looking cooking room, I suggest using those prefinished wood beams with a darker tone. It will be even better if they have the same shades as the furniture to form a lovely coherent.
16. Vintage Patterns Rugs For Wood Flooring
This cabin kitchen area yields an innovative look with a traditional touch by using a white, bright tone, large windows with wood flooring, and a stone backsplash.
To enhance the aesthetics in the overall look, you should refer to some kitchen-to-go rug recommendations. How about a neutral-colored rug with classic styles, it is a fantastic addition to enhancing the retro ambiance.
Exquisite Classic Cabin Kitchen Designs
It is time to move on to the classic cabin kitchen decorations and arrangements. You should not miss this section to create your cooking area following the traditional motifs.
17. Light Fixtures Above The Island
These pendant lights bring extra light to the room and provide an artistic and elegant color to the area. Yellow lights should be used instead of white ones in your cabin kitchen because they will generate a soothing warmth when it touches wood.
18. Luxury Cabin Kitchen With Archway Window
Simple, classic, and delicate, why do you have to stick to the square-shaped windows while these archway styles can definitely lend a standout feeling? If you are after the luxury or Victorian kitchen interior design, then this window style is surely the one for you.
19. Steel Gray Cabinets
This is the original concept for a cabin kitchen; everything from the ceiling and flooring to the window frame is made of wood (in a lighter brownish hue) for a comfortable and welcoming atmosphere.
Then, to complete the design, the entire steel gray cabinets are installed to provide a balanced coolness to the whole room.
20. Two Tones: Wood Vs. Stone
These materials are the most classic ones to put in a cabin kitchen, and here is my suggestion for you on how to pair them with the other. Stone island or counter with a prefinished wood surface looks absolutely delightful.
With the contribution of white ceiling lights and some metal items, this design brings a modern, industrial-like feeling into a cozy, lovely atmosphere.
21. Stone Wall In A Cottage Cabin's Kitchen
Another way to apply stone designs to your cooking areas is to make stone walls. The natural stone shades (black, gray, and blue) with rough texture can offer a lovely countryside-like, old-school appearance. A cottage cabin might fit this style the most.
22. Wood Panel Backsplash
Golden sunlight creeps in through the window frames onto the surface of the wood-paneled backsplash creating a warm and vintage feel to your cooking/sink location.
Recently, glossy wood designs have been trendy, so this will be a good choice if you follow the trend.
Amazing kitchen makeover instruction you should not miss.
23. Stone Backsplash For A Cooler Shades
Stone backsplash can help you balance the coolness and warmth in your cooking areas. Not everyone loves the all-brown-look cooking areas try adding a few other shades into the area by altering furniture's color or installing this stone backsplash.
24. Knotty Pine Cabinets
Knotty pine is renowned for its rustic look, highly durable, and incredibly inexpensive. Therefore, knotty pine cabinets should be the top consideration to add a touch of warmth to your cabin kitchen.
25. Persian Kitchen Rugs
As I said, rugs are essential in a room since they will contribute a gorgeous look together with good protection for your flooring. And in an elegant kitchen, a Persian rug with distinctive style, pattern, and colors does highlight the whole area.
26. Bohemian Design For Bigger Kitchen Area
This bohemian design is versatile and can be applied to your cabin house. One thing you should notice when applying this interior design style is the coherence between all the details.
From the cooking areas' ceiling styles to the other smaller ones like the light fixtures and chair models, all of them are important. If it is still too confusing, you can create a full-wood kitchen look as I have suggested to you in the picture.
Enchanting A-Frame Cabin Cooking Places You Should See
A kitchen in an A-frame cabin usually has a distinctive shed/vaulted ceiling and is a bit narrow. How to arrange and decor those areas to have a wanted look for your kitchen? Let me suggest to you some of them.
27. Combination Of Exposed Beams And Shed Ceiling
Since the ceiling in this design is relatively low, the shed ceiling should be in your consideration. It can help you to make your roof look broader. Thanks to the classic combination of white and brown, your kitchen can be renewed in a snap.
28. Hardwood Vaulted Kitchen Ceiling
You should choose this style instead if your kitchen is a little larger than the one in the previous design. The wood ceiling will become a part of the wall beside the kitchen, and the overall appearance of the space will be kept clean and luminous.
Several Gorgeous Lake Cabin House's Kitchens
Lake cabin house's cooking area decorations are not too different from the other kinds of cabin homes' kitchen styles. Therefore, I would like to recommend those designs that apply the whole wood logs, beams, framings and are made of more natural materials.
29. Lake Cabin Kitchen With Large Windows And Modern Furnish
This pairing of light wood accents and beige is one of my favorites. This compact place is neat, cozy, and well-lit, thanks to the smart/convenient cabinetry, windows, and built-in stove design. The brick walls do help a lot when lending a rustic touch to the whole area.
30. Wood Beams Ceiling For Outdoor Cabin Kitchen
If you don't have space left indoors or don't want to place things like traditional ovens in your compact cabin house, you can consider this outdoor kitchen model.
Awnings made from wood beams can offer decorative and protective effects to your cooking place.
31. Country Style Kitchen With Stone Island
This stone island can provide a captivating, distinctive look to your kitchen because they are made from rocks/stones. This material offers a totally different aesthetic compared to wood and incredibly fits a lake-side house.
32. Pop Color Kitchen Wares
Absolutely pop! Those attractive red color kitchen utensils definitely brighten and liven up your whole cooking area. This application works best in a lake cabin since a lake house always offers a gloomy characteristic.
33. All-Wood Kitchen Wares
Perfectly coherent! You can opt for this look which is decorated with all the bare wood colors, simple yet appealing! The design is completed with a nice touch of metal dropping fixtures and successfully offers an old-school kitchen.
34. Marble Countertops
Let's try to twist the above ideas; how about using a wood island/counter with marble stone tops (to add a bit of glossy and sleekness). I am sure you will never regret it. And I promise you, the way to clean and maintain your countertop is straightforward.
Sneak peek: You can clean your stone countertop like this!
35. Barn Wood Siding
If other natural wood shades are now quite dull to you, you should take a look at this gray barn wood island; it exudes the undeniable rustic exquisiteness. You can also apply your whole cabin kitchen with this exotic tone.
36. Red Brick Flooring With Jade Green Interior
This design delivers your entire kitchen a dreamlike, bright appearance. It's my favorite design for lakeside cabin kitchens out of all the ones I've shown you so far because of its gorgeous looks.
On the red flooring, the jade green cabinets, islands, and cupboards genuinely pop. They perform nicely together, and you should consider this design for your lake cabin house.
Lovely Kitchens Ideas For Mountain/Hunting Cabins
Mountain cabins are also modest, comparable to log or off-grid cabins in size. The only features that distinguish them are the antique and rustic furnishings, kitchen appliances, and layout.
37. Unpolished Wooden Kitchen Equipment
These unpolished wood kitchen details and items remind me of an antique kitchen in the woodworkers' hut often mentioned in before-bedtime folk stories. You can refer to this look to create your own unique cabin kitchen following that old style.
38. Velux Window With Mountain View
A Velux window appears to be the finest option for an A-frame cabin house since it will be compatible with the framing and direct sunlight to the desired location. When standing in a high-place kitchen, this window type can let you get a great view of the sky overhead.
39. Recycled Cabin Kitchen In The Forest
I was amazed when looking at this cabin kitchen design for the first time; it looks absolutely mind-blowing. Since the wood planks and utensils are all recycled things, they give off an exotic vibe that is a little retro and out of the ordinary.
40. Trees, Flower, And Dried Leaves Decorations
Those decorations' arrangement brings a sense of the Shabby Chic interior design styles. I love the combination of various green shades and soft tortilla brown furniture in this kitchen, which delivers a nature-friendly vibe to your kitchen.
41. White Jute Rug With Dark Border
Now, with a creative pattern jute rug, you can lend the finishing touch to your kitchen. Using a jute rug will help you stay close to the overarching theme of the room while also offering a desirable extra vibe.
Which Is Your Most Favorite Design?
The cabin kitchen can be a great cozy area in your house, and I hope that my recommendations today can assist you well in the future.
When it comes to something more aesthetic, there is no such thing as right or wrong. Yet, feel free to write a comment below if you have some questions for me about this topic.
Otherwise, if you have chosen one of my suggested cabin kitchen inspirations above, let's roll up your sleeves and start doing some makeovers!