You are not alone searching for summer kitchen ideas to install in your household. And if you find it challenging to find some inspirational layouts for you to refer to, I am here to help you with that.
Basically, a summer kitchen is a place to cook where the summer is coming and the weather is getting warmer. Because of that, there are several notable features of that kind of kitchen, and I will show them to you right in the upcoming sections.
Exquisite Outdoor Summer Kitchen Suggestions
Since summer kitchens are specially designed for summer cooking, they tend to build them outdoors/backyards with the essential equipment (stove, grill, pizza oven, sink). You don't need to wait any longer; let's scroll down and see some of my recommendations.
1. Wood Fired Pizza Oven On Outdoor Kitchen
One advantage of an outdoor kitchen is that you can install a traditional-style pizza oven (the one that will require heat from burnt wood or charcoal).
This rustic equipment offers a distinctive, scrumptious taste on your food and lends your kitchen corner a solid antique sense. Placed at the center of the kitchen, this special oven can be the heart of your cooking space.
2. Clay Pizza Oven For Summer Cooking Spacea
How to create a brown cooking zone outdoor with dominant brown shades from natural materials? This clay pizza oven can help you with that.
With its delicate curves and unique inverted funnel shape, this pizza oven not only does its job of baking pizza well but also creates a particularly stunning decorative effect.
3. Half In-And-Out Summer Kitchen
This design is simple, and it is perfect to become one of the most recommended cabin kitchens! A bright-toned kitchen with a combination of white utensils/equipment and blue-painted bottom counters has created a lovely harmony.
After that, the whole area becomes cozier and inviting with some delicate touches of brown, wooden details.
4. Half-Circular Countertop With Gleaming Epoxy Stone Surface
The advantage of a semicircular fixed counter is that you can maximize the seating positions in front of the cooking area. Thanks to that, many people will be able to sit there, enjoying food while talking to the cooking person.
At the same time, using epoxy stone countertops (placed on the patio, without a roof) will help you increase the durability of the equipment in this area and will also be easier to clean.
5. U-Shaped Counters
Adopting a U-shaped counters design is ideal for optimizing a relatively small kitchen space (where you need to organize it and avoid clutter looking properly).
Furthermore, with this design, the kitchen will have enough room for a few people to cook simultaneously. It's a tiny thing, but it will help people connect.
6. Mini Wooden Grill Hut In Your Backyard
Making a small, wooden grill hut in your backyard is not a bad idea. You can put on some other kitchen interiors such as sink or counters for more convenient food preparation, and it will turn into a perfect place to create your summer grills feast.
7. Outdoor Summer Canning Kitchen
Setting up a canning kitchen may be the easiest of all the kitchens on this list. It's because you don't need to prepare too many things. All you need is a gas/grill stove, a small movable counter/table, and the necessary utensils in the kitchen.
Canned food is indispensable to enjoy a delicious summer night meal next to this kitchen.
8. Summer Kitchen With Modern, Built-In Egg BBQ Oven
Instead of using a separate BBQ oven/machine, how about installing a built-in egg-shaped BBQ oven design into your counter? There are two main benefits of that for you to consider. First, you can save your kitchen area, which might be pretty small.
Second, you can preserve the rustic look with the dark green shades and also a hint of cuteness thanks to its shape.
This is how to install a built-in BBQ oven you might need!
9. Floating Counters With Storage (Mounted On Deck's Fence)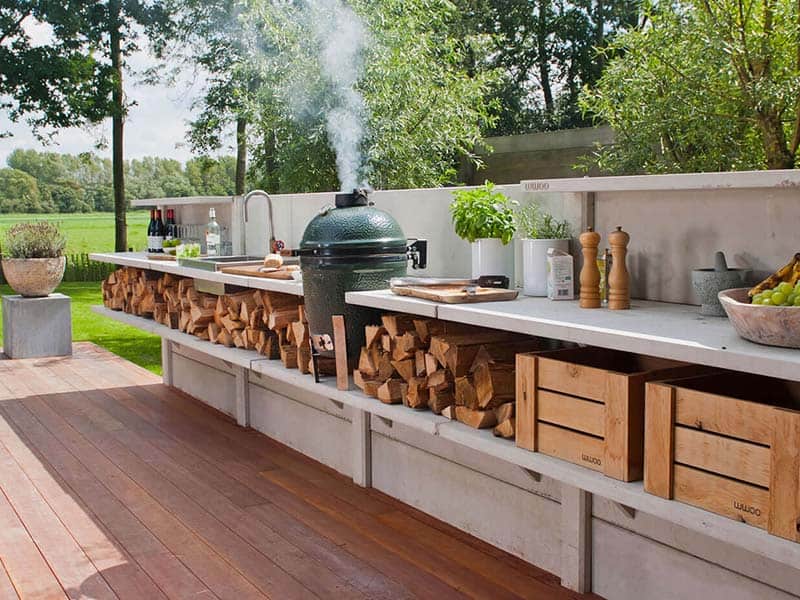 This design is a compact, convenient, and effectively minimalistic solution. In addition, storing wood stacks under the kitchen counter and carefully covered will help you better preserve your firewood (avoid termites or mold).
10. Bar Counter-Like Summer Kitchen At Backyard Pool
Why not? This kitchen design is especially suitable for you if you love friends/family gathering at summer night pool parties.
Thanks to the glossy ceramic tile background, the black stone countertop is illuminated by warm yellow LED strips that make this kitchen wear on an undeniably enchanting appearance.
11. Wooden Vaulted Ceiling For Separated Kitchen
Choosing a nice kitchen topside covering is essential it can enhance or ruin the beauty of your kitchen. And with a summer cooking space that follows mid-century style, you should install a rustic vaulted roof/ceiling.
It will help increase the classic look and help your overall kitchen perfectly harmonize with each other.
12. Wood-Fired Stove In Patio Summer Kitchen
Who said a wood-fired stove could not go in a modern kitchen? Here is the proof that you should try anything you desire.
Every inch of the counter is coated in a glossy, steel-like black paint, together with a renovated pizza oven, giving this outdoor cooking area a considerably contemporary look.
13. Backyard Modern Gray-Brown Theme Kitchen
I highly suggest saving a spare area behind your house (in the backyard), so you can recreate that space into your outdoor summer kitchen in a snap.
Following the minimalist interior design, this cooking place layout's counters/stove/ceiling exudes a solid futuristic sense.
14. Traditional Wood Fired Stove For Nostalgic People
The summer kitchen area is originally an image of the past but can still be applied in this modern life. So you can completely keep those rustic features in your kitchen.
An old-fashioned wood stove, unpolished wood furniture, and other subtle details will help you complete the kitchen look you desire.
15. Full-Option Kitchen With Wood Beams Ceiling
You have almost everything in this outdoor kitchen, from the sinks, oven, and dishwashing, so it will definitely be convenient for you to prepare food for an outdoor party.
Besides the relatively classic stone and wood paneling design (for counters/cabinets), the closed kitchen space gives you the feeling of an outdoor bar.
16. Old-School Summer Kitchen With Outdoor Fireplace
Looking exactly like a splendid authentic Victorian kitchen, this cooking area is fully equipped with all the kitchen appliances you need and is no different from a regular kitchen.
Being built outdoors (without walls) makes this classic beige, brown brick, and gray cement kitchen extremely breathable. The fireplace does excellent work in making itself become an alluring focal point.
An amazing instruction on how to build an outdoor kitchen's fireplace you must see!
17. Using Lights For Outdoor Kitchens With Ceilings
With an outdoor kitchen combined with a wooden vaulted ceiling like this, it is best to use some ceiling lights (to illuminate your cooking areas on days without sunshine, rain, or nights).
The first suggestion for your lighting system is the ceiling-mounted lights. They don't take up too much space, are cheap, and are not too difficult to install.
18. Hanging Filament Light Bulbs Strands
If you prefer a more romantic option, you can use filament bulbs like I suggest here. Not only providing a warm yellow light, but the heat emitted from the filament lamp can also somewhat bring a gentle warmth to your outdoor summer kitchen area.
Look at that sweet romance! Are you ready for a date with your loved one here?
Don't know how to hang your light strand up? Here is your best guidance!
You Should Look At These Delightful Indoor Summer Kitchens
Now, it is time to move on to the indoor summer kitchen ideas! You may not have enough space to build an outdoor kitchen, but it will still be fantastic if you try to bring the summer vibe to your regular indoor cooking area.
19. DIY Interior Decoration With The Unused Kitchen Utensils
If you don't know how to decorate a tiny kitchen yet, this layout is what you can take a look at and use as a reference.
Since the whole area is relatively small and follows the basic, vintage interior design aesthetic, you can use these old kitchen utensils and make them into a creative hanging decoration.
20. Modern Metal Light Fixtures Above The Dining Table
Although the dining table and stools have a relatively classic design, you can bring a contemporary twist to this part of your mid-century summer kitchen with a ceiling pendant light fixture.
Consisting of a minimally-designed metal frame and dark/black paint, this is a light style you should definitely put into consideration.
21. Add A Touch Of Green
Summer is the season for plants to grow, so adding a little green to your kitchen can entirely indirectly bring out a summer vibe.
In addition, utilizing the sunny window area in your kitchen to grow plants, herbs, or a few other small vegetables also helps you have a small food/herb source (or simply just a lovely decorative item).
Some herbs you can choose to grow on your window sill are here!
22. Try Ceramic Countertop
You can try changing the countertop color to add a bit of fun, summer-inspired detail to your cooking area. Instead of the traditional simple brick colors, try more vibrant colors with more interesting patterns. I promise you won't regret doing that.
23. Pastel Yellow Kitchen For Energetic Summer Days
When you hear the word "summer," which color comes to mind? To me, it is yellow. Among all the shades of yellow, I would like to recommend you a pastel yellow-dominant kitchen design.
While the turmeric yellow may be too harsh when paired with brown, hardwood flooring, this lighter/milder parchment yellow appears to work better with those tawny brown accents and gives a compelling summer/warmth feels as a whole.
24. Bring The Iconic Pastel Blue Theme To Your Kitchen
Next, let's move to the next favorite theme for the summer kitchen, the gorgeous pastel blue. Choosing a cooking room's rug wisely is essential to complete the look of the entire space layout.
Instead of selecting a different color, choose blue to accentuate further the summer breeze you want to add to your kitchen.
25. Milky White Kitchen Cabinets For A Touch Of Summer
By applying the bright, white walls with the matched tone, vintage-designed equipment, you can straightforwardly create a lovely coherence to your cooking area.
To make the summer vibe clearer, you can consider adding fresh flowers, tropical-inspired decorations, and large windows (to maximize the natural sunlight inside your room).
26. Summer Beach Inspired Cottage Kitchen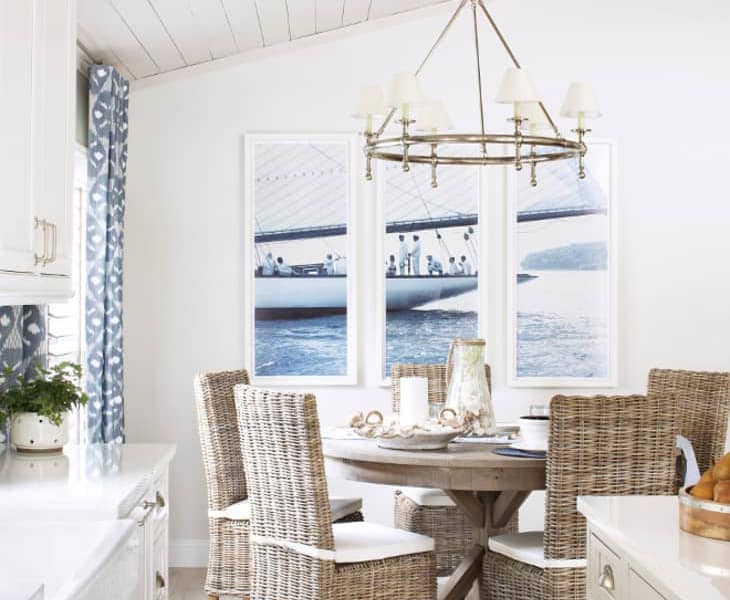 Thinking of summer, you can immediately think of a sunny beach and salty breeze, and there's no reason not to bring that inspiration into your summer kitchen.
This suggested design creates a dreamy feeling in this sunny kitchen with white tones combined with gentle blue (paintings/pictures/curtains) and a touch of rusticity from rattan and bamboo chairs.
27. Small-Scale Farmhouse Summer Kitchen
Following the shaggy chic interior aesthetic, this kitchen design lends me a sweet and cozy feeling (which makes me think of a cute house in a fairy tale).
With a clever arrangement of small items, together with the accents of eye-catching pastel colors objects, the room becomes a stunning harmonious and lovely whole that you should definitely try once.
28. A Summer Kitchen In Your Basement
You can also consider remodeling your basement into a small kitchen for summer. With some funny lighting and decoration, you can make it feel like a tiny bar perfect for a friend gathering party.
Since the kitchen is in your basement, the lighting might be poor, and you should take care of that more than the other kitchen placement.
29. Ceiling-Mounted Velux Window
Another case is when the ceiling is too low, your priority is to make the small kitchen appear broader and brighter.
At the same time, you also want to receive the maximum amount of sunlight without forcing, so what is the solution? Simply install a suitable large Velux window into your kitchen ceiling, and you're halfway done in remodeling your kitchen into a summer-inspired one.
It is the foolproof step-by-step guidance on how to install a Velux window you should see!
30. Modern Sunroom Kitchen
If you don't favor decorating or installing too much furniture in your contemporary kitchen, you might want to consider installing a sunroom.
Natural light will efficiently brighten up your area (as much as being outdoors), and your kitchen will have a summer mood without any need for additional decoration.
Roll Up Your Sleeves And Make Some Arrangements Today!
If you have found your favorite designs/ideas among my suggestions, there's no better time than today to start planning it. A summer kitchen can look traditional, but it can also take on a more modern twist. So, don't be shy but confidently express your creativity!
I hope you feel that this article of mine can provide you with helpful information. Please share it with people you think can help them if you love it. I will always welcome your positive contributions.