If you are finding some kitchen ceiling ideas to add the best touch into one of the most important areas in your house, my recommendations today will absolutely help you out.
There are various types of ceilings you can refer to, and those are mainly sorted by their materials. Depending on the varieties of materials and the designs, your ceiling can lend a distinctive effect to your living areas. Let's take a closer look now!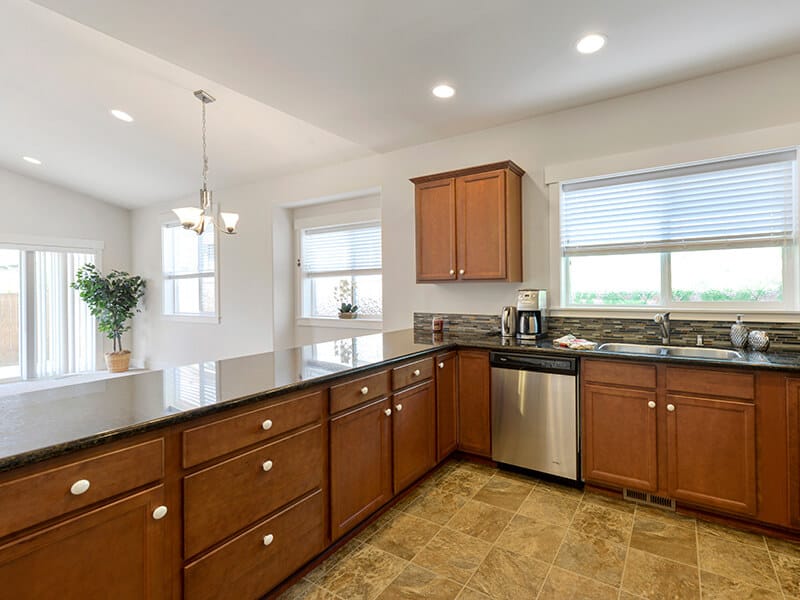 The Importance Of Decorating Your Ceilings
People might normally underestimate the importance of decorating your house's ceilings and think just one solid white color with flat surfaces is enough. Actually, designing and decorating your ceilings can offer a distinctive "refreshing breeze" to your living areas.
Aside from the living room, bedroom, and other areas, the kitchen is an essential consideration since you may enjoy spending every moment standing at the kitchen counter preparing meals for your loved ones.
How inspiring it is to gaze at the gorgeous, enchanting kitchen ceiling or to be bathed in natural light that shines through the glass and brightens your kitchen.
But how to choose the best kitchen ceiling design for your house? It depends on many factors.
First and foremost, you should think about the general color scheme of your kitchen. If you want an inspirational brown kitchen suggestion, the ceiling should be the same color as the walls (or the nearly same tone to brown such as beige).
Meantime, the designs of furniture and other items also need to be matched. If you want to create an exotic, distinct atmosphere in your house, all of those details above need to be coherent.
For instance, kitchen table/desk themes or countertops and windows must complement each other. You should also do the same with mats, rugs or carpets on your kitchen floors.
Just think, if you want to install a modern-looking ceiling, but your desk is old-fashioned, the result will be a "confusing look." Therefore, everything from the smallest to the biggest, even the decorating rugs must be planned ahead of time.
I will not waste your time anymore and move on to the ceiling recommending section right below!
Most Favorable Kinds Of Ceilings
As I mentioned above, there is not only a single kind of kitchen ceiling, but they are varied. Let me tell you about some of them.
Regular Ceiling
This kind of ceiling is basic. It is simple, cheap, and easy to match with any kitchen utensils/equipment or theme. Thanks to that, a regular kitchen ceiling like this is always on the one-of-the-most-used kitchen ceilings list.
Vaulted Ceiling
A vaulted ceiling is best to apply in a kitchen with no upper floors above. Besides bringing a classic look and reminding you of an ancient kitchen environment, the ceiling can make your roof look higher and have better air ventilation.
Drop Ceiling
No one will want a drop ceiling in any of their living areas, but if there is no way around it, you need to find ways to do some decorations. You can refer to the method in the picture and do some DIY ceiling tiles glueing.
Kitchen glue-up ceiling tiles
Planks Ceiling
The best way to cover up the cracked walls or worn-out plasters is to install ceiling planks directly onto them. Although there are several materials and designs for planks, wood planks always bring a distinctively warm and cozy look.
Furthermore, it would be even better if you had wooden kitchen interior utensils; they can support and complement the other well. And if you want to lend a modern look, using polished wood planks (bright colors) can be an intelligent choice.
Real wood planks for decorating
Glass Ceilings
If you want to find a summer-inspired kitchen recommendation, this ceiling style needs to be considered. The sunlight directly through the ceiling can illuminate the whole area.
Notes: To avoid the harmful ultraviolet rays, I suggest using tinted/stained or frosted glasses. The heat in the room with a glass roof might be higher; you should also notice the ventilation and cooling system for better air circulation and lower the temperature.
Tin Look Ceilings
This might be familiar to you if you have been looking for inspirations for a Victorian kitchen. It brings both classic and modern look to your cook place, and you surely cannot deny its captivating sleekness.
One significant advantage of this kind of ceiling is that they are effortless to clean. You only need to use a soft rag/kitchen towel to wipe on its surface and eliminate almost all of the dust.
Authentic tin ceiling tiles
Faux tin glue-up ceiling tiles
Shed Ceilings
To be short, shed ceilings are "half-vaulted ceilings" since only one side of your roof is vaulted (not both sides). This kind of ceiling can lend a heightening-up ceiling that might make you want to have your kitchen roof designed like that.
Coffered
Continuing to be a relatively modern kind of ceiling with good soundproofing support and various shapes/patterns (like hexagons/squares/triangles) for you to choose from. However, to install this one, the ceiling of your kitchen needs to be about 8 feet high.
You can add other components (ceiling tiles/wallpapers) to have an exact look you want.
Discover more about how they install coffered ceilings here.
Tray/Recessed Ceiling
As you can see, it looks absolutely like a tray, and to apply this; you need the double layers of the ceiling. Because of that, this style can make your ceiling look higher and lend a broader feeling.
You can normally see people frequently install tray ceilings for their living room or bedroom, but it still looks great in the kitchen. The recommendation of decoration you can add to this ceiling is to install a lighting system alongside the tray's edges.
Ceiling light stip for kitchen
LED light for kitchen ceiling
False/Suspended/Pop Ceilings
This is also a two-layered ceiling style, but the way to install it is different. Basically, they will install a false or faux layer of the ceiling made of gypsum, thermocool, or some plastic materials like PVC or POPs.
The benefit of this suspended ceiling is to make your kitchen look more extensive and more aesthetic. If you live in an apartment, this type of ceiling can be helpful with its sound-proofing ability.
Based on these most popular kitchen ceiling types, I will provide you with some beautiful ceiling designs you can refer to detailedly.
Inspirational Ceilings For Small Cooking Area
Don't worry if the area for your kitchen is limited; you can still install some great ideas to make your cooking areas look larger yet, absolutely stunning.
1. Natural Wood-Colored Kitchen Ceiling
Nothing can beat a natural wood-colored ceiling, bringing a cozy feeling to your kitchen. With a nice lighting system and a bit of natural sunlight, the look of the whole kitchen can be upgraded and look more modern.
This instruction shows how to make your own DIY woody tongue and groove ceiling.
2. White Wood Ceiling
Whitewood color will never be old-fashioned; it can simply match with any other colors of the other things/parts in your kitchen (fans/walls/cabinets).
3. Sloping Kitchen Ceiling
An attic-inspired ceiling sounds interesting! If you have a small kitchenette, you should try installing this top style to receive a lovely cozy atmosphere. At the same time, these
4. 3D Ceiling
Using 3D pictures and applying 3D-designed light or false ceilings are excellent ways to have an alluring kitchen ceiling. Your kitchen will look absolutely distinctive.
Budget-Friendly Ceiling Ideas For Your Kitchen
Having a great ceiling doesn't mean spending a lot of money; some cost-effective designs can help you out.
5. White Drywall Ceiling
Keeping the design simple with a white drywall ceiling can minimize the cost of kitchen decorating and also simplify what kitchen interiors you should consider to fit it. If the white drywall is too bare for you, installing a ceiling lamp can add a great touch.
Note: You should be more aware when using a white ceiling; it can easily expose any dirt/dust/spider web or mold. Those things can adversely affect the general look; you should clean it frequently.
Windmill-shaped ceiling lamp
6. Pop Colours Ceilings
What if you prefer something more interesting on your drywall ceiling? Paint it with some colors, especially the pop ones (warm tone color), to have better positive effects and a warm feeling in your kitchen.
To have the best overall look to the whole room, you should also refer to some rug ideas to go in a kitchen. The matched tones and designs for all the utensils/equipment in one room, not only the kitchen, are essential.
Do you want to know how to paint your ceiling? Follow this guide.
7. Gypsum Plasterboard Ceilings
Instead of a plain white kitchen ceiling, you can refer to this plasterboard option. This kind of budget-friendly ceiling will not cost you a lot and still bring some significant benefits in moisture-resistant.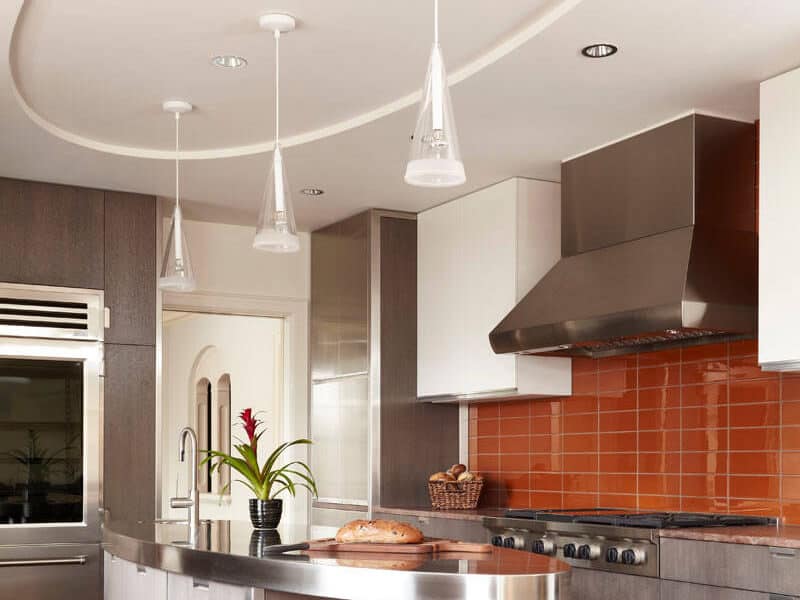 8. Wallpapers Or Murals On Ceiling
The cheaper way to have coherent exotic patterns for both your kitchen ceiling and walls is to apply decorated wallpapers/murals. You can have various designs to choose from and are free to change anytime.
9. Decorative Tiles
Adding some other creative patterns to your ceiling tiles will never go wrong. There are various patterns you can apply to your ceiling and my suggestion here is the simple floral one.
10. Styrofoam Ceiling Tiles
You can even apply these styrofoam ceiling tiles by yourself at home since they are straightforward to deal with and cost not very much. Spend a day or less to accomplish, and your kitchen can be transformed entirely.
Farmhouse Kitchen Ceilings You Should Look At
Many people are asking for some ideas about farmhouse kitchen ceilings, and I think it will be a huge miss if I ignore your question.
11. Groin Vault
Rustic, elegant, and obviously impressive, those reasons are why this design appears as the first suggestion for farmhouse kitchen ceilings. You might think it will be too expensive, but believe me, it will be worth every penny.
12. Beams Exposed Ceilings
Beams-exposing is ideal for contributing a rustic look to your kitchen. You can either use real beams or add faux beams onto your ceiling. Doing an excellent painting to have colored beams or keep the natural wood color is your choice.
13. Blue Glossy Ceramic Tiles Ceiling
Among all the blue shades, this baby sapphire blue looks shiny, light enough to offer a gentle look to your kitchen. Especially with such a rustic, classic farmhouse kitchen, this glossy ceramic ceiling will not overwhelm the furniture's look.
14. Unfinished Wood Vaulted Ceiling
This ceiling also offers a rustic, countryside-like appearance to your cookery. It can also help widen the ceiling height and make your kitchen look more ventilated. I also suggest using the beige tone for all other kitchen equipment to have the best uniformity.
15. Rustic Wood Ceiling Ideas
Those wood tiles/planks are meant to look like that. If you want to make your farmhouse kitchen look like a small, cozy cabin kitchen with a drop ceiling, you might want to refer to this idea.
16. Cathedral Ceiling
With cleverly arranged beams and columns, the kitchen ceiling of your house will be given a classic and gentle appearance. Especially when using light and contrasting tones, this unique texture is even more prominent.
17. Wood Vs. Drywall
Why not combine the two most prevalent materials to make your kitchen ceiling in one design? It would be mind-blowing, so just take a look at that and give it a "wow."
18. Bead-Board Ceiling
This kitchen reminds me of my grandma's house with the warm cinnamon wood planks (bead-boards).
The scene of a boiling stew pot waiting for me by the fire is one of my absolute favorites. That is the sense of familiarity you will always seek out in your memories.
Bring A Modern Look To Your Kitchen Ceiling
And next, I will continue to talk about ideas for creative and modern kitchen ceiling designs for your reference. You might want to see them one by one.
19. Shed Wood Ceiling With Exposed Beams
I have previously mentioned a beam exposed design, yet this shed ceiling style is different. The tilted edge makes the ceiling look higher and broader. The use of polished light-colored wood tiles also brings a much more modern look to your kitchen.
You should refer to this complete DIY makeover guide to adorn your kitchen ceiling.
20. Cove Ceiling
Bright, gentle, and neat are all I can tell you about this kind of ceiling. If you are not a fan of sharp seams (between ceiling and walls), this cove style should be on your consideration list.
21. Wood Tray Ceiling
Despite the traditional wood tray full of white concrete base, adding wood "into the tray" can improve the rustic coziness of your kitchen.
Or you can refer to this way of applying wood tray ceiling style to be "stand-out in a crowd".
22. Glossy Coated Ceiling
Adding a glossy finish to your ceiling can help it avoid dust or stains better. At the same time, who doesn't like a polished, sparkling ceiling look for your kitchen? When the light reflects on the ceiling, it will make your room brighter and glittering.
23. Art On Your Ceilings
How about bringing a whole big picture onto your ceiling? It looks great, isn't it? I'm sure you will have a one-of-a-kind kitchen if you do this.
Note: Because the ceiling consists of various colors and textures, I suggest you use simple/light-colored walls and cooking equipment to form a better balance.
24. Skylight Windowed Ceiling
Natural light can bring such a modern touch to your kitchen areas, yet it might be a bit expensive to make your imagination come true. Don't worry; there is still another way to bring the bright sunlight into your kitchen.
I suggest installing a window in the middle of your ceiling to reduce the cost. You might need to refer to some inspiration for bay windows that fit your kitchen even to boost the area-widening and brightening effects on your cooking place.
You will not regret seeing how they install skylight windowed ceiling.
25. Sky Vistas
Decorated with various shades of blue, incredibly dark blue will bring the illusion that your kitchen is outdoors when the night comes. If you are lucky, you can even see the twinkling stars above when making a hearty dinner as usual.
This kitchen ceiling design is best matched with darker colored (black/dark gray) countertops or cupboards.
26. Elegant Ceiling
There is nothing better to apply a modern look to your cookery than an elegant, simplistic ceiling design. You don't need to try to overdo anything; simply add a pastel or beige color tone for the ceilings (and walls), and your cooking areas will offer a modish view.
27. Modern Textured Ceiling
When fully supported by light, structures with modern texture will look even more prominent, luxurious, but straightforward. If your kitchen is decorated with the ceiling, as shown in the picture, it will bring the feeling of a gorgeous 5-star restaurant kitchen. Interesting!
28. Industrial Ceiling
The signature look for this style of ceiling is unhidden electrical lining, air ducts with a basic gray concrete ceiling. Trying it with a darker tone can offer an appropriate "coldness" that you might look for.
You should take a deeper look at one of the best kitchen ceiling transformation instructions.
29. Grandeur Ceiling
The archway will be more prominent with the support of the lighting system. The electrical wires will be skillfully hidden below the suspended ceiling, allowing for a stunning luminous effect while remaining undetected.
After that, a future-looking ceiling can be applied to your kitchen. Just try it out and see!
30. Corrugated Ceiling
How aesthetic your kitchen looks with the waving ceiling design! If you choose corrugated ceiling tiles made of steel, the heat inside your kitchen can be increased. Because of that, you should be aware of the air-circulation and cooling system.
Steel-made corrugated ceiling tiles
31. L-Beams Exposed Ceiling
Separating between glasses ceiling with standard white, drywall ceiling with an exposed L-beam is a smart move. It creates an interesting splitting effect within one area with only a simple touch.
Eye-Catching Classic Look For Kitchen Ceiling
Retro-aesthetics are now a trend, yet home designing will undoubtedly be affected. If you love retro styles and want to bring that hint into your living areas, you should look at my recommendations.
32. Barrel Ceiling
I thought of a vintage oak wine cellar when I saw this ceiling design. It offers your cooking area a moderate classic, old-school, and vintage look just enough not to overpower a hint of modernity.
Your barrel vault ceiling will be applied this way. How fascinating!
33. Centerpiece Ceiling
It might look simple, yet the effect can be great. On the other hand, you can install a big ceiling lamp there to enhance the overall look and evenly lighting at the same time.
34. Dome Ceiling
This will be another impressive way to design your kitchen ceiling. If you are looking for a jaw-dropping reaction from your friends, then the dome ceiling is absolutely the one.
35. Vaulted Ceiling With Rustic Beams
With a little special twist in the beam design, this type of vaulted ceiling is totally unique. Not only providing the rustic sense, those whole wood logs beams also give a luxurious feel.
If you wonder how vaulted ceilings with wood beams are installed, you should see this!
36. Millwork Magic Ceiling
It will look like a 3D doodle printed on the ceiling of your kitchen. Depending on your chosen pattern, but if you select the same pattern as in the picture, your kitchen ceiling will definitely have a nice vintage vibe.
What About Kitchen Island's Ceiling Suggestions?
The kitchen island is commonly found in modern houses, and decorating the ceiling above it is also necessary.
37. Floating Bulkhead Ceilings
It looks like a suspended/false ceiling style and also helps to bring a modern look to a large and broad kitchen. Try the white paint bulkhead ceiling with a white kitchen utensil if you want to install a minimalistic appearance.
Note: This type of ceiling is quite hard to change since it is permanent; therefore, you should reconsider once again before installing.
This is how professionals install bulkhead ceilings; you might want to know more.
38. Metal Panels
I love the glittering metal look above my kitchen island, and you might want to do the same. By applying these metal panels, it looks like you have separated the island's area from the others and made it stand out more.
Tin panel for kitchen island's ceiling
39. Steel/Metal Ceiling Tiles
These two options (this and the previous one) share the same idea but are still slightly different in size. These metal ceiling tiles have a smaller size, so that you might need more time to deal with each one, yet, it will be much easier for you to handle them alone.
The Best One Is Always The One You Love
I have suggested to you various alluring and lovely ideas on making your kitchen ceiling, and now the choice is in your hand. Now, look at the characteristics of your house and your preferences to choose the best kind and style to apply.
I hope that my shared information today is clear and helpful to you in the future. If you have any comments and questions about this topic, please leave a word in the comment section below. I will be very grateful to read your contributive ideas.