If you are looking for some gorgeous kitchen bay window ideas, you are not alone. It is because these types of windows are becoming increasingly common and frequently seen in many households.
They are not only compatible with classic house/room designs, but they can also perform incredibly well in any living area. Today, I will provide to you various bay windows' designs/looks and even more than that. Let's scroll down and check them out below!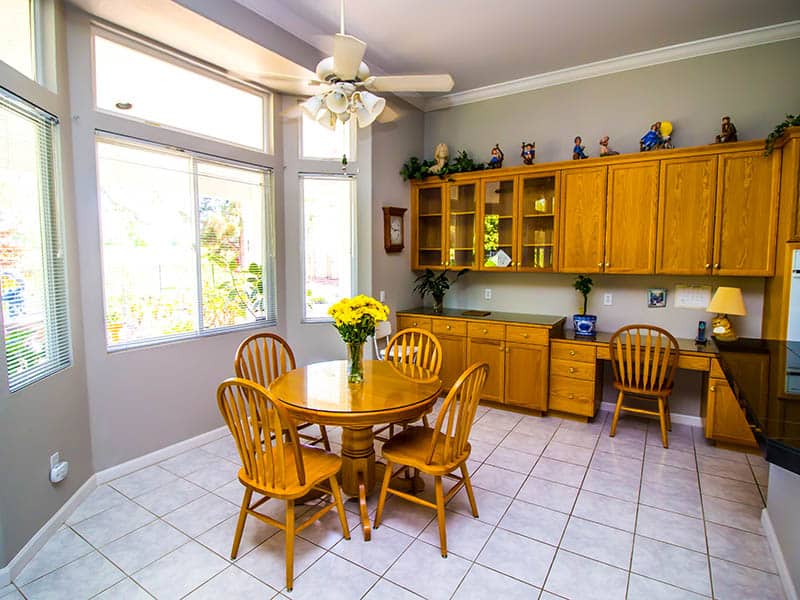 Overall Look On Bay Windows
Bay windows have been prevalent for a long time. They usually take part in many classic, vintage house designs, thanks to their distinctive curved look and the space-expanding effects they offer to your living areas, especially kitchens.
Nowadays, things have changed a bit, and these bay window styles are becoming widely used in any housing interior design aesthetic. These windows have many sizes for you to choose from, so you can install them nearly everywhere to decorate your rooms.
Besides the living room or bedroom, a bay window can work no less than perfect in a kitchen. You can install every window size into your cooking area, and each of them can lend a different charming effect.
For instance, if you look for appealing kitchen window designs to put on your sink-above area, smaller-sized bay window designs are a must-consider option. Otherwise, if you want to create a breakfast nook, you should opt for the bigger ones.
Not going to beat around the bush anymore; I will show you my suggestions in the upcoming section.
This is basically what they will do if you want to install/change a new bay window.
Engaging Kitchen Bay Windows Over Sink And Countertop
Since you might have been waiting for too long, I will start the list with some of the most prominent bay windows designs that normally go with your sink and countertop first. You should check them out now!
1. Large Arch-Framed Bay Window Over Sink
This arch framing in front of the bay window shows a feature of Avant-Garde interior design, renowned for the appropriate mix between the classic and modern vibe. Your bay window, which follows the unique style, also gives the entire kitchen a delicate impression.
To create a better connection between the window area with the other white interiors, using the pastel shades for the window skim is a smart idea.
2. Modern Bay Window Style Over Kitchen Sink
If you want to find a more modern design for your bay window, this look is for you. The idea is also to put a large window above your sink to receive the fullest brightening and widening effect, but you won't install an arch frame like the previous suggestion.
The attractiveness lies in its simplicity.
3. Large Bay-Styled Window Above Counters
You can try to put counters below the window area; it will be a waste of space if you don't use such a large and bright space like that. Furthermore, the warm sunlight illuminated through the window glass can increase the general coherence of your white theme kitchen.
4. Matched Black Frame Bay Window With Black Stone Countertop
I was pretty impressed with this bay window's black grid framing. It actually does a great job of connecting the window with the other pieces of furniture inside the kitchen.
In addition, the use of prominent grid framing color reminds me of the traditional Asian sliding doors, although the overall interior still follows a modern aesthetic.
5. Wooden Brown Bay Window
It will never go wrong when pairing brown, wooden items into your exquisite brown cooking spaces. If you think of a bay window to go with your kitchen, you should consider my suggested style initially!
It will help decorate your room and provide irresistible warmth and coziness.
6. Space-Saving Bay Window With Shelves
In a small-sized kitchen, the most important thing to do is to utilize every inch of the area by using innovative utensils or else. Since the bay window has a convex design, you can use the blank space to install some shelves and put your jar/bottles of condiments onto it.
7. Small Sub Window Above The Bay-Styled One
The decoration for the topside covering in the kitchen will become even more perfect if it connects with the room's interior, and it is also the purpose of the small/sub window above the bay window.
Besides, it also helps create the feeling that the ceiling seems airier, higher than merely the bay and better air ventilation inside your kitchen.
Stunning Built-in Kitchen Bay Window Seat And Nook Designs
The common problem (and also an advantage) when using a bay window in your living area is creating a relatively large and empty window sill space. How to make the most of this place? Let me show you some absolutely fantastic ideas.
8. Large Bay Window To Enlarge A Small Cooking Area
You don't need a large kitchen to be able to install the bay window; a smaller cooking area can even benefit more from that big, wide, and bright window. It is somehow easy to do so, and you should not try to overdo the decoration.
Leave your window space at the room corner (that can create a facing-out window), and you have done the work halfway.
9. Bay Window Bench
The easiest way to utilize the sill of your bay window is to add a mattress/cushion to it and turn that area into your full-of-sunlight kitchen bench.
You can choose those colors that gently contrast with whites, such as gray or dark blue hue, to maintain the modern look of your kitchen.
An absolutely budget-friendly DIY bay window bench idea for you to refer to.
10. Large Bay Window Perpendicular With Island/Counter Area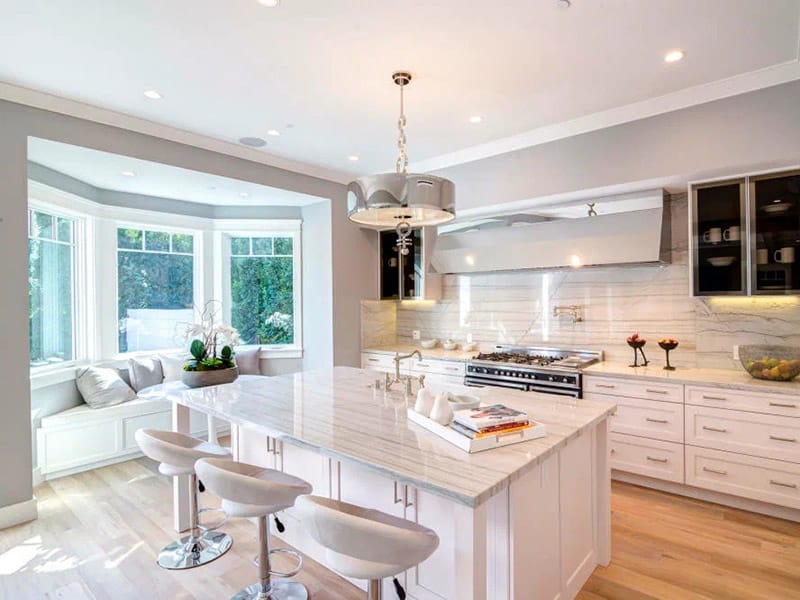 When installing a large bay window like this in your kitchen, its lighting efficiency is undisputed. Therefore, the special point in this window style lies in its simple, modern wooden frame and matched coloring with the kitchen's theme/design.
Also, thanks to the natural light through that window, the whole modern, white interior-designed kitchen is effectively accentuated.
11. Bay Window Storage Seat Cabinets
How about making the gap under your bay window seat into cabinets/storage? I think it will be beneficial if your kitchen storing space is limited.
On the other hand, just look at that wooden counter seat I have recommended to you; it looks incredibly bright and romantic, and I cannot stop adoring it!
Detailed bay window with cabinets installation steps you might want to look at.
12. Lovely White Dining Table Beside Your Low Bay Window
Because the main theme of this vintage room is white and pastel blue, it's essential to adorn the bay window area with complementary colors.
Placing a small circle dining table (in the Art & Craft style) by the bay window's minimalistic seat might help you utilize this bright section of your kitchen.
13. Simple Black And White-Toned Breakfast Nook
Keep it simple with basic contrastive shades, black and white. It is also because the other items and equipment inside the suggested kitchen are primarily in those hues, then applying them onto your breakfast nook can help match it with the other things better.
14. Pastel Shade Breakfast Nook
The harmonious and alternating combination of two pastel tones, baby sky blue and light lime green, along with the delicate touch of a bright brown tabletop, make your breakfast corner look really romantic and elegant.
Put an extra vase of fresh flowers on the table every morning and enjoy starting your day with sunlight and coffee.
15. Mini "Dining Room" In An Office Pantry/Kitchenette
A perfect workplace kitchen allows you to unwind during breaks while sipping a hot cup of coffee. Then how about taking advantage of the bright area next to the bay window?
Simply arrange a "mini dining room" with a minimalistic-designed table and bench in neutral beige tones; you can make the whole place look more comfortable and inviting.
16. Classic Breakfast Nook Besides Bay Window
In case your kitchen is after the mid-century interior design aesthetic, you should choose this recommendation instead of the previous one.
Placing a round table at the center of the convexed area and decorating the bench following the rustic, classic style will also help your breakfast nook exude the matched vibe with the whole room.
Enchanting Ideas For Bay Window Treatment/Decoration You Should Know
Don't leave your bay window "alone"; let's find some partners to go with it and level up the appearance of the whole delightful area!
17. Bamboo Roller Blind As Bay Window Covering
This bamboo roller blind going with a bay window contributes a great rustic, cozy and widening effect, especially lovely for small home's kitchen designs. If your whole kitchen is after the classic, homey aesthetic, this bamboo blind is the one you should definitely opt for.
18. Dimout Roller Blind
This type of roller blind with a floral pattern helps it play a better role in decorating a summer vibe cooking space.
While the other interior is quite simple and has primary color, just a little additional point of the roller blind makes your bay window area biome more prominent already.
19. White Wooden Bay Window Shutter For A Minimalistic Kitchen
The window shutter, out of all the window coverings, provides the most pleasing security/privacy improvements and also aids in reducing severe temperatures or sunlight from the outside.
Therefore, besides the rustic look, you now have some other reasons to install it to your bay window.
You should know these easy-peasy steps to install a bay window shutter!
20. Simple Tartan Window Scarf
A window scarf will generally enhance the classic look of your kitchen, and if you don't want to overdo it, I highly recommend these basic tartan-patterned materials.
At the same time, the black-beige scheme also makes this decorating scarf complement well in this small and rustic cooking area.
21. White Clip-On Drapes For Bay Window
This look makes me feel a sense of modernism together with a gorgeous dreamy feeling. And thanks to the white curtain linen, these drapes help you both to cover and decorate your kitchen bay window without blocking the natural sunlight.
This inexpensive DIY curtain for a bay window might blow your mind.
22. Simple Patterned Valance Over Your Bay Window
If you haven't come up with an idea for the bay window's valance yet, let's start with the most straightforward design like the one on my suggested look!
With the basic black and white paisley pattern, the valance can go well with your window area and definitely not ruin the overall appearance.
23. Ceiling-Mounted Light
It would be best to choose recessed ceiling light designs when you want to light up your bay window area but don't want the lights to be too obvious.
They will both create a good lighting effect and not obscure the beauty of this window area, which is especially effective in modern kitchen spaces.
24. Ceiling Pendant Light Fixtures
Don't underestimate the light pendant fixtures! Once adding them into one area, with the appropriate design, they will assist you in upgrading the atmosphere's aesthetic look to another level.
For instance, in a white, minimalist kitchen, as I suggested, you should choose a simple, modern-looking fixture.
25. Small Potted Tree/Plant To Decorate Your Bay Window Areas
How about adding a delicate touch of green by placing a tree pot on your window areas? It is a classic way to decorate your window area, yet gold is never old. With only a tiny, pretty tree in a small clay pot, your whole space has livened up immediately.
Another Window Idea To Put On Your Dream House Decorating Wish-List
I hope that you have found your favorite bay window design among my suggested looks above. You don't need to overdo it when installing this kitchen bay window into your kitchen, just notice the overall theme of your kitchen, and it can perform well.
If you love my recommendations, kindly share this humble article with your loved ones or friends so it can assist them as well. Sharing is an act of love!