The need to find the best kitchen desk ideas to put into your cooking areas has gradually increased. If you find it quite challenging to choose the best one, I will help you out here in this humble article.
Placing a desk in your kitchen brings many benefits, and it is genuinely a valuable item in any cooking room. Depending on your purpose and kitchen designs, your desk's style requirements can be different.
But you don't need to worry about that, everything you might need is waiting below!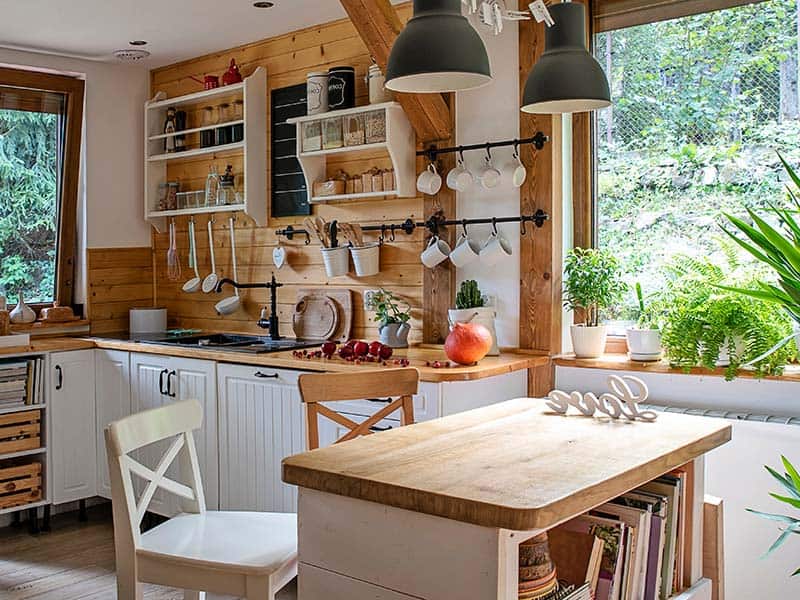 Incredible Desk Ideas For A Small Kitchen
It is quite tough to find the best desk style in a tiny/small kitchen since every item should be compacted and has various uses to utilize every square meter. Because of that, some convenient desk ideas below can be used as references for you.
1. Built-In White Diagonal Corner Desk With Floating Cupboard
Utilizing the below-cupboard area by placing a small corner desk is a wise decision. The desk, cupboard, and chair have a white tone that is matched with the overall theme. To add a highlighted detail to this look, I suggest using the glossy granite desk surface.
Since it is space-saving, this kitchen desk option is good enough for an ideal office kitchen look. Therefore, installing this kitchen desk design in the room corner might help you address your problem if your workstation area is pretty modest.
2. Convenience Wall-Mounted Desk
This wall-mounted design is more convenient than others. You can fold the tabletop onto the wall for more neatness when not in use. I suggest you choose an option including a small shelf to put small items, such as pens or other stationery.
3. Two-Door Inset Cupboard With Compact Built-In Desk
With an inspirational small house kitchen design, I highly recommend you to opt for this workstation idea.
Instead of applying full-white details, this cupboard-built-in desk is mixed with the classic contrast shade, white with dark gray/black. The small floating shelf also includes a tiny drawer that can also be a great place to put small things like keys or else.
This is the general guide you might need on how to organize a kitchen desk.
4. Utilize The Coffee Corner To Make Your Kitchen Desk
This idea is also great for a coffeeholic since you will use the spare area on the coffee table to make it your working space. Just a mere thought of being able to make a mug of coffee whenever I want has motivated me to work harder. How about you?
Enchanting Designs For Farmhouse Kitchen Working Desks
It will be best to install vintage/old-school designs for farmhouse-inspired kitchen desks. Therefore, I will provide you with several classic looks for your desired area.
5. Spacious Classic Cupboard With Built-In Desk And Arch Framing
This design is especially appropriate if you follow the French provincial interior design aesthetic. It has a bit of light, modern color hidden in a traditional look (with curved details on your cupboard). Working at a space like this might lend you a vintage, elegant feeling.
6. Cherry Painted Cabinets With Kitchen Desk
From the cherry color to the classic design of the floating cupboard and cabinet, this look exudes a strong traditional feel. To maximize the use of the empty surface on your spacious counter, it is not a bad idea to place a workstation there.
It will also help if you want to monitor your cooking food and work at the same time.
7. Placing Desk Beside The Kitchen Island
As you can see, this classic kitchen is very large, and if your kitchen is as large, you can completely place a workbench perpendicular to the kitchen island like this. Choose a table design that matches the style of the overall kitchen so as not to disturb it.
8. Brown Kitchen Desk Under Floating Cupboard
You might have been waiting for this suggestion about placing a desk into your alluring brown-toned kitchen, then here is my recommendation. When using an additional item with the same color as the overall tone, it will never go wrong.
In this case, you need to place a kitchen desk with the matched brown color with the floating cupboard, and your decorating task can be done quickly.
9. Kitchen Desk Under Pistachio Green Colored Shaker Cabinet
This pistachio green is one of my favorite pastel green shades since it is light, bright and can work in almost every interior design style. Therefore, there is no reason not to transform the blank surface under it into your vintage-infused working desk.
10. Office Desk With Hardwood Top
Although it looks untidy, if you need ample desk space in a small kitchen, then this is inevitable. However, the plus point for this design is the use of a wooden desktop and warm yellow light, which creates an inviting, warm feeling for the whole space.
11. Kitchen Desk With The Unique Mid-Century Look
This light teal blue theme offers a dreamy and light atmosphere which is absolutely perfect for you if you love something romantic.
The small potted trees help a lot in providing lovely green shade to your working spaces, and the outdoor view might help you to release stress or receive more natural sunlight.
Kitchen Nook Desk That Can Attract Your Sight
Now, let's turn to modern nook desk designs! The common ideas for these designs are minimal and simple that can be compatible with an innovative-looking kitchen.
12. Facing-Out Kitchen Desk
This way is an excellent solution for you if the window position in your kitchen is still empty and you have no clue how to decorate it.
Instead of attempting to employ a section of the countertop as a desk, you can create a bright, comfortable workspace for yourself with just a few simple installation steps.
13. Countertop Desk With White Theme And Gray Surface
This idea is also a desk placement on/next to the countertop, yet the different colors and designs will lend different feelings.
Unlike using classic tones like cherry red, paler tones like white and gray with minimal decorating styles, you can totally create a work area with a modern-looking.
14. Deep Blue Cabinet With A Built-In Desk
Perfect color matching deep blue and white makes this kitchen desk design look modern and delightful. The perfect large kitchen's bay window placement offers a lot of sunlight into the room that helps this look become even more exquisite.
15. Floating Shelves And Desks Nook
You can utilize the recessed space of the wall (due to the design creating gaps between the pillars) to make a desk.
Since the general color is a simple white, you can use pieces of polished, light-painted hardwood (beige/vanilla/brown sugar hues) to make floating shelves and desk surfaces. It helps those details not to overwhelm the overall theme of the room.
This is the most detailed guide you need to make your own floating desk.
Kitchen Desk Area Furnishing
If you want to make some focal points to your kitchen desk area, it is essential to think of several decoration ideas. And you are surely not alone since I have your back!
16. Full-Caramel Brown Wallpaper Backsplash
Let's start with something simple first. You don't need to overdo it when decorating your desk's backsplash area. Sometimes, using the full-brown wallpaper and keeping it clear like that is good enough to complete the whole look.
17. Ivory/Lace-Colored Subway Tiles Backsplash For Stone Theme Desk
As you can see, the whole workstation delivers a dainty look with primarily white-colored items. If you are afraid that using pop color backsplash is too risky, then I think these ivory subway tiles can meet your requirement.
On the other hand, you can sense a bit of cuteness and neatness thanks to the application of bright-colored items/details.
Following this subway tiles installation guide if you don't know how to do it yet!
18. Basic White Drywall Backsplash
Sometimes, the beauty allures in the basics, and this white drywall backsplash is the proof for that. It offers both simplicity, modern and elegant touch to your kitchen desk area, and you don't need to do any complicated thing to receive that look.
19. Tropical-Inspired Wallpaper Kitchen Desk
Why not? This design will, even more, stand out if your kitchen follows the summer vibe inspiration. Believe me; if you choose this exotic textured backsplash, you can feel more relaxed when working here.
Furthermore, since the backsplash is covered with stick-in wallpaper, you can change it whenever you like.
20. Deep Blue Backsplash With Pattern
If you don't like those colorful, tropical patterns or pop coloring backsplash, try this blue hue wallpaper. The contrastive effect from white and dark/deep blue makes the whole area exude an incredible modern aura.
21. Under Cabinet Lighting
The warm, yellow light from the hidden LED bulb can efficiently deliver a cozy atmosphere to your working place. And with the tabletop made of polished stone (as in the picture), it will gently sparkle whenever the light gently shines on it. Absolutely beautiful.
The ultimate instruction to install under cabinet lighting you might be looking for!
22. Table Cottage Lamp
This vintage cottage lamp works well on this marble stone desk top. Not only that, it is also a potential nominee to decorate and light your hidden kitchen pantry in the corner if you are looking for one.
The smooth, gleaming stone surface brilliantly reflects the golden glowing light from the lamp, giving the illusion that the entire room corner is bathed in warmth.
23. Eiffel Office Chairs
Just like their name, you can see this type of chair in any office. Their distinctive style helps them be one of the most versatile items that can go in any modern working environment. Thanks to that, if you want to make a safe choice, go for these chairs first.
24. Accent Chair
Soft and comfortable are all I can say about these chairs and nothing to complain about their looks in a working area. Since their styles are absolutely minimal, you only need to choose the appropriate color to match them with your desired space.
For instance, as you can see in the suggested kitchen desk look, the overall theme is light gray; you should opt for the non-patterned, white, or gray color accent chair.
25. Bamboo Chair
I highly recommend this style of bamboo chair for your workspace. It will incredibly lend your working area an unmistakable rustic and vintage feel. You will never regret pairing it with your kitchen desk.
Which One Is The Best Desk Ideas For Your Kitchen?
I've presented you with a variety of kitchen desk designs in the hopes that you would choose your favorite from among them. If you have any other suggestions for those items, feel free to leave them in the comments section. Your contribution is my huge motivation.
Otherwise, if you like my recommendations and believe they can benefit your loved ones, please share my humble article with them so that they can be helped as well. Loving is sharing!